Las Vegas, US, is a renowned destination for its diverse culinary scene, especially sushi, a food item popular among all, locals and tourists. The city is home to numerous sushi restaurants, with a unique dining experience of All You Can Eat Sushi being a particular favorite among foodies. All You Can Eat Sushi in Las Vegas offers an exciting opportunity for sushi lovers to sample various sushi types and try out new combinations. These restaurants typically offer a wide range of sushi rolls, including traditional sushi rolls, sashimi, nigiri, and modern fusion rolls that incorporate non-traditional ingredients. Traditional sushi rolls include tuna, salmon, eel, and shrimp.
Exclusive Read: Superfrico Las Vegas: An Amazing Restaurant In The Heart Of Sin City
Our Recommendations On The Best All-You-Can-Eat Restaurant in Las Vegas
Though Las Vegas is known for its nightlife and showbiz, Las Vegas is also known for its food game. So, we have listed the best all-you-can-eat sushi restaurants in Las Vegas:
A must-visit location in Las Vegas is Biwon Korean BBQ with All You Can Eat sushi Las Vegas if you're seeking for a restaurant that serves both sushi and Korean BBQ. This restaurant offers a unique dining experience with its blend of traditional Japanese sushi and authentic Korean food, all served in a trendy and contemporary atmosphere.
When you go into the restaurant, the welcoming staff will welcome you and lead you to your table. The restaurant has smooth and modern furnishings made of dark wood, along with subdued lighting, giving the interiors a cozy and inviting feel. Anyone can afford it thanks to the all-you-can-eat concept, which enables guests to indulge in a wide variety of Korean BBQ and sushi meals for a set price.
Several kinds of beef, hog, and chicken are included in the Korean BBQ menu. These meats are seasoned with traditional Korean seasonings and cooked to perfection right at your table. Steamed rice, kimchi, pickled vegetables, and other side dishes are sometimes served with meat. The knowledgeable staff will help you navigate the process and ensure that you enjoy your Korean BBQ meal to the fullest.
The outstanding selection of sushi rolls, sashimi, and nigiri at Biwon Korean BBQ and Sushi All You Can Eat is perfect for sushi lovers. Fresh sushi is created to order using premium ingredients, and it is artistically presented on the dish. The Spider Roll, Dragon Roll, and Rainbow Roll are some of the well-known sushi rolls.
The restaurant serves a variety of appetizers, soups, salads, and traditional Korean desserts including patbingsu and Korean rice cake in addition to Korean BBQ and sushi.
Overall, the mix of authentic Korean food and sushi made in the Japanese style, superb service, and a classy setting make Biwon Korean BBQ and Sushi All You Can Eat a remarkable dining experience. For anyone seeking an entertaining and reasonably priced all-you-can-eat experience in Las Vegas, the restaurant is a must-visit.
Also Read: 9 Top Notch Korean Restaurants In New York City.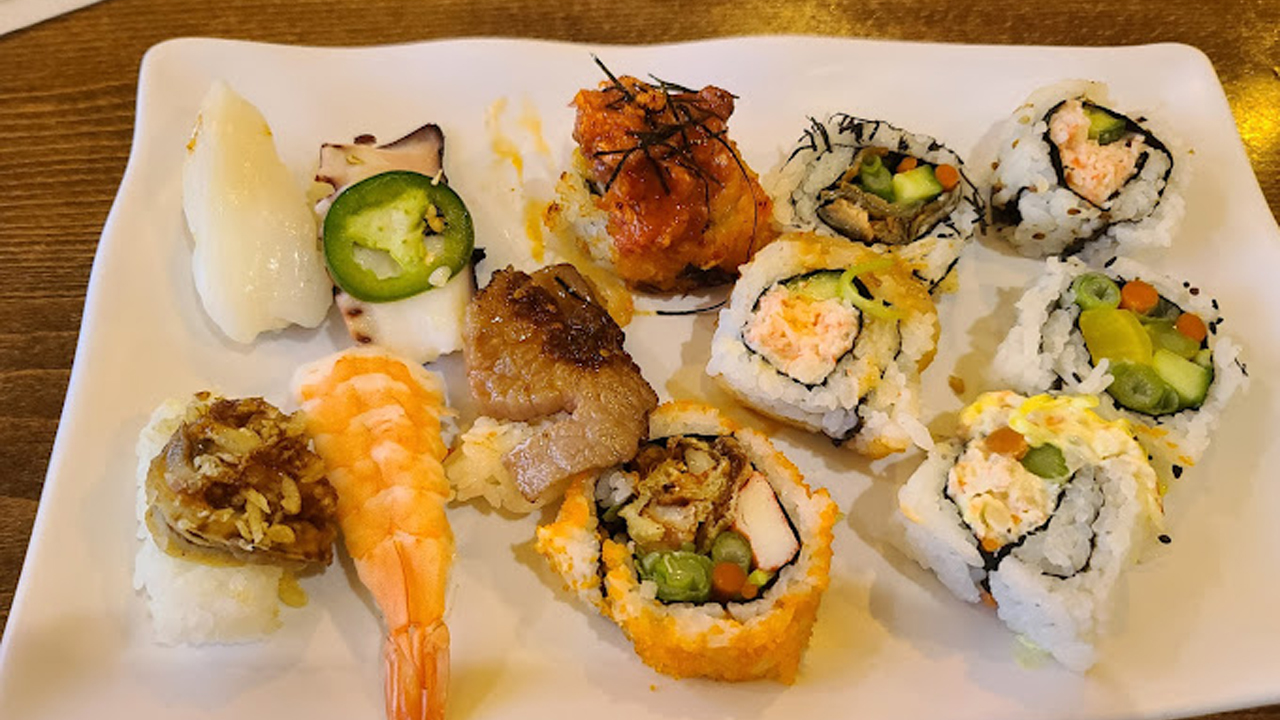 For a completely different experience try Makino restaurant, a culinary jewel in the center of Las Vegas. The eatery takes great satisfaction in its outstanding service, sumptuous Japanese cuisine, and opulent setting.
A sleek and contemporary décor that includes a sushi bar, a teppanyaki grill, and private dining rooms for those looking for a more individualized dining experience welcomes visitors as they enter the restaurant. It has a distinctive and fashionable feel thanks to the décor's fusion of modern style and traditional Japanese features.
A vast selection of sushi, sashimi, tempura, and other traditional Japanese foods are available on the menu at Makino, which is nothing short of remarkable. Only the finest and freshest ingredients, purchased from domestic and foreign vendors, are used by the sushi chefs. The sashimi is so fresh that it virtually melts on your tongue, while the sushi rolls are exquisitely prepared and brimming with flavor.
Teppanyaki grill is a must-try for anyone looking for a more engaging eating experience. While preparing a delectable selection of meats, seafood, and veggies, the talented chefs astonish diners with their knife skills and showmanship. The teppanyaki dishes are properly seasoned and grilled to perfection, leaving customers impressed and happy.
The personnel at Makino provide great service, going above and beyond to make sure that customers have a wonderful dining experience. The staff is informed about the menu and eager to offer advice or respond to any inquiries from customers.
Overall, Makino is a remarkable restaurant that is highly recommended for everyone who wants to savor top-notch Japanese food. It is understandable why Makino is a favorite among both locals and tourists due to its great food, stylish ambiance, and first-rate service.
Must Read: Best Sushi Places in Laguna Beach
Oyshi Sushi is a great choice if you're searching for some of the best sushi in town. Some of the city's freshest and tastiest sushi can be found here, which is located in the center of downtown.
The restaurant has a friendly and welcoming environment as soon as you enter the restaurant. Wooden accents and cozy lighting are used in the decor, which is stylish and straightforward. During busy times, the little restaurant may become a little packed, but the helpful staff will make every effort to seat you as soon as possible.
Moving on to the menu. The restaurant has sushi rolls, sashimi, and other Japanese staples are all available in plenty at Oyshi Sushi. With inventive combinations that are delicious and aesthetically pleasing, the sushi rolls are unquestionably the highlight of the meal. The dragon roll, the rainbow roll, and the spicy tuna roll are a few of our favorites. With thick, fresh fish slices that melt in your mouth, the sashimi is equally excellent.
Try the omakase, or the chef's choice of the day, if you're feeling particularly daring. This is a terrific option if you're unsure of what to order because the chef will select a selection of dishes based on your preferences and the availability of ingredients. It costs a little bit more than the standard menu items, but the experience is absolutely worth it.
You should be aware that Oyshi Sushi lacks a liquor license, so if you wish to consume alcohol in addition to your meal, you'll need to bring your own beer or wine. Green tea and soda are among the non-alcoholic drinks they do provide.
Overall, Oyshi Sushi is a terrific place to go for a fun and delicious meal with friends or family. The service is excellent, the ambiance is warm and friendly, and the rates are fair. For sushi fans in the neighborhood, it's unquestionably a must-see!
At a small strip mall in Las Vegas, there is a hidden gem called Sushi Neko. For those who value excellent sushi and Japanese cuisine, this restaurant is a must-visit despite its inconspicuous setting. As soon as you enter, you'll be taken to a calm and refined setting with simple furnishings and relaxing lighting.
There are many different sushi rolls, sashimi, tempura, and other Japanese specialties on the comprehensive menu at Sushi Neko. Only the finest, freshest ingredients, both domestically and from Japan, are used by the sushi chefs. The sushi rolls have an exquisite presentation and feature complex and imaginative flavor and texture combinations. The spicy tuna roll with avocado and the lobster roll with truffle oil is outstanding.
The sashimi is likewise amazing, with big pieces of fresh fish that are so soft they almost melt in your mouth. In addition to sushi, the menu offers a range of cooked foods such as teriyaki chicken and tempura shrimp, both of which are equally mouthwatering.
Sushi Neko offers a number of omakase alternatives in addition to the standard menu items. Omakase, which translates from the Japanese as "I'll leave it up to you," describes a supper where the chef chooses a variety of meals based on the customer's preferences and the availability of ingredients. The omakase experience at Sushi Neko is absolutely special, with the chefs exhibiting their talent and creativity through a thoughtfully chosen menu of dishes.
Excellent customer service is provided by the employees at Sushi Neko, who are happy to answer any questions you may have regarding the menu or the meals. The staff makes sure that your dining experience is easy and delightful by being attentive without being intrusive.
In the center of Las Vegas, there lies a gastronomic treasure called 888 Japanese BBQ. The all-you-can-eat Wagyu beef and outstanding service at this contemporary Japanese restaurant make it a must-visit destination for tourists and locals alike.
The restaurant's interior decor is a skillful fusion of modern and traditional Japanese features. Customers are welcomed by a modern, elegant bar that features trendy lighting and deep, dark wood accents. Warm lighting and attractive seating arrangements provide a welcoming ambiance in the dining area. The open grill, which serves as the restaurant's focal point, is where talented cooks make delectable meat cuts in front of diners.
Premium Wagyu beef, which is renowned for its outstanding marbling, tenderness, and flavor, is the focus of 888 Japanese BBQ. The eatery serves a variety of cuts, including ribeye, fillet mignon, and sirloin, all of which come from the best Japanese producers. Other meats that can be enjoyed by diners include chicken, hog belly, and shellfish, all of which are expertly grilled.
The large and varied menu of 888 Japanese BBQ offers a selection of sides, salads, and appetizers to go along with the main courses. One of the restaurant's famous dishes is the thinly sliced, melt-in-your-mouth Wagyu beef tongue, while another is the luscious Kobe-style beef sushi. Also, the eatery has a variety of vegetarian and vegan options, such as grilled tofu and vegetable skewers.
888 Japanese BBQ provides great customer service with helpful personnel that goes above and beyond to make sure that diners have a memorable eating experience. The professional sommelier at the restaurant is available to assist patrons in selecting the ideal wine to pair with their meal, and the skilled chefs are delighted to provide cooking advice.
888 Japanese BBQ is recognized for its modern and chic atmosphere in addition to its excellent food and service. The restaurant is the ideal location for a special occasion or a romantic date night thanks to its contemporary decor and chic atmosphere.
Recommended Reading: 10 Scrumptious Sushi Restaurants in Dubai You Shouldn't Miss.
Sasa Sushi is a well-known Japanese eatery in Las Vegas that provides customers with a distinctive and genuine culinary experience. The upmarket Summerlin neighborhood restaurant has a basic interior design with dark wood furniture, gentle lighting, and a relaxing atmosphere.
Sasa Sushi Las Vegas' dedication to using only the finest, freshest ingredients is one of its distinguishing qualities. The eatery buys its fish both from regional distributors and directly from Japan's Tsukiji Fish Market to guarantee that only the best fish is used in each dish. Each meal is prepared by the chefs, who take great pride in their work and use traditional Japanese methods to make each plate a work of art.
The extensive menu of Sasa Sushi Las Vegas features a wide selection of sushi, sashimi, and other Japanese dishes. One of the restaurant's most well-liked features is the omakase menu item, which provides diners the opportunity to entirely trust the chef with their dinner. The omakase experience is a true feast for the senses because to the thoughtful preparation and artistic presentation of each dish.
For those who want to order à la carte, Sasa Sushi offers a variety of hot meals such as udon noodles and grilled meats in addition to sushi and sashimi. The restaurant's nigiri sushi is notably noteworthy since each piece of fish is expertly mixed with just the right amount of rice. Salmon, tuna, and yellowtail nigiri dishes are particularly popular.
Sasa Sushi Las Vegas has an amazing beverage menu in addition to its superb cuisine, including a choice of sake, wine, beer, and cocktails. The sake selection is also noteworthy, offering a variety of choices from various parts of Japan. Each drink will perfectly complement the diner's meal thanks to the knowledgeable staff's recommendations based on their tastes.
In conclusion, Sasa Sushi Las Vegas should be on the bucket list of everyone searching for an authentic Japanese dining experience in Las Vegas.
Located in the center of Las Vegas, Sakana Sushi is a Japanese eatery. For sushi aficionados seeking premium, genuine Japanese food, this hidden gem is a must-visit location.
Sakana Sushi's interior has a clean, contemporary aesthetic that is both attractive and subtle. Warm lighting and simple furnishings in the restaurant create a pleasant and unwinding ambiance ideal for a night out with friends or family.
With a wide selection of traditional Japanese meals to suit all preferences, Sakana Sushi's menu is comprehensive and varied. Sushi rolls, sashimi, and nigiri in a variety of shapes and flavors, all created with the freshest and best ingredients available, are some of the restaurant's distinctive dishes. The spicy tuna roll is a traditional sushi roll, but diners can also try more inventive options like the volcano roll, which is prepared with baked scallops and crab meat.
Together with a variety of hot foods such as teriyaki chicken, beef, and salmon as well as udon and ramen noodles, Sakana Sushi also serves sushi. Tofu and scallions are added to the miso soup, which is made with traditional Japanese miso paste.
The quality of the fish is one of Sakana Sushi's unique selling points. Each dish at the restaurant is brimming with flavor and authenticity since the seafood is sourced from the freshest and best suppliers around. The sushi rice is likewise perfectly prepared, with the ideal balance of sweetness and stickiness.
The team at Sakana Sushi provides great service, going above and beyond to make sure that diners enjoy a special dining experience. The talented cooks at the restaurant are happy to fulfill any particular requests or dietary requirements.
Thing To Consider Before Picking a Sushi Restaurant in Las Vegas
Quality of Ingredients — When choosing an all-you-can-eat sushi in Las Vegas, one of the most important factors to consider is the quality of the ingredients. Freshness is key, especially when it comes to the fish. A restaurant that uses fresh, high-quality ingredients is more likely to serve delicious and satisfying sushi. Not only does freshness enhance the taste and texture of the sushi, but it is also important from a health and safety perspective. Sushi that is made with old or low-quality ingredients can cause foodborne illnesses, which can be a serious health risk.
Atmosphere and Ambience — The atmosphere and ambiance of a sushi restaurant can significantly affect your dining experience. It is essential to consider these factors when choosing a sushi restaurant in Las Vegas. A pleasant atmosphere can make you feel relaxed and more likely to enjoy your meal. Depending on the occasion, you may want to choose a restaurant with a specific atmosphere.
Health and Safety — When choosing a sushi restaurant in Las Vegas, health and safety should be important factors to consider. Sushi is typically made with raw fish, which can be a breeding ground for bacteria if not stored and prepared correctly. A reputable sushi restaurant will take measures to ensure the freshness of its ingredients and the safety of its food preparation methods.
Service — When selecting a sushi restaurant in Las Vegas, it's important to consider the quality of service provided by the staff. Good service can improve the overall dining experience by making you feel comfortable and welcome. The staff can make menu recommendations based on your preferences and dietary restrictions, providing you with more information about the dishes and their preparation. They can also offer suggestions on how to pair sushi dishes with different types of sake or wine, enhancing the flavor of the meal.
How We Pick Our Recommendations
With the help of our survey team and some reviews from previous customers, we were able to list the best restaurants for sushi in Las Vegas, from the service to the taste of the food all of the restaurants, are gone through a deep survey. While traveling to Las Vegas our team took the opportunity and visited California to cover 5 Mesmerizing Aquariums In California That Look Too Dreamy To Be Real.
Indulge in Endless Sushi Bliss: All-You-Can-Eat in Las Vegas - FAQs
Which sushi restaurants offer the best value for money?
These are the top all-you-can-eat cheap sushi restaurants in Las Vegas, Nevada: Spring Mountain, Umami Umiya, Sushi Sakana, Sushi Neko, ITs Sushi.
Is it impolite to leave unfinished sushi?
In Japan, not finishing one's meal is seen as a request for a second help from the host rather than as a sign of disrespect. Yet, eating everything, especially the rice, indicates that you are satisfied and do not need any more meals.
Is sushi a complete meal?
Sushi can be produced with a wide range of ingredients, from fresh fish to vegetables, and is suitable for both a light snack and a complete meal. This implies that whether you enjoy eating meat or are a vegetarian, there is something to please everyone.