Are you looking for a change of pace while in Las Vegas, Nevada? Check out Superfrico, located on the world-famous Las Vegas Strip and a must-see for any visitor to Las Vegas. You may grab a meal before hitting the casinos or fill up on a gigantic buffet that will keep you satisfied until your next meal at SuperFrico. This isn't your average night in Sin City; after feasting on Italian food with a contemporary twist, you'll get to see the pioneering Opium show by Spiegelworld. Superfrico is the place to go, whether you're in the mood for authentic Italian cuisine or something a little out of the ordinary.
Ross Mollison, the CEO of Spiegelworld and the man responsible for the immensely successful Las Vegas show Absinthe, made the debut of his new fully integrated dining and cocktail concept, Superfrico, on September 24 at The Cosmopolitan of Las Vegas. Rose.Rabbit.Lie., a club turned Spiegelworld show, reopened on the same day as the current hit show Opium, which had been closed for several months due to an outbreak.
Craving sushi? Check out the Top 7 All-You-Can-Eat Sushi in Las Vegas [2023 Guide]
The Superfrico Experience
Superfrico is unlike any other restaurant because you can't just walk in. A prior reservation is required. Inside those purple doors is a wild house party. When a Vegas nightclub takes over the kitchen, the result is a Superfrico. The new club, which replaced Rose as the hottest spot in town, is located on the resort's upper level and is managed by the same firm as the Opium stage show next door (Spiegelworld). Experience the '80s acid trip that is Rabbit. Lie with its unique artwork, neon accents, and moody lighting. Make an evening out of it by making reservations in advance for both dinner and a show.
Superfrico has a beautiful, custom-made painting framing the kitchen doors and providing a colorful backdrop for the wait staff. There are also ominous family photos, a set of Opium-themed action figures, and a pair of hands extending from the wall, each carrying a flower stalk. You may get away from the crowds in the nearby lounge, The Studio, which features a DJ. Superfrico's circular, blue-lit waiting room is reminiscent of the queue for a roller coaster; once inside, customers are met by a hostess at the end of a purple tunnel; and the strange fun continues from there.
They summarize the restaurant's offerings with "an all-sense overloaded eating experience." Superfrico's food, drink, design, music, and spontaneous live acts are all its spin on the traditional Las Vegas dinner theater and supper club. Going to Superfrico is more like diving into a story than a regular night out since it never fails to throw you for a loop. The newest in Spiegelworld's long line of groundbreaking dining and entertainment ideas combines the unexpected with carefully orchestrated "chaos."
The idea of Superfico was to hold the "ultimate be-all, end-all, taste-all house party" in which "the world's most kickass creatives run loose and do their thing—in the kitchen, behind bars, on the walls, and beneath the bed, and everyone is welcome."
The Space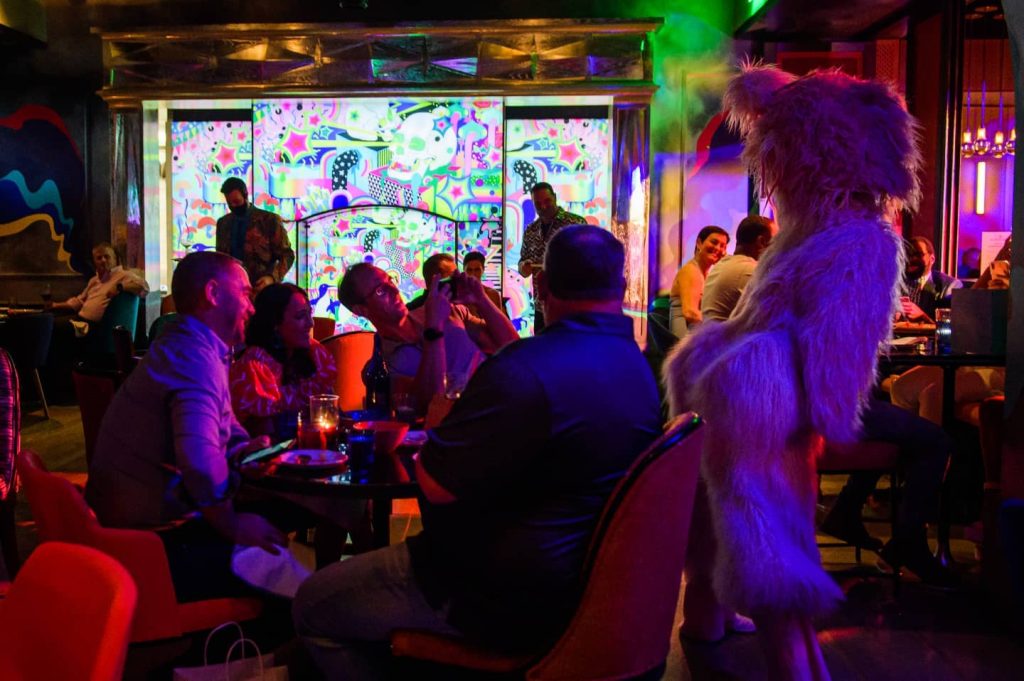 When you step through that door, you enter another "chaos," which is actually the location where all of this action is happening. The dining area and bar also have a psychedelic design and artwork, which contribute to the overall psychedelic vibe of this event. It's like stepping into a fantasy you had while on an acid trip while you watch entertainers amuse and captivate you in between courses.
If we talk about the atmosphere, we would call it elegant but not stuffy. It is more humorous and enjoyable but not like a circus. Lastly, the atmosphere is sexy and exposing but nowhere will you see a pattern of love or romance. The primary lighting is dark, and there are neon lights from the artwork as well as spotlighting at key locations (so you can read the menu). The beats are really picking up which brings up the vibe for the guests. It is considered normal for the performers to expose themselves. The atmosphere is somewhere between that of a nightclub and an epicurean experience.
Paintings, sculptures, and prints decorate every available surface. Ross Mollison, head of Spiegelworld, estimates the value of the artwork at about $30 Million. Mollison also claims that the expensive artwork was purchased to leave as an inheritance to the man's son.
One of the details you could overlook throughout Superfrico are penguins. They may be seen just about wherever. There are penguin-themed ice cubes, napkins, and signage around the establishment. To symbolize Mollison's kid, the penguin has been chosen.
If you're looking for a club on the Las Vegas Strip that's unlike any other, look no further than Superfrico Las Vegas. The vibrant color scheme echoes the club's ostentatious atmosphere, complete with a famed VIP section including private bars and chandeliers. Superfrico Las Vegas, spanning three stories, is an oasis of opulence and sophistication in Sin City. When you enter the building, you'll first notice the abundance of vivid colors and lively ambiance on the ground floor. In addition to a large dance floor, the bottom level also features several various intimate nooks ideal for making new friends or making passionate love.
The second level is a gardener's paradise, with a waterfall and state-of-the-art lighting systems to help you lose yourself in the glare. Numerous well-known personalities stop by here to relax after a night on the dance floor. Lastly, the penultimate floor boasts some of the most lavish furnishings in Las Vegas, perfect for those in the mood to indulge. In the marble foyer, you may see Italian paintings and take in the club's grand ballroom, illuminated by crystal chandeliers.
Superfrico Las Vegas Food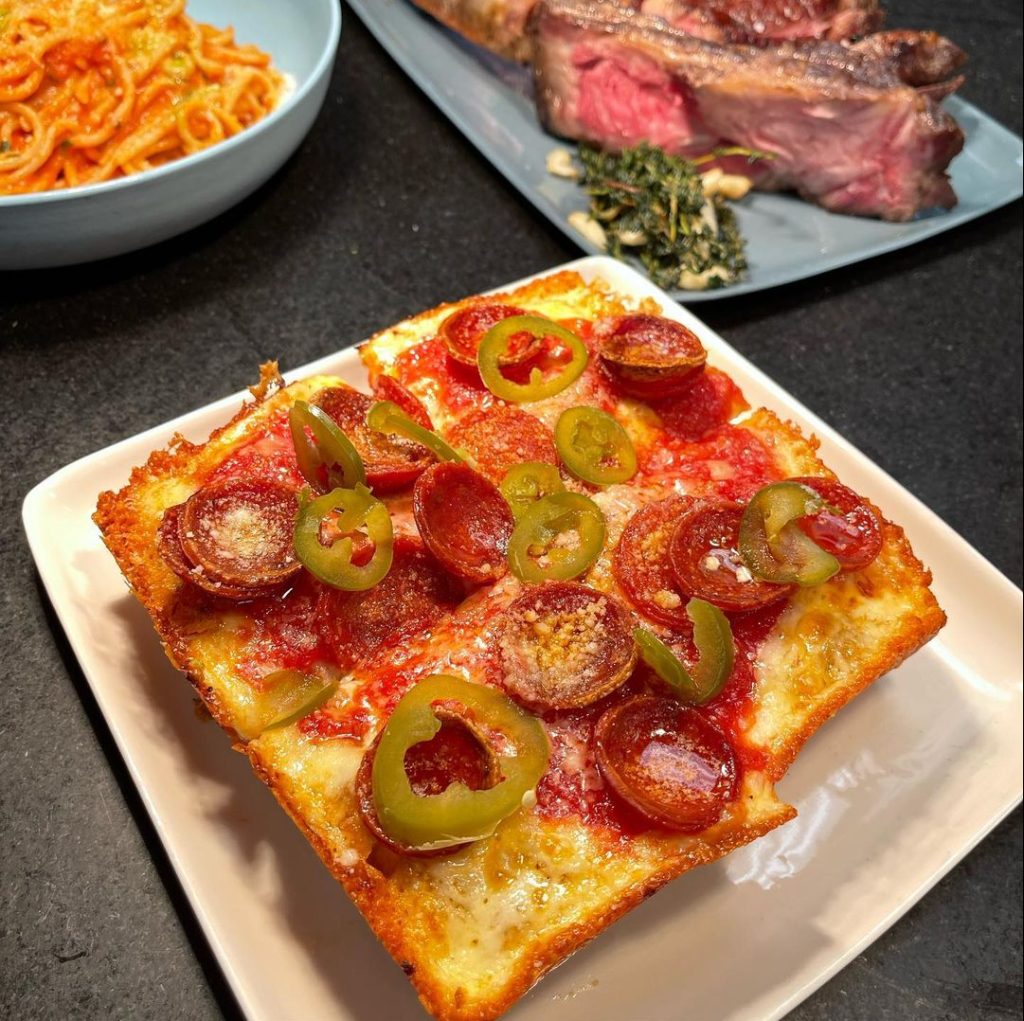 On the extensive menu, you can find classic Italian dishes like chicken cacciatore and tiramisu and more unique options like lobster bisque and filet mignon bunuelo. The service and the atmosphere are classy without being stuffy, with the servers attentive without invasiveness. Falco's menu features dishes that pay homage to his Sicilian roots and promise a "psychedelic Italian" meal.
There are starters, salads, pasta, pizzas (square and round), entrees, and sweets. One pound of hand-pulled belgioioso curd, a side of marinated tomato and basil, salumi, warmed olive and roasted pepper, and fresh Puccia bread makes up the Special – Tableside Mozzarella.
Italian American Psychedelic is a style of cooking that honors generations of Italian chefs by updating traditional meals and family ancestral recipes with the world's finest and most mind-blowing ingredients and methods. All night long, diners may indulge in Chef Falco's distinctive assortment of pizza perfection, house-made pasta, steaks, seafood, desserts, and late-night finales, which are guaranteed to leave them feeling completely satisfied and energized.
Pizza is Superfrico's strong suit and we highly recommend you don't miss it. The service at Superfrico Las Vegas is prompt and professional. Pistachio pesto, fresh mozzarella, mortadella, stracciatella, parmigiano reggiano, and pistachios are included on the Pistachio Mortadella pizza. If you're watching "Opium" at Superfrico, you can have delicious pizza delivered right to your seat.
A great feature of Superfrico for those who dine alone is the variety of establishments that provide food. Many guests of the Cosmopolitan Hotel will frequent this establishment to have a fast slice of pizza and a few drinks. If you're looking for good chicken parm in Vegas, you should eat here.
To give you an idea of what you may expect from the menu, here are just a few highlights:
Meatballs are traditionally served in Sicily and are made of dry-aged beef, garlic, saffron, pine nuts, golden raisins, pistachios, mint, and honey.
Vegan Tomato, mint, almond, walnut, basil, and scallion powder are used in the Trapanese pesto served over Gemelli pasta.
Pistachio pesto, mortadella, fresh mozzarella, parmigiano reggiano, stracciatella and pistachios top this square pizza.
White wine, clam, cream, bacon, parsley, scallion, lemon, black pepper, oscietra caviar, and clams top a round pizza in this classic Clam Pie.
6-ounce koji-marinated Creekstone bone-in prime filet, butter, and sea salt make up this dish's signature Filet Mignon.
Vegan Pina Colada Sorbetto with Roasted Tajin, Pineapple, and Vanilla
Dishes at Superfrico Las Vegas range from $10 to $20. Most of the menu is priced in that range but some dishes cost higher.
During your Superfrico meal, it cannot be easy to figure out where to look. Contrasting the flashing neon signs, pounding music, and wandering entertainers is vibrant, creative artwork adorning the walls. Superfrico's design was influenced by Adehla Lee's Psycho Pop Party, a film that inspired the crew at Spiegelworld. Due to the twenty or more pieces taken from Spiegelworld and the other works exclusive to Superfrico, the dining space feels more like an art gallery (a fun one!) than a typical restaurant.
The Entertainment at Superfrico
A steady stream of performers from the nearby show "Opium" will stroll around Superfrico while you dine, as if the cuisine, wine, and art weren't enough to lure you. There may be a girl throwing out balloons, a man in a suit blowing bubbles, a dancer, a conga line, men in tuxedos with penguin "heads," a juggler, and so on. The vibe here is festive and joyful while yet being modern and stylish.
One of Superfrico's strongest points is the variety of its drinking establishments. The "Ski Lodge" a hidden nightclub with log cabin furniture, an après-ski ambiance, and a special cocktail menu that leans toward the old standbys, can be found just beyond the central eating and lounge areas. You can purchase to-go bottled cocktails from a Bottle-O store just outside the lobby's entrance.
Live performances, updated versions of traditional circus acts, and "genre-defying" activities all come together in Spiegelworld, making it a destination in its own right. Shows like "Opium" at the Cosmopolitan, "Absinthe" at Caesar's Palace, and "Atomic Saloon Show" at the Venetian Resort are all produced by the same business. Although it's set in space, Opium is a show that shouldn't be watched by anyone younger than 18. Cadets with an unhealthy fixation on sexual activity execute daredevil stunts defying the laws of physics in an extraordinarily crude and sexually explicit performance. Opium tickets for those same nights will go on sale at 8 p.m. and 10 p.m. on the show's official website.
The New Year's Eve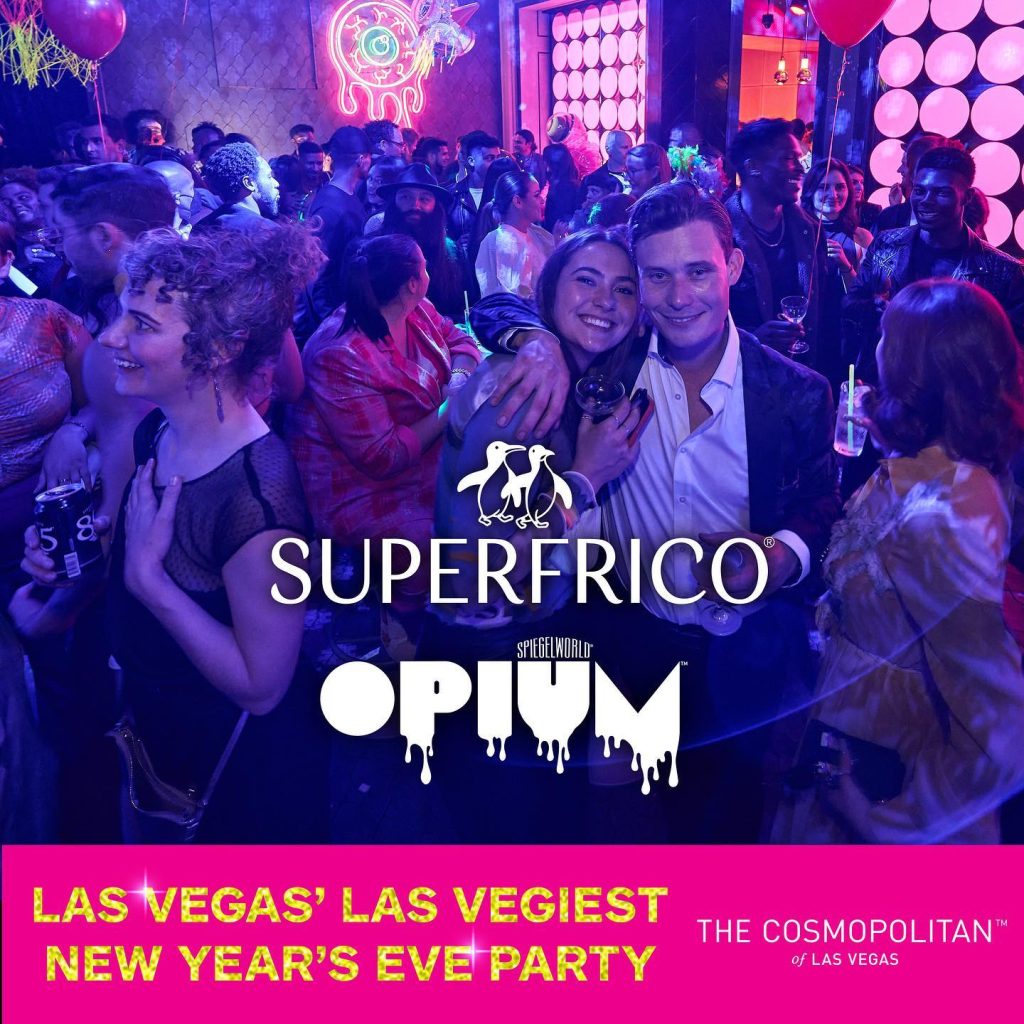 Come celebrate New Year's Eve with Spiegelworld behind the purple doors of Superfrico and OPM for an out-of-this-world, almost all-night, nearly all-inclusive, psychedelic meal and concert. Tickets include the performance of the mind-blowing, interplanetary variety show OPM, a 4-course Prix Fixe dinner at Superfrico, unique New Year's Eve beverages, and all the wonders of Spiegelworld. It's time to get tickets.
Pro Tips!
Most people think of Las Vegas when they hear "casinos" or "concerts," but the city has much more to offer. Depending on where you go, you might not have to walk far to find zip lines, golf courses, five-star hotels, and delicious food. The best way to take it all in is by going to Superfrico Las Vegas. However, keep the following things in mind for an exceptional experience.
Getting here early is one of the most effective ways to avoid long wait times and secure your desired item. In general, more people gather as the day progresses. Alternatively, booking in advance is what we would always recommend.
Superfrico Las Vegas has free parking, so take advantage of it. If you're traveling from a considerable distance, this can be a huge time saver.
Get some use out of the map that came with your entry ticket. If you want to avoid long lines at popular attractions, this will tell you which ones to visit first. Be bold about asking the staff in advance if there is something, in particular; you want to see or do.
A Superfrico ticket package may include unlimited visits over two days or just one day. You can save money by purchasing a ticket package even if you will only be in town for a short time.
In a Nutshell
If you are searching for an experience in Las Vegas that incorporates both dining and entertainment, you can include Superfrico and Opium on your list of potential destinations. Prices at Superfrico aren't exactly inexpensive, but they're comparable to those at other Las Vegas Strip eateries. Finally, Spiegelworld has another hit with Superfrico, the newest Italian restaurant on the Las Vegas must-try list. It's everything and nothing you would expect from an Italian American psychedelic dinner and raucous voyage in space, but it's also nothing you would expect. It's the invitation to the "chaotic" party you secretly hope to get on your calendar.
Supefrico Las Vegas - FAQs
What is the best thing about Superfrico Las Vegas?
The entire experience of food with partying the entire night is the best thing about Superfrico Las Vegas.
Which food items are a must-try at Superfrico Las Vegas?
The Pizza at Superfrico Las Vegas is one dish that we recommend is a must-try. Besides, the Pistachio Pesto is also one of the best dishes at Sperfrico Las Vegas.
What is the best drink at Superfrico Las Vegas?
Vegan Pina Colada Sorbetto and White Wine are two of the most recommended drinks at Superfrico Las Vegas.
Is there a New Year's Celebration at Superfrico Las Vegas?
Yes, Superfrico Las Vegas will have a special celebration for each New Year's Eve with an all night of fun.