Maine is known for its wilderness, beautiful forests, and crystal-clear creeks. It's also home to some of the best waterfalls in the US. Maine is one of the northernmost States of the US and is home to hundreds of waterfalls. These waterfalls are surrounded by breathtaking scenery and fit right into the stunning natural beauty of the State.
This State is also famous for its ski resorts and hiking trails, many of which are amongst the world's most treacherous. As a result, you'll get to explore many more streams and smaller waterfalls, trek in the expansive forests, and enjoy fishing or camping in one of the State's many nature parks.
After visiting waterfalls in North Carolina and Minnesota, we decided to explore waterfalls in Maine and find out the best options for our readers.
Our Take on The Best Waterfalls in Maine
If you're a nature lover and want to visit the most gorgeous waterfalls in Maine, follow the options recommended by our experts. When visiting waterfalls in Maine, you'll have plenty of options including the steep Angel Falls, smaller roadside waterfalls, or hard-to-reach ones like Billings Falls. Let's begin!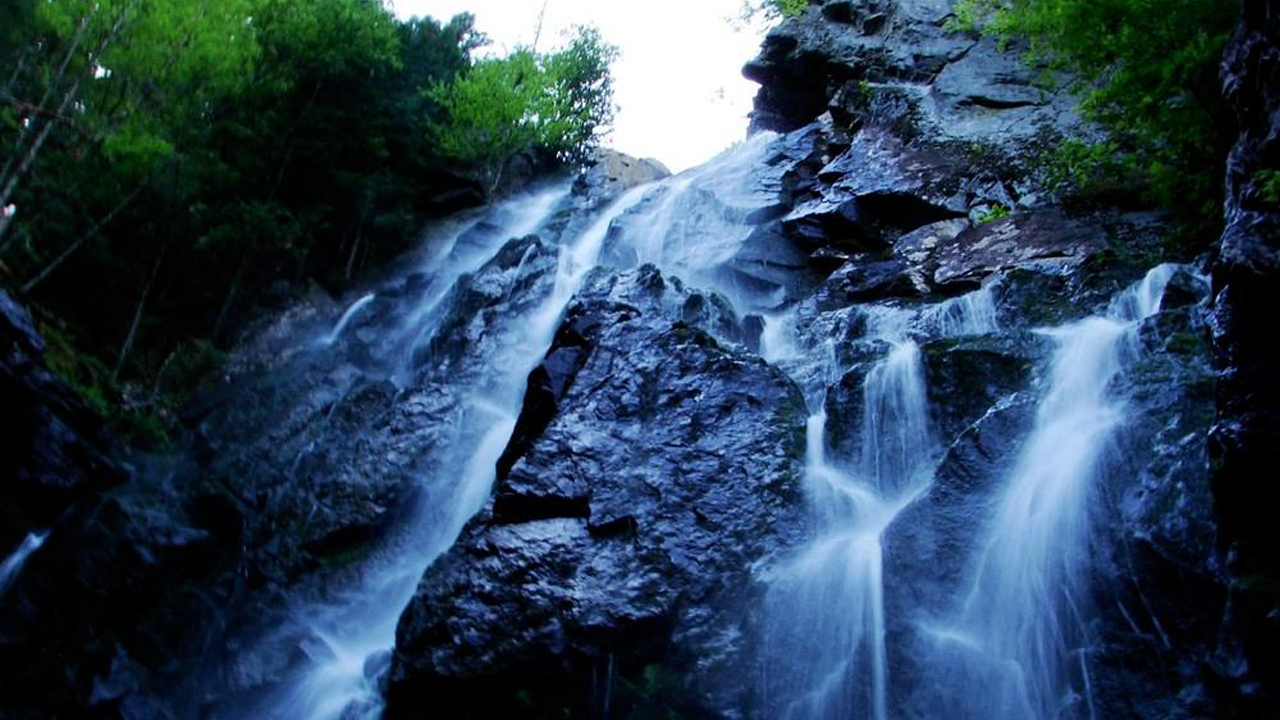 Angel Falls is the most popular waterfall in Maine with the steepest drop and a strong year-round water flow. For this reason, it attracts hiking enthusiasts and adventure lovers! This scenic waterfall plunges 90 feet from Mountain Brook into the stream below, making it a sight to behold.
Its name comes from the angel-shaped water flow created when the current is strong, giving it a breathtakingly beautiful look.
To get to Angel Falls, you'll have to go through the 0.6-mile-long hiking trail from the parking area. The trail is suitable for beginners, although you'll have to be fit enough to make it up the rock hops as it's an uphill trail. This trail is also dog-friendly and there are several stream crossings that make it more accessible.
When visiting Angel Falls, it's best to avoid public holidays and weekends or you'll struggle to find parking space. While it's free to access the trail, you'll have to choose an alternate option nearby if you're visiting in the peak season.
Here are several precautions to take when hiking through the trail to Angel Falls:
Firstly, try visiting outside of the rainy season when the streams aren't flooded or you'll have a difficult time crossing the streams.
Be extremely careful when stepping on slippery rocks and wear proper hiking gear.
Keep your dogs on a leash, especially when the trail is busy.
Avoid going outside of the marked areas for picture taking, even if it means getting a better shot.
Avoid swimming in the waterfall's pools when the water level is too high as the nearby rocks can be dangerous.
Overall, the hiking experience is worth it and not too difficult if you visit between May and November. You can get regular weather updates from the official website of Angel Falls, regulated by Trails for Rangeley Area Coalition.
Related: The 8 Most Gorgeous Waterfalls Of Indiana
While Houston Brooks Falls is frequented by tourists, it's not as popular as the Angel Falls or Moxie Falls. However, this is probably the most underrated waterfall in Maine and its breathtaking view, hiking trail, and clear water is second to none. The 32-foot plunge isn't the biggest waterfall in the country, it's spectacular for several reasons.
Accessible from a half-mile trail from the parking area, this waterfall is one of the easiest to access. The trail is beginner friendly, but you'll have to wear proper hiking boots and be careful when exploring as the surrounding rocks can get slippery. Moreover, it is dog-friendly as long as you take your furry friend on a leash.
Once you're done taking pictures at the stunning waterfall, you can swim in one of the many natural pools in the area. While it's not as busy as some of Maine's other waterfalls, it's best to visit in the off-season when there's less traffic. However, the best time to visit Houston Brooks Falls is in the summer between May and October.
This is also one of the few waterfalls in the State that doesn't freeze in winter due to the strong water currents. The hiking trail also remains open when it's snowing. However, avoid swimming in winter or early spring as the water can be freezing cold.
With a steep 90-foot plunge, Moxie falls is the largest waterfall in Maine, and also one of the most frequently visited ones. Located in Somerset county, this amazing waterfall attracts thousands of tourists yearly. What makes this trail truly special is its remoteness and close proximity to Moxie Lake and Kennebec River.
The hike on this waterfall is 2 miles for the round trip with a moderate level of difficulty. There are plenty of activities to do around Moxie Falls (besides hiking of course!). You can try whitewater rafting, fishing in the Kennebec River or camping at the famous Moose Lake.
However, plan your trip and book lodging beforehand as it can get quite busy from May to September. If you want to visit when it's not so busy, try visiting in April or October. While Moxie falls don't freeze in the winter, the water can be quite chilly in the spring, so it's best to visit in summer or early fall if you want to swim in the waterfall's pools.
With multiple smaller cascades along the trail and the shimmering stream water, this trail is perfect for adventure lovers. If you're planning to visit the area for vacation, try staying near Moxie lake, which boasts some of the best resorts in Maine.
To visit this waterfall, you'll have to go through the scenic Route 201 along the Kennebec River. The trip is well worth the long drive and the challenging but scenic trail more than makes up for it. This trail has been improved over the years and can be accessed by beginner hikers as well. It's also dog-friendly and many places don't require you to keep your dog on a leash.
Recommended Reading: 9 Grand Waterfalls In Oklahoma That You Must Visit
If you aren't a fan of hiking trails and want to visit one of the most easily accessible waterfalls in Maine, the Screw Auger Falls is ideal. It's right along the roadside in the Grafton Notch State Park and can be accessed by a simple paved path. With a 0.2-mile track round and back, it is one of the easiest waterfalls to access in Maine.
With a 25-foot plunge, it is a small one, but what it lacks in height, it makes up for in beauty. As the waterfall is known for its scenic beauty, it attracts many professional photographers. If you're visiting the Grafton State Park, the Screw Auger Falls is one of the more scenic options available.
What makes this waterfall unique from all others are the several smaller cascades that slow down the water flow and make it ideal for swimming. The width of these falls also makes it perfect for photography, even when the area is busy. The falls are accessible year-round and there are plenty of activities to do year-round. Since it is an easy-access waterfall, you will feel comfortable even when bringing kids and elders.
If you're a more serious traveler, you can visit some of the more challenging hiking trails in the Grafton State Park. In the winter, you can go skiing in the nearby Sunday River Ski Resort and enjoy the beauty of the scenic Bear River.
Suggested Reading: Beautiful Waterfalls In Colorado To Experience Utmost Serenity
Snow Falls is one of the more underrated waterfalls in Maine. Unlike the more popular options mentioned above, it's less frequented and perfect for anyone looking to experience the raw natural beauty of Maine. It's another roadside waterfall located on the way to Portland from the Acadia National Park.
These falls get their name from the snow-white color of the water, which gently slithers down a beautiful cascade with a 25-foot drop. The water flow is slow to moderate and there's even a viewing bridge from which to take pictures of the waterfall. There's also a lovely picnic area beside the viewing area, making it ideal for a one-day trip from Portland.
While it's accessible throughout the year, there usually isn't any flow in the winter, so it's best to visit in early to mid-fall.
Grand Falls is another waterfall that lives up to its name. Unlike many higher waterfalls, the Grand Falls forks into a horseshoe shape, which helps slow down the water's flow. It's not the smallest waterfall in Maine either and with a 40-foot drop height, it's well worth taking the time to visit.
Despite the fact that it's one of the most scenic waterfalls in Maine, it's not known by many people outside the State, which is why these falls aren't as crowded as other popular falls. The road to Grand Falls can be a bit bumpy, but you can travel on it with a 2WD drive as well. However, you'll still have to hike toward the waterfall, which brings us to the next part of this amazing waterfall: the hiking trail.
From the trailhead, you'll have to head upstream along the Maine Huts Trail for about a mile before you reach the falls. The trail is scenic, especially during the winter and you can use a snowmobile or ATV to cross it. However, it isn't too difficult to travel by foot, although it may take up to an hour, depending on your fitness.
Summer activities over here include fishing, hiking, mountain biking, bird nature walks, and paddling. On the other hand, winter activities include skiing and fat tire biking experience.
If you're serious about hiking and want to have a longer trip, you can book accommodation at the trailhead lodges. If you're looking for a raw hiking experience and want to avoid the popular busy areas, then Grand Falls Maine is the perfect waterfall to visit.
The Cascade Falls is another of Maine's hidden gems. It's not the highest or widest waterfall, but the majestic scenery is second to none. Located in a forested area near the Old Orchard Beach, these falls have a refreshing feel. There are two viewing decks for photography at the waterfall.
Before you reach the falls, you'll have to hike through the Cascade Falls Trail. This trail is less than a third of a mile long and can easily be covered in 10 minutes. Along the way, you can see numerous watering holes and choose between the lower or upper trail.
You don't need significant hiking experience to cover the trail and it's pet friendly as well. Once you reach the falls, you can swim in the water pool although you'll have to be careful when the current is strong. There are several other fun activities for visitors over here including fishing, snowshoeing, and picnicking as well!
If you're looking to experience one of the most scenic waterfalls in Maine without having to go on a difficult hiking trip, these falls are the ideal location for your next trip.
Editor's Pick: The Top 10 Spectacular Waterfalls In Ohio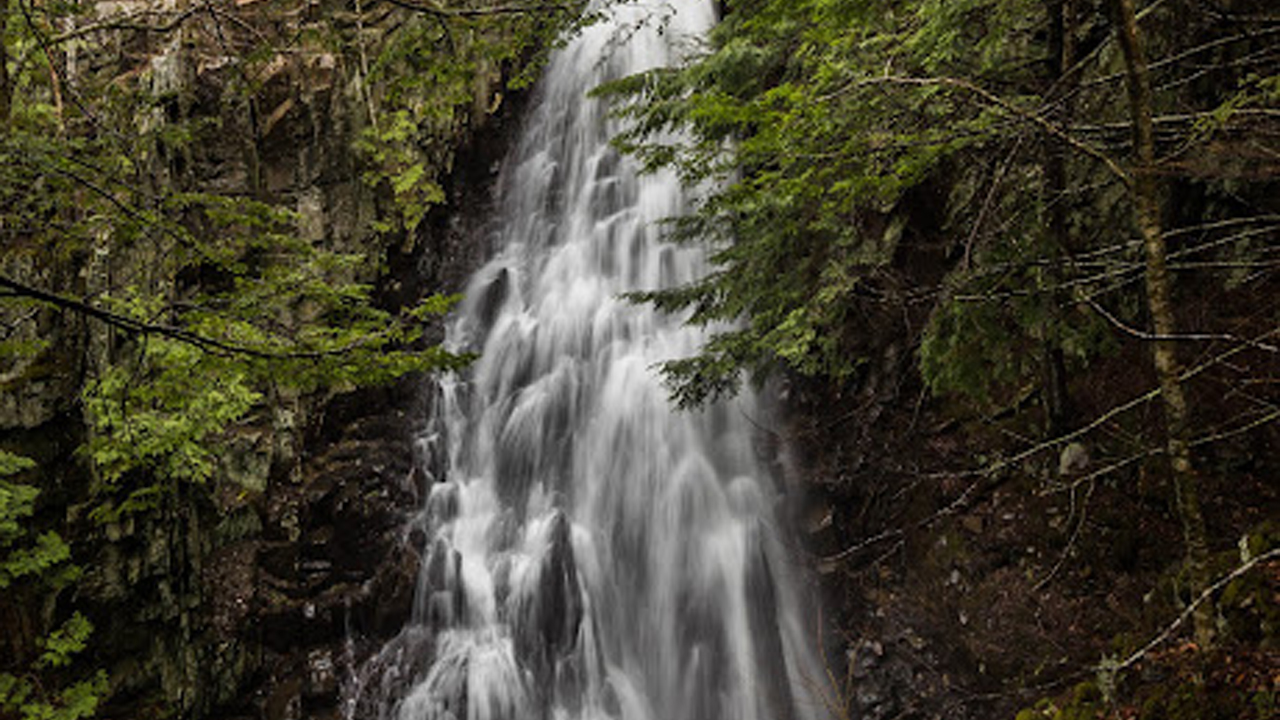 Located in Franklin County, Mosher Hills falls is the perfect roadside waterfall to visit if you're in central Maine. It's one of the lesser-known waterfalls in the State but has a majestic view that's on par with other popular falls. With an impressive height of 45 feet in a steep gorge, this waterfall is a sight to behold.
This waterfall doesn't have a strong water current, but this adds to its majestic look. The trail leading up to the gorge is simple to navigate, but you'll have to be careful to slip on the rocks. Once you reach the base of the waterfall, you can take pictures or simply marvel at its wonder.
Swimming is prohibited at these falls, and you'll have to keep your dogs on a leash if you're traveling with them. These falls are perfect for a day trip or if you're traveling through Central Maine and want to spend some time at a scenic roadside waterfall.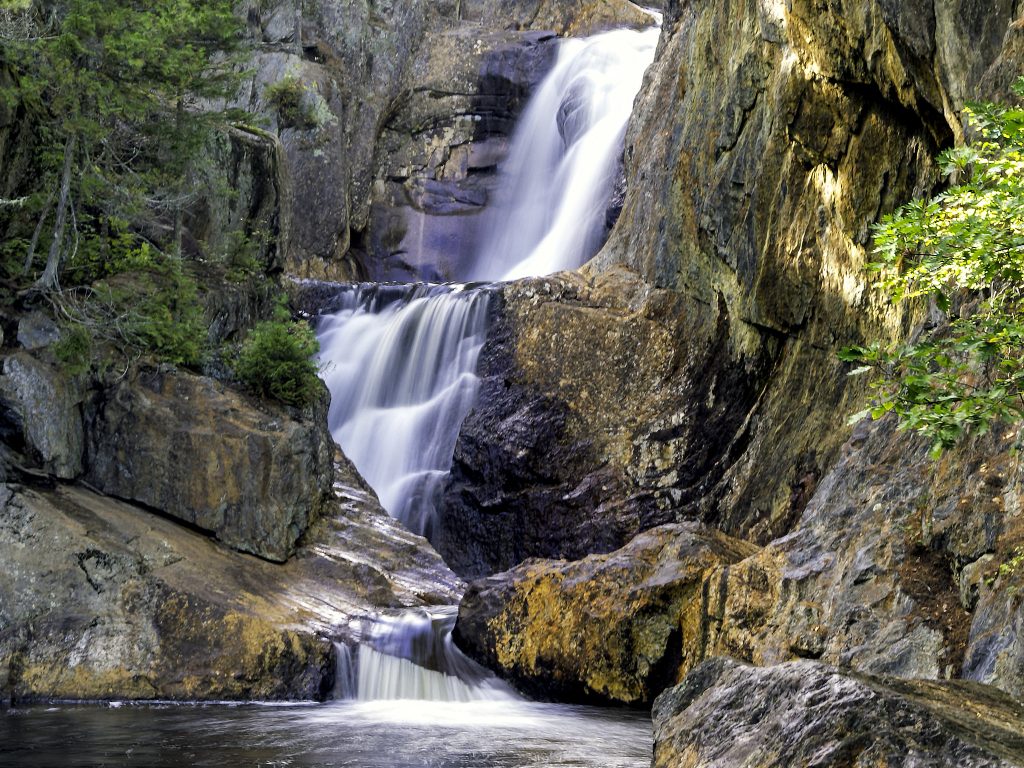 Small Falls is another hidden Maine gem located in Franklin County. Despite the name, it's one of the steepest waterfalls in Maine with a 54-foot drop. However, this waterfall flows smoothly despite the massive total drop because of the cascades that almost divide it into several smaller waterfalls.
These four small waterfalls drop into small pools where you can swim if the water level permits. With side fencing around the cascades to protect swimmers, this waterfall is one of the safest to visit with kids and pets. The swimming pools created by the waterfall are breathtakingly beautiful and perfect for all types of swimmers because of the weak current.
To access this waterfall, you'll need to hike on a quarter-mile trail which usually takes around 10 minutes to cover. You'll also notice the smaller Chandler Mills Falls along the short hiking trail, which is a bonus.
If you're an experienced hiker and want to challenge yourself to visit the best-hidden waterfall in Maine, put visiting Billings Falls on your to-do list. These falls are stunning, to say the least. With a 20-foot drop, they aren't the steepest in Maine, but are stunning nonetheless.
Getting to this waterfall involves a treacherous hike up the Rim Trail. Most people will be satisfied with visiting the Screw Auger Falls and only experienced hikers choose to take the hard route to Billings Falls.
The hike is well worth the effort though, as you'll get to visit one of the few falls in Maine that's not teeming with tourists in the summer. If you choose to visit this waterfall, it's recommended to take a map along with you as the journey can get tricky at times.
Suggested Reading: Stunning Waterfalls In Wisconsin for Your Leisure Next Trip
Things to Consider Before Visiting Waterfalls in Maine
If you're planning on visiting one of Maine's majestic waterfalls, it's best to plan properly beforehand. Here are some things to consider before visiting waterfalls in Maine:
Accessibility
While there are some easily accessible roadside waterfalls in Maine, many are only accessible by a hiking trail. While the popular waterfalls have hiking trails suitable for beginner hikers, some are accessible by trails that only professionals can traverse. So, if you're planning on visiting one of the more hidden waterfalls, make sure you have enough hiking experience to reach there safely.
Visiting Time
While some of Maine's waterfalls can be visited year-round, many will freeze over or dry up in winter, so it's best to avoid travel during the winter months. The best time to visit waterfalls in Maine is between May and October when the water temperature is reasonable and there's decent water flow.
Pet Access
Most popular waterfalls in the State are pet friendly but you'll have to consider several factors before bringing your pet along. If the waterfall allows dogs, check the rulebook to see whether you're allowed to leave your dog off its leash. Even if it's allowed, expert hikes recommend keeping them on a leash for safety.
How Do We Pick Our Recommendations?
Since Maine is littered with hundreds of spectacular waterfalls, picking the top 10 can be challenging. When picking whether a waterfall will make it to this list, there are several factors that we consider. Firstly, we consider the waterfall's accessibility. It has to be easy to drive close to the waterfall and the hiking trail shouldn't be too far away from the falls. Secondly, we also consider how aesthetically pleasing the waterfall is. We also took into account the different activities which the visitors can go for.
Final Words
If you ever travel to Maine, be sure to visit a few of these most spectacular waterfalls. Depending upon how experienced you are and with whom you are traveling, pick the right ones and make sure to have loads of fun!
Waterfalls in Maine - FAQs
What is the Steepest Waterfall in Maine?
Most people are divided on whether Moxie Falls or Angel Falls is the steepest in Maine. However, the general consensus is that Moxie Falls is slightly steeper than Angel Falls. With a 90-foot drop, it's one of the steepest waterfalls in the US.
How Many Waterfalls are in Maine?
While the exact number isn't known, it's estimated that there are over 600 waterfalls in Maine. Many of these are small cascades but there are dozens of larger ones as well, including the majestic Angel Falls and Moxie Falls.
What is the Best Time of the Year to Visit Waterfalls in Maine?
The best time to visit a waterfall in Maine is between June and August when the water flow picks up and the weather is warm. The water temperature in Maine's rivers and streams remains cool in the summer, making it the perfect place to cool down and relax. If you want to avoid the summer rush, you can visit in the fall and some waterfalls are accessible in winter as well.