Indiana has resorts for all kinds of vacationers, whether you are seeking a quiet, romantic getaway or a fun-filled vacation spot for the whole family. Our team stayed at many resorts in Indiana after which we were able to compile this list of the best resorts in Indiana. Many of the state's best attractions may be reached from the comfort of your resort, which offers a wide variety of services to accommodate your party.
Finest Resorts in Indiana for Your Next Vacation
There is a wide range of resorts in Indiana to suit all budgets and preferences. The kind of trip you want to take should determine where you stay. Here are Indiana's top resorts to consider for your next trip to the Midwest.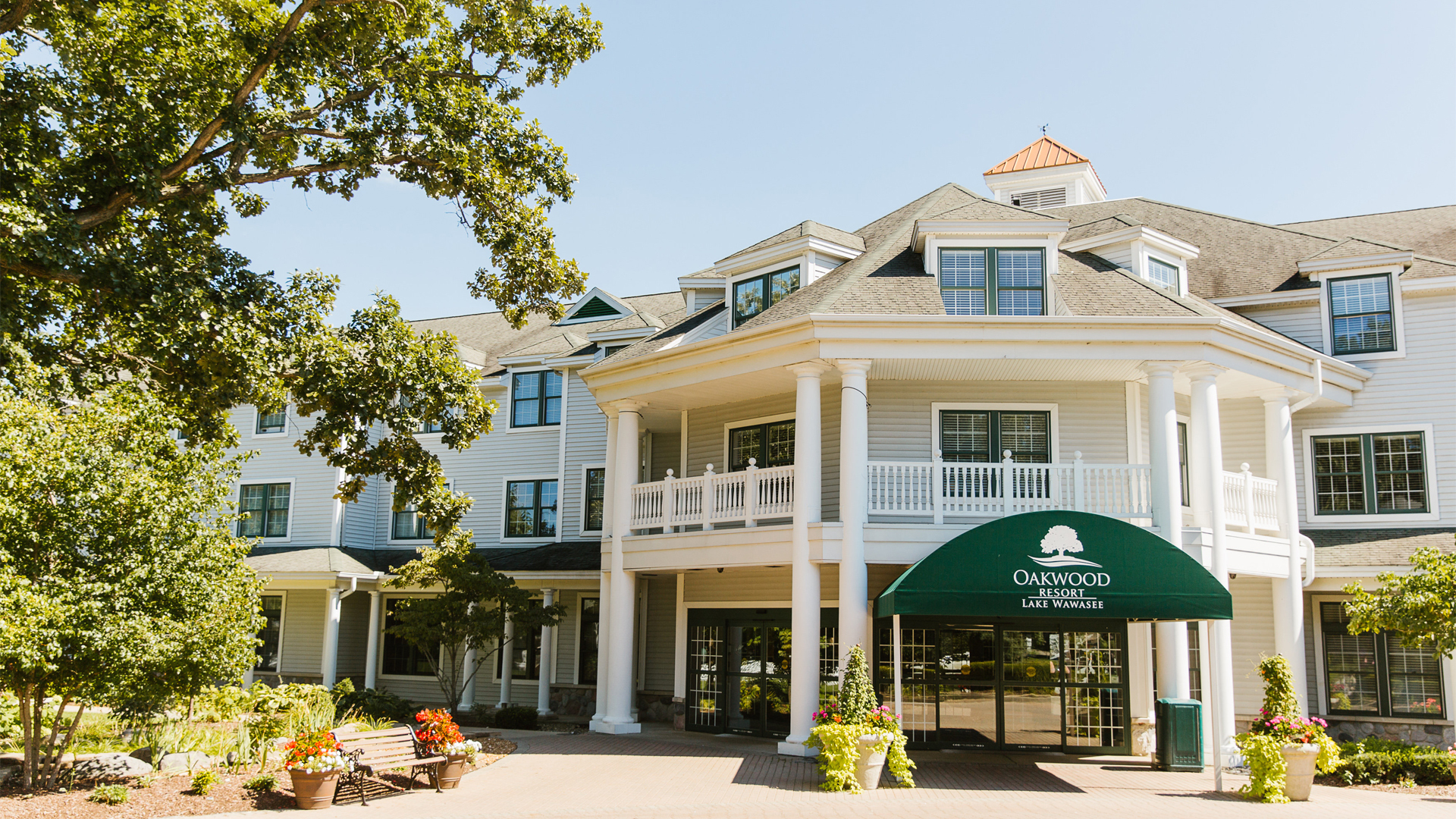 Oakwood Resort is a great site for a lakeside getaway for families, couples, and big parties since it is located on the banks of Lake Wawasee, Indiana's largest natural lake. This property is ideal for celebrations, family vacations, or quick weekend getaways, and it is conveniently situated less than an hour from South Bend and Fort Wayne and less than two hours from Chicago and Indianapolis.
Price ranges from $120 per night while staying at a Standard Room.
The exact address of the resort is 702 E Lake View Rd, Syracuse, IN 46567.
Oakwood Resort can accommodate a wide range of group sizes and budgets thanks to its 77 guest rooms and suites and 10 vacation villas. All of the rooms are large, airy, and tastefully decorated with contemporary amenities like complimentary wireless internet, coffee machines, and flat-screen televisions. The suites provide a higher standard of living with their separate living and dining areas and fully-equipped kitchens.
Aside from the in-room conveniences, there is a modest restaurant just outside the door that serves a complimentary continental breakfast on weekdays and has a terrace overlooking the lake. Multiple event spaces, including a hilltop banquet hall, are available for business and social gatherings at this resort. A full-service salon and spa including Aveda treatments and staff are also available at the resort.
The guests can enjoy the resort's arcade and playground, which is one of the nearby attractions. Guests can also enjoy the resort's sandy beach, fishing pier, boat dock, and kayak and pontoon boat rentals. As a bonus, you can also play golf nearby. With so much to offer in a moderate price range, this is definitely among the best resorts in Indiana.
Suggested Reading: Where to Drink in Minneapolis? A Guide to the City's Most Unconventional Bars
Lighthouse Lodge is a bed and breakfast resort, located on the banks of Lake Shafer in Monticello that welcomes children. This is a reasonably priced, relaxing place to stay that is close to the water's edge at one of the lake's small beaches.
The standard nightly rate for a room is $120.
The exact location of the resort is 4866 N., Boxman Place, Monticello, Indiana.
7 luxury suites are available and each has a kitchenette, a balcony, and a fireplace. Aside from the main house, there are two detached cottages, each with its fully-equipped kitchen, for guests' use. The rooms are well furnished with granite countertops, stainless steel appliances, and ceramic tile flooring. The bathrooms are large and include walk-in showers. Cottages with two bedrooms are ideal for families because of their spacious layout, which includes a kitchen and a balcony with a view of the lake.
In the morning, guests can have a hearty breakfast in the recreation room before spending the day sunbathing in the sunroom, on the huge sundeck, or on the park-like lawn. In the afternoon, they can go swimming at the sand beach or boating on Lake Shafer, a 10-mile recreational lake.
The amusement area has billiards, a bumper pool, and darts, among other games. In addition, there are two fire pits and barbecue grills available for use in the yard. On the park-like grounds stands a stone lighthouse that dates back to the 1930s.
Due to the location so near to the lake, water sports are constantly within easy reach. Guests can enjoy a refreshing dip at the lake's small beaches or go on a relaxing boat ride. Several golf courses and horseback riding trails can be found in the vicinity of Crooked Creek. Jimmy O's, one of the most popular restaurants in town, is within walking distance of the resort.
Once you realize that all of this is just for $120 a night, it feels like a dream. However, The Lighthouse Lodge is true in its all forms. From our analysis, this is a top-rated resort in Indiana for families, specifically.
While you are in Indiana, follow our guide to small towns to visit in Indiana for exploring more about the state!
You can get away from all the hustle of the city at the New Harmony Inn Resort. It is about a mile from Harmonie State Park and a few blocks from Highway 66 in New Harmony, Indiana. If you are looking for a romantic holiday, this resort is perfect. There are acres of gently undulating terrain on the property, with access to walking pathways, waterfalls, ponds, and well-tended gardens.
A typical room at this resort can be rented for about $96 per night.
This resort is located at 504 North St, New Harmony, IN 47631.
This conference facility and resort has 90 rooms and can host events with up to 300 people. From cozy apartments in the main building, some of which have balconies or fireplaces, to more spacious quarters in one of three separate guesthouses, all of which have complete kitchens and private gardens, this location has a lot to offer in terms of lodging options. Replicas of Harmonic Period furniture decorate the apartments, which also have modern conveniences.
There are a variety of facilities available to guests, such as a free breakfast buffet, complimentary use of bicycles, tennis courts, and more. Among the facilities available to guests are a fitness center, an outdoor heated pool, and a spa. In addition, a casual eatery providing traditional American meals is available.
The resort's "Harmony for Two" package is a romantic getaway designed just for two people. Enjoy a romantic stay with late checkout, supper, and breakfast for two, plus chocolate-covered strawberries and champagne.
Tillich Park and Harmonie State Park are great places to see the area's natural beauty, while Thrall's Opera House and the New Harmony Gallery of Contemporary Art are two of the city's cultural attractions. You can get your swing in shape on a local golf course, and there are also plenty of opportunities for other outdoor pursuits, such as hiking and bicycling, in the surrounding region.
If you are coming to Indiana with your partner, there is no better option than this resort. With plenty of romantic activities, you'll be enjoying your stay.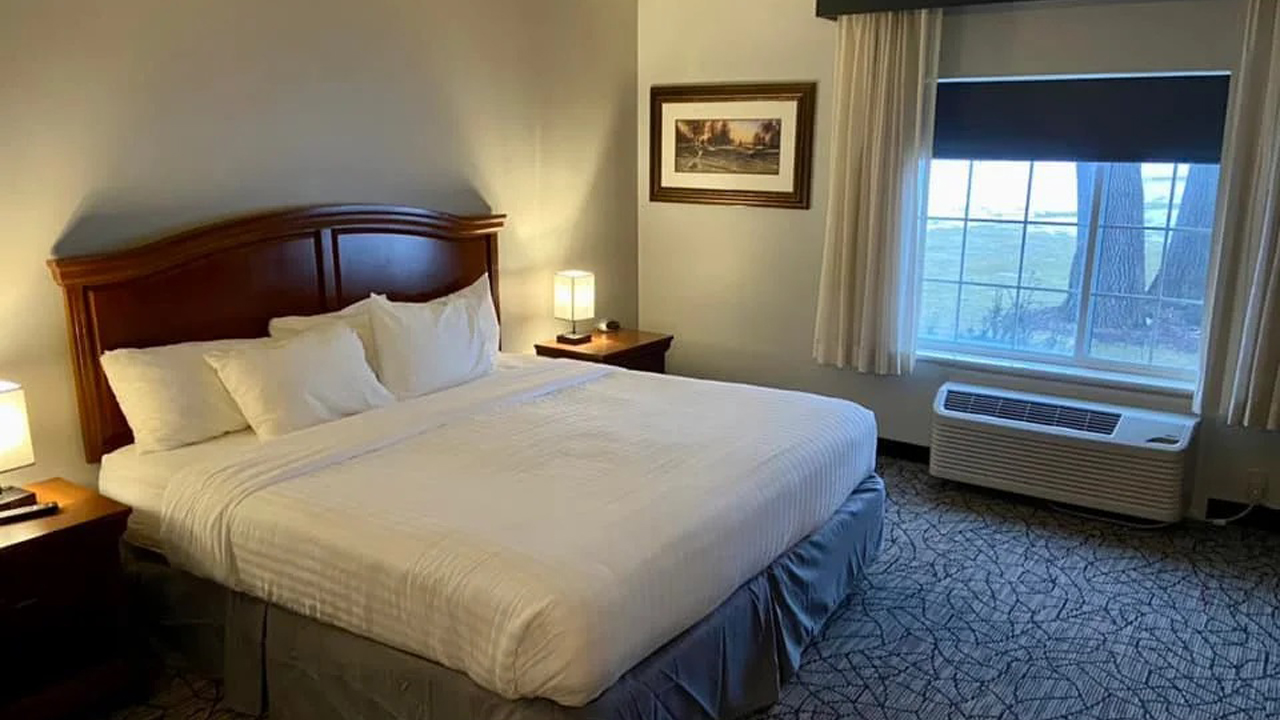 Swan Lake is a golf resort near Plymouth, in the northern part of the state, that stands on 500 acres of idyllic farmland and provides an escape from the rush and bustle of contemporary life. Guests can enjoy 36 holes of links-style golf at this facility, much as they would at a pricey private country club.
The standard room rent is $124 per night.
This resort is located at 5203 Plymouth LaPorte Trail, Plymouth, Indiana
There is a wide variety of clean and pleasant housing choices to choose from at this resort, including hotel rooms, cottages, cabins, and even contemporary villas. You can relax in comfortable rooms outfitted with the kinds of luxuries that travelers have come to expect from hotels and resorts.
There are several swimming pools and two on-site eating options, Dickies Restaurant and Putter's Bar & Grille for guests to enjoy. You can have American food at both. In keeping with the resort's golfing motif, Sam Snead's Tavern and Grill is located at Swan Lake. The restaurant, which has a menu of superb steak and seafood, is decorated with memorabilia from the golfing legend's collection.
Meetings and retreats for Indiana businesses often take place at Swan Lake Resort. The Clubhouse is also present on this resort. This golf course is home to the renowned lunch eatery Putter's Grille. There is a wide selection of burgers, sandwiches, wraps, and salads, among other things.
With so many amazing attractions close to the resort as well as the amenities on-site, we highly recommend this as one of the best resorts in Indiana, mainly for golfers!
Editor's Pick: The 6 Best Women-Led Restaurants in New York
Potawatomi Inn Resort and Conference Center
Get Directions
PERFECT FOR: Lakeside Beach Activities
Potawatomi Inn and Conference Center in Angola is a wonderful choice for business or leisure travelers. It is located in a state park on the beaches of Lake James.
Nightly room rates begin at $111.
The resort is located at 6 Lane 100a Lake James, Angola, IN 46703.
This relaxing resort has both traditional hotel rooms and more rustic cabins for those seeking a more natural setting. In total, there are 126 rooms, 8 cabins, and 4 cabin suites to suit all types of travelers. The resort's knotty pine walls and beds covered in handmade Amish quilts are a nod to the resort's natural setting. Each of the rooms has air conditioning, a flat-screen TV with satellite channels, a coffee maker, a bathroom, complimentary amenities, and a closet. Each room is equipped with a private bathroom, a hairdryer, and fresh sheets.
There is a lakeside beach and bike and boat rentals, as well as an indoor pool, whirlpool, and sauna. A laundry facility, a restaurant, and a fitness center are all available. Besides, there is a hot tub and a grill for guests to use at this 3-star hotel. It offers table tennis, and outdoor activities like fishing and hiking are commonplace in the surrounding landscape.
On-site conveniences at the Potawatomi Inn & Cabins include a business center and vending machines stocked with beverages and snacks.
The Potawatomi Inn & Cabins are located within a half-mile of Pokagon State Park which is why it is a perfect getaway for nature lovers. Fort Wayne International Airport is located 96 kilometers from the resort which is an important aspect to consider for people coming from a far-off distance.
You can drive a little over 3 kilometers to reach the Country Meadows Golf Course. The resort is accessible all year, but in the winter, visitors enjoy ice skating, fishing, and the park's spectacular toboggan slide. This is one reason why we especially recommend it as the best resort in Indiana for winter. Visitors will spend a great time at this resort for comfortable rooms as well!
Also, be sure to follow our guide on the most gorgeous waterfalls in Indiana.
Morris Inn Notre Dame is a great option for anyone looking to stay right in the middle of campus. The Morris Inn, situated as it is on the Notre Dame campus, is a popular choice for visiting parents and alums.
The rent for a single room per night begins at $123.
The exact address of the resort is 1399 N Notre Dame Ave, South Bend, IN 46617.
This resort has 132 newly remodeled standard rooms and 18 luxurious suites. The resort is sleek and contemporary, with rooms that are roomy, clean, and well-maintained. Amenities include plush bedding, views of the campus, and en suite bathrooms with glass doors. In addition to free Wi-Fi and mini-fridges, they provide guests with iPads in their rooms.
Suites are ideal for families due to their additional space, sofa beds, and luxurious bathrooms. The 48-inch TVs, 1- and- a- half-baths, and ample living space in the Grand Suites make them a great choice for families and couples in need of a little more space. All of the exceptional facilities and top-notch room options make it a reasonable choice for most budget travelers coming to Indiana.
One of the two restaurants on-site specializes in seafood fine dining, while the other serves a more relaxed menu. The hotel also has a fitness facility, business center, and laundry facilities that are open around the clock. It also has a French restaurant, a ballroom, and conference rooms in addition to its outdoor terrace. The hotel welcomes pets, and guests may take use of services including a shoe shine, same-day laundry service, and the use of the Notre Dame gym.
The Warren Golf Course, the DeBartolo Performing Arts Center, and the campus stadium are just a few of the University's facilities that guests of the Morris Inn may use during their stay. Have fun!
Four Winds Lakeside Inn & Marina
Get Directions
PERFECT FOR: Residence in Budget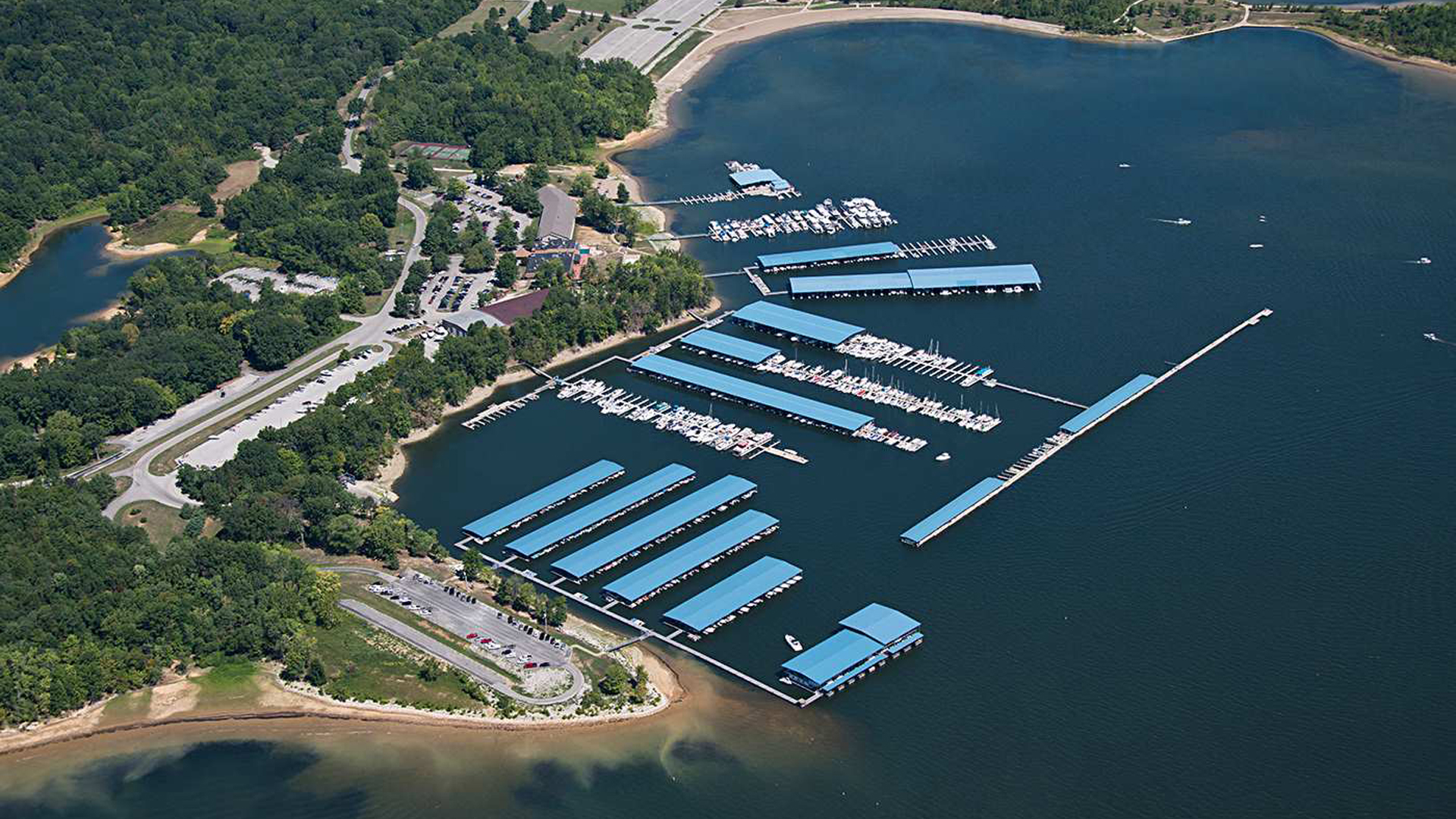 The Four Winds Lakeside Inn and Marina is situated on the shore of Lake Monroe in the Fairfax State Recreation Area, conveniently located near Bloomington and about an hour from Indianapolis. All sorts of lake and land-based excursions are accessible from here by foot, bike, or boat.
Rooms start at $76 per night.
This resort is located at 9301 S Fairfax Rd, Bloomington, IN 47401.
There are 118 rooms in the resort, each providing a comfortable and stylish stay. All of the rooms and suites are well decorated, have plush mattresses, and come with complimentary Wi-Fi, making them ideal for families, couples, and groups of friends. Suites also have a full kitchenette and sometimes a fireplace, while standard rooms have microwaves, mini-fridges, and coffee machines.
The resort has a café with floor-to-ceiling windows overlooking the lake, and a separate, wood-paneled dining room that serves a breakfast buffet in the mornings and a supper a la carte menu in the evenings. There are indoor and outdoor swimming pools, a private beach on the lake, a fishing pier, and a fitness center on the premises. Four winds resort also offers a variety of land-based activities, such as its scenic hiking paths and its tennis courts, basketball courts, and even a miniature golf course!
If you are looking for a resort near Lake Monroe and the Bloomington Speedway, this is the place to be. Both are within 9 miles (15 km) of the hotel. Within a 12-mile radius, you will find Indiana University Bloomington and the Tibetan Mongolian Buddhist Cultural Center (20 km).
Suggested Reading: Heart Capturing Resorts In Illinois for Couples
Things to Consider Before Choosing a Resort in Indiana
If you are planning a trip to Indiana, here are some things to think about while you look for a suitable resort:
Resort's Amenities: Whether you are on a tour with your loved one or taking the kids on a trip to Indiana, it is crucial to make sure you have access to the facilities you will need. If you are with your special someone, you will get to spend some private time together, which is why it is best to be with them. Be sure you and your vacation partner have a wonderful experience by reading up on the resort's offers for couples. Couples in this situation should get a stay at a resort with a pool and a Jacuzzi. Pick a resort where you can unwind and enjoy each other's company without feeling like you wasted your money. Vacationing with kids means prioritizing amenities like a spa, indoor pool, tennis court, and accessibility to dining and the beach;
The Environment: It is simpler to choose the perfect Indiana resort if you have previously had a cursory look around to make sure that everything from the furniture to the rooms to the comfort and decor is optimized for your relaxation. Find a resort where you can relax and enjoy yourself. Choose less popular days or times if that is more convenient for you
Recommendation: It is also wise to take the recommendations of those closest to you, as well as any critiques you may have, into account while looking for a new Indiana resort. Fortunately, for you, we have already made this part easier by taking into account the viewpoint of other customers as well.
How Do We Pick Our Recommendations?
All of the resorts we suggest have been tried and tested by various kinds of guests who place equal importance on ease of use and relaxation. Our team constantly brainstorms new ideas to provide our readers with the most current and helpful content available. Consideration is also given to the views expressed by visitors to these resorts. We don't just pick every other resort that we stay in rather we only pick out the ones we find to be the finest choices for different types of travelers.
Final Word
This curated collection of Indiana resorts is meant to serve as a starting point as you research and ultimately book your next trip. We hope that our comprehensive guide has helped you in picking the most suitable resort for your stay in Indiana.
Resorts in Indiana- FAQs
Which is the best resort in Indiana?
Oakwood Resort and The Lighthouse Lodge are two of the best resorts in Indiana you can go for if you are traveling with family.
Which is the most reasonably priced resort in Indiana?
The Four Winds Lakeside Inn & Marina is the most reasonably priced of the aforementioned resorts.
Are pets allowed at resorts in Indiana?
It really is resort-specific. While it is a perk at certain resorts, pets are often not permitted at others.
Do all resorts in Indiana have parking facilities?
Yes, parking is free at all of those resorts.