Saunas are well known for their ability to help you relax, detoxify, and boost your health. But did you know that your choice of attire inside the sauna can influence the quality of your experience and the advantages you derive from it? Unlike regular saunas, which crank up the heat and use steam, infrared saunas work differently.
They use a special heat that goes deep into your skin and muscles. Therefore, when deciding what to wear in the sauna, consider factors like your hygiene, and what you personally prefer. In this guidance, we will cover different attire suitable for both men and women in the sauna.
What to Wear in a Sauna?
Among the choices for ladies are a towel, bathing suit, spa gown or cotton kaftan, loose t-shirt with a skirt, and triangle bikini top. As for men, they can opt for an oversized t-shirt with shorts, a tank top and boxer shorts, simple cotton wrap, loose pants, and a linen shirt, or a bamboo robe or kimono.
Important: Keep this useful tip in mind when using an infrared sauna: the less clothing you wear, the more enjoyable the experience. It's best to fully undress when using your own private sauna. However, note that this recommendation is applicable only to personal saunas. In public saunas, such as those in gyms or spas, it's customary to wear just a towel.
There may be situations where wearing clothing is necessary due to specific rules or sauna etiquette. In these instances, like when using a public sauna, focus on wearing comfortable clothing and following sauna etiquette. If you're still unsure about how to dress, explore our collection of innovative ideas.
5 Outfit Ideas For Women
Let's kick off with lady's sauna outfits!
Spa Gown or Cotton Kaftan
For those seeking a light and breezy sauna outfit, consider the delightful option of a cotton kaftan or spa gown in a soothing hue. As for the lower part of your attire, we recommend opting for a swimsuit or any preferred underwear of your choice. You can put a robe and shawl over your kaftan gown if you want an extra layer of warmth and privacy.
You can finish off your look with a pair of clogs and mules. Also, wear lightweight wristbands and earrings that complement your kaftan gown. We must say this outfit will make you feel like a queen.
Wearing a Towel
Instead of opting for full nudity in the sauna, you can choose to wrap a towel around your body. This is a common practice in many saunas and is an excellent way to fully experience the benefits of the heat.
Just be sure to bring a large enough towel to cover your entire body and use it as a barrier to shield your skin from the hot seating. To enhance your overall look, we recommend utilizing a headband or bandana to keep your hair away from your face and avoid it from becoming overly warm.
You can also opt for rubber slippers or shower sandals to protect your feet from the hot floor and avoid slipping. Bringing along a water bottle or cup to stay hydrated during and after the session is a smart choice. Depending on your style, you can select accessories that either match or provide a contrast to your towel.
Editor's Pick: What to Wear to a Burlesque Show?
Loose T-shirt with Skirts
For comfortable yet stylish sauna attire, go for a loose cotton t-shirt or tank top combined with shorts or a skirt. These fabrics like cotton or linen are breathable, ensuring you stay cool and comfy. Avoid materials like polyester or nylon, which don't let air through and can make you feel too hot.
When opting for a laid-back t-shirt and skirt combo in the sauna, think about incorporating a necklace or bracelet to add a hint of radiance. And shield your head from the heat and sun by wearing a hat or cap. To stay as cool as a cucumber both during and after your sauna session, consider bringing along a trusty fan or a refreshing spray bottle.
A Bathing-suit
A widely favored option (My personal preference too) for ladies when dressing for the sauna is to wear a clean bathing suit. This can be either a one-piece or a two-piece, depending on your personal preference. If you opt for a two-piece, make sure it fits securely to avoid any discomfort during your time in the sauna. Look for a bathing suit made from breathable materials like cotton or spandex for maximum comfort.
While wearing your swimsuit in the sauna, consider adding a robe or cover-up to stay warm and cozy when you're not inside the sauna. To protect your eyes from the steam and intense heat, wearing sunglasses or goggles is a good idea. If you want to add a fun, beach-like vibe to your sauna look, choose colorful and playful accessories to complete your outfit.
Triangle Bikini Top
If you are looking for a flexible and fashionable garment suitable for both sauna sessions and other occasions, think about getting a triangle bikini top. It has adjustable straps that can be worn as a halter, bandeau, shoulder, or criss-crossed across the chest. And the cherry on the top is you can wear it with everything from a skirt to shorts to pants.
Yet, it's essential to verify whether the elevated temperature had any adverse effects on the fabric. Natural fibers such as silk, cotton, and linen are soft, long-lasting, and highly recommended. When it comes to footwear, you can dress casually by opting for sandals. But select sandals that can be slipped on and off with ease.
5 Outfit Ideas For Men
Now, the spotlight is on gentlemen! Let's shift our focus to men's sauna attire.
Oversized T-shirt and Shorts
If you're in need of an outfit that will make you feel comfortable without confining you, an oversized T-shirt and shorts are a safe bet. To maximize coolness, go for breathable cotton fabric. Now, here's the twist, you can enhance your look with a touch of nature, sporting a leather bracelet and a wooden necklace.
Fear not the heat; these materials are kind to your skin. And for the final flourish, we recommend you wear flip-flops or easygoing shower shoes. If you're craving more accessories, acquire a sauna belt. It not only enhances your sweat game but also provides nifty pockets for your essentials like phone, keys, or wallet.
Cotton Wrap
Want an uncomplicated and soothing outfit? Choose a cotton wrap (towel as alternative) encircling your waist. Also, this choice is suitable for men seeking a practical and minimalist option for the sake of enough coverage and privacy. If you desire to complement this outfit, you can wear a headband to avoid overheating.
How about adding a touch of sophistication to your style? One timeless and refined approach is to drape a bandana around your neck and simply tie a knot on the front. And don't forget to top off your look with sunglasses to shield your eyes from the radiant light.
Related: How To Wear A Fanny Pack: 8 Cool Ways To Style
Tank Top and Boxer Shorts
Make a style statement in the sauna with the unbeatable comfort of a cotton tank top and boxer shorts. We recommend this clothing for men wishing for a smart casual aesthetic. To infuse more personality into your attire, you can wear a cap or hat.
They will also protect your head from heat. Many men prefer sporting a fitness tracker or watch to monitor heart rate and sauna duration. If this style appeals to you, go for gadgets that can endure both water and heat.
To make this look more interesting, invest in tank tops and boxer shorts with diverse colors, patterns, or prints. For example, you could opt for a tank top featuring a humorous slogan or cartoon character, or boxer shorts adorned with stripes or polka dots.
Linen Shirt and Loose Pants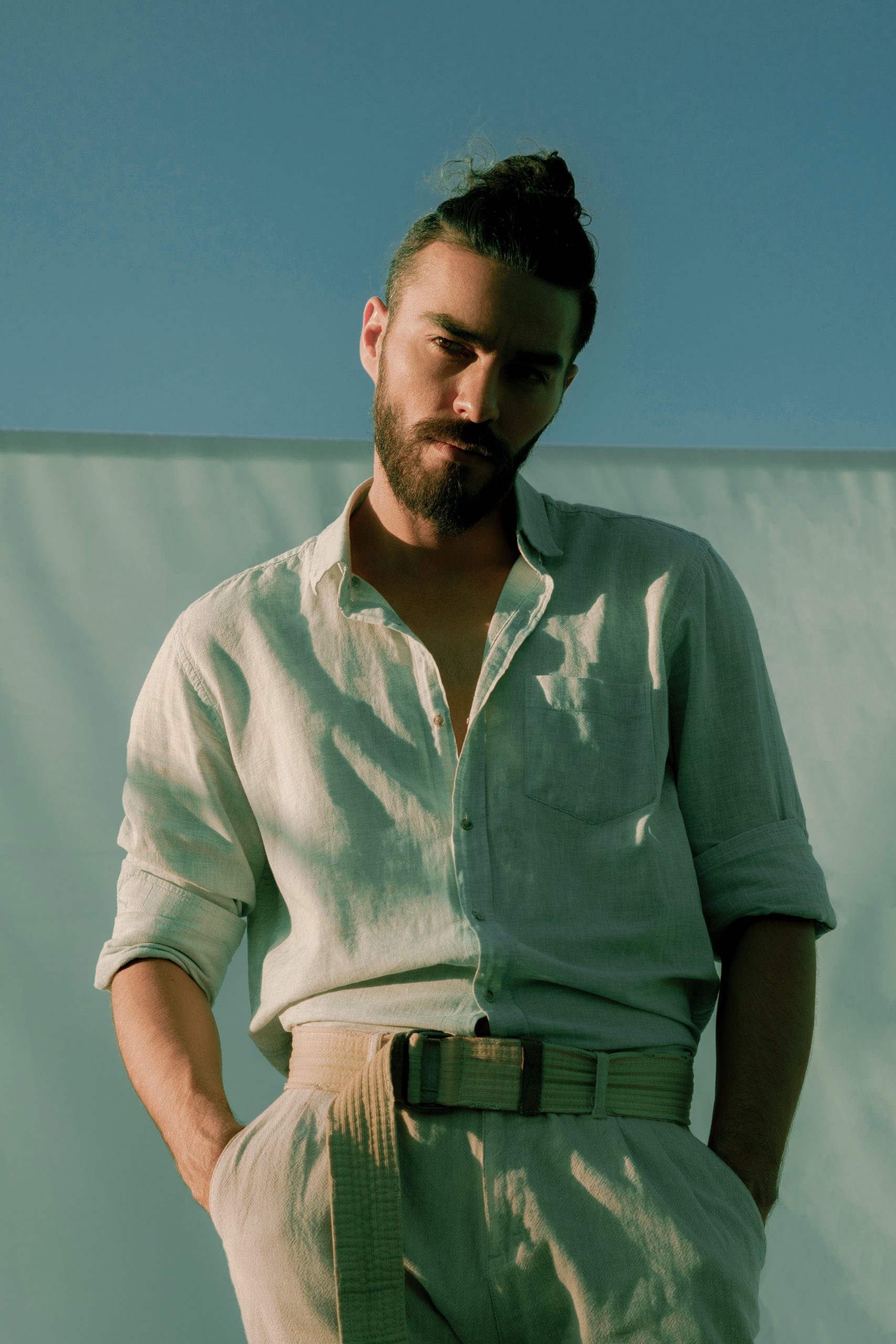 For men who detest wrinkles, the linen shirt and pants combo is here to rescue your style. Linen is a lightweight and breathable natural fabric ideal for sauna use. If you want the perfect blend of fashion and comfort, you can don a linen scarf or shawl to wrap around your shoulders or neck.
And when it comes to choosing the right footwear, men often find themselves in a quandary. Fret not, we're here with some advice – ponder about slipping into comfy slippers or stylish sandals for a relaxed and trendy sauna look.
Need advice on what colors to pick for your outfit? We recommend going for light shades like white, beige, or pastels.
Kimono or Bamboo Robe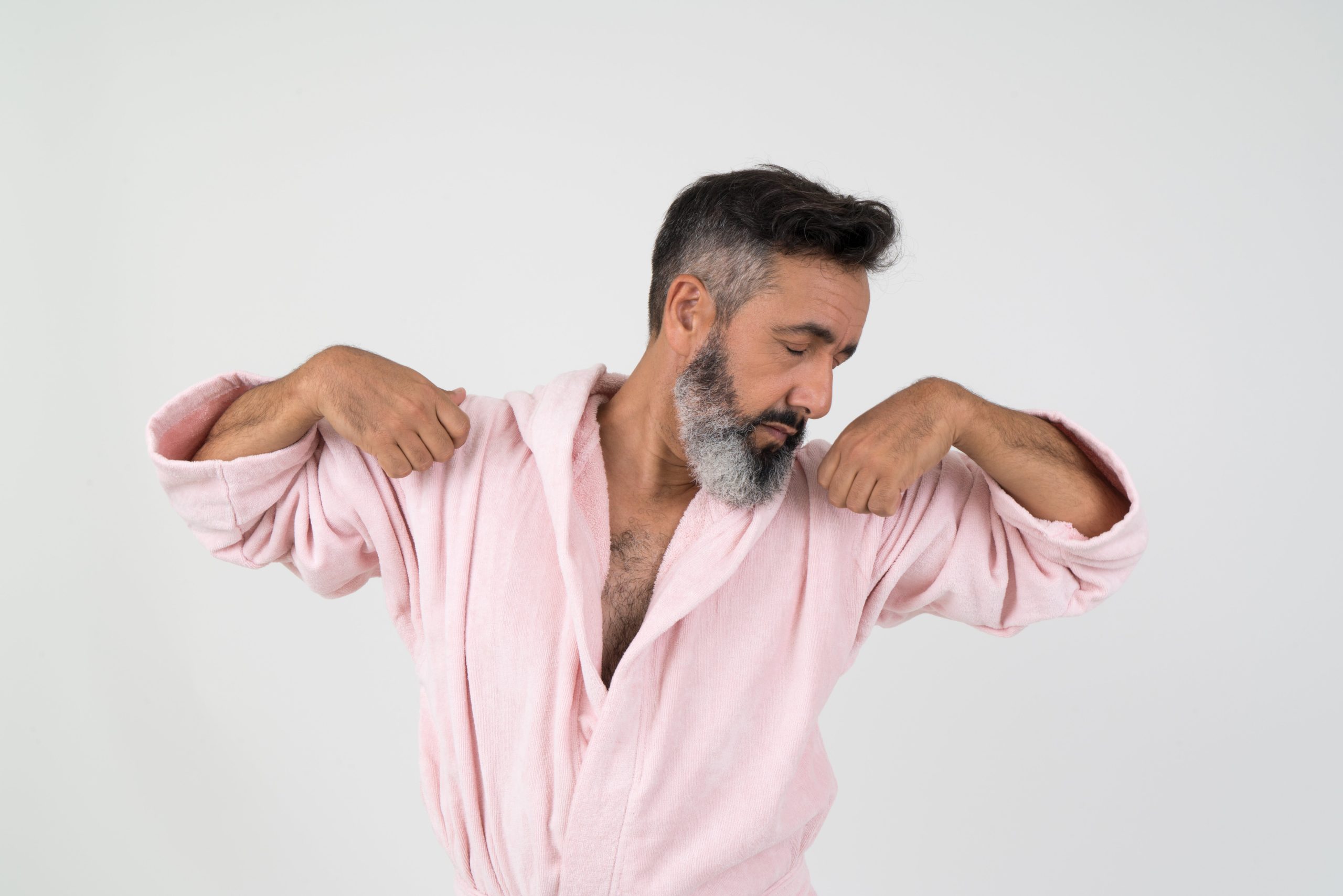 For eco-friendly enthusiasts, here's a heads-up: a bamboo robe or kimono will set you apart from the crowd. If you are conscious about your skin and very picky about your outfit, we suggest this option for you.
Bamboo is a natural fabric with numerous benefits for your skin and health. It's smooth, soft, and antibacterial, which provides comfort and gentleness to your skin. You can find this attire in an array of styles, colors, and patterns to match your tastes and current vibes.
Additionally, you can style your ensemble with bamboo accessories like a mask. And for a fabulous finish, allow your feet to shine with wooden clogs or slippers that perfectly harmonize with your attire.
Things to Consider When Selecting Sauna Outfits
We are confident that our list is the best to assist you in selecting your ideal sauna outfit. Nevertheless, as you explore these options, keep the following factors in mind and tailor your choice accordingly:
Type of Cloth: The ideal fabric for the sauna is cotton due to its ability to absorb excess heat and allows the skin to breathe. It's important to avoid tight items, including underwear. Moreover, bras worn in the sauna should be loose, and without underwires.
Fit and Style: In the present day, individuals enjoy engaging in various activities within a sauna. It's advisable to opt for loose-fitting clothes that won't hinder your movements or circulation during these activities. We advise you to wear layers that can be adjusted or removed based on your comfort.
Avoid Metal: In a sauna, touching metal can cause severe burns because of its high temperature. Buckles, jewelry, and clips, as well as buckets, ladles, and thermometers, should be removed before entering the sauna. Clothing and accessories crafted from natural materials such as wood, wool, or cotton provide a safer and more comfortable option.
Conclusion
Everyone's taste in selecting outfits varies. That's why we offer a diverse range of unique ideas for women, including options like wearing a towel, loose t-shirt with skirt, bathing suit, spa gown or cotton kaftan, and triangle bikini top. And, of course, we haven't forgotten the men; we have options such as oversized t-shirts with shorts, a simple cotton wrap, tank top and boxer shorts, loose pants and linen shirt, and bamboo robe or kimono. Whatever you choose, make sure to consider factors such as your comfort, hygiene, safety, and personal preferences.
What to Wear in a Sauna? - FAQs
Do you wear a swimsuit to a sauna?
Yes, wearing a swimsuit is entirely appropriate for the sauna environment. Swimwear, especially crafted from breathable cotton, proves to be an excellent choice for this setting.
Can I wear gym clothes in the sauna?
The one word answer is yes. However, it's not advisable to wear gym clothes in a sauna.
Does sauna improve skin?
YES! Spending time in a sauna can indeed have benefits for the skin. The heat helps increase circulation, which can contribute to a healthy complexion.