Rodeos are thrilling occasions where cowboys and cowgirls compete in various livestock-related events to display their skills and bravery. These rodeos are a breathtaking display of Western culture and history from the thrilling bull riding to the fast-paced barrel racing.
If you enjoy rodeos, you might want to check out some of the largest and most exciting rodeo shows. Here, we've put up a list of the top 12 US rodeo events that will astound you!
Why are Rodeo Shows Popular in the US?
As a part of the country's heritage, rodeos continue to draw huge crowds across the United States. Rodeos arose from the abilities and traditions of vaqueros, Mexican cowboys who worked on ranches that are now Texas, New Mexico, Arizona, and California.
The American cowboy culture took cues from these vaqueros who rode with a more relaxed etiquette and wore more casual clothing. Black, Native American, and Brazilian cowboys are just a few of the many ethnicities and races represented in rodeo exhibitions around the United States.
Rodeo events include different livestock competitions involving horses, bulls, and other animals which make it more exciting and enjoyable. Some estimates put the number of rodeo fans in the United States at around 30 million. Houston Livestock Show and Rodeo, which is the largest rodeo in the world in terms of attendance, attracts over 2.4 million visitors each year.
Top 12 Rodeo Shows In The USA
Although there is no shortage of rodeos to choose from, we only highlight those that serve as meaningful memorials to the Western United States storied cultural past. Get ready to saddle up and experience the exhilaration of the best rodeo shows the USA has to offer! Yeehaw!
Come and join the fun at the amazing Reno Rodeo – a 10-day event that is famous for its exciting competitions, shows, and activities for everyone.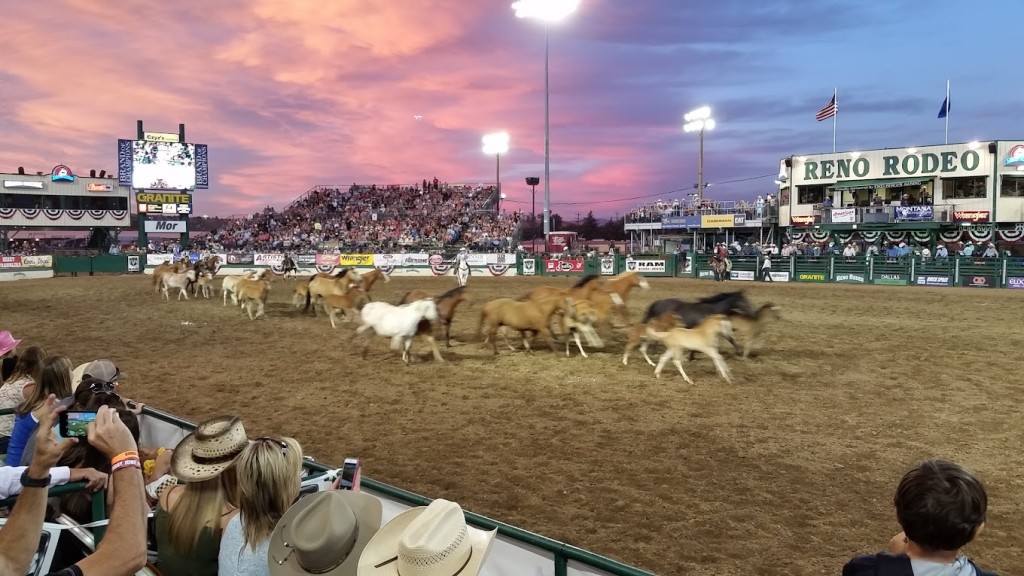 Besides the awesome rodeo events, you can also enjoy the wonderful Double R Marketplace where you can find many things like leather goods, food, and clothes. You can also watch the amazing Championship Drill Team competition where you can see teams do amazing things with horses.
And don't forget the colorful Reno Rodeo Parade, a happy celebration of Western culture and tradition.
Significance: The Reno Rodeo holds a prestigious spot as a PRCA-sanctioned event and a non-profit organization that is run by more than 900 volunteers. This event is recognized as the 4th richest PRCA tour rodeo and the 3rd best by USA Today's 10 Best Readers Choice, it draws over 140,000 devoted fans. Besides its thrilling performances, the rodeo bolsters the Reno/Sparks area economy by contributing a substantial $42 million to hotels, casinos, restaurants, and retail outlets.
Safety Measures: Some things are not allowed inside the grounds, exhibit areas, and rodeo arena for safety. Also, you cannot bring water bottles that are not sealed (up to 20oz), outside food, drinks, cans, glass bottles, coolers, bags, jackets, and blankets. Also, you cannot take pictures or videos of the rodeo events without permission. This may get you kicked out or in trouble.
Dress Code: You can dress like a cowboy or cowgirl to mix in with the crowd at Reno Rodeo. This means wearing a cowboy hat, a long-sleeve shirt, denim jeans, and cowboy boots. This way, you can feel like you are part of the rodeo's lively atmosphere.
Ticket Price: You can buy tickets for the next event on June 21, 2024, at the Reno Livestock Events Center. The tickets start from $74.00 for seats that are far from the arena floor. The seats that are closer to the arena floor cost more, up to $140.00. The average price for a ticket is around $92.00.
Location: The Reno Livestock Event Center Outdoor Arena is located at 1350 N. Wells Ave. in Reno.
Dates: Make sure to mark your calendar – the Reno Rodeo is usually held in June every year. The dates for the 2024 Reno Rodeo are June 20 to June 29.
Suggested Reading: 10 Scariest Roller Coasters in The World For Ultimate Thrill
If you love rodeo, cars, and music then you should visit Greeley Stampede. Alongside thrilling rodeo events, you can see famous singers and bands such as Lee Brice, Skillet, and Tyler Hubbard. And that's not all!
You'll have a blast checking out over 70 old cars at Hot Rods. You can also try special craft beers from local breweries at this event. We recommend you bring your family and have a more enjoyable experience with classic "field day" events.
Significance: With roots dating back to the late 1800s, the Greeley Stampede honors local potato farmers. It has evolved into an internationally acclaimed festival by attracting over 250,000 visitors annually from the United States and beyond. It featured various events and drew an estimated attendance of 2,500 (at its first event) and officially christened the Greeley Spud Rodeo in 1922.
Safety Measures: All persons and their belongings may be subject to inspection at park entrances for security reasons. Bags larger than approximately clutch-sized (6.5″ long x 3″ wide x 4.5″ high) must be inspected before park entry. Note that strollers larger than 36″ x 52″, bags larger than 24″ long x 15″ wide x 18″ high, suitcases, coolers, backpacks, glass, and some other items are not allowed at the Greeley Stampede.
Dress Code: There's no strict dress code, so opt for smart and comfortable clothing suitable for hot, sunny days. Wear sturdy, comfortable shoes and protect yourself from the sun with a hat, sunscreen, and lip balm. For evening events, be prepared with a sweatshirt or hoodie for potential chilly winds.
Ticket Price: Ticket prices vary based on factors like show, day, season, and seating location. In 2023, prices average around $83.53, while in 2024, they can reach $115 and above. Availability and event type also influence ticket costs.
Location: Head to the Island Grove Regional Park in Greeley, Colorado, for the Greeley Stampede experience. The exact address is 600 North 14th Avenue, Greeley, CO 80631, United States.
Dates: The festival typically takes place from late June to early July each year. The 2024 dates are set for June 26 to July 7.
Suggested Reading: Must check out these things to do in Hilton Head SC
Weekley Brothers Davie Pro Rodeo
View Website
PERFECT FOR: Witnessing top professional rodeo athletes
The Weekley Brothers Davie Pro Rodeo is a prestigious professional rodeo event that brings together skilled cowboys and cowgirls from the United States and Brazil. This amazing rodeo event is nominated twice for the PRCA Rodeo of the Year Award.
It offers two types of tickets – premium and regular – both promising an exciting experience. With premium tickets, you'll receive assistance to your designated seat and enjoy food, drinks, and other amenities.
Significance: This rodeo is not only a thrilling spectacle but also a meaningful way to honor and preserve the legacy and culture of cowboys. It also supports various local causes and youth programs with its proceeds. Moreover, the rodeo is the venue for the Southeastern Circuit Finals Rodeo, where the best 96 professional cowboys and cowgirls from nine states vie for the title. The event draws thousands of fans who enjoy the exciting performances and root for the contestants and animals making it one of the most enjoyed rodeo shows in USA.
Safety Measures: The rodeo prioritizes safety by adhering to PRCA and Florida Department of Health guidelines. Measures like hand sanitizer stations, social distancing, mask-wearing encouragement, equipment sanitization, and health monitoring for staff and animals ensure a secure and enjoyable experience.
Dress Code: While there's no strict dress code, comfortable clothing, and suitable outdoor shoes are recommended. Embrace the Western spirit by donning cowboy attire like hats, boots, jeans, and shirts.
Ticket Prices: Ticket prices vary based on categories, with VIP tickets at $100.00. Adult tickets are $23.00 (advance online) and $25.00 at the gate, while children aged 3 to 12 can attend for $10.00. Children aged 2 and under get in for free.
Location: The action takes place at the Bergeron Rodeo Grounds, a spacious 72,000-square-foot facility located at 4271 Davie Rd, Davie, FL, 33314, with a seating capacity of 5,500.
Dates: Save the dates for the rodeo on September 9th, 2023, at 7:30 pm, and the Southeastern Circuit Finals Rodeo on November 10th & 11th, 2023, at 7:30 pm, and November 12th, 2023, at 2:00 pm.
Editor's Pick: What to Wear to a Burlesque Show? [2023 Guide]
National Western Stock Show
View Website
PERFECT FOR: Learning about the livestock industry and agriculture along with a rodeo show experience
If you love animals, especially horses, and cattle, you will be amazed by the National Western Stock Show, the premier livestock and equestrian event in the nation. This annual 16-day livestock exhibition is held in Denver, Colorado every January.
Here, you can see over 25 breeds of cattle and various other livestock species. It goes beyond showcasing livestock to include rodeos, horse shows, auctions, concerts, educational programs, and a trade show.
Significance: As one of the largest and oldest events of its kind globally, the National Western Stock Show draws over 700,000 visitors and participants from across the nation and beyond. It is a proud part of American tradition and history, promoting youth and community development through livestock and equestrian education, innovation, entertainment, and competition.
Safety Measures: The show diligently adheres to safety guidelines set by the Colorado Department of Public Health and Environment and the City and County of Denver. To maintain safety and security, outside food, backpacks, and large bags are prohibited on the grounds with security personnel inspecting all bags. Only service animals or show participants' animals are allowed, and firearms or weapons are not permitted.
Dress Code: As the weather of January can be changeable, it is recommended to choose practical and durable fabrics like denim, flannel, wool, leather, and fleece and wear comfortable boots with thick socks.
Ticket Prices: The ticket prices for the event vary depending on the day of the week. For adults aged 12 and above, the cost ranges from $17 to $25. Children between the ages of 3 and 11 can purchase tickets for $4 to $5. Moreover, children who are 2 years old and below can attend the event for free.
Location: This rodeo show takes place in the National Western Complex located at 4655 Humboldt Street, Denver, CO 80216. This is easily accessible through public transportation or ride-sharing services and with on-site parking available for a fee.
Date: This show promises an exciting lineup of events, including the Opening Day Parade, Pro Rodeo, Mexican Rodeo Extravaganza, PBR Bull Riding, An Evening of Dancing Horses, Wild West Show, MLK Jr., Xtreme Dogs, and the Draft Horse Show. These events are going to be Scheduled for January 6-21, 2024.
Suggested Reading: Can Bed Bugs Travel on Clothes You're Wearing? [Latest Guide]
Ellensburg Rodeo
View Website
PERFECT FOR: Challenging rodeo events
Nothing beats the excitement of an Ellensburg Rodeo. It's a spectacle of speed, strength, and stamina as enthusiasts test their limits against powerful animals and each other. You'll witness incredible events such as horse shows, premier livestock exhibits, and engaging cultural attractions.
One can also have fun at the carnival rides, parades, concerts, and Kittitas County Fair. Whether you are a fan of Western culture or just looking for a great time, the Ellensburg Rodeo has something for everyone. It is one of the best rodeo shows in the USA.
Significance: It is one of America's top 25 rodeos and the second-largest in the Pacific Northwest (after the Calgary Stampede). It has a rich history that dates back to 1923 when it was started by a group of local ranchers, farmers, Indians, and community leaders who wanted to celebrate and preserve the frontier way of life. They also wanted to promote their town and boost their economy. Today, the rodeo attracts over 600 contestants and offers prize money above $400,000.
Safety Measures: There are some rules and regulations for this event. For instance, throwing items like candy or flyers is prohibited for animal safety. All motorized vehicles or towed items must be insured and operated by licensed and insured drivers. Children under 12 must be accompanied by adults and no firearms or open flames are allowed.
Dress Code: You are encouraged to wear hats, belts, buckles, jewelry, bandanas, or any other Western-style elements that make you happy. The key is to feel comfortable and practical in your clothing choices as the rodeo involves outdoor activities.
Ticket Prices: If you're planning to attend an upcoming Ellensburg Rodeo event, it's important to know that the average admission price is approximately $68.00.
Location: This event takes place at the Ellensburg Rodeo Grounds which is located at 1010 East 8th Street, Ellensburg, WA 98926. The rodeo grounds sit just north of I-90 offering easy accessibility and a location approximately ten minutes away from Central Washington University.
Dates: Every Labor Day weekend, the Ellensburg Rodeo coincides with the Kittitas County Fair in Ellensburg, Washington. The rodeo has a schedule to run from September 1st to September 4th for the year 2023.
Cheyenne Frontier Days
Cheyenne Frontier Days
View Website
PERFECT FOR: enjoying World's largest outdoor rode
Cheyenne Frontier Days is a thrilling 10-day festival, known for its rip-roarin' excitement, featuring the finest PRCA rodeo action and captivating Western entertainment. It happens every year in Cheyenne, Wyoming, and it is the "World's Largest Outdoor Rodeo and Western Celebration." This event attracts nearly 200,000 visitors each year. Live concerts, carnival rides, parades, pancake breakfasts, and much more offer a wild and wonderful adventure for anyone who visits Cheyenne Frontier Days.
Significance: In 1897, a cowboy roundup with bronco busting and steer roping contests began this special event. Over time, it became a top-notch rodeo where cowboys and cowgirls show their talents by competing for more than $1 million in prizes. This event is part of the ProRodeo Hall of Fame which makes it even more significant for honoring the heritage of the American West.
Safety Measures: Attendees can bring purses, fanny packs, or clutches not exceeding 12"x 6"x 12", or opt for one clear bag. Additional clothing can be brought if carried loosely or in an approved clear bag, along with a flat seat cushion. Medical items and diaper bags are allowed after proper inspection. Adhering to these guidelines will help maintain a safe environment for everyone.
Dress Code: As there is no dress code, we recommend pairing jeans and cowboy boots with a simple top and adding turquoise accent jewelry for women. Further, gentlemen can sport a Western look with jeans, boots, a button-up shirt, and a stylish cowboy hat.
Ticket Price: Prices start at $32.00 and can go as high as $1102.00 for certain ticket options. The average price for a single ticket is approximately $98.27. As of now, current ticket prices are ranging from $40.00 to $79.00.
Location: Cheyenne Frontier Days takes place at 4610 Carey Avenue in Cheyenne, Wyoming. The event is held at Frontier Park, which is a spacious outdoor venue offering various attractions.
Date: Cheyenne Frontier Days takes place every year during the last full week of July. The upcoming dates are as follows: July 19-28, 2024, and July 18-27, 2025.
Also Read: Why Do My Feet Swell When I Travel?
Pendleton Round-Up Rodeo
View Website
PERFECT FOR: Western entertainment enthusiasts
The Pendleton Round-Up Rodeo in the northwest is a must-attend event for rodeo and Western entertainment enthusiasts. You can immerse yourself in the rich history and culture of the American West by visiting the Round-Up and Happy Canyon Hall of Fame, Heritage Station Museum, and Pioneer Park. Don't miss the chance to take home official merchandise and souvenirs from the Round-Up and Happy Canyon Retail Store.
Significance: The event embraces and promotes Native culture through performances like Native Dancing during bull riding sections and the incredible Tipi Village. The rodeo's uniqueness lies in its grass arena, which retains a traditional Western look by strictly prohibiting any advertising inside the arena. No signage or sponsor flags are allowed which preserves the authentic rodeo experience.
Safety Measures: Certain items are not allowed inside the rodeo grounds such as outside food or drinks, cans or glass bottles, folding chairs, dogs (except for service dogs), laser pointers, skateboards, and bicycles. Smoking is permitted only in designated areas to maintain a safe environment for everyone.
Dress Code: Most people choose to wear traditional Native American clothing or costumes to celebrate the region's culture and history. However, attendees have the freedom to wear any attire.
Location: This amazing rodeo show takes place at 1205 SW Court Ave., Pendleton, OR 97801. The event is held at the Pendleton Round-Up Stadium which accommodates up to 17,000 people.
Ticket Price: Ticket prices for the Pendleton Round-Up Rodeo range from $44.00 to $234.00 which offers various seating options to suit different preferences and budgets.
Mesquite Championship Rodeo
View Website
PERFECT FOR: Family-friendly rodeo experience
The Mesquite Championship Rodeo, one of the best rodeo shows in the USA, is an excellent time for everyone searching for an exciting and entertaining event. In addition to the rodeo itself, there will be a variety of other events for both adults and children to enjoy.
Some things you should know before you leave are as follows:
Significance: This wonderful rodeo show stands as one of the nation's oldest and most esteemed rodeos. It was established in 1958 by the legendary cowboy and rodeo producer, Neal Gay. As a Professional Rodeo Cowboys Association (PRCA) rodeo, it showcases the finest riders and animals in the sport. Millions of viewers worldwide have witnessed the rodeo's excitement through its televised coverage on various networks.
Safety Measures: Both participants and spectators have paramount safety. The rodeo follows PRCA rules and regulations to ensure the humane treatment of animals and proper equipment for riders. Qualified medical personnel, security staff, and emergency exits are ready to help. Protective fencing and netting in the arena prevent accidents or injuries.
Dress Code: You can wear whatever you want to the rodeo because it has no formal dress code. We recommend light and breathable clothing such as shorts, t-shirts, and sandals for spring and summer. For fall and winter, you should be ready for sudden cold weather with jackets, boots, scarves, and warm clothing.
Prices: Adults aged 13 and older pay from $25 to $35 for tickets, while tickets cost $10 for kids aged 3–12. You can get tickets for $45 for a VIP experience.
Location: The modern Mesquite Arena hosts the thrilling rodeo event, and it can fit up to 5,500 spectators. This exciting venue is at 1818 Rodeo Drive, Mesquite, TX 75149, and it's only a 15-minute drive from Dallas, TX.
Dates: The show runs from June to August every year. You can see the action every Friday and Saturday at 7:30 pm, and the doors open at 6:00 pm.
Editor's Pick: Worst Time to Visit Aruba According to Travel Experts
Fort Worth Stock Show & Rodeo
View Website
PERFECT FOR: Fun and education purpose
If you want to have a true Western Cowboy experience, you may need to attend the Fort Worth Stock Show & Rodeo. This rodeo and cattle exhibition has been going strong since 1896, making it the oldest.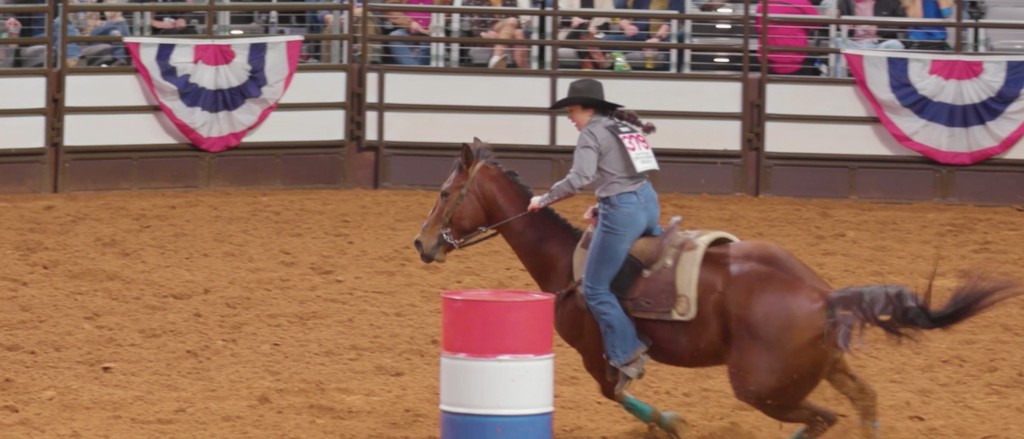 Aside from the adrenaline rush of the rodeo, this festival also features other exciting activities. It has something for people of all ages in terms of music, culture, education, and fun making it one of the best rodeo shows in the USA for families!
Significance: The rodeo features more than 30 PRCA rodeos, livestock shows, horse shows, auctions, competitions, concerts, and exhibits. Special events like the Best of Mexico Celebraciõn, Cowboys of Color Rodeo, and Texas Champions Challenge celebrate the diverse heritage of Texas. The rodeo attracts over a million visitors each year and contributes significantly to the local economy and community.
Safety Measures: This rodeo prioritizes the safety and well-being of all attendees, staff, volunteers, exhibitors, and animals. It implements necessary safety measures, such as screening guests with magnetometers upon entering the venue and prohibiting firearms. The rodeo does not have a clear bag policy, but it ensures a secure environment for everyone.
Dress Code: Rodeo attendees are free to express their individuality through their choice of attire. However, visitors will look great in Western attire.
Ticket Price: For adults, tickets start at $30 and can go up to over $200, while children (aged 3-12 years) can enjoy tickets priced between $10 and $35. Children under 5 years old can enter for free.
Location: The main venue of the Fort Worth Stock Show & Rodeo is the state-of-the-art Dickies Arena, with a seating capacity of up to 14,000 people. The arena is located at 1911 Montgomery Street, Fort Worth, TX 76107.
Dates: The rodeo season spans from mid-January to early February every year. The doors open one hour before each performance because the rodeo has various events throughout the day.
Houston Livestock Show and Rodeo
View Website
PERFECT FOR: Biggest and best rodeo event
For 20 days, you can experience the biggest rodeo in the world at the Houston Livestock Show and Rodeo. This event is not only a rodeo competition, but also a celebration of livestock breeding and raising.
You can also enjoy concerts by music superstars at the closing ceremony. Some of the past performers include Elvis Presley, Taylor Swift, and more. Some of the other highlights are the World's Championship Bar-B-Que Contest, the Downtown Rodeo Parade, and agricultural exhibits.
Significance: Since its establishment in 1932, the organization has dedicated over $550 million to benefit the youth of Texas and education, awarding more than 20,000 scholarships. Additionally, it actively supports various research studies and community programs related to livestock and agriculture. This Texas tradition makes a significant and positive difference in the community.
Safety Measures: The event has a stringent no-bag restriction, so you can't bring in any of your extra belongings. Air horns, alcoholic beverages, advertising banners, offensive banners, beach balls, firearms, fireworks, flag poles, footballs, professional cameras with lenses longer than 3 inches, selfie sticks, weapons, and whistles are all prohibited.
Dress Code: Whether you're attending the rodeo, livestock show, concert, or carnival, you'll fit right in with classic Texan attire. Simply wear a pair of boots, a hat, and some denim to blend in perfectly with the Western spirit of the event.
Ticket Price: Rodeo/concert tickets vary from $20 to $350, grounds admission is priced between $5 to $15 (free for children under 2), carnival packs cost $10 to $35 (rides require multiple tickets), and parking rates range from $5 to $20 (cash only).
Location: The event is hosted at the NRG Stadium in Houston, Texas, specifically at One NRG Park, Houston, TX 77054.
Dates: The dates are February 28 to March 19, 2023, in the following year. Mark your calendars for February 27 to March 17, 2024, for the next edition.
San Antonio Stock Show & Rodeo
View Website
PERFECT FOR: Support for Texas youth and education
The Mexican Rodeo San Antonio in Texas is the place to go if you want to see a traditional Mexican rodeo. This event, also known as San Antonio Charros, happens at the end of April and showcases amazing synchronized horse riding.
You can also watch daring roping and bull riding, as well as the notorious Pass of Death routine that draws a huge crowd. This event lasts for a whole day and features a variety of ranchera music for you to enjoy.
Significance: Since 1950, the San Antonio Stock Show & Rodeo has been a volunteer organization that organizes one of the most popular events in the city of San Antonio. Every year, about 1.3 million visitors come to the fairgrounds to enjoy the rodeo and other attractions. The PRCA has recognized it as the Large Indoor Rodeo of the Year for 14 years in a row. It has also donated more than $255 million to support the education of over 19,000 youth in Texas since it started.
Safety Measures: The rodeo fairgrounds do not allow items like selfie sticks, drones, guns, long knives, and outside food and drinks. They also ban illegal drugs, fireworks, and pets (except service animals). The rodeo will take away any prohibited items and will not be responsible for any loss or theft.
Dress Code: You can wear anything you like to the rodeo, but make sure it's casual and comfortable. Wearing high heels and a miniskirt in dusty stockyards is not recommended. However, a pair of tennis shoes, comfy pants, and a stylish top are perfect.
Ticket Price: The tickets cost $210 for regular and $235 for first class.
Location: The rodeo happens at different places in San Antonio, Texas. The main place is the AT&T Center/Freeman Coliseum, a big facility that can fit up to 18,000 people. It's at 3201 E Houston St., San Antonio TX 78219. Other places include the Expo Hall, Auction Barns, Horse Barns, and Cattle Barns.
Dates: The rodeo season is from mid-February to late February every year. The rodeo is every day at different times depending on the event.
Springville Sierra Rodeo
View Website
PERFECT FOR: Fun and adventure
The Springville Sierra Rodeo is a rodeo event that is fun and exhilarating in Springville, California. You can watch different rodeo events such as mutton busting, bronc riding, breakaway roping, barrel racing, bull riding, and motorcycle barrel racing.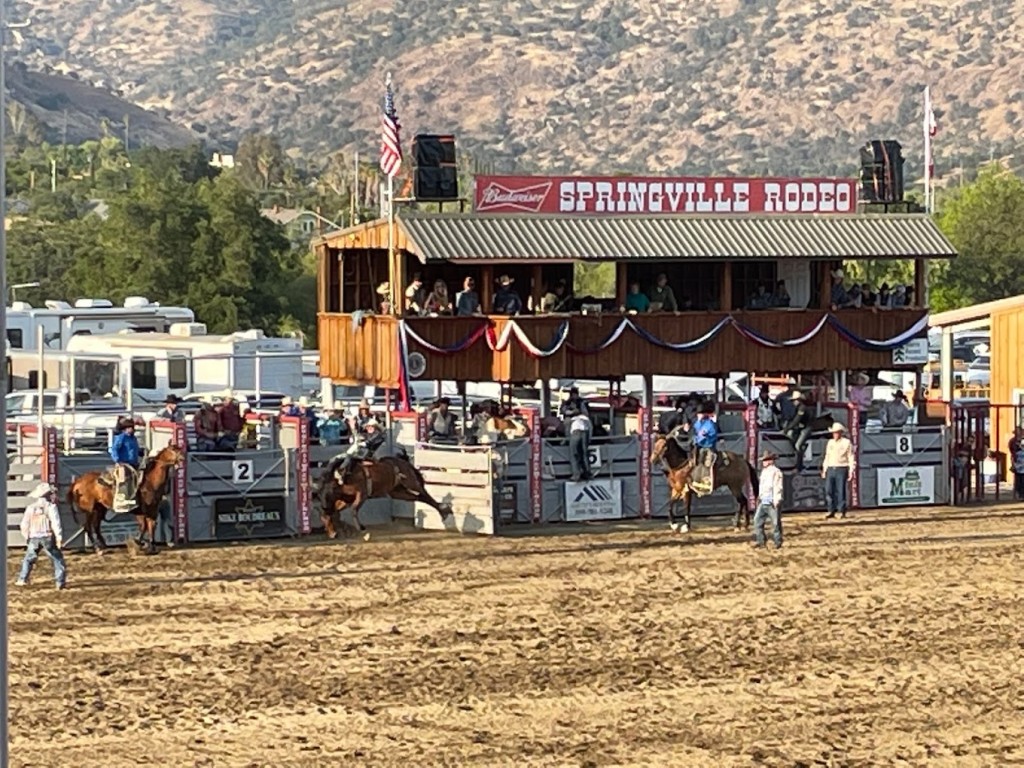 It also has live music, food, drinks, vendors, and a dance. Further, you can also see the Hot August Nights Special, a one-day rodeo that occurs in August.
Significance: The Springville Sierra Rodeo is one of the oldest and most esteemed rodeos in California. It has been going on since 1947 and is a member of the California Cowboys Professional Rodeo Association (CCPRA). It brings thousands of visitors and competitors every year and helps the local community and economy.
Safety Measures: Prior to any performance, there will be no warm-ups allowed in the arena within 45 minutes. It is essential to obtain approval from the arena director for all warm-up activities, and a designated warm-up area will be provided. Access to the rodeo stock area is restricted to contestants only; spectators and non-contestants are not permitted. Additionally, minors are strictly prohibited from entering the bull pens, bucking chutes, roping chutes, or any other areas marked as off-limits. The rodeo grounds are accessible round-the-clock and have night security in place for safety.
Dress Code: You don't need to follow any specific dress code for the rodeo.
Ticket Price: Prices for adults are $20 per person while children between 6 and 12 years old are $12 per person. Children under 6 are admitted free of charge. For participants of the Mutton Busting event, charges are $30 per person.
Location: The rodeo is at the Springville Rodeo Grounds, located at 34902 Highway 190, Springville, CA 93265.
Dates: The rodeo season is from April to August every year. The main rodeo events are in April on Friday, Saturday, and Sunday nights at 6:00 pm. The Hot August Nights Special is in August on Saturday night at 6:00 pm.
Things to Consider Before Going to a Rodeo Show
Following are a few aspects to take care off when going to a rodeo show.
Knowledge of Rodeo Events: Familiarize yourself with the various rodeo events that will take place during the show, such as bull riding, roping, barrel racing, and bronc riding. Understanding the rules and scoring criteria will enhance your appreciation of the performances.
Seating Preferences: We recommend coming in early and deciding on your seating preferences. Why? Because some spectators may prefer to be closer to the action in the grandstands, while others may prefer a more comfortable view from higher tiers.
Accessibility: If you have any accessibility needs or require special accommodations such as a wheelchair, contact the event organizers in advance to make appropriate arrangements.
Etiquette: Show respect to the contestants, animals, and fellow spectators. Avoid unnecessary disturbances during performances and follow any specific instructions from event staff.
Dress Appropriately: Rodeo events are often held outdoors, so dress according to the weather conditions. Sturdy footwear is recommended as the grounds are usually uneven and dusty.
Conclusion
USA offers some of the best rodeo shows in the world, each providing a thrilling experience for both seasoned rodeo enthusiasts and newcomers alike. From the iconic events like the National Finals Rodeo in Las Vegas to the traditional charm of small-town rodeos, there is something for everyone to enjoy. So, whether you're a fan of heart-pounding bull riding, graceful barrel racing, or mesmerizing roping, be sure to add attending one of these rodeo shows to your bucket list.
Top Rodeo Shows in USA - FAQs
What are some of the top rodeo shows in the USA that offer exciting and entertaining experiences?
Some of the top rodeo shows in the USA are the Mesquite Championship Rodeo, Fort Worth Stock Show & Rodeo, Houston Livestock Show and Rodeo, San Antonio Stock Show & Rodeo, Springville Sierra Rodeo.
What is the Mesquite Championship Rodeo, and when does it take place?
The Mesquite Championship Rodeo is one of the nation's oldest and most esteemed rodeos. It takes place from June to August every year, with shows running every Friday and Saturday at 7:30 pm, and the doors open at 6:00 pm.
Are there specific dress codes or attire recommendations for attendees at rodeo shows?
Rodeo shows generally have a casual dress code, and attendees are encouraged to wear comfortable and weather-appropriate clothing. Many spectators embrace the Western spirit of the event by wearing cowboy boots, hats, and denim jeans. For outdoor rodeos held during hot weather, light and breathable clothing like t-shirts and shorts are recommended. In colder climates, it's advisable to dress warmly with jackets, scarves, and boots.