SuperTravel or SnapTravel (previous name) is a travel booking platform that claims to offer the best hotel deals online. You might have seen their ads on social media platforms like Facebook and Instagram promising 30-50% off on popular destinations.
However, before you consider these enticing offers, you might be asking yourself: Is SuperTravel legit? Can you rely on them with your money and travel plans? Well, as reviewers of travel services, we took it upon ourselves to test SuperTravel and provide our unbiased opinion.
Is SuperTravel Legit?
SuperTravel (Super.com) is indeed a reputable online travel agency with a longstanding presence in the industry. Most of the time, you'll have a great experience with them. The average rating for the company is 4 out of 5 stars on their website. Based on 29,146 reviews on TrustPilot, the agency has received a 3.8 rating with the "Great" badge. Reviews on the Apple Store have been positive with a 4-star rating average.
However, there are certain problems notified by the users. We'll explore each of these.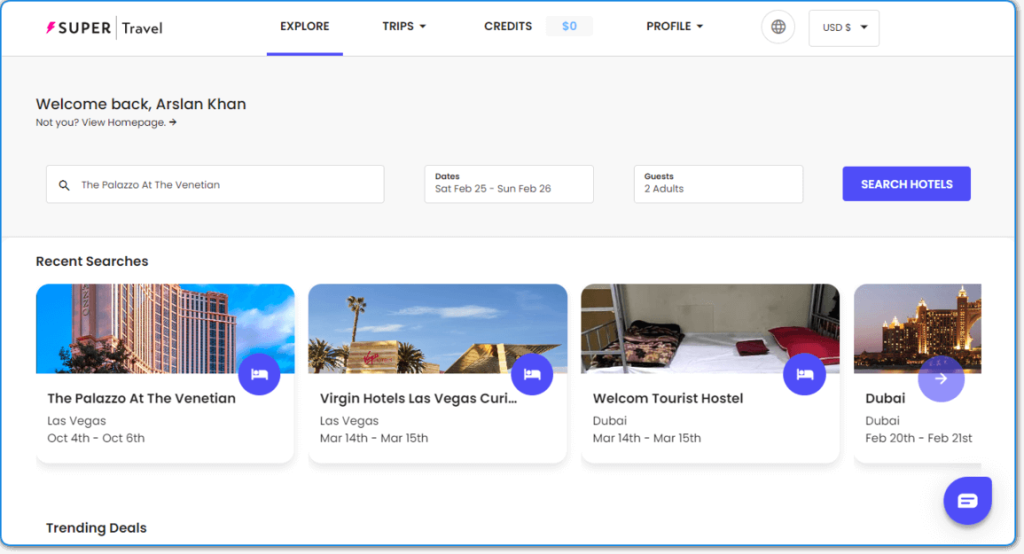 Booking Problems
Reserving a hotel through SuperTravel carries the potential for reservation mishaps. On occasion, SuperTravel neglects to inform the hotel about a guest's reservation, which leads to either no reservation or double booking for the same room. Moreover, hotels may give preference to guests who made direct bookings and paid higher rates.
It results in bumped reservations for those who booked via an online travel agency such as SuperTravel. When the guest arrives at the hotel, they sometimes deceive them by denying the presence of their reservation.
Shelly Pinhas said —"Frustration! I booked a hotel for 5 nights. I booked a hotel for 5 nights with my girls. I called the hotel 24 hr prior to my departure as I didn't receive any confirmation for my stay there , it seems they can't allocate my reservation at the property!" Source: TrustPilot
Suggested Reading: Traveling With Kids: How to Make it Stress-free?
Inflexibility
Another possible drawback when booking a hotel through SuperTravel is their inflexibility regarding booking changes. For example, let's say you've booked a room at a hotel in New York through SuperTravel for a specific date. And now, you need to change your check-in date due to unforeseen circumstances.
You can contact both the hotel and SuperTravel. The hotel is willing to change your reservation to the new date but when you request this change through SuperTravel may refuse. This can lead to frustration and inconvenience for travelers who need flexibility in their plans.
A customer said —"Hope your flights or stay does not get rescheduled…Please read their Policy before booking. Booked a hotel through this company and my flight for the pet we were transporting embargoed all pet cargo due to weather conditions so wanted to just change the date of the stay at the hotel we booked but they wouldn't help us." Source: TrustPilot
Non-Refundable Under Any Circumstances
SuperTravel offers travelers two distinct booking options. The first is a refundable option, which comes at a slightly higher cost. If you choose this and circumstances force you to cancel, SuperTravel will refund your payment.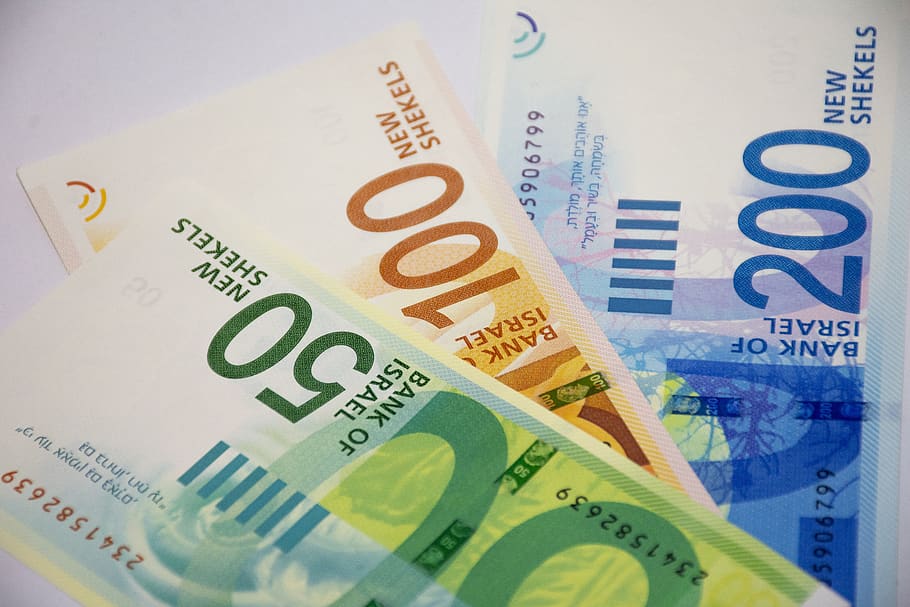 In contrast, the non-refundable option is budget-friendly but comes with a significant trade-off. If you need to cancel with this option, there's no guarantee of a refund. It's a cost-effective choice for those with solid travel plans but it lacks flexibility.
However, in this regard, SuperTravel has a clear stance — "Unfortunately, because you've booked a non-refundable reservation, we are unable to make any changes to your booking, including changing the dates, and cancellation will not result in a refund. Please note that this was communicated on the booking form before the reservation was made, and later on the confirmation page." Source: TrustPilot
No Control Over Hotel
Hotel standards are often beyond their (supertravel) control as third-party booking services. Consequently, if the hotel you've booked through them falls short of expectations or doesn't align with the listing, it's crucial to recognize that there might be limited recourse available.
Don't assume SuperTravel will provide refunds, alternative bookings, or solutions. Additionally, the hotel isn't typically responsible for third-party bookings, making direct refunds from them unlikely. Even in these situations, SuperTravel may defer to the hotel and the hotel staff might redirect responsibility to SuperTravel by leaving you caught in the frustrating situation.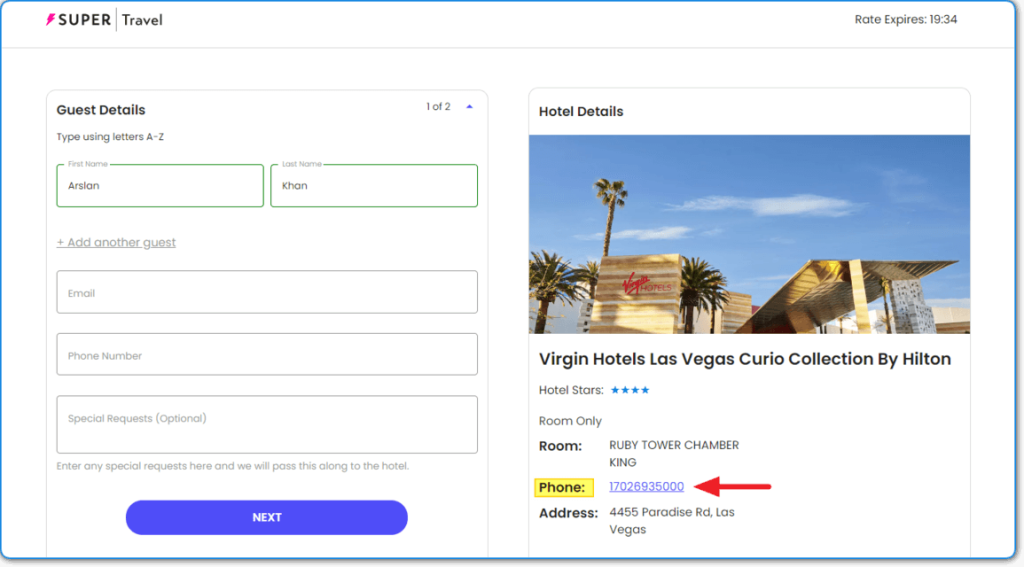 Barbara from US said — "Ease of booking and hotel check-in earns Snaptravel a "10 ". Disclosures of additional costs get a "0". Hotel not representative of what was expected based on pictures also earns Snaptravel a "0" – Source: TrustPilot
Positive Aspects of SuperTravel
Considering these risks, you might be curious about why we still refer to it as legitimate. Like other things, there are both pros and cons to consider and the positive aspects of SuperTravel lead us to believe it's a legitimate option. Let's dive in and explore these positive aspects below.
Used by a Mass Majority – Happily!
SuperTravel has thousands of monthly active users using the platform to make the booking. The company has been in business for several years now. With over 82% of reviews being positive, the company has a really high ratio of satisfied customers. Check out the following remarks by users
Jim Liversuch said, "It's surprisingly easy to book on Super.com I've used plenty of sites to find the best rates but this one is very straightforward with none of the up-selling distractions. Just click your date, click the room options, and click reserve." Source: Trustpilot
Eduaro Viera said, "Super offered me a better price than the hotel website, which I found strange so I called the hotel. The hotel said that they offer the cheapest possible rates on their website so as not to trust anything cheaper. I was in a bit of a pickle so I decided to take the risk, and behold, I ended up getting a 3-day stay in Paris at a 30% discount than the hotel's cheapest offering. Thank you!" Source: Trustpilot
PB said, "I booked Hyatt Hotel in NYC with Super.com and got a pretty good deal. I booked a month ahead of my trip but the funds were subtracted just two days before the actual trip. Love the option of free cancellation. Overall it was a good experience and a good deal." Source: Trustpilot
Featured in Respected Media
SuperTravel has earned the spotlight in respected publications like Forbes, New York Times, TechCrunch, and others. It's worth noting that these well-known media outlets wouldn't showcase SuperTravel if it were a shady or fraudulent operation. They have strict standards and wouldn't endorse something untrustworthy.
Backed by an Established Parent Company
It's important to note that SuperTravel's parent company (Super.com) has been operating since 2016. This longevity in the industry raises a valid point – scam companies typically don't endure for such extended periods. The fact that Super.com has maintained its presence for several years adds credibility to SuperTravel and suggests a level of trustworthiness in its services.
The Stephen Curry Investment
SuperTravel received funding from Stephen Curry, widely regarded as one of the greatest basketball players of all time. This notable investment raises a pertinent question: if SuperTravel were not a legitimate company then why would an iconic figure like Stephen Curry choose to invest his money in it? Such a high-profile endorsement adds credibility to SuperTravel by suggesting that it is a reputable and trustworthy organization.
What's the Public Opinion on SuperTravel?
Next, we'll check what users have said about SuperTravel on different websites and see how they've rated it. We'll also share a mix of good and not-so-good reviews.
Sitejapper
Supertravel.com holds a 1.5-star rating based on 8 reviews according to Sitejapper. It indicates that most customers are generally dissatisfied with their experiences. In the past year, there haven't been any good reviews. People have complained about bad customer service, deceptive advertising, and instances of overbilling.
Guy H. B. warns, "Don't use this company. They will charge your credit card and when you get to the hotel they won't accept a super travel credit card for payment. They decline it. It is a definite scam."
Lucas R. shares his frustrating experience, "I booked through Super Travel Dada Suites in Rome, arriving 10min after at the hotel. There was no one at the hotel. I called Super Travel immediately and two agents tried to reach out to the hotel, also unsuccessfully. That alone should be enough for a refund. The invoice and payment proof of another place I had to second pay to sleep the night were demanded and sent to Super Travel. All sorts of problems were brought up by Super Travel to deny the refund. Summarizing, it's a SCAM by all means."
In contrast, Shondrelle H. had a positive experience, saying, "I received a great deal with Hampton Inn Suites Downtown Dallas through Super.com! Also, it was the lowest rate for the Greatest service!"
Trustpilot
As per Trustpilot, Super.com has an impressive 3.8-star rating out of 29,146 reviews, which signifies high customer satisfaction. The reviews commend the website for its top-notch service, skilled team, and fantastic ski vacations. A few of the favorable comments include:
Gill said "Would highly recommend Guy at Supertravel. We have been using him for nearly as long as we've been playing golf… about 20 years. He knows our likes and dislikes and is always able to find us lovely hotels and golf courses. We have just returned from playing the PGA Catalunya and staying at the Hotel Carmila"
Iain from Crowborough mentions "Our regular contact at Supertravel, Guy, made the arrangements for our 3rd trip to Costa Navarino. We were keen to return now that there are 4 championship courses to play. Guy reserved us 6 games – 2 each on the new ones and one on each of the originals – and secured us our preferred type of room in a quieter location in the Westin. Finally, he managed to get us into club class for the flights. Overall an excellent trip. Next up is a trip to Verdura, again arranged through Guy."
Nonetheless, there are also critical reviews that express dissatisfaction with the website's ineffective communication, deceptive information, and cancellation policies. An example of such a review is provided below:
McCallim passionately warns against using Supertravel, expressing a strong negative sentiment. He states, "PLEASE DON'T USE SUPERTRAVEL
If I could assign a minus 1 to Supertravel,
I would. Once you've booked, try dealing with their customer service – no answer, ever. There is no customer service.
Days Inn Sedgemoor refunded part of my booking, £663, to Supertravel. Days Inn sent an email to Supertravel requesting the refund back to me. Despite requests to pls reimburse me, they didn't/ haven't responded. I'm a pensioner, so the money Supertravel stole is more than 5 weeks of my pension.
PLEASE DON'T USE THEM."
Important: It is worth noting that SuperTravel has given a thorough explanation to most customers who faced problems and also offered refunds to compensate for any problems caused.
Should You Use SuperTravel or Book Directly?
The decision of whether to book your hotel directly or through SuperTravel depends on several factors. If the price difference between the two options is negligible or minor, it may not be worth the added complexity of booking through SuperTravel. However, when there's a significant cost disparity, your choice often boils down to your personal preferences and comfort level.
Some travelers may prioritize the savings offered by SuperTravel, while others may prefer the convenience and direct communication that come with booking directly through the hotel. Ultimately, it's about finding the right balance between cost savings and peace of mind based on your individual needs and preferences.
Our Recommendation
From our perspective, we recommend considering SuperTravel if:
You're working within a limited budget.
There exists a noteworthy price disparity between booking directly and utilizing SuperTravel.
You have a high level of certainty that you won't need to alter or cancel your hotel reservation for a refund.
You're at ease with the potential risks and anonymous traveling problems associated with booking through SuperTravel
It's obvious that some people would face issues, but since the service is mostly reliable, it gets a YES from the Hopdes Team.
Important Tips To Manage Hotel Booking Through Supertravel
As you have observed the risks associated with SuperTravel (outlined above), we have pinpointed the best solutions to tackle them. Take a look below.
Once you've made your booking, it's a good practice to reach out to the hotel promptly to confirm your reservation. You can contact the hotel using the provided phone number.
Take a moment to verify all your reservation details and ensure that your chosen dates are accurate before finalizing your hotel booking. This simple step can prevent inconveniences.
If there's even a slight chance that your travel plans might change, it's advisable to invest a bit more and opt for a refundable booking option. This added flexibility can be a lifesaver.
Before settling on a hotel for your stay, it's wise to conduct thorough research. This will help you steer clear of any unwelcome surprises upon your arrival. Explore the hotel's amenities, read reviews, and browse through photos to get a comprehensive understanding of what to expect.
Be sure to check out of the hotel properly. SuperTravel is not responsible in case you miss out any items
Editor's Pick: Insider Tips on How Do Hotels Keep Towels White?
Conclusion
SuperTravel is a legitimate travel booking platform with a generally positive reputation among travelers. While there are occasional issues reported, such as booking mishaps and limited flexibility, these appear to be relatively isolated incidents. SuperTravel has garnered recognition from respected media outlets and is backed by an established parent company.. If you are budget-conscious, confident in your travel plans, and willing to take precautions, SuperTravel can offer you significant savings and a reliable booking experience. Overall, it receives a positive recommendation for travelers looking to save on accommodation costs.
Is SuperTravel Legit? - FAQs
Is SuperTravel a reliable platform for booking hotels?
Yes, SuperTravel is a legitimate travel booking platform with a generally positive reputation. While some users have reported issues, it has received recognition from respected media outlets and is backed by an established parent company, suggesting trustworthiness.
How can I ensure a smooth experience when booking through SuperTravel?
To enhance your SuperTravel booking experience, it's recommended to reach out to the hotel to confirm your reservation promptly. Double-check your reservation details before finalizing your booking, and consider opting for a refundable option if your travel plans change.
Does SuperTravel offer any loyalty or rewards programs for frequent travelers?
SuperTravel does not typically offer its own loyalty or rewards program.
Is SuperTravel suitable for last-minute travel bookings?
SuperTravel can be suitable for last-minute bookings, but availability and pricing can vary.