Little Elm Beach, is a mesmerizing haven nestled within the heart of Little Elm Park, at 701 W. Eldorado Parkway. Here, nature's beauty flourishes in abundance, and the air is imbued with a sense of enchantment. This coastal gem offers a harmonious fusion of captivating landscapes and boundless opportunities.
Immerse yourself in sun-kissed moments, feeling the soft, golden sand beneath your toes as you bask in its warmth. Quench your thirst for adventure with a paddleboarding excursion, gliding gracefully across the serene lake's surface.
To truly unwind, find a shady spot and read a book or just enjoy the peaceful atmosphere. Now, let's accept our invitation and embark on an unforgettable journey together!
Essential Facilities at Little Elm Beach
Little Elm Beach is not just a stunning destination for sun and sand; it also offers a range of essential facilities that cater to the needs and desires of its visitors. From recreation to dining and exciting events, this gorgeous beach ensures that every guest has an enjoyable and memorable experience.
Spacious Beach Area
One of the key facilities at Little Elm Beach is its spacious beach area. Here, visitors can easily find a spot to park their chairs, set up their towels, and spend hours soaking up the sun.
Whether you're seeking a peaceful retreat or a fun-filled day with family and friends, the beach provides the perfect backdrop for relaxation and leisure.
Dining Options
After working up an appetite, visitors can grab a meal at one of the many nearby restaurants. Whether you're in the mood for a refreshing drink from Margarita To-Go to enjoy on the beach or a sit-down meal at Hula Hut, there are over 20 dining options to choose from.
Some of the finest options we recommend are Lighthouse Restaurant & Lounge, Lakefront Grill, and Savory Kitchen Bar. These fabulous eateries ensure that your day at Little Elm Beach is not only filled with sun and water activities but also with delicious culinary delights.
Festive and Events
Little Elm Beach is a hub of excitement with its year-round events. From the exhilarating Fourth of July and Christmas celebrations to engaging scavenger hunts and enticing food events, there's always something happening. Guests can immerse themselves in the festive atmosphere and create lasting memories.
Additionally, two private pavilions are available for reservation, catering to the needs of families and individuals seeking a perfect space for special occasions. These events and pavilions further enhance the sense of community and provide opportunities for visitors to engage and connect with others.
Suggested Reading: Guide to 6 Best Nude Beaches in Texas
Parking
The town of Little Elm has recently introduced a new parking fee of $10 for visitors who park at the popular beach area. This fee is designed to support the maintenance and enhancement of the beach facilities, ensuring a high-quality experience for all visitors.
Keep in mind that parking passes are available from March 6, 2023. Passes must be purchased in person at The Rec at The Lakefront™ at 303 Main Street, Little Elm. Visitors can conveniently pay the parking fee on-site using cash or credit cards, with parking attendants available to assist and facilitate the process.
Fun Activities at Little Elm Beach
Visitors of all ages can have a good time at Little Elm Beach thanks to the wide variety of exciting pursuits available there. There's something for everyone at this stunning location, whether they're looking for adventure, rest, or great family time.
Trail Treks and Playground Fun
For those looking to enjoy some outdoor activities, Little Elm Beach offers various options. Take advantage of the beautiful trails that offer scenic views of Lake Lewisville, and embark on a refreshing walk, bike ride, or run with your loved ones.
If you're visiting with children, they can have a delightful time at the playground, ensuring hours of entertainment. If you're up for a bit of friendly competition, you can start a beach volleyball game and enjoy some energetic fun in the sun.
Recommended Reading: Here's How You Can Get Sand Out of Hair: The Easy Ways
Aquatic Adventures
When it's time to cool off and make a splash, Little Elm Beach has you covered. Whether you're interested in wakeboarding, experiencing the excitement of the giant floating playgrounds, or simply seeking respite from the Texas heat, these water attractions offer a fun and refreshing way to enjoy the lake.
Relaxing on Little Elm Beach's soft sands is a great option for people who want to take things slower. Put your toes in the sand and feel the gentle grains while you relax and let your worries go away. Relax your body and your mind with a revitalizing swim in the beautiful waters. Swimming at this beach is a fantastic way to exercise and enjoy the beautiful weather.
Boating
For visitors who prefer to explore the lake at their own pace, Little Elm Beach offers boat rentals. Whether you're into waterskiing, tubing, wakeboarding, fishing, or simply cruising around, you can reserve either ski boats or pontoons to meet your specific needs.
This will cost around $70 per one hour to two hours. However, if you are a resident of Little ELM, you may get a discount of about $20 upon showing proof of address.
Play Volleyball
Calling all volleyball enthusiasts! Little Elm Beach beckons you to engage in friendly competition or organize a thrilling tournament on its championship-quality sand volleyball courts. Gather your friends and family, showcase your skills, and create memories of fierce competition and fun. There are multiple volleyball courts and there is no fee for playing. However, you might have to wait sometime during the rush season, or play in the beach area.
Picnic
Take advantage of the idyllic picnic spots at Little Elm Beach and indulge in a delightful meal with your loved ones. Pack a cooler with your favorite treats and find a shaded picnic table where you can savor every bite while admiring the stunning lake view.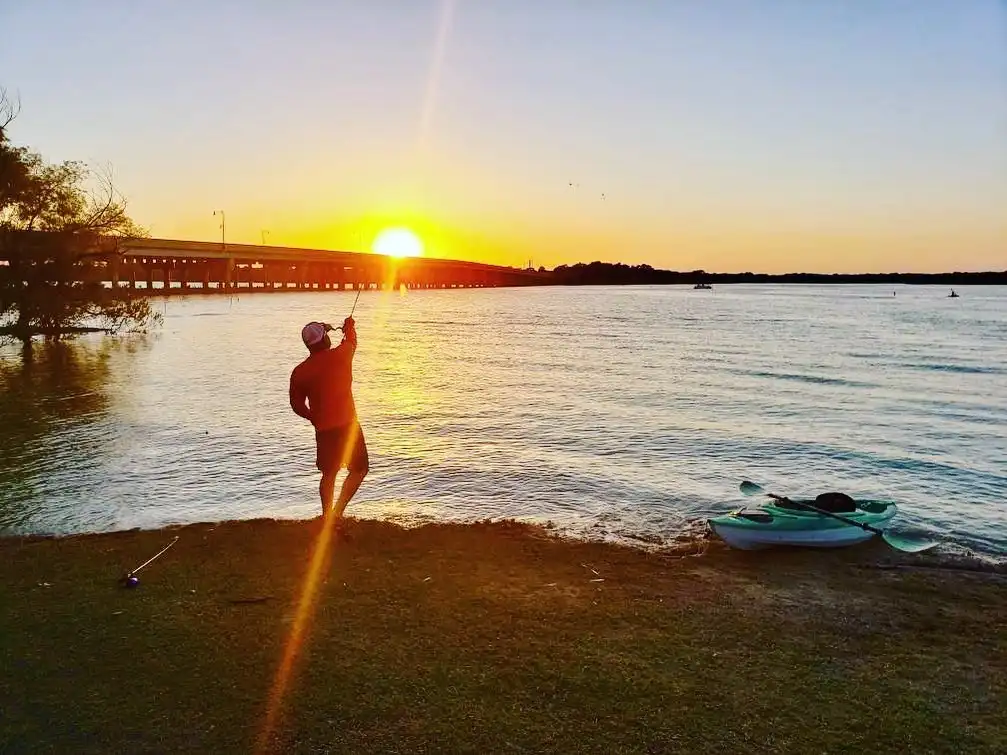 Picnic at this stunning beach offers a chance to connect with nature, bond with family and friends, and create lasting memories! Be sure to not litter and take plastic bags with you to carry waste material with you.
Cycling
The adventures at Little Elm Beach don't stop there! Grab a bike and pedal along the scenic bike paths. As you pedal along the paths, take time to appreciate the natural splendor that surrounds you. The combination of invigorating exercise and stunning scenery creates a perfect harmony that revitalizes your body and rejuvenates your spirit.
Other Activities To Do at Little Elm Beach
Experience an explosive Independence Day celebration like no other. Join the community as they gather at Little Elm Beach for a spectacular fireworks display, live music, and a festive atmosphere that will leave you in awe.
Embrace the holiday spirit and create unforgettable memories at their annual Christmas celebration. This beach transforms into a winter wonderland, complete with dazzling lights, a visit from Santa Claus, holiday-themed activities, and much more.
Embark on an exhilarating adventure with their thrilling scavenger hunts. Test your skills as you search for hidden clues and solve challenging riddles throughout the beach area. However, these scavenger hunt events are not that frequent.
Indulge your taste buds in a variety of culinary delights at their food events. From food truck festivals to themed food competitions, they offer a diverse range of gastronomic experiences that will satisfy every craving.
There are 2 private pavilions that provide the perfect setting for any family event. Whether it's a birthday celebration, reunion, or any other occasion, these pavilions offer a comfortable and scenic space for you to enjoy with your loved ones.
There are other events held over here as well such as Big Easy on every Saturday in March and Autumn Fest in mid-September.
For any of these additional activities, you should refer to the official website.
For your next trip: Plan Perfect Vacation at Bean Point Beach
Things to Consider Before Visiting Little Elm Beach
Before heading to Little Elm Beach, there are a few important things to consider to ensure a safe and enjoyable visit:
Park Grills Only: As you plan your outdoor cooking, remember that no outside grills or cooking equipment are allowed in the park. Instead, utilize the designated park grills provided for your convenience and safety.
Fishing Restrictions: Fishing from the beach and surrounding areas is not allowed. If you're interested in fishing, try to seek out designated fishing spots or consult with park staff for permitted fishing locations.
Pet Policy: For the comfort and safety of all visitors, pets are not allowed on the beach or beach sidewalks. If you bring your furry friends to the park, make sure to keep them on a leash at all times and ensure they remain in designated pet-friendly areas.
Avoid Glass Containers: To maintain cleanliness and prevent accidents, try to refrain from bringing glass containers to the beach. Opt for plastic or other non-breakable containers instead.
Canopy Tent Placement: If you plan to bring a canopy tent for shade, keep in mind that it must be positioned at least 15 feet away from the shoreline. This ensures the safety of other beachgoers and allows for easy access to the water.
Editor's Pick: Top 6 Must-Have Unique Experiences In Rockport, Texas
Conclusion
Experience a coastal haven like no other at Little Elm Beach, where an enchanting tapestry of delights awaits. Discover a trove of essential facilities, from sizzling designated grills that ignite culinary creativity to a shoreline brimming with captivating possibilities. Engage in a symphony of adventure with exhilarating scavenger hunts that unlock hidden treasures and create lifelong memories.
Dive into the crystal-clear waters of designated swimming areas, embracing the thrill of risk and reward. Safeguard harmony by keeping cherished pets on a leash and shattering the mundane with a ban on glass containers. In short, Little Elm Beach is an alluring sanctuary where captivating moments paint the canvas of your coastal odyssey.
Little Elm Beach - FAQs
Are there picnic areas or facilities available at Little Elm Beach?
Yes, Little Elm Beach has picnic areas with tables and grills where visitors can enjoy outdoor meals and gatherings. These facilities are available on a first-come, first-served basis, so it's advisable to arrive early during peak times or consider reserving a picnic spot in advance if available.
Is swimming allowed at Little Elm Beach?
Yes, swimming is allowed at Little Elm Beach. The designated swim area provides a safe and enjoyable environment for visitors to cool off and enjoy the water. Lifeguards are not present so be cautious.
Can I have a bonfire or use a grill at Little Elm Beach?
Bonfires are not allowed at Little Elm Beach. However, the park offers designated picnic areas with grills for public use. Visitors can enjoy cooking and grilling their food in these designated areas.
Are there organized volleyball tournaments or leagues held at Little Elm Beach?
Yes, Little Elm Beach hosts organized volleyball tournaments and leagues throughout the year. These events provide opportunities for players of different skill levels to participate in competitive and fun volleyball matches.