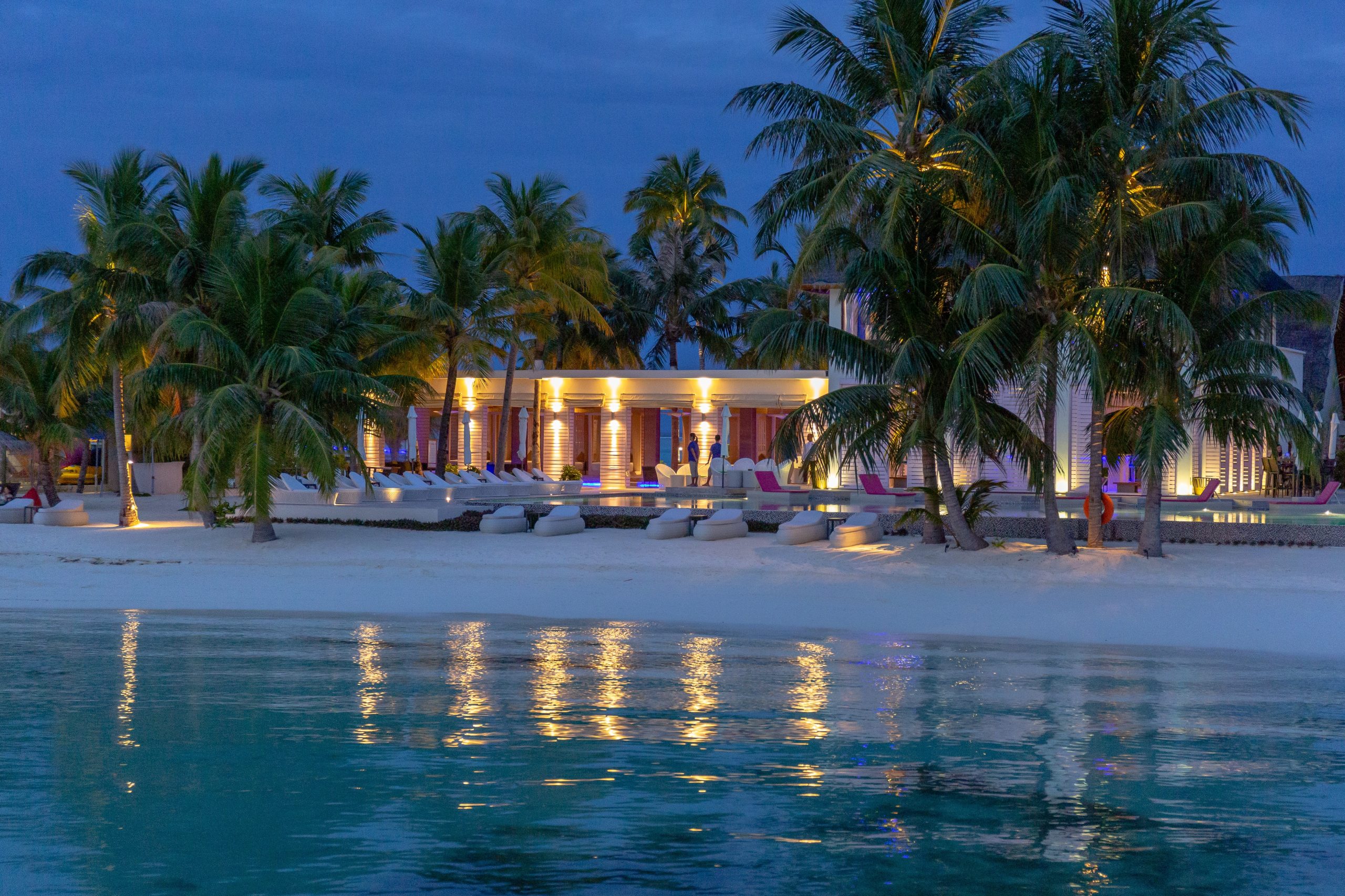 South Padre Island is a popular destination for Texans and tourists from all over the world. Thanks to its beautiful beaches, consistent weather, and proximity to some of the state's finest beach resorts, South Padre Island has been receiving more attention. Located off the coast of southern Texas, this barrier island is home to various resorts, from budget options to luxury hotels. Vacationing couples, families, and groups of friends can all be accommodated at South Padre Island's hotels and resorts. To top it all off, You may visit South Padre Island any time of the year. Follow our guide to uncover the best South Padre Island Resorts.
Similar Read: Classy Resorts In Bermuda
Most Popular Resorts in South Padre Island for Couples and Families
Find the ideal resort for your trip by pursuing our compiled list, which considers various criteria.
The Pearl South Padre Resort is ideal for travelers looking for a place to stay on vacation that offers all the perks of an all-inclusive experience without compromising any of the resort's luxury. The resort provides guests with various amenities and services, including several dining options, a lavish pool and beachside area, and a gaming venue. It is situated on the southernmost tip of the island, exactly on the beach, and is reached through a brick path lined with palm trees, offering stunning ocean views.
Pearl South Padre Resort is among the most visited hotels. Why? Because the villas, suites, and apartments are the finest ones with several rooms for visitors furnished and equipped with every element of convenience.
Resort guests can take advantage of several on-site amenities and services and choose from various dining and drinking options. The hotel has family-friendly facilities, such as connected rooms, and offers brightly colored rooms and suites that equally appeal to couples and families. Couples can enjoy the highest level of intimacy and relaxation with the large lagoon-style pool and private Jacuzzi. You can work up a sweat in the gym or relax with a massage for two at the spa.
The Pearl South Padre Resort provides accommodations with rates beginning at only $129 per night. This rate includes access to the resort's comprehensive collection of extras including an electric vehicle charging station, a water park offsite, a bar, high-speed internet, and flat-screen television as well.
If you stay at the Pearl South Padre Resort, you'll be close to several interesting places in the nearby areas. Visit the top attractions in the region, such as Isla Blanca Park, a beautiful natural area ideal for outdoor activities like swimming, fishing, and picnicking. The South Padre Island Birding and Nature Center is a great option if you're looking for a place to learn about the local flora and fauna. If you have a true passion for animals, you must visit Sea Turtle Inc. Besides, you can also go to the Largest Outdoor Sandcastle in the USA which is a 10-minute walk from this resort.
Considering all the basics, amenities, and nearby places, we highly recommend the Pearl South Padre as one of the best resorts in South Padre Island for families and couples.
South Padre Island is home to the amazing Isla Grand Beach Resort. Beautiful beaches, elegant suites, and first-rate amenities are just the beginning of what this resort offers for a memorable and rejuvenating vacation. The Isla Grand Beach Resort features a lazy river, a whirlpool, and two outdoor pools.
It provides its guests access to a diverse selection of activities and a 24-hour room service, including onsite and off-site water sports, such as parasailing, kayaking, windsurfing, fishing, and jet skiing, along with various activities to choose from. To top it off, you can use indoor and outdoor pools as well! Isn't that exciting?
Located on the island's southern coast, the 4-star Isla Grand Beach Resort stands out because of its prime beachfront position. The town's best sights, such as the largest open-air sandcastle, are conveniently close, and people love visiting.
Guests can take advantage of several onsite facilities including sand volleyball courts, tennis courts, a coffee shop, and a few restaurants as well. The best part is that you can get your meal delivered to the poolside during the warmer months. Windjammer's Cafe is the central eatery, and it features a menu that includes Tex-Mex, seafood, steak, and pasta options. At night, guests can enjoy live music, stand-up comedy, different shows, and dancing in the Quarterdeck Lounge.
If we talk about the nearby places, the Isla Grand Beach Resort has many. The Laguna Madre Nature Trail is a great place to go for a stroll or ride a bike. Andy Bowie Park is a lovely spot for a picnic or a day spent exploring nature since it winds through marshes and provides opportunities to see animals in their native habitat. You will have a wonderful day here because of the pristine beaches, lush greenery, and possibilities for birdwatching.
One of the reasons why our team highly recommends this resort is that it does not cost you a lot. Prices begin from $110 for a couple and go higher with the number of people and seasonal dates. Considering all the amenities, finest rooms, and top restaurants offered here, it surely is one of the best resort picks in South Padre Island for travelers on a budget.
The Hilton Garden Inn Padre Island is perfect for spending time with your partner. Why? The resort has an aesthetic location on South Padre Island and comes with spacious suites as well as beautiful gardens. All of this makes it an ideal place to unwind and take in the Island's scenic splendor.
There are several activities over here that you can indulge in with your loved one. The resort offers various pursuits, from parasailing to fishing to horseback riding along the beach.
This resort features a spa, an outdoor pool, and a fitness center. Only leave the lodge after trying some of the local seafood dishes for which Padre Island is known. You may satisfy your craving for traditional Tex-Mex and local seafood at the Hilton Garden Inn Padre Island's onsite restaurant named "On the Border".
Although anybody including families can come and stay here, we recommend The Hilton Garden Inn as a wonderful place to stay for a couple due to the fun activities available here. Also, if you're looking for even more fun, check out some of the most fun things you can do at Bainbridge Island. However, the prices are relatively high compared to other resorts on our list. The price of a night's stay at Hilton Garden Inn South Padre Island starts at $170.
Looking for things to do during your stay? You'll find yourself in a picture-perfect setting. There are several amazing places to visit nearby. Visit Schlitterbahn Beach Waterpark to chill off on a hot day. Enjoy slides, pools, and more as a group or individually. If you are a bird lover, you can also visit the South Padre Island Birding and Nature Center which is just a 3-minute walk from the resort. The Port Isabel Lighthouse is also present over here which is a sight many couples wouldn't want to miss.
After evaluating this resort in numerous ways, we recommend it specifically for someone looking for a resort in South Padre Island for couples.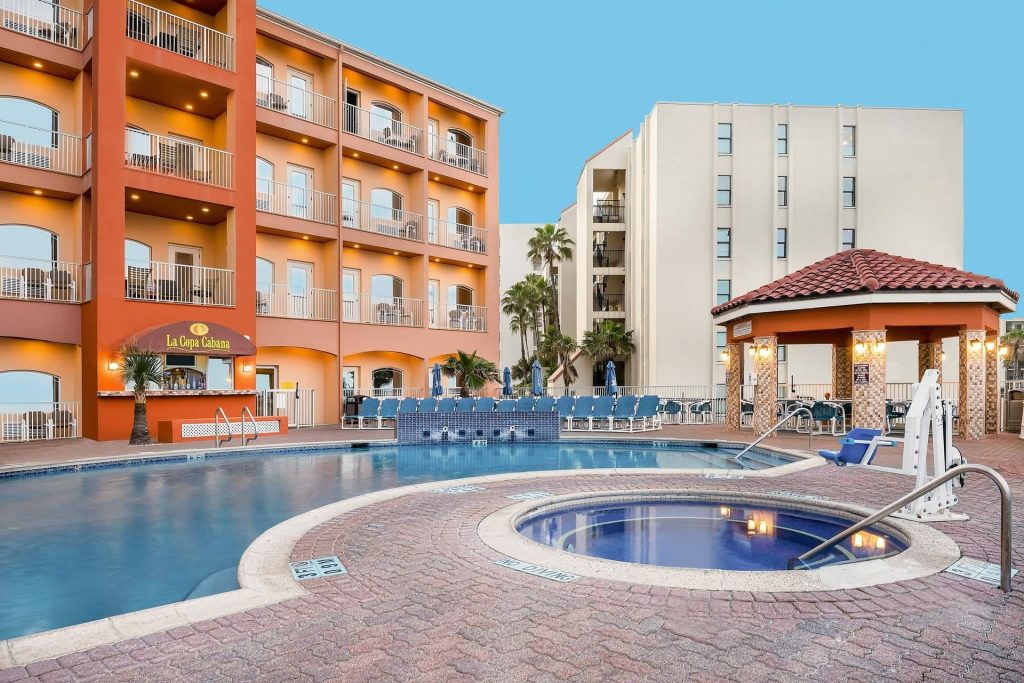 Incredible ocean vistas and a wealth of recreational opportunities await you at La Copa Inn Beach Hotel. The resort is among our recommendations not only because it is cheap, but also because of the extensive facilities that are enjoyed by friends, families, and couples likewise. There's no better location to soak up the Texas sun on the sandy shores of La Copa Inn Beach Inn.
The 3-star hotel features rooms and suites decorated in a vintage manner offering cozy beds with white linens and vibrant color touches to make you feel relaxed on the vacation. If you want to enjoy unimpeded views from the comfortable balcony of your ocean view, reserve a room on the highest floor.
The La Copa Inn Beach Hotel is a great option for travelers on a budget, with rates starting at just $82.50. The Sea Species Nature Center and the Institution of Dolphin Studies are two places to visit in La Copa if you're interested in learning more about dolphins and other marine species.
Rooms at this affordable hotel can accommodate big groups. We recommend the 3-bedroom family suite if you are coming in with a major company. Each room is large and has an exemplifying design where the beds are incredibly comfortable due to the Tempur-Pedic mattresses and clean, white sheets. Most accommodations have balconies and a view of the ocean. In addition to high-definition televisions (HDTVs), guests can access microwave ovens, coffee machines, refrigerators, and premium cable channels as well.
The stay for children is free, and breakfast and parking are complimentary. In addition to the pool and Jacuzzi, guests will find chaise loungers and pavilions to soak up some rays. The Hilton Garden Inn South Padre Island is located in the northern part of the island, right on the beach, with dunes as a backdrop. From the shore, you can see the sunset from the coast, which is a breathtaking sight. Besides, the resort provides many outdoor pursuits such as fishing, golfing, kayaking, hiking, and bicycling for those who prefer a more active vacation.
La Copa Beach Hotel is a well-liked mid-range hotel near the beach and conveniently located opposite the Queen Isabella Causeway, which connects South Padre Island to the mainland. This hotel has a restaurant with a patio where you can get delicious food.
However, you'll find another two dozen dining options within a mile of the La Copa Inn. Popular dining restaurants nearby include Mahi Nic (American Cuisine), Ceviche Ceviche (Latin Cuisine), and Gabriella's Italian Grill & Pizzeria (Italian Cuisine). Visit either of them depending on your food preferences.
With so much in so little, it is definitely a wise choice for people looking for a Cheap South Padre Island Resort.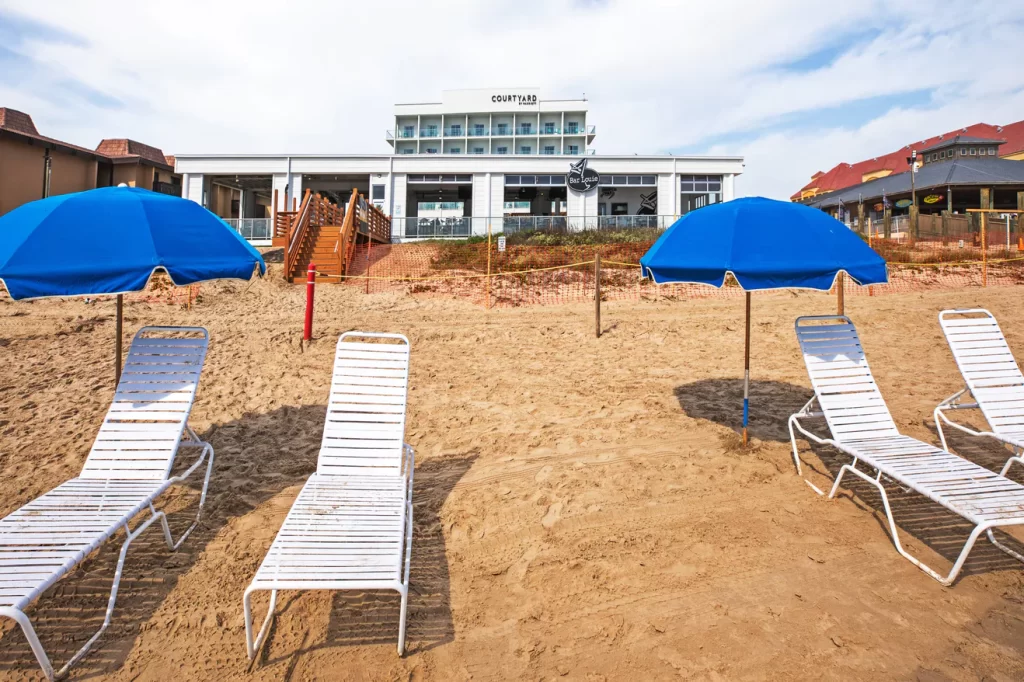 Courtyard by Marriott South Padre Island is one of the newest hotels on South Padre island. The recently opened resort has everything done to perfection which makes it a popular choice for couples and families. Some of the rooms and suites of this hotel are as spacious as 750 sq ft allowing you to enjoy at most. It's easy to relax in the clean and cozy rooms, and many even have stunning beach views.
A stay at the Courtyard by Marriott South Padre Island is the perfect place to unwind. When looking for a hotel on South Padre Island, Courtyard by Marriott offers spacious, well-maintained rooms with excellent bedding and other conveniences without breaking the bank. Since the resort is new, you will expect the kind and helpful staff there to meet your needs. Prices for basic rooms start at $139 per night without sacrificing the quality of amenities or service.
Various services are available and facilities for the guests. Walk-In Shower is provided in each room. Both an adult and children's pool are available, with the adult pool featuring a swim-up bar. You can choose between a bistro café or a sundries shop for lunch or dinner while you're here. The resort is among the few on South Padre Island which offers a Banquet Room for special events. A free parking garage and a fitness facility are provided for the convenience of our guests. Extra facilities including dry cleaning, laundry, vending machines, convenience store, ATM, and many others are present here.
If you are not a big fan of staying at the hotel, you can visit several places nearby. Within a short car ride, we recommend that you should visit Andy Bowie Park, South Padre Island Convention Center, and South Padre Island Farmers Market.
Schlitterbahn Beach Waterpark is the best location to cool off when the temperature outside is soaring, thanks to its lazy river, water slides, and kid-friendly play area. We recommend Blackbeard's Restaurant, the Naked Iguana Tequila Bar & Grill, and the Sea Ranch Marina Gift Shop if you're looking for a great meal close to Courtyard Resort.
Knowing the so many facilities and everything offered within the resort, this becomes the perfect resort in South Padre Island Resort for a lazy vacation.
The Padre South Hotel is a great option if you're looking for a hotel close to the Gulf of Mexico. Suites and rooms at this hotel range in size and style, but they're all spacious and have high-end amenities like kitchenettes. The rattan furniture contrasts with the colorful bed coverings and the dark green rugs. Every room is uniquely decorated in a wacky retro style, yet you can count on some basics. This is what makes it quite unique as compared to other resorts we mentioned above.
The Padre South Hotel offers several room choices between $129 and $159 per night. The resort offers a Standard Efficiency room which is the basic one and can accommodate between 1 and 4 guests. However, it only comes with 1 Queen Bed and a sofa that can be converted into a flatbed. Other bed variations include 2 Queen Beds. If you are looking for a bigger room, you can opt for a suite which comes with 2 bedrooms. It has 1 Queen-size bed in the bedroom, 1 full sofa bed in the living room, 1 full bed, and 1 twin-size bed in the second bedroom.
This beachfront resort features an award-winning hotel with various dining and drinking venues, a spa, and an eighteen golf course. There is a tennis court and playground equipment for the kids to use while guests can enjoy a variety of water sports, such as windsurfing, sailing, and kayaking, as well as other outdoor activities. The resort is in direct range to South Padre Island and its attractions, including the world-famous Mustang Ranch.
Padre South Hotel does not have a restaurant. However, it is within walking distance of three renowned Italian eateries. Biggest Outdoor Sandcastle and Isla Blanca Park in the USA are both within easy walking distance of the hotel, making it a convenient base to explore the area. The hotel is within walking distance of many of Padre Island's top sights, including the National Seashore, Lighthouse Point, and the Pier.
As this resort has several room options and several dining/drinking venues, it is ideally one of the best South Padre Island Resorts.
Things To Consider Before Booking Your Resort in South Padre Island
Here are some factors to consider when booking a resort vacation in South Padre Island
Distance to Spots Nearby — An important thing to consider before booking a South Padre Island Resort is the distance to famous attractions that are nearby. Keep in mind that South Padre Island is just 9.687 km² which means that all the popular attractions are quite close. No matter where you choose to reside, the popular spots are still going to be at a short distance.
Other Facilities — If you plan on bringing children along on your trip, you may also want to inquire whether there are any specialized amenities and activities just for them. It is necessary to inquire about the availability of a doctor, the resort's policies, and other details. We favor resorts that provide more amenities at no cost to the guest. Look for options like dry cleaning, washing, and extras as well. We highly recommend the Courtyard by Marriott South Padre Island in this regard.
Availability of Food — Food availability is the most critical consideration for any trip involving multiple people. Breakfast is usually included in all-inclusive resorts. If breakfast isn't provided, you should be familiar with the area's food stalls and restaurants, so placing an order is easy.
Budget of the Trip — Budgeting is essential and should be one of the primary considerations when deciding on weekend vacations. Comfortable spending on food, travel style, lodging, shopping, extra stops, etc., should always be added to the budget list. Use cards instead of carrying large amounts of cash, and if you consider bringing money, split it up amongst your travel companions.
A Peek at How We Choose What to Recommend
Our team of globetrotting specialists and subject-matter experts has thoroughly examined all of the recommendations we make. We work hard to ensure our suggestions are interesting and relevant to our readers' choices when planning their trips. Our team also recently made a guide for resorts in Illinois, Oklahoma, Joshua Tree, and more. While choosing the best South Padre Islands for families and couples, we took several factors into account including convenience, budget, amenities, and related factors. Since our travel agents consider the opinions of past clients, the guidance we provide is quite accurate and reliable.
Final Note
South Padre Island is a must-visit if you seek a relaxing vacation spot this year. The island is home to some of the finest resorts and has some of the state's most stunning beaches. Hotels on South Padre Island range from inexpensive hotels to luxurious resorts. Whether planning a trip in the late spring or early fall, South Padre Island should be on your list.
Next Read: Rhode Island Resorts Known for Comfort and Service
South Padre Island Resorts - FAQs
What is the best resort for families on South Padre Island?
There are multiple staying options for families and couples in South Padre Island such as Pearl South Padre Resort and Hilton Garden Inn South Padre Island.
Which South Padre Island resort is the best spot to visit?
Central South Padre Island is the best spot to visit. You'll find top attractions, restaurants, and hotels like Rain Dancer nearby.
What is the best time to visit South Padre Island?
South Padre Island is a year-round destination but we recommend visiting in summer so you can enjoy the beach as well.
Can you swim in the ocean at South Padre Island?
You can swim in Bird Island Basin or the Gulf. Safety is crucial, yet there are no lifeguards on duty.