Minnetonka is perceived as a deluxe tourist attraction because of the glorious crystal clear waters of Lake Minnetonka, huge markets and shopping malls, and other activities like fishing, boating, etc. People from all over the world love to come here to enjoy the natural sights, wildlife, lush greens, which are the specialty of this place, and luxurious hotels and restaurants. Below is all the information about the best restaurants on Lake Minnetonka you need to know to have an amazing dining experience.
Everyone has their preferences when it comes to eating at a restaurant. The restaurants on lake Minnetonka have a variety of amenities that they come with, and they have something to offer to everyone; whether you want to have a steak, pasta, wine, or the best cheesecake ever, they have all that and more. From the list below, pick the one for you.
Savor These Amazing Restaurants On Lake Minnetonka
There are a lot of restaurants on Lake Minnetonka which offer great service quality, ambiance, and delightful taste. Choose the one that resonates with you the most from the list below.
Al & Alma's Supper Club and Charter Cruises were established by Al and Alma in 1965 and are the oldest restaurant on Lake Minnetonka. Their narrative was to build a place that people would like to visit even if they have to come from a faraway, which is why they choose to make an absolute heaven out of this already stunning place. These dining cruises are perfect, not only for an intimate dining experience but also for fancy company dinners or family functions, as they can contain quite a lot of people.
The interior of the main dining hall and the upper dining hall are very contradictory as the main hall is decorated more casually with huge windows and gives off a more relaxed vibe, however, the upper hall has more intimate vibes, especially at night time with the wooden floors and yellow lights, it just looks straight out of a dream. They also have big screens in the upper hall for presentations, if you want to hold a corporate meeting here or if you want to display some pictures for family functions.
The food of this place is as great as the rest of it. They have three menus; one for supper club, one for the loft catering, and another one for wine. Their supper club menu contains some of the yummiest dishes you will have on this lake, but the must-try dishes include; hand-cut steaks and camp-style walleye, also don't miss out on their handmade desserts which are so good. If you are the kind of person that always have some space left for a great dessert, you would also like to check out these 20 Desserts in Laguna Beach. The name supper club might make one think that you need to have a membership to come here, but no, you can come here anytime and enjoy these delightful dishes.
Their service quality is as good as it gets. The staff is nice, accommodating, and friendly which adds so much to your experience here. It is one of its kind sort of place in an exquisite location which makes all of the travel worth it. Definitely come here and enjoy.
Cast & Cru is a fine restaurant located near lake Minnetonka. The place also happens to have a theater, a bar, an outdoor patio, and some of the best services you can get in this area. This place is an embodiment of a luxurious and elegant restaurant. Their main dining hall is beautifully decorated with really classy pieces, and chandeliers and wooden shades just add so much more oomph to it. The outside sitting area is some of the prettiest dining areas I have had the pleasure of dining at. The greenery around, and the flower pots hanging from the top are so aesthetic. Their wooden furniture also looks like part of the whole scenery.
They have so many dining options; you can dine at the main dining hall, in the bar, or the outside dining area. All of these dining areas have got the same calming and classy vibe to them. They also have private dining halls that you can book for parties or meetings. The food is cooked with fresh ingredients, and they also serve the best-picked wine from all over the world, which you must not miss out on!
Their food is just as good as the rest of it. They serve American and contemporary cuisine. Their menu is extensive and has some great deals for date nights and Sunday brunches. If you love weekend brunches you might want to visit these Best Brunch places In Anaheim too. All of their food is pretty good, but the dishes that you must not miss out on include their scallops, French fries, and old log burger, and from the desserts, you have to try their Basque cheesecake; it's just amazing.
Their service quality is nice, and servers go above and beyond to provide you with the best of their services. If you don't understand and find yourself confused about the menu, get some help from the staff, and they will make it easy for you. Also, do get your table reserved beforehand, as it can get crowded pretty quickly.
Maynard's is one of the few restaurants located on lake Minnetonka that not only provide you the pleasure of eating at a place that makes you feel at home but also the exquisite experience of dining outdoors with the astonishing views of the lake. The interior of the place is nice. Their indoor sitting area is very intimate, with wooden floors and a causal seating arrangement that makes you feel like sitting in the warmth of the home. Also, the outdoors is cool, where you can sit and enjoy the view of the lakes and boats while having your food.
Their indoor and outdoor spaces are nice, but if you have to pick one, pick the outdoor dining area. The view of the people having fun on the boats and the glass-clear waters of the lake adds so much to the ambiance of the area, which takes this dining in a cozy environment feels to a whole nother level. This restaurant also has a bar which is also really good; especially their happy hour is just perfect.
Their food is delightful. They specialize in American cuisine and also have vegan, vegetarian, and gluten-free options available. The place is also accessible for handicapped individuals. Everything from their menu is a chef's kiss, so feel free to pick whatever you want, but some of the best things include; steak bites, marine salad, Mr. Jimmy, and fish taco wrap. If you want to eat something healthy, they also have healthy bowls and low-carb food available, specifically on their menu. Also if you want to kick start your fitness journey and want to motivate yourself to work out five times a week you might want to check out these Finest Gyms in Dubai for Everyone!
Their service quality is satisfactory. The servers are great. Despite the fact that the place is crowded, because of being at a tourist attraction, the waiters or waitresses take their time to acknowledge the new customers and make them feel welcome. Definitely try this place out if you are into food and stunning natural sceneries.
Gianni's is another one of the amazing restaurants on lake Minnetonka. It is a well-known place among travelers, and people love their steaks. Their steaks are completely hormone-free, which is rarely available in the stores. The interiors of this place are just like any other posh, luxurious and classy place's interiors which are chic, minimalistic, yet opulent. Their outer dining is adorned with lamps and provides a beautiful view of the lake, the inside area also has a very refreshing vibe with huge windows all around, providing a view of the stunning natural sceneries.
Their inside and outside dining areas both have very different vibes going on. The outside patio with yellow lights from the lamps looks very dreamy, casual, and cozy, however, the inside dining hall with white table cloth and wooden ceiling, and chandeliers gives off a very fancy vibe. If you need to choose where to sit, pick the outdoors if it's a casual date with your loved ones, but if it's a special day, the indoors are the best option for you.
The place has mastered the art of making the perfect steak for everyone. If you like them rare, medium rare, or well cooked, they will provide you with one, and it will be the best one you will have for a long time. They serve American cuisine, seafood, and steaks. All of their food is great. Apart from the perfectly cooked steaks, they have the best onion soups, ravioli, grilled salmon, mashed potatoes, and New York-style cheesecake. If you love vanilla ice-creams, do check out their natural vanilla ice cream, you will love it!
The service quality is great. Their servers are professional and make you feel super comfortable. The place is slightly on the higher end, but it is all worth their service. They also serve generous portions and have gluten-free options available on their menu. Once you visit this place, you will definitely stop here every time!
Similar attractions: 25 Steakhouses to Try in Laguna Beach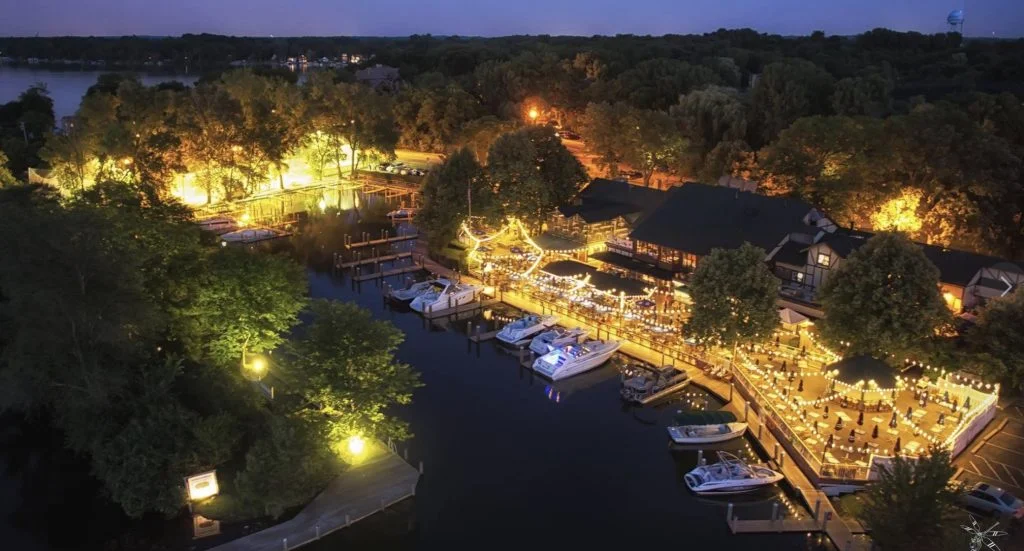 Lord Fletcher's Old Lake Lodge is an old restaurant located on Lake Minnetonka known for its exceptional food and the gorgeous views of the natural sceneries from its outdoor dining. It is a go-to place for the locals, and the idea of this place is to enjoy the life of living on the lake with the gorgeous views and the delightful flavors of food which is very well interpreted in basically everything you will have in this lodge. The interior of this place is amazing. Their outdoor area is huge, with beautiful fairy lights and laying chairs around, and the inner dining hall is also a very casual and fun place to dine at.
Their outdoor area is a perfect place for someone who would enjoy some drinks with the views of the lake in a very laid-back atmosphere. The same goes for indoor dining as it is just like any other relaxed food bar where you can enjoy some burgers with your friends and have the time of your life. They also have a bar and a really good happy hour. Both of these areas are equally amazing, but the night view of the outdoor dining with the fairy lights looks too appealing to skip dining outside.
Their food is also really good. They have specialized in American cuisine and have the best beef burgers in town. They also have vegetarian and gluten-free options available on their menu. Apart from the burgers, they also serve pretty decent steaks, and don't forget to try out their Coconut Shrimp Chopped Salad, Charcuterie Board, Margherita, Coconut Thai Chicken Sandwich, and Roasted Shiitake Mushrooms; you will love every single one of these.
Their servers were great. The staff will make you feel welcome and also would give the best pieces of advice when it comes to ordering only the best from their menu. This restaurant also offers takeout, in case you want to enjoy the coziness of your home. They have a deck sitting area and upper patio, which is perfect for a company dinner or family dinner too. One can also get a private room for a more private dinner. You will love every bit of your experience here!
If you liked Fletcher's Old Lake Lodge you might also like: 19 BEST Burgers In Norfolk VA [2022].
Spasso is a restaurant located just minutes away from the shores of Lake Minnetonka. It is an exceptional place which is known for its rich Italian cuisine, and some other special dishes. The place is also famous for its amazing and affordable wine menu. You can enjoy the best wines here with your friends. This place also has a very low-key and go-to sort of vibe going on, which is just perfect to dine after spending a good long day on the lake.
As you enter the place, the first thing that will grab your attention is the bar which is always busy. They have a great happy hour too, so feel free to party your heart out. The interior of the place is nothing super fancy, it has a very home-like vibe with intimate seating but has still got the edge with the black ceilings and fancy lights. It will easily become your go-to place in no time.
They serve Italian food, and their food is what is going to keep you hooked to this place. This place has some of the best kinds of pasta you can have in this area. They also have some American and vegetarian dishes on their menu. This restaurant has an extensive menu, and pretty much everything tasted well; however, the things that you can't miss out on are; Parmesan Truffle Wings, Tomato & Dill Bisque, Beet salad, Lasagna, and Spasso Burger. They have a great dessert menu and a kid's friendly menu too.
Their service quality is pretty good. They have the nicest staff who will help you in every way possible to make your experience here perfect. Also, take their suggestion when ordering the wine; they will give you the best wine suggestion, which will go perfectly with your food. They also offer takeout and are accessible to handicapped individuals. Overall the place is nice, and if you love eating pasta this place should be it for you!
Hazelwood Food and Drink-Tonka Bay is a restaurant on lake Minnetonka that offers great food and satisfactory service. It is a place that is said to bring out the best of modern comfort foods you will have, and they are right about it. This place is modern with really funky and vibrant colors and immediately feels like a breath of fresh air from the moment you enter its premises.
They have an indoor and an outdoor dining area. Both of the areas have a supercool and funkadelic vibe to them. Their outer area is perfect to have lunch in the sunny weather. The indoors are also amazing, from the ceilings to the art pieces to the colors of the furniture, everything complements each other so well and gives a very refreshing feel to the entire hall. You can also get a private dining area if you want to entertain a larger audience.
Despite the ambiance being good, the stunning decors, and the refreshing vibe of this place, their food still happens to be the best part of this restaurant. They specialize in American and contemporary cuisine and have the best pizzas in the area. They also have a bar where you can enjoy drinking and catching up with your friends. You can trust their chefs with all the dishes on their menu, but the ones that you have to try are; their beef and blue fondue, cowboy burger, rigatoni Bolognese and pan-seared scallops; they are just out of this world.
Their service quality is ten out of ten, and the staff is professional too. They have an extensive menu with brunch, dinner, lunch, kids, desserts, and a late-night menu. Their brunches are out of this world, and you can enjoy them on the weekends. They also offer takeout and have gluten and vegan-friendly options on their menu. If you like to eat healthily, they also have healthy bowls on their menu. All in all, it is a great place.
Things To Consider Before Going To A Restaurant
Location — Location is the most important thing that you need to consider when choosing the place you want to eat at. It shouldn't be too far away from your residency unless you want to try something out from a particular place.
Ambiance — This is the second most important thing you need to know before you pick the restaurant. The atmosphere can make your experience a win or bust, so consider a restaurant that has the sort of vibe that aligns with your plans. Like; if it's a company dinner or a family dinner, make sure the atmosphere is appropriate for either of those.
Service quality — The service quality should be nothing but the best. You will be paying for the service, it is your right to get value for your money, so go for the one with the exceptional service.
Food — Before deciding on the restaurant, do know if they serve the cuisines you like or whether or not they can customize your order if you have any food allergies. It's best to know about things beforehand.
Reservation — If you are getting reservations for a big event or something important, it is better to reserve a restaurant that you are familiar with and have dined at a few times before, as you would be confident about their service and can enjoy your time!
How Do We Pick Our Recommendations
Minnetonka city is known for its water activities, fun markets, and shopping malls which we had to check out. This place has been a tourist destination since the 1800s and also has some of the best restaurants nearby, which sounds too good to be true and needed to be validated by me and my team. This is exactly why we went there and took the opportunity to formulate this list for you guys, so you people get to enjoy nothing but the best. Our recommendations are based on the quality of their service, food, location, and ambiance of the places. We have also considered their online ratings and the views of other travelers before formulating this list.
All You Need To Know About The Best Restaurants On Lake Minnetonka - FAQs
Why was Lake Minnetonka famous?
Lake Minnetonka was famous for being a world-renowned destination for wealthy tourists.
Do Fletcher's Old Lake Lodge have gift cards?
Yes, Fletcher's Old Lake Lodge has gift cards.
Do Al & Alma's Supper Club and Charter Cruises have a happy hour?
No, Al & Alma's Supper Club and Charter Cruises do not have a happy hour.
Does Maynard's have any outdoor dining with heaters?
Yes, Maynard's has outdoor dining with heaters.