Nestled in the heart of Hilo, Carlsmith Beach Park beckons with its inviting shores. This family-friendly destination provides a well-maintained and easily accessible beach experience, with lifeguards available on weekends and holidays.
Immerse yourself in snorkeling, swimming, and pure relaxation, amidst the enchanting fusion of garden and beach park elements. Indulge in unforgettable moments at Carlsmith Beach Park, where the harmony of nature's beauty and recreational delights seamlessly blend together.
Essential Facilities at Carlsmith Beach Park
You may make the most of your time at Carlsmith Beach Park by taking advantage of the many amenities offered to guests. The park provides the following essential amenities for families and beachgoers:
Restrooms and Outdoor Showers
Visitors at this beach park have access to essential facilities that enhance their comfort and convenience. Restrooms and outdoor showers are thoughtfully provided to ensure cleanliness and accessibility.
The restrooms offer a convenient and hygienic space for visitors to utilize, while the outdoor showers are perfect for refreshing after swimming or engaging in water activities.
These amenities cater to the diverse needs of visitors, ensuring an enjoyable experience at the park.
Moreover, the presence of restrooms and outdoor showers contributes to the park's cleanliness and helps preserve water quality, maintaining a pleasant environment for all.
Suggested Reading: The Best Nude Beaches in Hawaii | 10 Secret Spots Pick!
Pavilions with Electricity
Visitors to Carlsmith Beach Park can enjoy the essential facility of pavilions with electricity, adding convenience and entertainment to their beach experience.
These pavilions provide a sheltered space for gatherings, picnics, and events.
With access to electricity, visitors can bring their own illuminating devices for evening activities and ensure a well-lit environment.
Additionally, pavilion-use patrons are advised to bring spare light bulbs in case the park lights are not functioning properly.
While camping is not allowed in the pavilions, they offer a comfortable spot for relaxation, socializing, and enjoying meals.
Picnic Area
Carlsmith Beach Park offers a charming picnic area where visitors can dine outdoors amidst the tranquil surroundings.
Discover hidden nooks throughout the park where picnic tables await, allowing visitors to savor their dining experience in unique and picturesque settings.
Escape the sun's rays and find solace under the inviting picnic shelters, providing a cool oasis to relish your food in complete comfort.
Unwind and bask in the tranquility of the park's expansive grassy lawn, whether you choose to lay out a towel or simply soak up the soothing warmth.
Immerse yourself in the shade of towering coconut trees and lush shrubby areas, as Carlsmith Beach Park offers a natural sanctuary from the intense afternoon sun, ensuring an enjoyable and rejuvenating experience for everyone.
Related: Little Elm Beach – THINGS TO KNOW
Parking
Visitors to Carlsmith Beach Park have convenient parking options despite the limited size of the parking lot. Street parking and an adjacent lot are available for additional parking needs.
The great news is that both entrances to the beach park and parking are completely free of charge, ensuring easy access for all visitors.
In case the parking is full, an alternative option is to drive to the nearby James Kealoha Beach Park as it has extra parking space.
These facilities ensure a stress-free experience, allowing visitors to fully enjoy the park's attractions and activities without any concerns about entrance fees or parking costs.
Lifeguard
Carlsmith Beach Park offers an essential facility that ensures the safety and enjoyment of visitors: lifeguards.
With lifeguard stations monitored primarily on weekends, families and beachgoers can feel secure knowing that there is a trained professional on duty between 9:30 a.m. and 4:45 p.m.
While the beach park is open from 7 am to 8 pm daily, the presence of lifeguards adds an extra layer of reassurance for a family-friendly beach outing.
Visitors can relax and engage in water activities, knowing that trained lifeguards are available to respond to any emergencies and ensure a safe environment.
Editor's Pick: 11 Things to be Careful of in Isla Mujeres – SECURE TRIP
Fun Activities To Do at Carlsmith Beach Park
Carlsmith Beach Park offers a diverse selection of recreational opportunities for its guests. Some fun things to do in the park are as follows:
Spot Native Sea Turtles
A captivating feature of the park lies in the chance to observe native sea turtles in their natural habitat.
Behold the magnificent Hawaiian green sea turtles as they bask under the sun's warmth or elegantly glide through the waters.
Being in the presence of these extraordinary creatures is a truly awe-inspiring experience.
While visitors have the opportunity to interact with the turtles, it's important to note that these majestic beings are not confined and are free to depart at their own discretion.
Exploring the coves and rocky areas of the park allows guests to keep a watchful eye on these fascinating turtles while ensuring they respect the legal requirement of maintaining a minimum 10-foot distance.
As you observe them, a sense of reverence washes over you, a reminder of the interconnectedness of all life on this planet. Their eyes, like shimmering pools of wisdom, seem to hold secrets of the ocean depths!
Relax on the Lawn Areas
The park boasts expansive, well-maintained lawn areas, providing ample space for relaxation and enjoyment.
Spread your towel on the large grassy expanse, where you can unwind amidst the picturesque surroundings.
Whether you prefer lounging in the shade or soaking up the sun, the park offers a serene ambiance for ultimate relaxation.
While there may not be a physical beach, the inviting lawn areas provide a perfect setting to unwind, appreciate nature, and savor the park's tranquil atmosphere.
Water Activities
At Carlsmith Beach Park, visitors can indulge in a variety of water activities, making it an ideal destination for aquatic entertainment: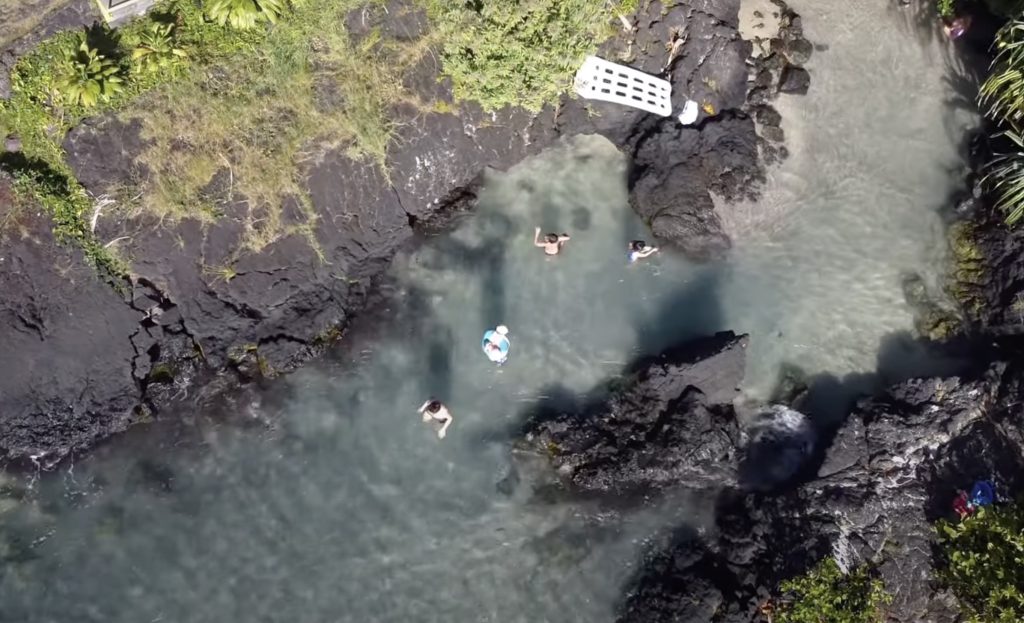 The picturesque crescent-shaped bay and crystal-clear waters create a perfect setting for swimming, snorkeling, and sunbathing.
The multiple pools within the bay make snorkeling accessible for the entire family, while the sheltered bay ensures small waves most of the time.
The park's lagoons also offer opportunities for water recreation.
Visitors can bring their own kayaks, surfboards, or snorkel sets to fully enjoy the calm waters and explore the captivating underwater scenery.
The presence of cool fresh water seeping into the lagoon creates occasional cooler spots, adding to the park's unique charm.
Must-Read: Plan Perfect Vacation at Bean Point Beach
Coastal Walk
Embark on a coastal walk and discover the captivating Mahikea Island nestled within the lagoon areas:
This unique island invites exploration, allowing visitors to immerse themselves in its distinctive features. Additionally, take a leisurely stroll along the coastal area leading to James Kealoha Beach Park, spanning four miles of picturesque scenery. This walk not only offers diverse views but also unveils potential swimming spots, enhancing the overall experience.
With its enticing coastal walk and the allure of Mahikea Island, Carlsmith Beach Park provides visitors with an array of entertainment and recreational opportunities amidst its enchanting surroundings.
Explore Inlets and Lagoons
One of its key offerings is the opportunity to explore inlets and lagoons. Whether you choose to kayak, use a stand-up paddleboard (sup), or simply swim, these activities allow you to uncover different areas of the park and immerse yourself in its natural beauty.
The park's diverse inlets and larger lagoons provide a picturesque setting for water-based adventures. Engaging in these activities not only offers entertainment but also allows visitors to connect with the park's serene surroundings.
Private Fish Pond
At Carlsmith Beach Park, visitors have the opportunity to explore the private fish pond situated on the park's far left side.
While access to the pond and adjacent rock areas is restricted, you can still observe the pond's fascinating ecosystem from the parking lot. The pond houses mullet and tilapia fish and this unique feature adds to the park's allure. It provides an educational and immersive experience as visitors witness the natural behavior of the fish and learn about their habitat.
The private fish pond at Carlsmith Beach Park offers an intriguing glimpse into the underwater world, captivating and entertaining visitors of all ages.
Seaside Restaurant
One more notable facility is the Seaside Restaurant located nearby, offering delectable seafood meals that satisfy hungry appetites. Indulging in a delightful dining experience, visitors can relish the park's serene atmosphere while enjoying delicious cuisine.
Additionally, the park's proximity to other popular eateries like Suisan Fish Market, Paul's Place, Two Ladies Kitchen, Hawaiian Style Cafe, and Hilo Bay Cafe provides visitors with a variety of dining options.
Things To Consider Before Visiting Carlsmith Beach Park
There are a number of factors to think about in advance of your trip to Carlsmith Beach Park in order to make sure you have a positive and well-prepared experience:
Difficulties in reaching the beach: Without planning for transportation, visitors staying far from the coast may struggle to access Carlsmith Beach Park. Lack of private transportation or not exploring alternative options can result in limited or no access to the beach.
Arrive early: To secure a parking spot, it's advisable for visitors to arrive at the park early in the day. Early mornings or weekdays might have fewer crowds and better parking availability compared to peak hours or weekends.
Weather and Tide Conditions: To fully enjoy the beaches at Carlsmith Beach Park, it is recommended to visit during the summer months when the temperatures are warm enough for swimming.
Park Rules and Regulations: Familiarize yourself with the park's rules and regulations, including any restrictions on activities, camping, or alcohol consumption. For example, camping is not permitted in the park's pavilions.
Driving Time: Carlsmith Beach Park is a short 5 to 10-minute drive from downtown Hilo. Visitors can easily reach the park by following Highway 137 East and parking their vehicles in the designated beach parking lot.
Recommended Reading: Waimano Falls: Guide to Nature Lover's Paradise in Oahu
Conclusion
Carlsmith Beach Park offers essential amenities, picturesque surroundings, and a variety of activities, making it an exceptional coastal destination for relaxation, swimming, snorkeling, and memorable experiences. When planning your trip, it's crucial to consider the enchanting fluctuations of the tide, as Carlsmith Beach Park boasts its reputation for its shallow and serene waters.
Carlsmith Beach Park - FAQs
How to get to Carlsmith Beach?
To get to Carlsmith Beach, you can drive from downtown Hilo for about 5 to 10 minutes. Simply follow Highway 137 East and park your car at the beach parking lot.
  What is the Hawaiian name for Carlsmith Beach Park?
While some maps refer to it as Mahikea Island, there are a few others that claim its correct Hawaiian name is Peiwe.
  Who is Carlsmith Beach Park named after?
Originally named after James Kealoha, the first Lieutenant Governor of Hawai'i, the area is locally known as Carlsmith Beach Park or Four Mile Road.