Tacos are undeniably delicious; everybody agrees with that. The idea of juicy meat, seasoned vegetables, and sauces wrapped in tortilla shells is interesting. Besides, you can have tacos even when you are not hungry because they are light and flavorful. Therefore, tacos make a great comfort food option in many countries. However, in this guide, we will mainly talk about the tacos in Anaheim and where you can find the best picks.
Also, check out the best taco places in Santa Ana.
Tacos In Anaheim
Let us now familiarize you with the best tacos Anaheim, CA, offers. You will come across plenty of flavors and fillings other than the usual. Thus, we are sure that you will love the tacos and want to have them at every chance.
Tacos Manuel
It tops our list for the tastiest tacos you can lay your hands on in the city. Besides, the staff prepares fresh tortillas for each order to enhance the taste.
You can feel the freshness of the ingredients in each bite you take. In addition, the fillings are juicy and tasty making the tacos enjoyable.
Taqueria El Viejon
Serving an extensive array of tacos, you can get many flavors here, for example, Chorizo, Fajitas, and more. All the tacos come with ample fillings to make them tasty.
Moreover, the restaurant is clean from the inside with a spacious setting. Also, it is not very crowded so you can enjoy the meal peacefully.
Tacos Bengi
If you are looking for scrumptious tacos in Anaheim, this is your place to be at. The Al Pastor Tacos is a must-try whenever you visit this restaurant.
In addition, they also specialize in other Mexican delicacies you can order, for instance, Burritos and more. You will have a great food experience at this taco shop.
Street Taco
Street Taco in Anaheim is a decent spot to stop for a quick bite before heading onto the day's schedule. They serve delicious tacos; you can choose between soft and hard shells.
Apart from the tacos, order the Stuffed Chorizo Quesadilla. It is super cheesy and full of brilliant flavors to improve your day.
Taqueria Los Gueros #1
You will encounter a friendly staff when you step into the taco place. They will be there for you throughout the visit to make it outstanding. Also, there is a large selection of fantastic tacos that you can choose from.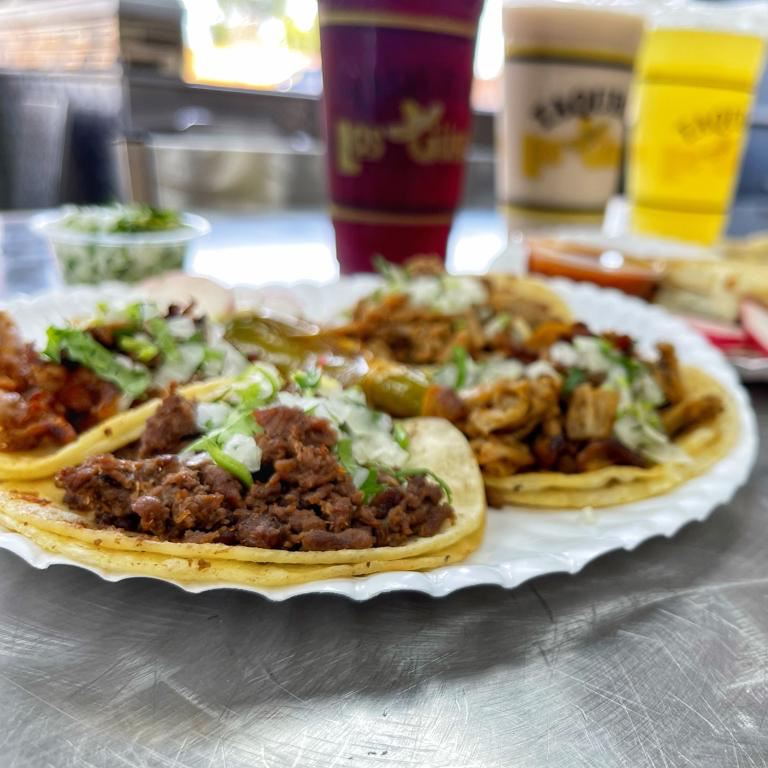 Tacos Shakas
Next, we have Taco Shakas to curb all your Mexican food cravings. They know how to make authentic native-style tacos to bring you an original touch. You will feel like you have been transported to Mexico as you bite at your food.
Recommended Read: 7 Restaurants in Anaheim for a Variety of Cuisine [2023]
Little Caboose Taco Shop
Head here for a fantastic collection of tacos full of juicy meat and crispy vegetables. Also, you can choose the spice levels based on your liking.
On the other hand, the shop is closed for business on Wednesdays and Sundays. So, avoid coming here on these two days.
Million Tacos
It is a fantastic taco shop where you will find luscious birria tacos in Anaheim. You will be impressed with their hospitable staff.
Further, they open every day at 8 am, so you can choose a Million Tacos for a tasteful breakfast to kick start your day. If you're looking for more dining options in Anaheim, check out the top 35 best vegan restaurants in the area.
Tacos Tumbados
Tacos Tumbados is a friendly Mexican restaurant providing some of the most fantastic tacos you will ever eat. They are so good that you would want to return to the place whenever you are nearby.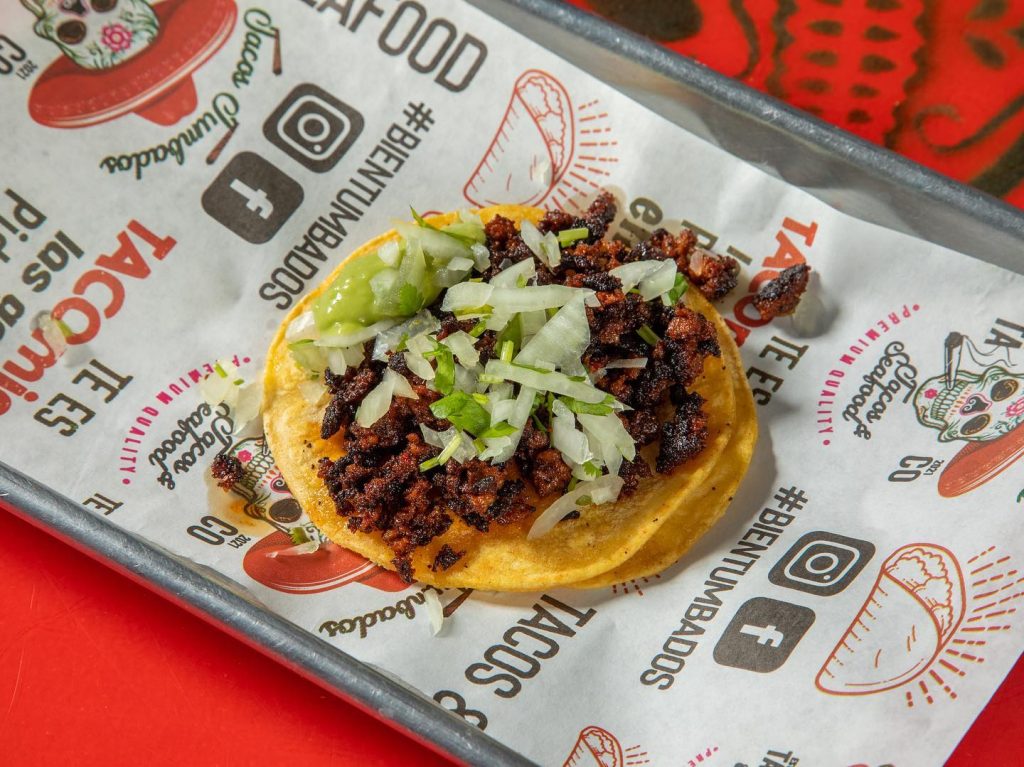 Pour Vida Tortillas & Taps – Anaheim
Besides fresh tacos, Pour Vida has the best tips for you. You can pair the delicious tacos with one of the tasteful drinks to have a complete meal.
Also, they have a beautiful and comfortable outdoor seating area where you can dine in a fresh atmosphere with the day's breeze brushing past your skin.
Mr. Taco Nice ( taqueria & pizzeria )
Do not miss out on Mr. Taco Nice if you are looking for tacos in Anaheim. It is an elegant taco place with a kind staff who will carefully note down your food instructions.
However, the place can sometimes get crowded, and you may have to wait longer than usual. Also, they have delicious and fresh pizzas. If you're in the mood for something other than tacos, be sure to check out our list of the 14 best ramen spots in Anaheim.
Tacos Los Cholos
Tacos Los Cholos is one more taco famous in the city for its mouthwatering tacos. One of the most exciting parts about this restaurant is that they also offer keto tacos. Thus, you can enjoy your favorite food even on a diet.
Paco's Tacos
Paco's has a vast selection of yummy tacos waiting for you to try. You will be impressed by this place's cleanliness and overall friendly environment.
VIP Tacos
The Al Pastor here is fantastic. It is full of flavorful meat cooked to the proper levels and seasonings to produce a flavor burst in your mouth. Thus, VIP Tacos in Anaheim will make an excellent pick if you search for the tastiest tacos the city has.
Editor's Pick: Nightclubs you must visit when in Anaheim
Teddy's Red Tacos Anaheim
Teddy's Red opens at 9 am to serve you the hottest and freshest tacos. They only pick fresh ingredients to make your food experience awesome.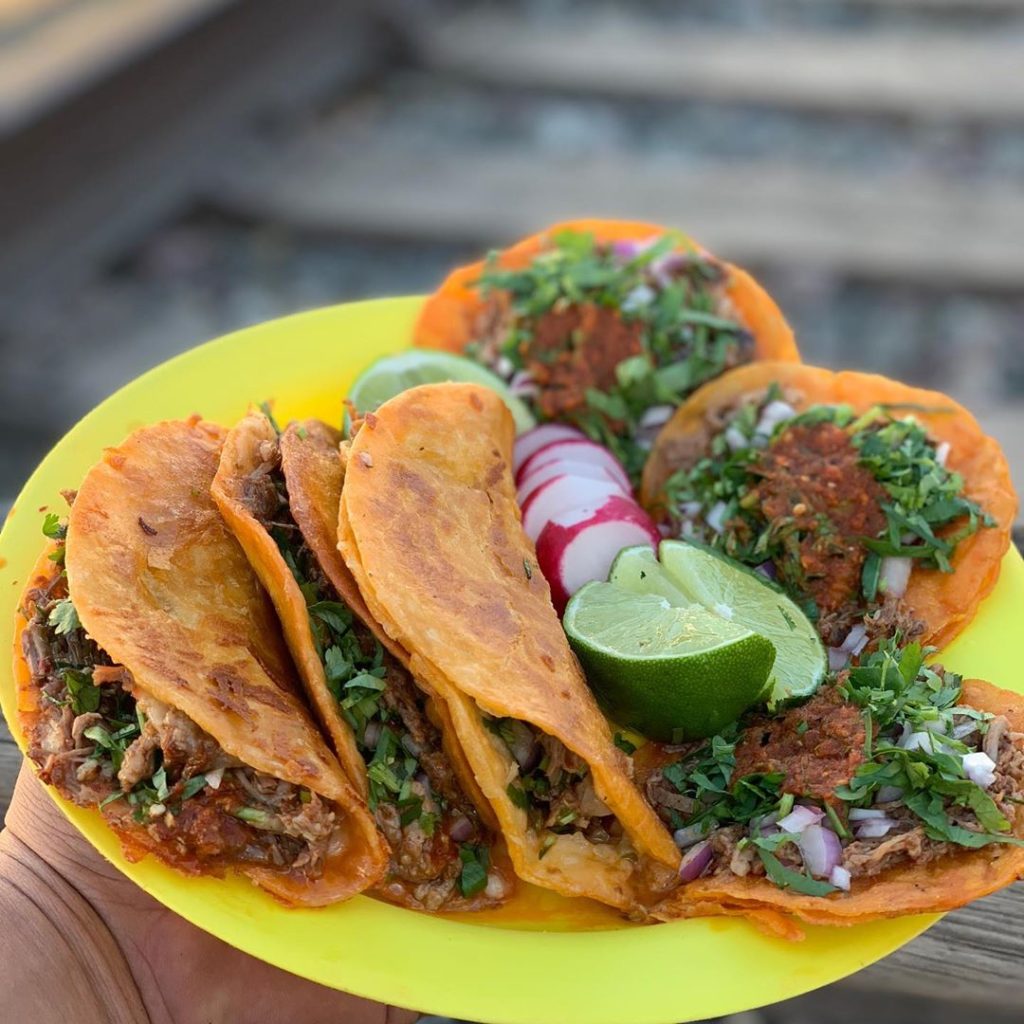 Moreover, you can dip the tacos in any of their different sauces to give a treat to your palate. Hence, this tacos truck is worth a visit.
Taco San Pedro Anaheim
This Mexican eatery will leave a positive impression on you and make you return for the delicious tacos. Also, you will find plenty of other food items to try here.
Everything from the service to the taste and environment is top-notch. Therefore, you will not be disappointed with the pick.
Taqueria El Trompo
It is a fancy Mexican restaurant where you can come with your friends and family for an elegant meal. Furthermore, the dining area has gorgeous and comfortable furniture to make your stay pleasant. The staff is also an expert with food presentation, and you will love the order at first sight.
Tacos El Patron
There is a beautiful outdoor dining area where you can admire the surroundings while munching on the best tacos in Anaheim, CA.
Additionally, the place is generous with the portion. Thus you can satisfy your hunger pangs to the fullest at Tacos El Patron.
Final Words
There is no specific time for food cravings. They can hit you in the middle of the night or during work hours. So, whenever you crave tacos in Anaheim, go through our list and pick the restaurant that appeals most to you. We have only picked out the taco experts in the city; therefore, you can trust these places to beat your hunger.