Recently, Emirates introduced Emirates Premium Economy Class. This article will give you all the details on what to expect from the service and what's the difference between Emirates Economy vs Premium Economy.
Emirates is the most trusted name in the world of airlines. People worldwide trust the airline service for its professional staff, trained pilots, and friendly hospitality. As a result, it rules travelers' hearts by being their number-one airline choice whenever they want to travel to any part of the world.
What is Emirates Premium Economy Class?
The world-famous airline, Emirates, launched a one-of-its-kind Premium Economy Class for its customers to provide an elevated traveling experience. It stands below the business class but a step above the economy class.
You can avail of the premium service on Emirates A380, the latest airplane model introduced by the company. The cabin offers spacious interiors, delectable dining, in-flight entertainment, and a sophisticated interior for a comfortable journey to your destination.
In addition, the cabin has many upgraded features with minute attention to detail that will give you a memorable trip. Once you travel in Emirates Premium Economy, you will never want to return to the standard economy cabins. The latest cabin resembles the business class traveling experience in many ways but at lower prices.
Moreover, the cabin can cater to 56 passengers at a time. A two-four-two seating configuration is perfect for a group of four who want to enjoy the ride together.
Also check out the difference between the 3 major Gulf airlines, Emirates, Qatar Airways, and Etihad.
Key Upgrades
Let's break down each aspect of the premium economy class and see how it differs from the other classes on an Emirates Plane. All the upgrades we will discuss in this section make this latest cabin unique from the rest.
Spacious Seating
The premium economy features a spacious area where you can stretch your legs when the cramps begin to hit. Unlike the standard economy class, there is enough area that your legs will not bump into the seat ahead of you, which can be embarrassing.
Each seat has a 40-inch pitch, along with an 8-inch recline. Therefore, it is ample to relax your legs as you read a book or watch your favorite movie on the plane.
Premium Dining
The staff will welcome you with a glass of drink and a hot towel as soon as you take a seat. It will help you relax and make yourself comfortable after the long wait at the airport.
Furthermore, you can enjoy a greater variety of dishes, all of which tastes incredible. The team is also generous with the food portions, so you do not feel hungry for the next few hours.
With Emirates' premium economy, you can also choose from a luxurious selection of beverages, and liqueurs, such as Chandon Sparkling Wine. Besides, you can request some chocolates to satisfy your sweet tooth.
In addition,  the premium class features Royal Doulton China tableware, set on a Polished Woodgrain Dining table. The table folds nicely into the seat, and there is a side table to hold your drink. Plus, the stainless steel cutlery acts as a cherry on top. The whole experience will feel like dining in a royal 5-star restaurant.
Added Comfort
Emirates took comfort to a whole new level in this latest introduction. It features luxurious cream leather seats that are super-comfortable. You can sit on them for hours without getting tired. Plus, each possesses a cushioned leg rest for your legs.
Moreover, you can rest your head on the adjustable pillow headrest. You can customize the position in six ways to find the one that offers the most comfort for you.
Apart from this, Emirates cares about your back's comfort, which is why they integrated each leather seat with large pillows. They are made from the motif of a ghaf tree to provide a smooth and comfortable flight experience for its customers.
That is not all. Every passenger receives a soft blanket made from recycled plastic bottles. It will keep you warm if you feel chilly between the flight.
Lastly, for the comfort aspect, you can step out of the plane without any hassle or long waiting lines at the destination. How? The premium economy class cabin is built at the front of the double-decker airplane; thus, it is the closest to the exit door. Consequently, you can exit the plane without any rush or crowd interaction.
Similar Read: Emirates Skywards: Tier Miles – Can I Transfer Them?
Gorgeous Interior
Another significant aspect of the premium economy class is that it is designed with utmost care to give you an aesthetic plane journey. The cream color leather seats look appealing and match perfectly with the cream and bronze tones of the cabin. The color choice will also give you a sense of relaxation and comfort.
Amenities
Wait, there's more to know about the Emirate's premium service. The staff offers complimentary amenity kits to all the premium economy travelers who have to stay on the plane for longer journeys.
The kit includes bare essentials, such as socks, a toothbrush, eye shades, and toothpaste to make you feel at home. Moreover, it also has a bookmark you can use while reading your favorite books on the plane journey. Asa result, you do not have to fold the corners of your books which can be gruesome.
Furthermore, Emirates wants to play its part in creating a sustainable environment. Consequently, the amenity kit and everything within it is made entirely from recycled materials, like recycled plastic, recycled kraft paper, wheat straw, and more. Hence, these reusable amenity kits are super-safe for the environment.
Inflight Entertainment
Say goodbye to having boring flights. Thanks to the Emirates' premium economy service, you can enjoy non-stop entertainment while in the air. How? Each passenger in the cabin gets access to a 13.3-inch HD TV screen added at the back of every seat.
You can choose from thousands of TV shows, movies, sports, music collections, and more. There is a high chance that you will find your favorite show to binge-watch on the journey. Thus, the flight will be over before you even realize it.
In addition, you can connect your wireless headphones to the TV using Bluetooth and enjoy the show without interrupting other passengers. The headphones are provided to each passenger, along with the amenity kits. On the other hand, the Emirates A380 also lets you access high-speed WiFi for enhanced connectivity.
All these features will contribute to highly comfortable traveling, and you will be impressed with every part of the company's service.
Allocated Airport Kiosks
Premium economy travelers have dedicated self-service check-in kiosks at the airport where they can skip long waiting queues to avoid the hassle. Moreover, you will be done with the check-in process much faster than standard economy travelers.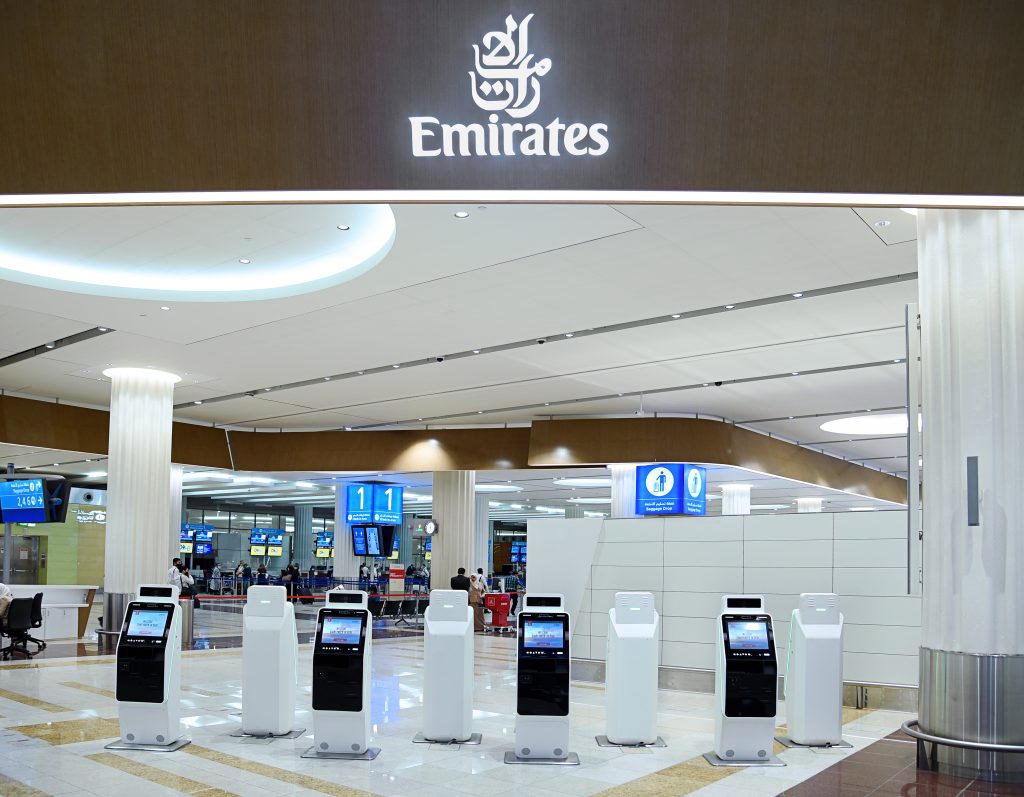 Emirates Economy vs Premium Economy
Here are the main differences between Emirates Economy and vs Premium Economy:
Emirates Premium Economy Routes
Currently, the Emirates A380 is limited to specific routes. However, Emirates plans to introduce the retrofitted A380 aircraft with premium economy cabins on other routes by the end of the year and early 2022. We will list down all the routes to and fro Dubai where you can avail of the latest cabin experience.
Current Routes and Flight Numbers
Paris Charles de Gaulle (EK 75 and EK 76).
London Heathrow (EK 1, EK 2, EK 3, and EK 4).
Sydney (EK 412 and EK 413).
Future Routes and Flight Numbers for A380
Christchurch (EK 412 and EK 413).
New York JFK (EK 203 and EK 204).
San Francisco (EK 225 and EK 226).
Melbourne (EK 406 and EK 407).
Auckland (EK 448 and EK 449).
Singapore (EK 354 and EK 355).
Can I book a Premium Economy Flight Today?
Emirates has opened its booking for the premium economy cabin for limited destinations. You can book flights from Dubai to London, Paris, Christchurch, and Sydney.
What is the Upgrade Cost to Premium Economy?
You can conveniently upgrade your ticket to the Emirates premium economy from the standard economy for an additional $400 approximately.
Emirates Premium Economy Pricing
Dubai to London Heathrow (USD 1206.10).
Dubai to Paris Charles de Gaulle (USD 1222.43).
Dubai to Sydney (USD 1222.43).
Dubai to Christchurch (USD 2381.70).
Get a Virtual Experience
In addition, Emirates offers a virtual experience of the premium economy cabin on its website. You can look around the cabin and explore all the premium features that come with the upgrade. As a result, you can find out why booking a plane ticket in the premium cabin will be worth the money.
Takeaways
Emirates has indeed overtaken the airline industry by introducing the first-ever Emirates premium economy class for passengers. It makes the plane ride much smoother and more comfortable. Therefore, you should try it for your next travel shenanigans to any of the destinations mentioned above.
Emirates Economy vs Premium Economy
What is the main key difference between Emirates Economy vs Premium Economy?
Emirates Premium Economy offers enhanced comfort and amenities compared to Emirates Economy, including larger seats and additional legroom.
Is Premium Economy much better than economy?
Yes, Premium Economy generally offers a significant improvement in comfort and amenities compared to Economy class, including more spacious seating, increased legroom, and enhanced services.
How much more expensive is Emirates Premium Economy?
The exact price difference between Emirates Premium Economy and Economy class can vary depending on factors such as route, travel dates, and availability, but typically, Premium Economy fares are priced higher than Economy class fares. The price increase can range from a few hundred dollars to several thousand dollars, depending on the specific flight and destination.