Brazil has some of the world's most stunning beaches, and it's no surprise that many of them are naturist-friendly. While not as prevalent as in some countries, Brazil offers ample opportunities to savor the sun and sand in the buff.
It's worth noting that public nudity is legally restricted in Brazil so respecting local laws and customs is imperative. With that said, there are many official nude beaches that are well-maintained and welcoming to visitors. So, stay with us as we are going to reveal a list of Brazil's finest nudes beaches below!
Top 8 Nude Beaches In Brazil
After assessing numerous nude beaches in Brazil, we've chosen just the eight right ones. Each of these beaches has its own set of rules. Nevertheless, certain nude beaches have relatively relaxed regulations. However, it's essential to adhere to specific etiquettes such as respecting others' privacy.
Get ready to hear about a true hidden treasure called Galheta Beach. This wild is located on Santa Catarina Island in Brazil. You can discover this unspoiled beach on Santa Catarina Island, Brazil. It's embraced by towering hills that shield it from the wind, though the waves remain strong. Surprisingly, many are unaware that Galheta is a clothing-optional beach, which often attract LGBTQ+ visitors.
Unique Feature: Praia da Galheta ranks 190th among the 238 beaches in the Santa Catarina region. Additionally, the presence of four more beaches within a 5 km radius provides plenty of options for how to spend your day.
Rules and Etiquettes: When you come to this beach, adhering to these rules is essential.
Although clothing is optional, it is not obligatory. And the local atmosphere is welcoming which ensures a hassle-free beach experience.

When departing the beach or visiting nearby facilities, remember to wear clothing. Nudism is solely permitted on the beach area.

Show consideration for the privacy and personal space of fellow beachgoers. Avoid staring, capturing photographs, or making remarks about others' bodies.
Facilities: Galheta Beach provides a range of facilities and amenities for its visitors to enjoy. These include a beachfront restaurant where you can savor delicious meals while taking in the stunning surroundings. Additionally, there are convenient changing rooms and showers available to freshen up after a swim or sunbathing.
To cater to your basic needs, you'll find well-maintained toilets on-site. Safety is also a priority here as the beach is supervised by a dedicated lifeguard who ensures a secure and enjoyable beach experience for all.
Activities: Galheta Beach offers a range of activities for visitors to enjoy. You can take a refreshing dip in the ocean, go hiking to explore the beautiful surroundings, or embrace naturism if you choose. The beach also hosts lively parties for those looking for some fun and entertainment.
For the more adventurous, windsurfing and kiteboarding are popular water sports that can be pursued in the brisk coastal breeze. Whatever your preference, Galheta Beach has activities to suit various tastes and interests.
Location and Accessibility: The beach of Galheta is situated approximately 108.3 km away from the center of Florianopolis. Specifically, it's part of the Galheta settlement, a mere 1.5 km from its center. This beach boasts convenient accessibility as it's closely situated near a road with parking facilities directly available on the beach.
To reach Galheta, you can start by flying into Florianopolis International Airport (FLN). From there, you have the option to take a bus or a taxi to reach Praia Mole. Once you arrive, simply follow the coastline northward for approximately 5 minutes to reach Galheta Beach.
Price Range: At this public beach, there are no ticket prices for entry. Visitors can enjoy the beach freely. If you're interested in guided tours, they are available for a fee, ranging from $42 to $69 per adult.
Now, let's talk about another gem named Massarandupió Beach. This coastal destination is absolutely picturesque with its isolated beach and stunning dune system. What makes it stand out is the complete absence of nearby buildings, which gives you uninterrupted views of the beautiful landscape and you can enjoy it here nude! Here, you'll be surrounded by tall coconut palms and low sand dunes covered in lush grasses. And don't forget about the small river that gracefully flows across the beach by adding an extra touch of charm.
Unique Feature: Massarandupió Beach holds the title of being the first naturist beach on the North Coast of Bahia. This strip of sand (which is part of an environmental protection area) is not only a favorite among beachgoers but also attracts sea turtles during their spawning period. It's a special place where you can enjoy nature and witness the wonders of marine life.
Rules and Etiquettes: Following are the primary rules to follow at this beach:
The beach is split into two sections: one where clothes are needed and one where clothes are optional. The nudist area is at the north end and is marked by signs and flags.

In the nudist area, you can choose to wear clothes or not as long as you respect others' choices. But outside the nudist area such as in the parking lot, trail, or nearby facilities, nudity is not allowed.

Using devices that take pictures like phones, cameras, or drones is not allowed in the nudist area. This is to protect the dignity and privacy of the naturists.
Facilities: Massarandupió Beach provides a diverse range of conveniences and features for the enjoyment of its visitors. Near the trail's entrance you'll find amenities such as showers, toilets, changing rooms, and lockers. Additionally, there are kiosks and stalls where you can indulge in delicious food, refreshing drinks, souvenirs, and sunscreen.
Exploring beyond the dunes will reveal a stream and a lagoon perfect for a refreshing swim. However, it's worth noting that there are no lifeguards, umbrellas, chairs, or direct beach services. So, it's advisable to bring your own supplies and exercise caution while enjoying the water.
Activities: The beach offers excellent opportunities for bathing, especially during ebb tide when the waves diminish. Beyond the dunes lies a lake, which is perfect for wild camping. In the adjacent natural reserve, you can engage in activities like hiking, biking, and wildlife observation. This protected area boasts diverse flora and fauna.
Additionally, you can explore the stream and lagoon which provide a refreshing swimming experience. For water sports enthusiasts, the beach presents great conditions for surfing, kayaking, and stand-up paddleboarding. Nearby shops and schools offer equipment rentals and lessons for those interested.
Location and Accessibility: This beach is accessed via a single road followed by a 0.9-mile (1.5-km) walk. It spans an impressive 7.5 miles (12 km) in length with only 1.2 miles (2 km) designated for naturists. Visitors can reach the beach from Salvador by car (a journey that takes approximately two hours). The road is well-paved and well-signposted up to the village, but the final 5 km to the beach are unpaved and rough.
Price Range: This public beach welcomes visitors without any ticket prices for entry. However, there are tour guides available and their services cost around $130.00.
Also, read our guide to the best nude beaches in Texas.
Don't miss the chance to capture the beauty of Tambaba Beach! This beach attracts visitors with its stunning cliffs, warm water, and emerald-colored sea. It is also known for its scenic walks, lush vegetation, delicious cuisine, and excellent surfing opportunities. Plus, you can easily go no-clothes here!
This beach is a haven for hygiene enthusiasts, recognized as one of Paraíba's cleanest due to its location within an environmental protection area (APA). One of the highlights of Tambaba Beach is a coconut tree that grows on a rock in the sea, making it a popular attraction for photography enthusiasts.
Unique Feature: Tambaba Beach proudly holds the distinction of being Brazil's first officially recognized nudist beach. Moreover, it is ranked 17th among the 44 beaches in the Paraiba region.
Rules and Etiquettes: First, you need to display your pass for entry, and then adhere to these guidelines.
Tambaba Beach allows both clothing and nudity. Additionally, respect others' choices and avoid judgment.

This beach fosters a culture of respect and acceptance. It's super important to embrace diversity and appreciate different body types without any judgment.

Snapping photos or filming without consent is a big no-no at Tambaba Beach. Respecting people's privacy is crucial, so always make sure to ask for permission before capturing any images.
Facilities: Tambaba Beach has got you covered with a range of amenities and facilities. You can chill and enjoy your favorite cup of joe at the beachside coffee spot. Rent a table and chairs at a reasonable rate for a comfy spot to soak up the beach atmosphere. Plus, they've got loungers, umbrellas, a beach restaurant, changing rooms, showers, toilets, and even a sea pool for a refreshing dip.
Activities: At Tambaba Beach, you can bask in the sun and go for a refreshing swim in the clear, calm waters. Whether you choose to dress or embrace a natural state, there is a designated private area for nudists that is separated by a fence and gate. Take in the breathtaking scenery with stunning cliffs, rocks, palm trees, and cacti surrounding the beach.
Location and Accessibility: Getting to Tambaba Beach can be a bit tricky, but no worries as we've got you covered. The easiest way is to hop on a bus from the Joao Pessoa bus terminal. Look for the one that's headed to Jacumã village, and that'll take you straight to Tambaba Beach. If you happen to miss that bus, no sweat. You can catch another one. It might take a little extra effort but trust us, the beauty of Tambaba Beach is totally worth it.
Price Range: This is a public beach so you won't have to pay anything for entry or parking.
Be ready now as we are about to reveal another hidden paradise called Olho de Boi Beach. This stunning beach has a secluded location and offers a naturist-friendly atmosphere. It is located in a small cove, which provides a serene and private setting for nudist enthusiasts.
Its pristine sandy shores and crystal-clear waters make it the perfect place to commune with nature and embrace the freedom of a clothing-optional experience.
Unique Feature: Praia Olho de Boi stands at the 195th spot out of 375 beaches in the Rio de Janeiro area. It is situated on the western side of a small "V"-shaped cove, and proudly holds its official status as a nudist beach on a piece of land just beyond the resort town of Armação dos Búzios.
Rules and Etiquette: At Praia Olho de Boi, adherence to certain rules and etiquette is crucial.
Firstly, it's important to note that nudity is mandatory on this nudist beach, so visitors should be prepared for a clothing-free experience.

Additionally, a strict policy is enforced to ensure a comfortable environment for all guests; no

gawkers

or onlookers are allowed.

This rule aims to respect the privacy and comfort of those enjoying the naturist atmosphere, fostering a respectful and welcoming ambiance for everyone who chooses to visit this distinctive destination.
Facilities: It provides an array of amenities and services to elevate your beach visit. You will find a convenient beachside restaurant where you can savor delicious meals while enjoying the scenic surroundings. For your comfort, there are well-maintained toilets.
If you're looking for refreshments, there are stands selling water and cocktails along with light snacks to satisfy your cravings. Moreover, a compact beachside bar is available for renting beach chairs and umbrellas.
Activities: Praia Olho de Boi presents a variety of activities to engage visitors in a memorable beach experience. If you're an enthusiast of hiking, you'll appreciate the scenic trails leading to this tranquil spot. In the morning, witness local fishermen casting their nets, and you can even try your hand at fishing alongside them.
The crystal-clear waters invite you to swim amongst colorful marine life, which provides a unique opportunity for underwater exploration. For those seeking relaxation, sunbathing on the pristine shores is a delightful option. As you descend to this secluded beach, you might even be fortunate enough to glimpse the occasional turtle.
Location and Accessibility: To reach this destination, you must ascend and descend a hill commencing from the far end of Brava beach, then proceed on foot for approximately thirty minutes. It is advisable to avoid going on this journey alone as certain segments traverse rocky terrain where accidents may occur. Access is exclusively attainable via a water taxi or by traversing a jungle trail spanning approximately 1.5 kilometers (1 mile) in distance on foot.
Price Range: The ticket price for this beach is $34.50. Additionally, there are tour guides available for a fee of around $95 per adult.
Editor's Pick: 10 Alluring Nude Beaches in Australia That You'll Love
If you're an experienced naturist or simply interested in giving it a try, Praia do Abricó offers an ideal opportunity for exploration. Overlooking small offshore islands, this beach has a wide stretch of light-colored sand often frequented by local families. This creates a friendly and laid-back atmosphere for all visitors to enjoy.
Unique Feature: It's the sole beach in the city where naturism is allowed, and it holds official affiliation with the Brazilian Federation of Naturism (FBrN).
Rules and Etiquettes: While there are no comprehensive list of rules, there is one important guideline to be aware of:
Nudism is mandatory at Praia do Abricó.

It's essential to respect and adhere to this requirement when visiting the beach.
Facilities: Praia do Abricó provides several essential facilities. For instance, you can unwind at a welcoming beachside bar, enjoy delicious meals at the restaurant, and find comfort in the availability of beach chairs and umbrellas.
There are convenient restroom facilities as well. Additionally, stalls along the beach serve a variety of refreshing drinks and sandwiches, which ensures you stay refreshed and satisfied during your visit.
Activities: This beach has a wide range of activities to enjoy. You can take a refreshing swim in the clear waters, catch some waves while surfing, or simply soak up the sun while sunbathing on the sandy shores. If you prefer a leisurely stroll, the beach provides ample space for a relaxing walk along the coastline.
Location and Accessibility: Abricó Beach can be found in Grumari (near Barra da Tijuca and Recreio dos Bandeirantes) and situated in the western part of Rio de Janeiro, Brazil. It's conveniently reached from the main road. Yet, in certain areas, the hills abruptly meet the sea, rendering those sections largely inaccessible.
Price Range: There are no entry fees for this beach. However, guided tours are available for approximately $160.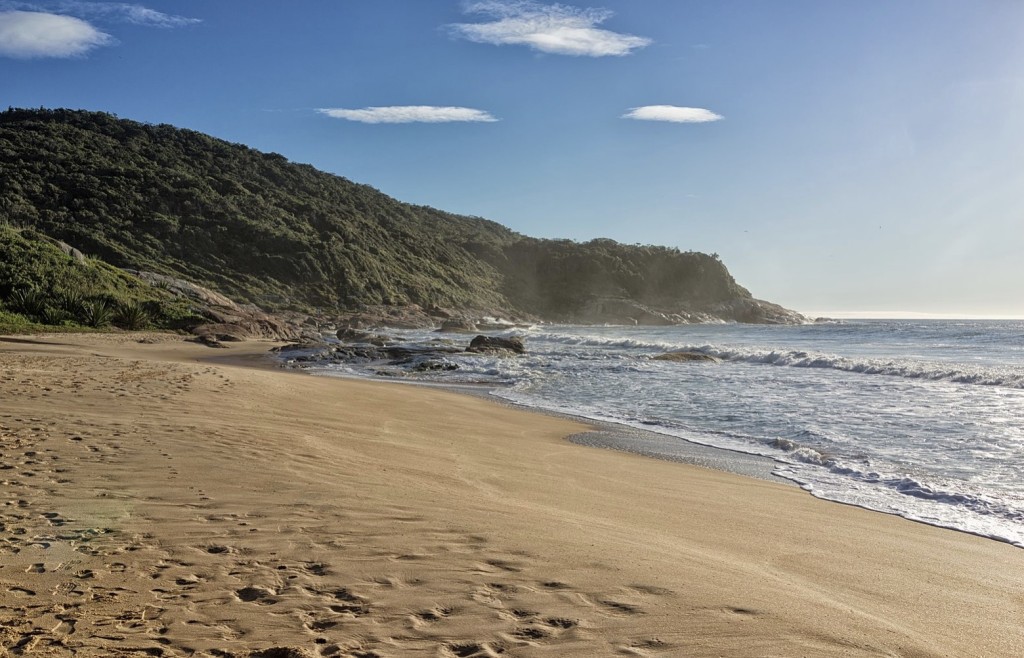 If you have an interest in clothing-optional beaches, then you should definitely consider Praia do Pinho when planning a trip to Brazil. Located in the southern state of Santa Catarina, this nudist beach is one of the most famous of its kind in Brazil. Remarkably, it was the inaugural beach in the country to receive official clothing-optional status back in 1987. Even though there aren't many naked beaches in Brazil, this one started a small trend.
Unique Feature: Praia do Pinho is known for being Brazil's very first naturist beach, and it's famous for the stunning natural surroundings and the philosophy of life followed by its visitors.
Rules and Etiquette: When considering a visit to Praia do Pinho, it's important to be aware of the rules in place.
This naturist beach operates under the principle that clothing is not optional – visitors are expected to be completely bare or choose not to visit.

Additionally, it's crucial to leave your camera at home, as both binoculars and photography are strictly prohibited on the premises.
Facilities: Praia do Pinho boasts solid facilities, including bars, a camping site, a guesthouse, and a parking area. It's worth noting that it operates independently and is not affiliated with the Naturist Federation, making it an open destination for all. The beach provides essential amenities like restrooms, and you can also partake in various water activities such as catamaran rides or jet skiing.
Activities: At Praia do Pinho, you can enjoy a variety of activities. You can swim and soak up the sun in the calm, clear waters, surrounded by beautiful cliffs and greenery. Beyond relaxation, the beach offers opportunities to engage in beach volleyball, surfing, and exploring the nearby natural trails through the scenic surroundings.
Location and Accessibility: In the southern state of Santa Catarina, you'll find Praia do Pinho. It sits in close proximity to the city of Camboriú and stands approximately 80 km away from the state capital, Florianopolis. Notably, Das Antiga Taquaras is a short 14-minute walk away, while Mirante da praia do can be reached in just 15 minutes on foot. Furthermore, this beach is one of the beaches within the Comunidade Quilombola Morro do Boi settlement with its center located only 3.5 km away.
Price Range: This is a public beach, so there are no fees required for entry.
Juruba Beach is an excellent option for those who appreciate a peaceful and solitary experience. This beach may not be the preferred choice for social butterflies, as it sees relatively few visitors. Here, people can enjoy the soothing sound of the waves and the gentle rustle of the palm trees without the distractions of large crowds.
Unique Feature: The standout characteristic of Jurubá Beach lies in its captivating boat ride experience. It provides a chance to discover the coastline and nearby islands. While on this adventure, keep an eye out for dolphins, turtles, and other fascinating marine creatures that often make appearances during the excursion.
Rules and Etiquette: Jurubá Beach doesn't have strict regulations or codes of conduct, however;
It's important to show respect for the environment and the local customs.

Try to refrain from littering, playing loud music, or disturbing the wildlife.
Facilities: The beach provides essential facilities including parking, restrooms, showers, and changing areas. Alongside these, you'll find a handful of small shacks and stalls offering snacks, beverages, and souvenirs. It's worth noting that there are no hotels, resorts, or restaurants in the immediate vicinity of the beach. So, it's advisable to make arrangements for your accommodation and meals accordingly.
Activities: The primary attraction at Jurubá beach is the boat excursion. Additionally, you can take pleasure in activities such as swimming (not recommended), sunbathing, fishing, or strolling along the shoreline. It's important to note that Jurubá beach does not offer any water sports or adventure pursuits.
Location: Within half a mile, you'll find Restaurante Bicho Papao, specializing in Brazilian, seafood, and South American cuisine. Just a bit further, at 0.6 miles, there are two more dining options: Restaurante Berbigão, which offers Brazilian and seafood dishes, and Celina's Restaurante, known for its Brazilian and South American flavors. Additionally, if you're interested in exploring nearby attractions, Cervejaria Malteca, a brewery, is just 331 feet away. The historical São Luis Fortress is located at 0.2 miles from Jurujuba Beach, offering a glimpse into the past, while the iconic Sugarloaf Mountain stands at a distance of 2.9 miles,
Price: It is a public beach and you don't have to pay anything for entry here.
Barra Seca Beach stands as an exclusive haven for naturists seeking a profound connection with nature in its purest form. Here, the coastline graces visitors with the presence of nurturing trees that generously provide their soothing shade. However, during the peak tourist season, the abundance of tree cover may occasionally result in some discomfort. Barra Seca Beach's unique charm lies in its open arms for all visitors. It offers distinct sections catering to couples, families, and solo naturists.
Unique Feature: Praia da Barra Seca holds the remarkable distinction of being ranked 122nd among 228 beaches in the Sao Paulo region. Notably, it stands as the sole officially designated nude beach in Espírito Santo.
Rules and Etiquettes: Like many other beaches, Praia da Barra Seca has a set of rules and regulations in place that are outlined below:
In the primary section of the beach (known as the family area) nudity is a requirement.

However, in the adjacent regions like the dunes, mangroves, and islands, nudity is a matter of personal choice.

Accessing the beach comes with a fee, the amount of which fluctuates according to the season and the type of lodging.
Facilities: While the amenities at Barra Seca Beach are simple, they offer a comfortable stay. You can choose to rent cabins or tents, and there's a restaurant and bar serving local cuisine and beverages. Additionally, you'll find showers, restrooms, lockers, and waste disposal facilities. Camping options are also available with access to water and electricity on-site.
Activities: Visitors to this beach can enjoy various activities such as sunbathing, swimming, beachcombing, picnicking, and taking leisurely walks along the shoreline. While these activities can be enjoyed on the beach itself, there are also tours and excursions available in the surrounding areas including historical, entertainment, and gastronomic options.
Location: Barra Seca Beach is situated within the Ubatuba settlement of around 3.9 km (approximately 2.4 miles) from its center. This serene coastal gem offers a handful of dining options in the vicinity, including Restaurante Mar Aberto (0.50 mi)and Litoral Lanches (6.17 mi).
Since it's located on an island, access to Barra Seca Beach is exclusively by boat.
To reach this idyllic destination, you'll need to cross the Ipiranga River. Simply park your car on the roadside and make arrangements with the local boatmen by specifying your return time. A quick 5-minute boat ride across the Ipiranga River will transport you to the secluded 250-meter stretch of sandy paradise that is Barra Seca Beach.
Price Range: The guided tours are available at a cost of $76.08 per adult whereas the entry ticket to the beach itself is priced at $33.77.
Final Words
Brazil offers a diverse array of nude beaches, each with its own unique charm and character. From the hidden treasure of Galheta Beach on Santa Catarina Island to the pioneer of naturism, Praia do Pinho, Brazil provides a range of options for those seeking a clothing-optional beach experience. It's important to adhere to the rules and etiquettes of each beach, respect local customs, and appreciate the natural beauty these destinations offer. Whether you're a hygiene enthusiast, an adventurous traveler, a lover of tranquility, or a greenery enthusiast, Brazil's nude beaches cater to various preferences, providing an opportunity to connect with nature and like-minded individuals in a respectful and welcoming environment.
Read about our other related trips
Nude Beaches in Brazil - FAQs
How do I access these nude beaches in Brazil?
Access to these nude beaches varies, but generally, they are reachable by road or boat. For instance, Praia Olho de Boi requires a hike, while Massarandupió Beach is accessible by car and foot.
What's the significance of the unique features of these nude beaches?
The unique features of each nude beach, such as Praia da Galheta's LGBTQ+ friendly environment, highlight the diversity and inclusivity of Brazil's nude beach culture.
What kind of facilities and activities can I expect at these nude beaches?
Nude beaches in Brazil offer a range of facilities, including beachside restaurants, changing rooms, and showers. Activities vary from swimming and sunbathing to hiking and water sports like surfing and kayaking.
Are there any entry fees for these nude beaches in Brazil?
Entry fees can vary. Some nude beaches have no entry fees, while others may charge for guided tours, parking, or specific services.