Being good in shape while one is in Dubai, the heart of the finest Middle Eastern cuisine is difficult. However, one should know that Dubai is home to possibly more than fifty first-rate fitness centers. If you are lucky enough to call Dubai home, you will have access to a wide variety of first-rate fitness centers that will work with any schedule or budget. You can choose a gym in Dubai convenient to your location since there are so many. Following are the best gyms in Dubai as identified by our specialist team.
The Best Gyms in Dubai
The proper gym, conveniently located near your Dubai home or office, will help you make a difference in your efforts to maintain a healthy and active lifestyle. If you need a great gym in Dubai, we have compiled a list of some of the city's finest facilities.
The fitness industry has lately been rocked by the introduction of a brand new idea called GymNation, and it has no plan to slow down anytime soon. If you want the greatest exercise experience possible at the lowest possible price, GymNation, the cheapest gym in Dubai and the United Arab Emirates, is definitely the way to go. It has 5 sites in Dubai
Mezzanine Floor in the ETA Star building,
M Squared Building Next door to Spinneys – Bur Dubai near the Burjuman Centre
Old Sports Stars Complex in the Arabian Centre
Top Floor of Souq Extra Mall
Control Tower – First Floor – Dubai Silicon Oasis – Motor City
GymNation is known for its spacious facilities that are stocked with clean and well-maintained exercise equipment. It is ideal for bodybuilders and anybody else looking to put on muscle since it has a wide variety of resistance equipment equipped with plates, as well as standard barbells and dumbbells.
The state-of-the-art exercise equipment at each GymNation club includes everything from dumbbells and barbells to plate-loaded strength machines and cardiovascular devices. Group exercise sessions may be taken in the fitness studios, and most clubs also have separate sections for women. CrossFit, Cycle, HIIT, Les Mills, Yoga, and Zumba are just a few of the group programs offered. Therefore, you can easily complete your cardio exercises too!
Memberships at GymNation start at only 99 AED per month making it one of the cheapest gyms in Dubai. You may either pay a set monthly fee, or you can pay as you go without committing to anything. Before committing to a membership, you may try out the gym with free trial passes.
This fitness center comes highly suggested since it is one of the largest in Dubai and has cutting-edge amenities. As a bonus, their amazing boxing ring makes them a top choice among Dubai's many boxing facilities. Parking is free, and so are over 200 free courses every month.
Each location of GymNation has certified personal trainers who can answer questions and provide motivation. They will tailor an exercise plan to your specific needs and objectives, keeping you enthusiastic and moving forward toward physical health. It is available all week long, all day long, and at all hours making it one of the best gyms in Dubai!

Fitness First has more than 700 clubs in 26 countries, making it the world's largest health club chain. Fitness First is a well-known fitness franchise, and its locations in Dubai and the United Arab Emirates are among the finest ones. Within the Emirate of Dubai alone, you will find more than 20 locations to choose from. Since this gym is all over Dubai, you will easily find one near you regardless of where you live.
All of the Fitness First gyms in Dubai provide personal training, a comprehensive Swim Academy, and a full complement of state-of-the-art facilities, including weights, treadmills, stationary bicycles, elliptical trainers, steam rooms, and outdoor sports courts. While the services provided by each gym may vary, one constant is the presence of a weight room, cardio equipment, and a swimming pool. Building features such as 3D scanner rooms, a boxing studio, a Jacuzzi, and a Pilates Reformer studio are what makes it one of the best gyms in Dubai.
The Swim Academy, which was founded by Fitness First in 2014, provides swimming lessons. The Swimming Association runs around 500 lessons at several clubs in Dubai, where people may learn the fundamentals of swimming or train for competitive swimming.
Fitness First does not list its membership fees as it offers different plans, such as Platinum Plus, Plus Clubs, and International Passport. Corporate membership is also available. The prices at this gym vary from AED 149.00 to AED 199.00. To learn more about membership fees, you will need to contact your neighborhood club directly. With the International Passport, you may use your membership at any Fitness First location in the MENA region.
This gym is recommended because members of Training First get access to all of the clubs' swimming pools, as well as an unlimited number of group courses each month and cutting-edge fitness programs. It provides new members with two complimentary personal training sessions.
The Good Vibes App is included in all Fitness First memberships and allows users to get discounts from its business partners. To ensure that you enjoy your time at the gym before committing to a membership, the gym offers free day tickets. The gym has cutting-edge equipment like MYZONE and 3D scanners to help you get the most out of your exercises.
You may get one-on-one instruction at Fitness First. All of the gym's trainers have degrees and/or certifications in areas including anatomy, exercise physiology, and health and fitness evaluation. A personal trainer at your local gym can help you achieve any fitness or aesthetic objective you set for yourself when you join up for their services. Your fitness trainer will then design an exercise plan specifically for you based on your goals, current fitness level, and time and money constraints. The gym is open from 5:30 AM to 11:30 PM Monday through Friday, 7 AM to 9 PM Saturday and Sunday, and 9 AM to 8 PM on public holidays (opening hours may vary based on location).
In case you plan on having a cheat day, follow our guide to the best pizza spots in Dubai.
One of the largest gyms in Dubai, Fit Republik is a one-stop gym for all your physical fitness needs. People of all ages are welcome at FitRepublik. What makes it really stand out for powerlifters is the vast selection of plate-loaded resistance equipment and weightlifting platforms. It is luxurious, convenient, and provides a variety of course formats (both group and individual) for its students. The Academies, Dubai Sports City is where you will find FitRepublik Fitness Center.
You can make use of the facility's Olympic-sized swimming pool, gymnastics area, mixed martial arts classes, strength and conditioning areas, personal trainers, workout areas for the mind and body, and a special area for toddlers. Ideally, this makes it easier for moms to come and work out at the gym with their young ones.
The workout center at Fit Republik is spacious, housing several pieces of equipment, including various pieces of plate-loaded training machinery, cardio machines, Olympic weightlifting platforms, and a dedicated functional fitness section. Judo, boxing, and Muay Thai training are all accommodated here.
Adult monthly memberships start at 568 AED and include access to the facility's gym and an unlimited number of the club's group exercise courses. Gym memberships for children range from 1,732 AED to 3,412 AED for beginners and from 2,656 AED to 3,496 AED for expert users, respectively, depending on the frequency of their visits. It will cost you 63 AED to utilize the fitness center for 24 hours. The one-day tuition fee to attend a class is 74 AED. From our analysis, we found it to be one of the most luxurious gyms in Dubai.
This fitness center comes highly recommended due to its extensive selection of strength and cardiovascular equipment, making it ideal for bodybuilders and powerlifters. In addition, if you are a martial arts fan, it is home to the finest MMA training facility in all of Dubai.
Both adults and kids may get one-on-one help from a trainer. Individual sessions cost 250 AED for 60 minutes, 180 AED for 30 minutes, and 400 AED for a whole group. Hours of operation at the gym are between 5:30 a.m. and 11 p.m.
Warehouse Gym, as the name suggests, looks like a warehouse, and is one of the most well-known fitness centers in Dubai. You will be exercising in what is effectively a warehouse, which has a distinct and industrial atmosphere. The Warehouse Gym offers a wide variety of group workout sessions at numerous convenient locations.
Various group class studios, in addition to weight and cardio machines, are available at each Warehouse Gym. Additionally, Premium Plus members can use the juice bars and treatment facilities at certain sites. Prices for a Light membership are 199 AED per month for a 12-month commitment, 249 AED per month for a 6-month commitment, and 269 AED per month for a 3-month commitment. It will cost you 399 AED if you want it for one month.
You may use the gym, participate in a few introductory sessions, and park for free with this membership.
Pricing for the Standard membership at The Warehouse Gym Dubai is as follows: 333 AED for a 1-month membership, 425 AED for a 6-month membership, 475 AED for a 3-month membership, and 599 AED for an annual membership. It includes participation in an unlimited number of regular group exercise courses and the use of a variety of gyms.
Access to the juice bar, complimentary monthly guest tickets, and priority scheduling for group sessions are just a few of the extra benefits of the Premium and Premium Plus membership tiers. They range in price from AED 399 to AED 699 each month, and from AED 539 to AED 759 respectively. You can pay 600 AED/month, 252 AED/week, and 100 AED/day for group classes. For 475 AED, you may attend five different lessons in a group setting.
We recommend this gym because amazing experts lead some of the most popular fitness courses in this gym, including boxing, spinning, personal training, CrossFit, cycling, and many more.
Personal trainers are available at Warehouse Gym. Prices and membership packages may be obtained by contacting a club in your area. Hours typically run from 5:30 a.m. until midnight. However, this may vary by location. Overall, it is a great pick.
Suggested Reading – Staying In Dubai For A Week? Here Is A Complete Plan For Maximum Recreation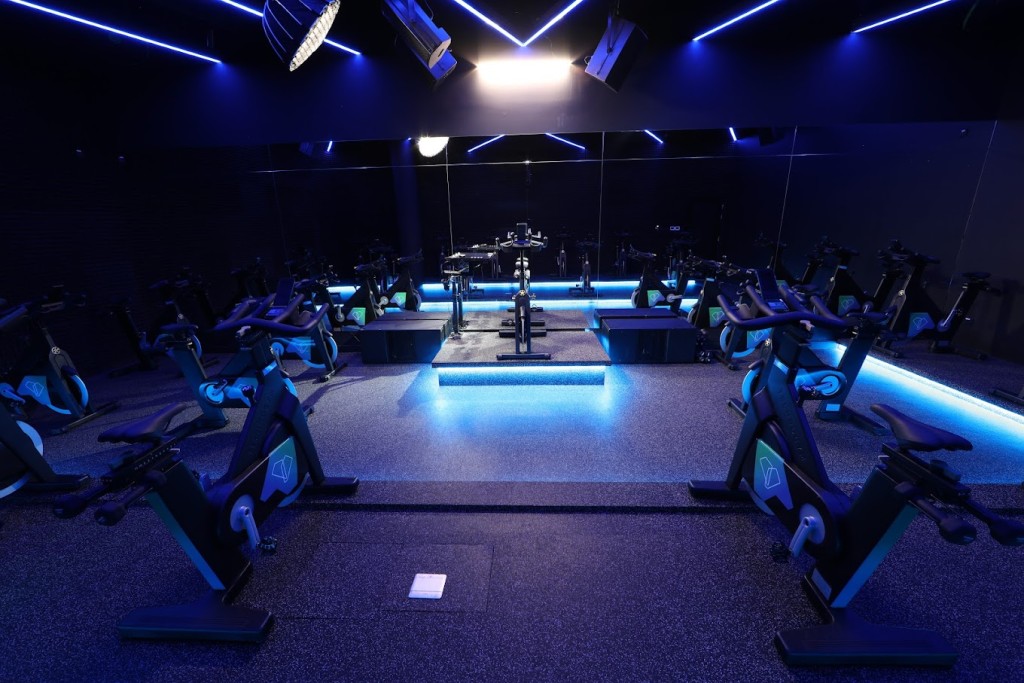 Platform Studios is a sizable fitness center furnished with a variety of cardio and weight-lifting apparatus. Boxing, Cycle, High-Intensity Interval Training, Pilates, and Yoga are just a few of the many group fitness courses offered. The gym is located at several locations such as The Index Building, The Platform Studios, Dubai International Financial Centre, etc.
At Platform Studios, their intensive class schedule is a major attraction. Indeed, Platform Studio does not have a vast space dedicated to strength training. There are, however, a few kettlebells and dumbbells available for use in gyms. The cost of a single lesson is 142.80 AED (Validity 1 Month). For 577.50 AED you can buy a package of 5 classes (Validity 1 Month) while 10 lessons can be purchased for 1,049.50 AED (Validity 1 Month). Moreover, a bundle of 30 classes can be purchased for AED 2,679. Monthly subscriptions are also available for:
For 699 AED a month, you can attend 12 lessons over three months;
You can try out all of the programs for a month for just 1,399.00 AED with no obligation;
You can join for 3 months and pay 2,992.50 AED to take as many lessons as you want.
This gym is on our list because you can pick from several different class bundles, all of which are taught by certified instructors making it one of the best gyms in Dubai.
While personal training sessions are not available, certified coaches are on hand to lead you through the various group courses offered at Platform Studios. The DIFC is open from 7 a.m. to 8 p.m., while the Marina is open from 6:30 a.m. to 8 p.m.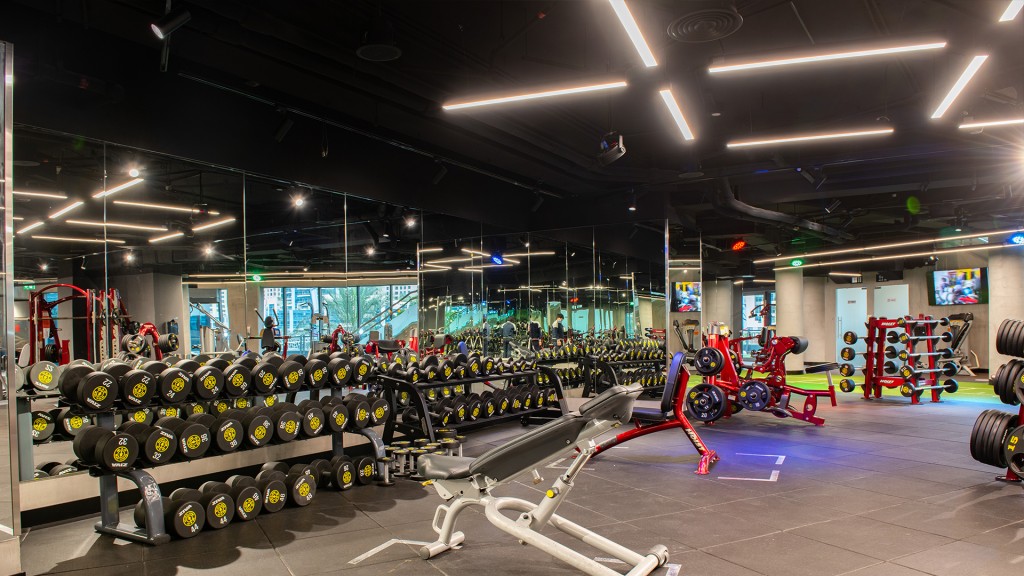 Gold's Gym is another one of the best gyms in Dubai and you will be pleased by the spotless, well-maintained, and full-service that they provide. The gym offers both individual training and group exercise programs. A total of 11 of these fitness centers can be found in the Dubai area. In Dubai, you may choose among Gold's Gyms that are mixed, male-only, or female-only.
The exercise centers and studios for courses are top-notch at each club. There are also swimming pools in some clubs. Moreover, there is a class at Gold's Gym for everyone, whether they want to build endurance with cardio or muscle with strength and conditioning.
Gold's Gym offers 3 distinct types of memberships: Home Club, Passport, and Signature Passport. The Home Club membership includes 2 free personal training sessions, unlimited group fitness classes, and access to any Gold's Gym in Dubai. Except for AI Ain, you may use your Passport membership at any Gold's Gym location throughout the United Arab Emirates. It is the same as a membership to the Home Club gym, so you get access to everything there.
Members with the Signature Passport get access to all 731 Gold's Gym locations globally, including 14 visits per year to any club in the United Arab Emirates. You can attend an unlimited number of group programs and get two complimentary personal training sessions.
This fitness center was picked because its Passport and Signature Passport memberships provide access to fitness centers all over the United Arab Emirates and to centers all over the world. Any kind of membership gives you access to a variety of courses.
Personal training packages at Gold's Gym range from "Performance" to "Athlete Body" to "Lifestyle." One-on-one workouts can be modified to fit the individual's specific goals. You can attain your fitness objectives with the help of a qualified personal trainer who designs a program just for you. The time of day of operation varies per location.
Based on our evaluation, we believe that it is one of the most versatile gyms in Dubai for cardio exercise.
Things to Consider Before Choosing a Gym in Dubai
The following are important factors to think about before deciding on a gym in Dubai.
Fees — One of the qualities that makes a gym excellent is its cost. Finding a gym with membership prices you can afford is important to avoid going into debt. Finding a gym that would let you join for a month at a reasonable price is another consideration if you are going to be in Dubai for business or tourism for a short period. Hence, in this case, GymNation is a good option as it is the cheapest gym in Dubai for only AED 99.
Amenities — You should seek a gym in Dubai that has a variety of high-quality facilities, such as cardio machines, weight machines, and a pool for swimming laps. This will allow you to continue your regular exercise routines even when you are away from home. Some gyms even have a juice bar. For instance, Fitness First and Fit Republik are 2 gyms that provide a variety of options.
Personal Training — Indicative of a gym's professionalism is the quality of its training services. For a fitness center to be considered among the finest in its region, it must provide first-class personal training. A gym that allows you to pay per session is ideal if you are only in Dubai for a limited time. Fit Republik is an appropriate option in this case.
How Do We Pick Our Recommendations?
We spent enough time in Dubai and went to several gyms to evaluate which ones are the best. To provide a fuller perspective, we have also sought the opinions of visitors and residents. This helps in creating a more precise and accurate list of the gyms that we could recommend.
Final Words
To help you narrow down your options and discover the perfect gym, we have produced a short list of the best gyms in Dubai. We hope that our recommendations will help you out in making the right choice.
Next Read: Emirates, Qatar Airways, and Etihad Airways: The Ultimate Comparison
Gyms in Dubai - FAQs
Which Dubai fitness center offers the best membership rates?
GymNation offers the most inexpensive membership option starting from AED 99.
Which gym in Dubai has the widest variety of amenities?
Fitness First and Fit Republik provide a large array of amenities including a boxing ring, parking, and juice bars.
Do all gyms in Dubai provide personal training facilities?
No, only a few chosen gyms provide this facility while others just offer regular workouts without any training.
Which gym in Dubai has the best boxing ring?
GymNation's boxing ring is one of the best ones among gyms in Dubai.