When I was all set for my first skydiving adventure, my excitement took over, and I didn't really consider what to wear. Just tossed on jeans and a tee, thinking it would be fine. Big mistake! I soon realized that my clothes were not ideal for skydiving.
I learned the importance of the right outfit through personal experience. Now, I want to help others by sharing some outfit ideas from my experience and some tips to keep in mind when picking your skydiving attire.
What to Wear Skydiving?
Women can rock casual, stylish, and sporty looks for skydiving, while men have options for easy yet fashionable ensembles, blending personal style with the thrill of the jump. Looking for outfit inspiration? Keep reading.
Women's Outfit Ideas
We understand that looking good and feeling comfy matters when you're skydiving. That's why we've got some outfit ideas that are both stylish and perfect for the jump. So, check our women's clothes and get set to soar in style.
Style 1: Long Sleeve Shirt With Khakis Or Jeans
If you're going for a chill and easygoing vibe during your skydiving adventure, this outfit is the way to go. It's designed to give you comfort, keep things simple, and add a touch of style to your jump. Let's zoom in on the details!
Top: Wrap yourself in the warmth of a soft, cozy sweater teamed up with a stylish long-sleeve shirt. The trick is to keep it collar-free to avoid any tango with your gear and ensure comfort takes the spotlight.
Bottom: Dress your lower half in comfy khakis or easy-breezy jeans. Choose jeans that let you dance freely, not too clingy. Feeling a bit like a skydiving fashionista? Grab a jumpsuit—it's like a cozy superhero suit for your epic, gravity-defying adventures.
Footwear: Pick bouncy sneakers or tough boots for your skydiving strut. Test them out to make sure they fit snugly and keep you secure in the clouds. And avoid oversized shoes as flying with loose footwear can lead to a disappearing act and some unwelcome surprises. So, be careful.
Style 2: Graphic Tee With Cargo Pants
Calling all trend lovers! Being one myself, I get the craze for following what's in. This is why we've crafted an outfit that's a favorite among many. The awesome part is, that you can rock this trend without using your card because everything you need is right there at home.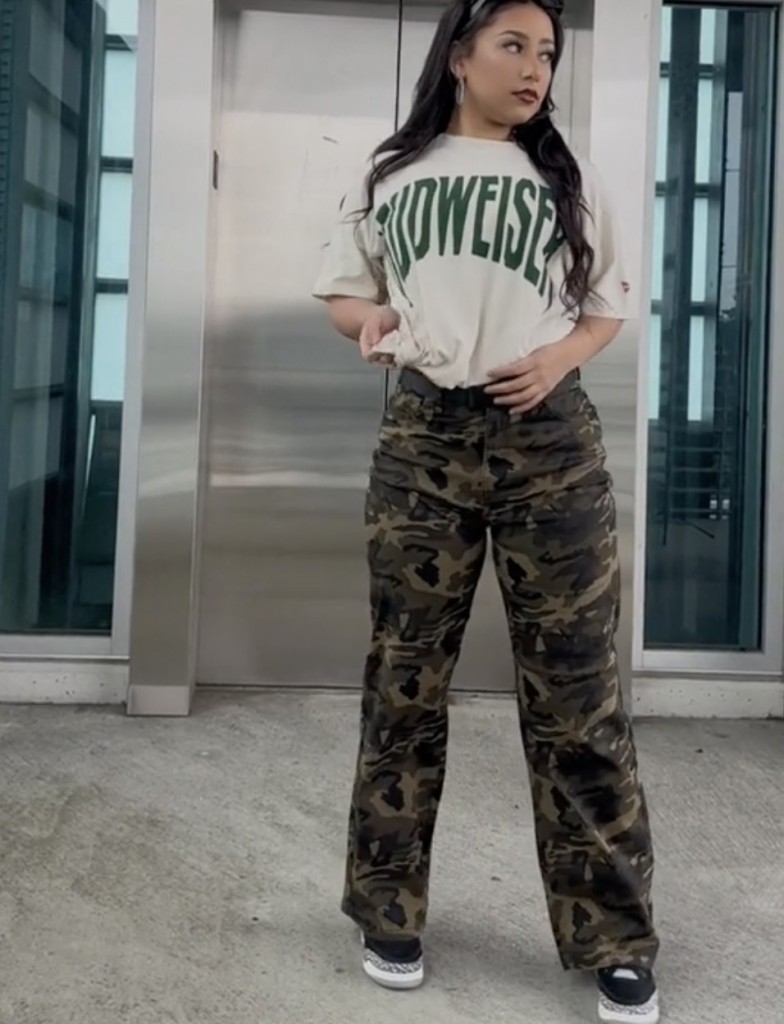 Top: Let me share my own experience. I jumped from the sky wearing a cool graphic tee. However, on that day, the weather decided to play it cool and leave me with a bit of a chill challenge. So, here's the deal: when opting for a graphic tee, keep an eye on the weather. If it's on the colder side, wear a thermal sweater or a snazzy little jacket for that extra warmth.
Bottom: On chilly skydiving days, pick joggers or cargo pants. They're both stylish and functional with pockets for your essentials like phone, wallet, and keys. Just remember to empty them before taking the plunge into the sky.
Footwear: When it comes to shoes, those flat-soled skate shoes are the real deal. Got a different pair in mind? Give your coach a quick heads-up before you lace them up. And, you know, stay away from shoes with heels and hooks – not the best match for the game we're playing!
Accessories: After getting dressed and matching your makeup to your outfit, it's time to handle your hair. A low ponytail is a great choice because it's easy, but if your hair is super long, it might get tangled. So, create a French braid to keep your hair in position. Keep your jewelry simple and stick to studs or anything that stays in place.
Style 3: Polo Shirt With Slacks or Chinos
On the hunt for that perfect blend of style, comfort, and ease? Well, you've found your match. Make things pop with bright colors for an extra touch of glam. On the flip side, If you're showcasing a new shirt, wear it in a darker shade to make it stand out. It means this style goes well with both bright and dark colors.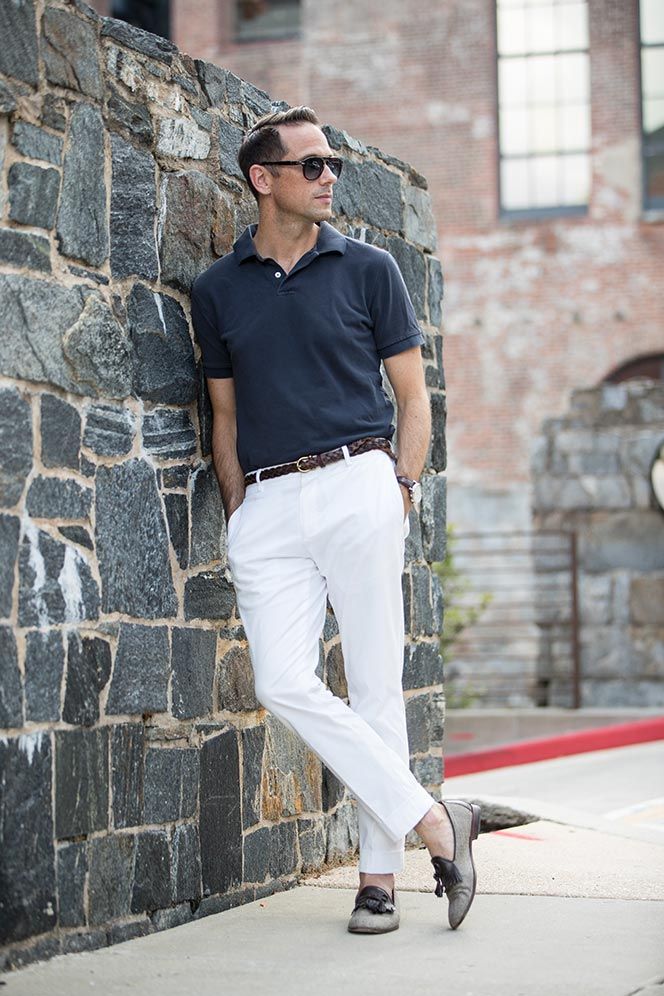 Top: Sport a sleek polo or button-down made from fine fabric to make a statement in the sky and capture photo-worthy moments. When it's chilly, add a touch of warmth by layering a thin jacket or sweater over your top.
Bottom: Go for comfy chinos or chill slacks that let you move easily. No need to worry about the wind – these bottoms got it sorted. Keep cozy by adding long socks or fun tights under your leggings or shorts.
Footwear: Thinking of flaunting sandals, high-heels, or flip-flops? Hold up, not the best choice. Stride in sleek black athletic shoes, they're like your trusty sidekicks – sturdy, comfy, and always a good fit. And for that extra warmth and cushiness, throw on some cool black socks.
Accessories: Get your hands covered with gloves for protection and a steady grip on the gear. Take your pick from leather, neoprene, or fleece gloves, depending on the weather and what you want. Toss on a thermal hat to keep your hair in check. And if you're feeling extra, wear something light and stylish that screams perfection in videos or photos.
Style 4: Tank Top With Shorts
This look is all sporty and energetic while skydiving. Why? Because it's made to keep you comfy, let you move easily, and protect you during the jump. Now, let's break it down and see why this outfit is awesome for skydiving.
Top: Let's talk about upper wear! Pick a close-fitting t-shirt or tank made of stretchy material. Avoid loose clothes that might get unruly in the wind or mess with your equipment. Choose any color or pattern that suits your mood and personality.
Bottom: On the lower deck wear comfy shorts or leggings in breathable fabric. Let them hug you snugly, not too tight, so every move feels like a dance of freedom.
Footwear: Kick off your skydiving trip with the right vibes on your feet. Invest in sneakers or sporty shoes, which offers the perfect blend of support and grip. Got your dream shoes playing hide-and-seek? No sweat, the skydiving crew has your back with a pair ready for the thrill.
Accessories: One of the star players in your appearance is your hairstyle. So, make a neat low bun close to your head. Yet, the wind can be a bit prankster, so lock it down with multiple elastics and bobby pins. As you soar above 10,000 feet, things get chilly. Therefore, if you're not a fan of cold, warm up with a stylish neckerchief.
Editor's Pick: What to Wear to a Zipline?
Men's Outfit Ideas
This section is all about sorting out men's skydiving looks. We've laid out different choices down here. Take a peek and choose the one that vibes with your style the most.
Style 1: Hoodie and Biker Shorts
Most skydiving fans go for a chill and cozy look for maximum fun. If that's your vibe, this style is your go-to. Splash on your favorite color to add a touch of casual coolness and make things easy-peasy.
Top: Acquire a snuggly hoodie crafted from the combo of fleece and cotton. Keep it just right like not too tight, but pleasantly fitted. Now, for some mood magic, decide whether to zip it up or let it flutter open. Our tip? Zip it up to avoid air pressure hiccups. You've heard the hoodie debate, right? Here's the scoop: it's a green light, but there's a trick. No buttons, drawstrings, or any extras that might play interference with your trusty harness.
Bottom: Time to talk about the bottom half! Our fashion pros suggest biker shorts that fit your curves perfectly. Just a little reminder: keep them safe, not too short or loose. Now, for a stylish twist, put on a patterned or colorful hoodie to enhance your skydiving style!
Footwear: As you lean towards functionality and comfort, you might think the stylish kicks have to sit out of your ensemble. Fear not, because that's not the case! You're free to pick any footwear that's both stylish and chill, as long as it checks off the skydiving rules set by the company. Seal the deal on this look by stepping into the spotlight with your absolute favorite tennis shoes.
Accessories: In the world of skydiving accessories, simplicity is the secret sauce. Too much stuff can go missing or get damaged during the jump. If you're into shades, go for sunglasses and secure them with a strap. For timekeeping, a basic watch or bracelet works, but skip anything sharp or metal that could scratch you.
Style 2: All Chic Black
No look is complete without a splash of black in our book. What if you go for an all-black look? Wouldn't it amp up your style, be super fashionable, and let your attitude soar confidently in the air? If you ever find yourself unsure about what to wear, simply close your eyes and go for this outfit.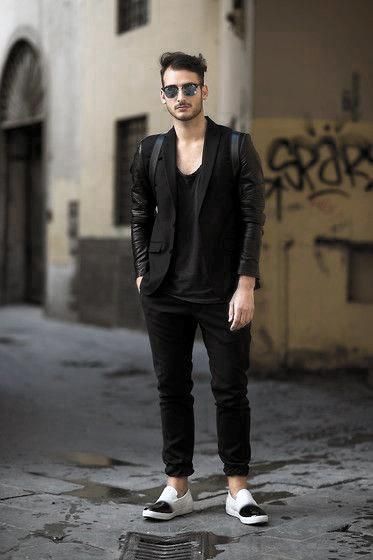 Top: For the upper game, the choices are endless. You can go for a sassy turtleneck crop top or a jumpsuit. Pick based on the weather vibes. If winter's giving you the cold shoulder, opt a black top with the magic combo of polyester, nylon, or snuggly merino wool. And when it's sizzling hot, a classic black tee does the trick with style.
Bottom: Choose your lower style based on what makes you feel good. If jeans are your comfy go-to, wear them. But, if you're vibing with biker shorts or leggings, they work too. Just remember, go for materials that won't cause any discomfort or chafing.
Footwear: Put on black loafers or oxfords for a touch of style and solid support. We wouldn't want any accidental slips, so make sure that they fit perfectly to stay securely on during your jump.
Accessories: Accessories are key, especially for beginners. Pop on some cool goggles or sunglasses to shield your eyes from the sun and wind. And, Top it off with a trusty helmet for some serious head protection. As a beginner, skip scarves, belts, and anything that might tangle up with your gear. However, if you're a skydiving pro, you're in charge. You can pick your gear like a boss based on your past exciting jumps. Remember to keep it sharp and cool in all black for that stylish touch.
Style 3: Jersey and Yoga Pant
Want that flawless shape and classy vibe while flying through the skies? Snatch up a jersey. It's the preferred option for men and women as a comfortable pick. Guess what? I'm even considering sporting a jersey in my next skydiving adventure.
Top: On sunny or chilly days, a top pick for skydiving is a jersey. Select one made of synthetic material – it's like a superhero shirt that keeps you relaxed by soaking up sweat and drying fast. Feeling lost in a sea of colors? Take a cue from our fashion advice and get a navy blue jersey.
Bottom: Consider between leggings, yoga pants, or lightweight shorts. Let your color creativity flow and match it up or go for a contrast with your jersey (depending on your mood). We recommend choosing navy blue bottoms to enhance the cuteness of your overall look.
Footwear: For your footwear, you've got two cool options: blue sneakers or flat-soled shoes. If you choose sneakers, ensure their laces are tightly secured. This isn't just about looking good, it's a safety thing for both you and your instructor.
Accessories: Add flair by throwing on some bold jewelry or tightening up your waist with a chic belt. For safeguarding your head, there's a variety of helmets to choose from, full face, open face, or even one with a built-in camera to match your vibe. If you're all about sharing your adrenaline-packed moments on social media, opt for a camera helmet like I did. Of course, if you're a seasoned pro, you have the choice to skip the helmet altogether.
Style 4: Sweater or Jacket and Legging
When I gear up for skydiving, I've observed that many prefer pairing tops with leggings. Leggings seem to be the best choice for both beginners and experts in skydiving. They just work well for everyone up there.
Top: Who cares what others think? Throw on a jacket or sweater as your skydiving top. Pick one with a bold color or a standout pattern. It's all about making yourself easily visible in the sky, so your instructor, tandem pal, or fellow skydivers can spot you.
Bottom: Buy leggings with soft and stretchy fabric that fits your waist nicely. Particularly in the summertime, lightweight and stretchable bottoms are an excellent option to guarantee comfort during your skydiving adventure.
Footwear: Slide into running shoes that are like whispers on your feet—light, airy, and a perfect fit. They're the kind of kicks that don't mind a little mud or dust.
Suggested Reading: What to Wear to a Burlesque Show? [2023 Guide]
Things to Consider When Selecting Skydiving Outfit
Just like any activity, skydiving also calls for proper attire. Take into account the factors listed below to make sure you select the right outfit for your thrilling adventure in the skies.
Protection
Safety is the priority in outfit selection for skydiving. Consider clothes that won't disrupt your equipment like no hoods, loose garments, or heels should be in the mix. And select closed-toe shoes that provide reliable support, making sure they stay secure throughout the jump. Lastly, ensure your pants are the right length to avoid any tripping hazards when standing.
Temperature
Select attire that matches the day's temperature and altitude. The temperature might decrease during the ascent to the jump altitude, so dress warmly to stay comfortable. However, avoid overheating, as skydiving is an active sport that can make you sweat.
Comfort
Wear clothing that allows ease of movement and flexibility. Don't take tight or restrictive outfits as they can hinder your ability to move freely during the jump and landing. Follow our recommendations, or opt for thin insulated base layers under long sleeves and pants if the weather is cool.
Style
We recommend wearing clothing that instills confidence and excitement for your jump. So, choose outfits that mirror your personality, mood, or jump theme. As an illustration, you have the option to don vibrant hues, patterns, or coordinate outfits with your friends.
Conclusion
Skydiving attire strikes a balance between safety and style. Women can choose from long-sleeve shirts with khakis, graphic tees with cargo pants, or polo shirts with slacks. Sporty tank tops with shorts are also an option. Men can rock hoodies with biker shorts, all-chic black looks, or jerseys with yoga pants. Before settling on your attire, it's crucial to consult the skydiving company for any specific rules or dress codes.
What to Wear Skydiving? - FAQs
What do I wear to go skydiving?
For your skydiving adventure, get athletic-type clothing that is flexible, fits closely, and is resilient.
Is it OK to wear jeans while skydiving?
If your jeans are tight and could limit your movement, it's advisable to avoid them. However, if your jeans are comfortable, you're welcome to wear them for your skydiving experience.
Is skydiving hard on your body?
Skydiving tends to be mild on the body in contrast to numerous high-impact sports.