Traveling provides an excellent opportunity to discover the world; however, it often comes with expenses and stress. Consequently, numerous travelers turn to online platforms such as Traveluro, which claim to provide affordable and hassle-free hotel accommodations and flight bookings.
But is Traveluro a legitimate and reliable website, or does it pose a risk of ruining your vacation? Well, to determine the authenticity of Traveluro, we must gather evidence from various sources. So, let's begin this quest together to unveil the facts!
Is Traveluro Legit?
Traveluro is a legitimate entity as part of Holisto LTD. However, it's not entirely legit when it comes to booking hotels or car rentals. It is important to be aware that booking through Traveluro may not always be the most reliable option, as it can carry a higher risk of encountering issues compared to booking directly with hotels. If you're interested in learning the primary factors that could make Traveluro a less reliable choice, take a look below:
No Long History
One reason suggesting Traveluro may not be entirely legitimate is its relatively recent launch in 2022. Its short time in the market may cast doubt on its credibility and reputation. Some customers might opt for more established and reputable websites with a demonstrated history of delivering quality service and satisfying their customers.
No About Us
The lack of an "About Us" page on Traveluro's website is a concerning aspect as it typically serves as an indicator of transparency and professionalism. This page often provides customers with insights into the company's mission, vision, values, team, and partnerships. The absence of such essential details could leave customers with doubts regarding the trustworthiness and dependability of Traveluro.
For example, We do have an 'About Us' page, which can be visited by clicking here.
Working as Middle Man
Traveluro acts as a middleman between you and hotels or airlines. They take your payment and book your hotel without extra fees. So, when you book through Traveluro, you're dealing with Traveluro, not the hotel directly. This means if there's a problem, you talk to Traveluro to sort it out. This could be time-consuming, lead to frustration, and result in significant expenses.
Poor Customer Support
Traveluro's customer support is quite minimal which provides just an email contact and a phone number for customer inquiries and concerns. There are no options for live chat or social media engagement. This can make it challenging for customers to get in touch with Traveluro if they encounter issues or have questions. Additionally, there have been instances where customers have expressed dissatisfaction with Traveluro's customer support, citing unresponsiveness, impoliteness, or lack of assistance.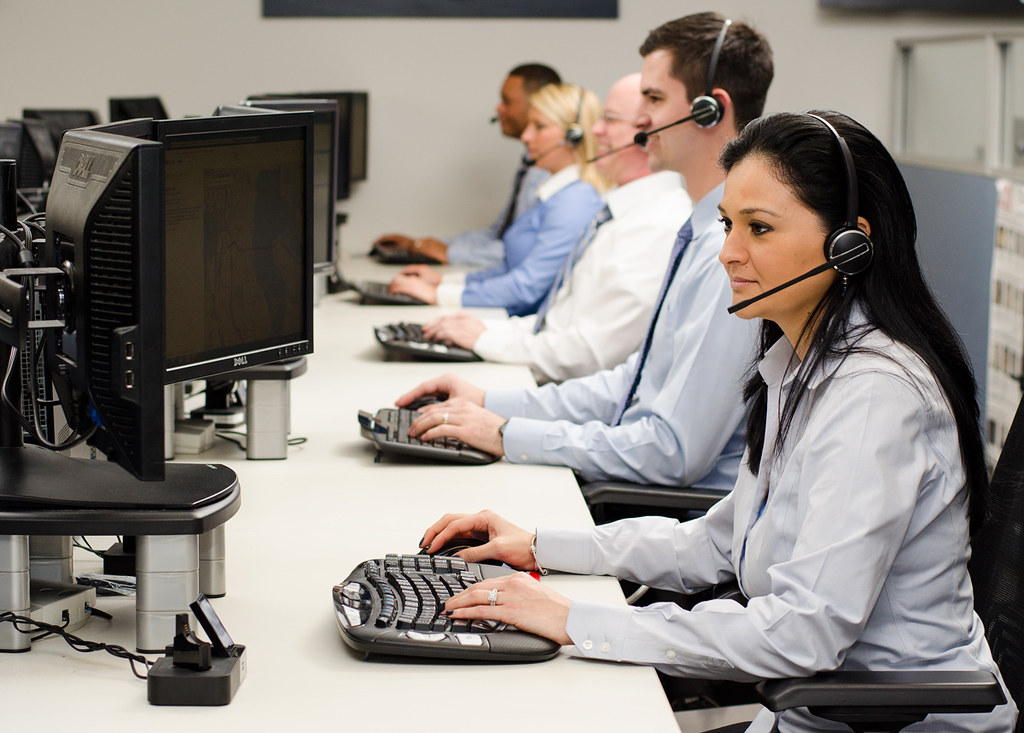 No Guarantee
Traveluro does not provide assurance or any form of warranty for its services. It lacks a transparent policy for refunds or compensation in the event of dissatisfaction or inconvenience stemming from its services. This may expose customers to potential risks, including financial loss, time wastage, or an unsatisfactory travel experience.
No Cancellation Policy
Traveluro lacks a transparent policy regarding cancellations for its services. It does not provide clear terms and conditions for altering or canceling a reservation. Customers could encounter challenges or incur penalties when attempting to cancel or make changes to their bookings for any reason.
No Quality Control
Traveluro lacks an effective system for ensuring service quality. There is no provision for customers to rate or review their travel experiences with Traveluro. Additionally, Traveluro doesn't implement a verification or certification process for its third-party providers to guarantee their quality and standards. Consequently, customers may face the risk of encountering subpar or potentially fraudulent services from Traveluro or its affiliated partners.
Recommended Reading: When is The Best Time to Book For The Cheapest Airline Tickets?
What's the User Opinion on Traveluro?
Now, we will delve into Traveluro's user feedback across three prominent platforms, along with their respective ratings. Additionally, we'll present a range of both positive and negative reviews in accordance with these ratings.
Sitejapper
Traveluro has a relatively low rating of only 1.33 stars, as per 266 Sitejapper reviews. This suggests that many customers are not happy with their experiences. The most common complaints in these reviews are about problems with customer service, credit card issues, and hotel reservations. When compared to other hotel websites, Traveluro ranks 464th. Some of the examples of bad reviews are given below: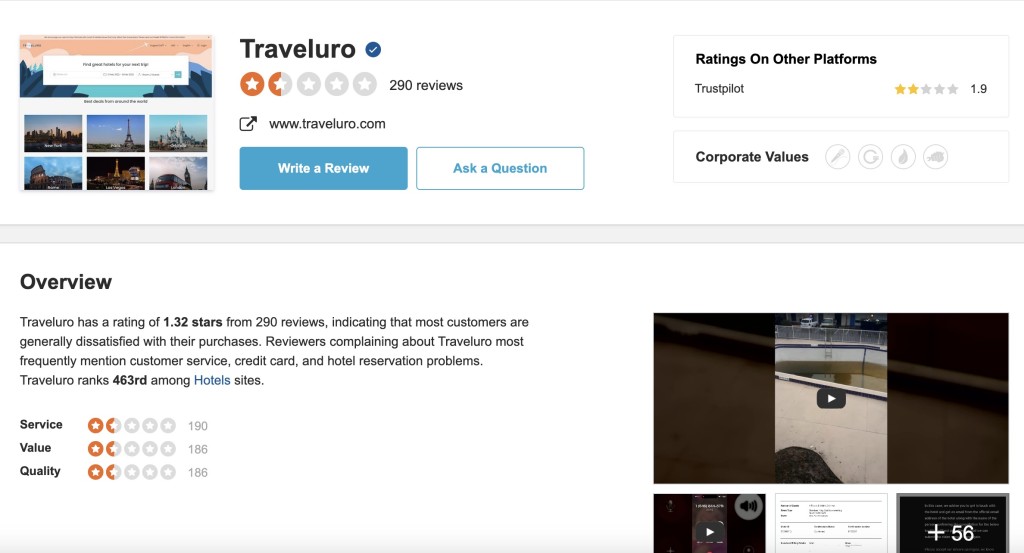 Penny A shared, "I booked a hotel stay, which is non-refundable, but needed to change the day. I've had numerous back and forth phone calls and emails and they just string me along but never change the date! They say they will honor but when I call back they say the room is no longer available. They took my money and never came through with a revised reservation. Horrible business and I'll report to BBB. So do not use this site! Better to pay more directly with the hotel than go through what I have! Beware."
Tylon C expressed, " By far traveluro is the worst 3rd party agency you can ever book with! First time I tried to change dates they gave me the run around for more than 4 days now. Then I found out they canceled my booking reservation! So you hen from there I'm trying to get my full complete refund back from and now it's day 2 and nothing ever gets done on time simply said they drag their feet in response time and also meeting your needs as a customer!"
Trustpilot
Traveluro.com has a TrustScore of 1.9 out of 5, which is based on 729 reviews on Trustpilot. Many people have shared their unhappiness with their experiences, mainly because of issues with customer service and unexpected charges. Let's take a look at some examples of negative reviews we found on their website:
Adan expressed his frustration, saying, "They lie to me. They sold me a deluxe room, and when I got to the hotel, it was Run of the house. They don't want to give me any refund on the reservation. The worst company. Please be aware of."
Andrew Andrew had this to say, "I accidentally booked a hotel for the wrong date, I IMMEDIATELY called and emailed Traveluro and they refused to help me in any way. BEWARE they're money hungry and provide ZERO customer service or any kind. TOTAL SCAM. "
Barrayan Berrois shared a distressing experience, "I was scammed, I booked a reservation and the hotel failed to provide services. I went to the hotel and I was hospitlized due to the heat at the Floridian Hotel. I also submitted a claim on cover and the company is also very shady. I spoke to Macel over the phone & manager John refused to process my refund. Please avoid this company & the Floridian Hotel on international dr at all costs."
Editor's Pick: Skiplagging Travel Hack: Unbeatable Savings for Smart Travelers
Trustindex
According to Trustindex, Traveluro has a rating of 3.9 out of 5, which is considered "Good." This rating is based on 7254 reviews from various review platforms. It means that most customers are happy with their experiences, especially because of the low prices and unique deals Traveluro offers. However, some customers have faced issues with customer service, hidden fees, and fake bookings. The following are examples of both positive and negative reviews to give you a better idea.
Fred shared his experience, saying, "We have used Traveluro twice, first for a Four Seasons Resort and then for a Hard Rock. I have no idea where the negative reviews are coming from as my experience has been perfect."
Amanda Romine recounted, "After finding a GREAT deal with Traveluro for our trip to Treasure Island, FL, I saw many bad reviews that this is a scam website. Being nervous, I called the hotel directly 3 or 4 times leading up to our check-in day. Each time they confirmed I had a prepaid reservation. Got there and check-in went smoothly and was already paid! So glad everything turned out!"
Akvilė Švolkienė shared her disappointment, stating, "We booked our stay at Clinton South Beach Hotel (Miami) via Traveluro.com (operated by Splitty Travel), only because the ad offered breakfast to be included in the room price. Not to mention, the ad was like "Hurry up, this is an exclusive offer, your time's limited to get it". When we arrived at the hotel, the receptionist told us they don't even serve breakfast and it wasn't prepaid for us in the cafe nearby either… Having complained to Splitty/Traveluro, we got a 30 USD refund for the entire stay (3 nights, 3 people), which is a joke. One basic breakfast for us downstairs costs 80 USD."
Suggested Reading: How to Use Google Flights to Find Cheap Flights? [2023 Guide]
Should You Use Traveluro or Book Directly?
If the cost variation remains equal or only slightly lower, it's advisable to avoid booking via Traveluro. However, if there's a significant price difference between booking directly with the hotel and using Traveluro, the choice often depends on what suits your convenience and comfort best.
In our personal opinion, we suggest refraining from booking hotels through Traveluro due to its relatively recent entry into the market. Instead, we would advise opting for established online travel agencies like Agoda, Booking.com, Expedia, Priceline, Trip.com, and GoSplitty when booking hotels. However, there are specific conditions to consider:
The price gap is substantial when comparing direct bookings and reservations via these platforms.
Reserve a standard hotel, avoiding highly expensive luxury accommodations.
Avoid making extended bookings for numerous consecutive days.
Besides these prerequisites, it's crucial to thoroughly research the hotel before finalizing your reservation.
Conclusion
Traveluro may not be the most reliable option for booking hotels and travel services. Its recent entry into the market, lack of transparency, and issues with customer support raise concerns about its credibility. User reviews on various platforms indicate a mix of positive and negative experiences, with many customers expressing dissatisfaction.
It is recommended to consider established online travel agencies with a proven track record when booking accommodations to ensure a smoother and more reliable travel experience, especially when the price difference is not significant.
Is Traveluro Legit? - FAQs
Is Traveluro a legitimate website for booking hotels and travel services?
Traveluro is a legitimate entity as part of Holisto LTD. However, it's not entirely reliable when it comes to booking hotels or car rentals since the user feedback isn't really good (average 2.5 out of 5 stars).
What are some common issues reported by users who have booked through Traveluro?
Users have reported problems with customer service, credit card issues, and hotel reservations. Some have faced difficulties when trying to change booking dates or cancel reservations, while others have encountered unexpected charges.
Are there any advantages to using Traveluro despite its potential drawbacks?
Traveluro may offer lower prices or unique deals in certain cases. Travelers who prioritize cost savings and are willing to accept some risks might find value in using the platform, especially for shorter, less expensive stays.