Going through airport security can be a nightmare. You have to strip off your shoes, belt, and jacket, remove your laptop and liquids from your bag, and stand in a long queue to get scanned and checked.
However, adding the TSA PreCheck to your American Airlines flight gives you access to a dedicated lane which requires shorter wait times. Moreover, it ensures to keep your privacy and dignity intact during the screening process.
So, whether you are an occasional or frequent traveler, don't let airport security ruin your travel experience. Let's learn how to add TSA precheck to American Airlines with us!
About TSA PreCheck
According to American Airlines, TSA PreCheck is a fantastic program that allows eligible travelers to breeze through security screenings at over 200 U.S. airports. Once you've enrolled, you get access to a special screening lane. This dedicated lane allows you to avoid the hassle of removing items from your luggage.
Enrolling in TSA PreCheck is simple. Apply through the official TSA Website and get approved by the Transportation Security Administration (TSA). If you're already part of a Customs and Border Protection (CBP) Trusted Traveler program like Global Entry, SENTRI, or NEXUS, you can also enjoy TSA PreCheck benefits. In case you are applying for the first time, here is a Form for New Enrollment.
TSA PreCheck Essentials
To enjoy the benefits of TSA PreCheck on your American Airlines flight, you need to have the following:
Known Traveler Number (KTN): KTN is a 9-digit ID number provided upon TSA PreCheck application approval. This unique number typically starts with "TT."
PASSID: A PASSID is also a 9-digit number given by CBP when you enroll in a Trusted Traveler program which usually starts with "98," "15," or "99." As per the Department of Homeland Security, you can find your PASSID on the back of your Global Entry ID card in the top left-hand corner.
American Airlines Reservation Details: Collect your American Airlines booking details, such as the confirmation code or ticket number. You will need this information to make the necessary updates.
American Airlines Customer Service Number: If you encounter any problems or have questions while applying, it is advisable to contact American Airlines for assistance (800-433-7300). Checking their contact information and location in advance ensures a smooth experience.
TSA Precheck Eligibility Criteria
Before applying for TSA PreCheck, it's essential to understand the eligibility criteria. U.S. citizens and lawful permanent residents are eligible, along with certain international travelers who are part of CBP Trusted Traveler programs.
Important: Individuals with disqualifying criminal offenses or immigration violations are not eligible for TSA PreCheck. There are three main aspects considered in this regards
Interpol and other international information.
TSA will check terrorist watchlists, other government databases, and related information to assess an applicant's eligibility.
Any other relevant information that helps identify the applicant or determine their eligibility will also be taken into account
Upon investigation:
If an applicant has a history of extensive criminal convictions, either in their own country or abroad, or if they have been imprisoned for more than one year, they may not be eligible.
TSA will also review records of any violations related to transportation security rules, such as offenses at airports, on airplanes (including assault or threats), at maritime ports, or in connection with air cargo.
An applicant will be disqualified if a court or government authority has determined that they pose a danger to themselves or others due to mental illness, or if they have been found not competent to stand trial or not guilty by reason of insanity. Additionally, involuntary commitment to a mental health facility can also lead to disqualification.
A detailed list of offenses that could lead to disqualification are available on the official website of Transport Security Administration.
Suggested Reading: What Should You Do If You Lose Your Passport? [2023 Methods]
Adding TSA PreCheck to American Airlines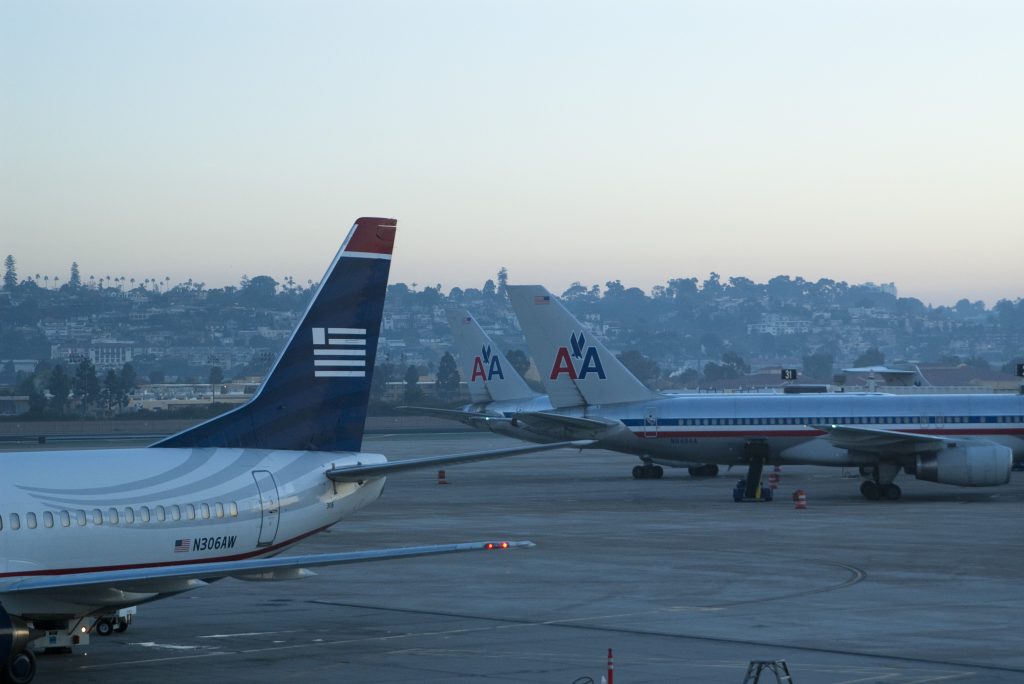 Depending on your situation, you can add TSA PreCheck in three ways. Choose the first method if you have already booked your flight and have internet access. For new reservations, go with the second method. If you want to add it to your American profile, use the third method.
Let's go through each step-by-step:
Method 1: Adding TSA PreCheck to an Existing Reservation
After booking your American Airlines trip, you have two options for adding TSA PreCheck. You can do it either online or offline. If you prefer offline, call their customer service or go to the airport counter and request them to add you. The following are the steps to do it online:
Go to the American Airlines Website and click the "Manage trips/check-ins" tab.
Enter your first and last name along with the confirmation number for your reservation.
Click the "Add/Edit Passenger Information" button in the "Passenger Summary" tab.
Enter your name with Known Traveler Number (KTN) or Global Entry membership number (PASSID).
Save the changes to update your reservation with TSA PreCheck status.
If you can't find your KTN or PASS ID, don't worry. You can retrieve them online through your Trusted Traveler Program account. Click here to access your KTN or PASS ID. When entering your information, provide your full name, date of birth, email, or phone number.
Ensure that all details match exactly with what TSA has on file. Once you log in, you'll find them on your dashboard. Still, if you have any doubts or questions, contact American Airlines at 1-800-433-7300.
Method 2: Adding TSA PreCheck to a New Reservation
Adding TSA PreCheck to a new reservation is straightforward. Here's how you can do it:
Start your booking process on the American Airlines website. Enter your origin, destination, travel dates, and number of passengers to search for available flights.
Choose your preferred flight date and time from the options provided. You can also select your desired seat and baggage options if needed.
Enter your passenger details, including your full name, date of birth, gender, and contact information.
If you still need to log in to your American Airlines account, make sure to enter your KTN or PASS ID in the designated section.
Review all your booking details and proceed to pay for your flight. Before printing or accessing your boarding pass online, ensure it bears the TSA PreCheck logo for a smooth and expedited airport experience.
Method 3: Adding TSA PreCheck to an American Airlines Profile
You can update your AA profile with your information to add PreCheck to your American Airlines ticket. Below is the step-by-step procedure:
At the top right-hand corner of the screen, there is a button displaying your first name. Hover your cursor over this button to reveal a menu.
Select the "Account" option to access your account information. Once you're on your account page, click the "Edit account" button.
Choose "Information and password" from the available options. Here, you'll see a field labeled "Known Traveler Number". Enter your KTN or PASS ID here.
Lastly, make sure to save all the changes before you proceed.
Suggested Reading: Skiplagging Travel Hack: Unbeatable Savings for Smart Travelers
TSA PreCheck: Fees
The following schedule of fees apply to getting a TSA PreCheck facility
For New Enrollment — $78
For Renewal — Online $70 | In-Person $78
Note: The TSA PreCheck is valid for 5 years whether you are opting for new enrollment or renewal.
Important: First-time applicants for TSA PreCheck® cannot make the enrollment or application fee payment online. They need to complete their application and make the payment in-person at a TSA enrollment center. During the initial application process, payment information is not required online.
Avoid Common TSA PreCheck Errors
Although adding TSA PreCheck is a common process, you can make many mistakes that can affect your whole experience and cause trouble. You need to be careful and avoid these mistakes to have a smooth process:
Expired TSA PreCheck or Global Entry Membership
Your TSA PreCheck or Global Entry membership is valid for five years. Remember to renew it to continue using expedited security lanes. You can check your membership status and renew online through the TSA or Global Entry website.
Mismatched Name on Reservation and TSA PreCheck Account
If you've recently changed your name due to marriage or any other reason, remember to update your TSA PreCheck account with the new name. Otherwise, the PreCheck label may not appear on your boarding pass.
Omitting or Entering KTN Incorrectly
Your Known Traveler Number (KTN) is a unique identifier that links to your TSA PreCheck account. Make sure to enter it correctly and consistently when booking your flight, along with your name, date of birth, and gender.
In addition to adding your KTN during the booking process, it's possible to update your existing reservations with your KTN to ensure TSA PreCheck benefits for those flights. This can typically be done through the "Manage trips/check-ins" section on the airline's website.
Editor's Pick: How To Avoid Verizon Travel Pass Charges? Tips and Tricks
Booking with a Non-Participating Airline
Not all airlines offer TSA PreCheck benefits. Before booking your flight, check if the airline participates in TSA PreCheck. Find a list of participating airlines on the TSA website. If you book with a non-participating airline, you won't be able to use TSA PreCheck lanes, even with a valid KTN.
Assuming Companions Are Eligible for TSA PreCheck
TSA PreCheck members can use fast security lanes, except for kids aged 12 and younger who travel with a parent or guardian with TSA PreCheck. If your companions aren't TSA PreCheck members, they must undergo regular security screening, unless they apply and get TSA PreCheck membership too.
Conclusion
TSA Precheck is one amazing convenience that brings peace of mind to frequent travelers. Following the steps mentioned in our guide to adding TSA Precheck to American Airlines, you will be smoothly going through airport security without any troubles. Have a happy trip!
How to Add TSA Precheck to American Airlines? - FAQs
What is TSA PreCheck® and how does it work?
TSA PreCheck® is a program that allows eligible travelers to experience expedited security screening at U.S. airports. Participants can use dedicated security lanes where they don't need to remove shoes, belts, or jackets, and can keep their laptops and liquids in their bags.
What information will the TSA check during the application process?
TSA will conduct a security threat assessment that includes checking against terrorist watchlists, government databases, and international information, if applicable. They will also review an applicant's criminal history and analyze records related to transportation security regulatory violations. Mental health and competency evaluations may also be considered for eligibility.
Is TSA PreCheck® available at all U.S. airports?
TSA PreCheck® is available at more than 200 U.S. airports, including major hubs and regional airports. However, it may not be available at every terminal or for every airline. It's essential to check with the airport and airline beforehand to confirm PreCheck availability for your specific flight.
Can children and infants use TSA PreCheck®?
Children aged 12 and under traveling with a parent or guardian who has TSA PreCheck® can usually use the expedited security lanes. However, they must be included on the parent or guardian's boarding pass. Children aged 13 and above will need their own TSA PreCheck® membership.