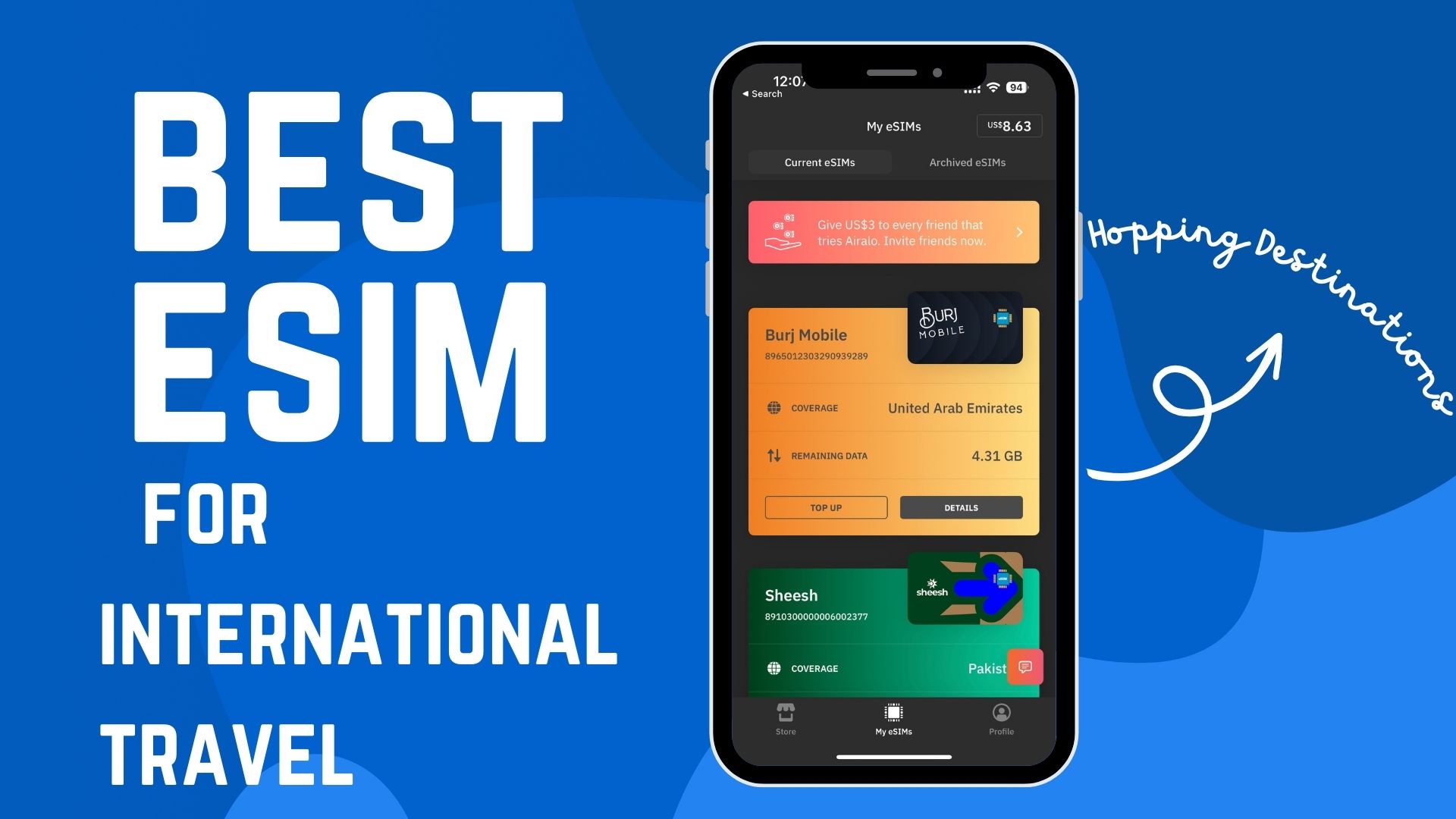 As digital nomads, globetrotters, or even occasional travelers, our need to stay connected has never been more crucial. Thanks to eSIM technology, we can now access reliable, cost-effective data without fumbling with physical SIM cards.
Our guide provides an in-depth review and comparison of the best eSIMs for international travel, focusing specifically on their services in Europe, America, Asia, and the United Arab Emirates, to help you bypass hefty international roaming charges.
eSIM Roaming vs Traditional SIM Provider Roaming
Roaming charges have long been a pain point for international travelers. Traditional SIM provider roaming can often lead to exorbitant bills due to high per-MB charges. It usually involves complicated procedures to activate international roaming before your departure, and users can be subjected to network fluctuations as the SIM tries to connect to different networks in the host country.
For those based in the UK, the choice of roaming options could be influenced by the recent changes in EU roaming rules following the UK's departure from the European Union. While some UK mobile network operators have reintroduced roaming charges for use in the EU, others continue to offer free EU roaming.
As of 2021, providers such as O2, Sky Mobile, Tesco Mobile, VOXI, and giffgaff still offered inclusive roaming in the EU, subject to fair usage policies. However, it's important to note that the situation regarding roaming charges can change quickly due to regulatory or commercial decisions. Therefore, it's always advisable to check the most recent policy of your network provider before traveling.
eSim Roaming Comparison Table
| | | |
| --- | --- | --- |
| Feature | eSIM Roaming | Traditional SIM Provider Roaming |
| Activation Procedure | Simple, can subscribe to a local data plan before departure | Often complicated, need to activate international roaming before departure |
| Network Stability | Stable, as it uses local network | Can experience network fluctuations |
| Cost | Usually cheaper, as local data plans are used | Can be expensive due to high per-MB charges |
| Flexibility | High, can switch between eSIM plans or profiles | Low, tied to home network provider |
| Need for Multiple SIMs | No, maintains home number while using data from travel eSIM | Yes, may need to carry multiple physical SIMs or international SIM cards |
In contrast, using data on an eSIM while traveling abroad introduces a new level of simplicity and cost-effectiveness. With an eSIM, travelers can subscribe to a local data plan of their destination country even before they leave home. This provides them with stable connectivity, given that they're using a local network and also helps them control their expenses, as local data plans are usually cheaper than traditional roaming charges.
Moreover, eSIMs allow users to maintain their home number while using data from the travel eSIM. This eliminates the need for carrying multiple physical SIMs or international SIM cards which are often more expensive and have an inconsistent service.
The flexibility to switch between eSIM plans or profiles means travelers can always choose a plan that best suits their data needs and budget, avoiding "bill shock" from unintended data use.
Thus, in the battle of eSIM roaming vs traditional SIM provider roaming, eSIMs clearly provide a more user-friendly, cost-effective, and reliable solution for staying connected while traveling internationally.
Classifying SIMs/eSIMs on Android and iOS Devices
Modern Android and iOS devices offer users the flexibility to classify their SIMs or eSIMs based on their preferences. This feature is particularly useful for individuals juggling between multiple numbers or those using separate connections for voice calls and data.
On iOS devices, you can go to Settings > Cellular > Cellular Data, and select which SIM or eSIM you want to use for cellular data. The same process applies to voice calls; under the "Default Voice Line". You can specify which SIM or eSIM you'd prefer for voice calls. The other SIM can automatically be set for data only, or you can select 'Secondary' for the line you use less often.
For Android devices, the steps may vary slightly depending on the manufacturer. Generally, you can find these settings under Network & Internet > Mobile Network > Advanced > Carrier. Here, you can select your preferred carrier for mobile data and calls.
This flexibility offered by Android and iOS devices ensures that you are always in control of your connectivity, allowing you to maximize the benefits of using eSIMs and physical SIMs in harmony.
Whether it's setting your home number as the primary line for voice calls while using a local eSIM for data on your travels, or managing multiple business and personal lines, the power is literally in your hands.
Why eSIMs are Ideal for International Travel?
The best eSIM for international travel offers unparalleled convenience, flexibility, and significant cost savings. No more juggling multiple SIM cards for each country you visit. Welcome to the era of eSIMs, where your connectivity is just a click away.
Pros and Cons of eSim Plans
eSim plans have their own set of benefits and drawbacks. By considering both of them side-by-side, you can choose whether or not you should purchase an eSim.
Benefits of Using eSim
In a nutshell, eSims are taking over by storm due to much more convenience, flexibility, and rising adaptability in modern smartphones.
Convenience and Flexibility
Using eSIM plans offers unparalleled convenience and flexibility for international travelers. Unlike traditional physical SIM cards, eSIMs are integrated directly into your device. This eliminates the need to swap SIM cards when traveling between countries.
Immediate Activation
eSIM plans offer instant activation. Once you decide on a plan, you can download the eSIM profile directly to your device and start using the new network almost immediately. There's no need to wait for a physical SIM card to arrive or go to a local store to purchase one. This feature is especially beneficial for travelers who need immediate connectivity upon arriving in a new country.
Enhanced Security
eSIM technology incorporates state-of-the-art security measures which means minimal chances of data loss or unauthorized access. Unlike physical SIM cards that can be easily removed and potentially cloned, eSIMs are securely encrypted within your device's hardware.
Multi-Network Support
eSIM technology enables your device to support multiple network profiles simultaneously. This means you can have multiple eSIM plans from different providers loaded onto your device, and you can easily switch between them as needed.
No Compatibility Problems!
Remember when there was a time that different sims used to come in different sizes? Devices required specific SIM sizes, such as micro SIMs or nano SIMs, and many people struggled to insert the SIM correctly or ended up damaging the delicate SIM slot.
However, with the arrival of eSims, this is no longer an issue. The hassle of handling physical SIM cards is completely eliminated since eSIMs are virtual and do not require any physical insertion.
Environmentally Friendly Option
Using eSIM plans can contribute to reducing e-waste and the environmental impact associated with traditional physical SIM cards. Physical SIM cards often come with plastic packaging and may need to be replaced and discarded frequently which adds to electronic waste.
Drawbacks of eSIMs
While eSIMs are generally considered beneficial, there are certain drawbacks that need to be considered as well.
Limited Device Compatibility
One of the significant drawbacks of eSIMs is that not all devices currently support this technology. While eSIM adoption is growing, many older or budget-friendly devices may not have eSIM capabilities. For example, I carry a Samsung Galaxy Note 10, which does not offer the support of an eSIM.
Limited Network Coverage
Travelers might find themselves with limited connectivity options or no eSIM coverage in certain regions. Therefore, if you are an adventurous person like me who would love to visit Abandoned Mines in Colorado or a cruise trip on Symphony of the Seas, you should reconsider the decision of having an eSIM.
Difficulty in Obtaining Local Plans
Some travelers prefer to purchase local SIM cards in each country they visit to access the most affordable data plans. With eSIMs, this process becomes more complicated as not all countries offer eSIM plans.
Device Lock-In with Carrier
In some cases, when you activate an eSIM plan with a specific carrier, your device might become locked to that carrier for a certain period. This lock-in can restrict you from easily switching to other carriers. As a result, your options for better deals or network coverage towards an eSIM are limited.
7 Top eSIM Providers for International Travel
Let's delve into the top eSIM providers for this year, benchmarking them for their coverage in Europe, America, Asia, and the Middle East.
1. Airalo (HopDes' Choice)
Rated the best eSim for International Travel, Airalo is a global eSIM store for travelers that offers affordable, worldwide data plans. Their unlimited data eSIM for Europe is popular among Redditors and travel bloggers alike. Airalo also provides extensive coverage in America, Asia, and the Middle East, making it an ideal choice for globetrotters.
2. Holafly
Holafly is another eSIM provider that has carved its niche in the market. Known for its excellent customer service and broad coverage, Holafly is a recommended option for those traveling to Europe and the Americas. Their Asia and Middle East coverage is also impressive, ensuring seamless connectivity across continents.
3. Orange eSIM
Orange, one of Europe's biggest telecom companies, offers an eSIM option that is hard to beat when it comes to reliability. Their eSIMs work great for traveling across Europe, with stable connectivity and reasonable rates. While their presence is strong in Europe, their coverage in America, Asia, and the Middle East is worth checking out.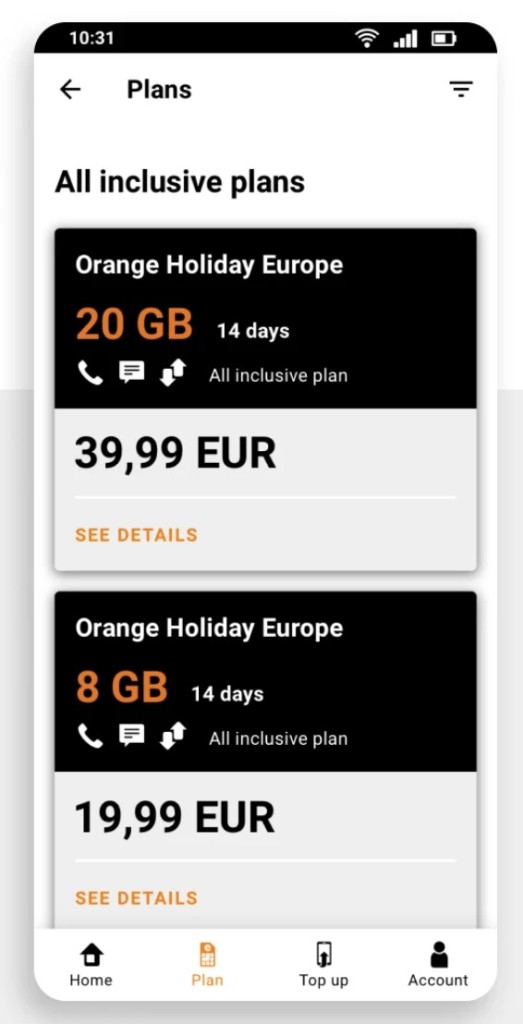 4. Nomad eSIM
Holiday Europe provides eSIMs designed especially for travelers visiting Europe. Their affordable and flexible plans make them a favorite among visitors. While their specialty is Europe, they also offer competitive plans for America, Asia, and the Middle East.
5. Sim2Fly eSim
The AIS SIM2Fly is an eSIM solution offered by Thailand's largest mobile carrier. Its competitive pricing, with data rates up to 10 times more affordable than other roaming options makes it an enticing choice. After the designated package days are used, they still have access to unlimited data at reduced speeds of 128kbps (2G). Once the initial package, such as the Asian SIM with an 8-day validity, is completed, users have the option to add credit and subscribe to a Global package at a later date.
6. Travel-Wifi eSim
Travel Wifi eSIM is one of the recently introduced ones, but so far, the services are outstanding. Users are already complementing the user-friendly interface, adaptability, and availability of eSIMS for multiple countries as well. What's even amazing is the fact that they also offer special travel deals for those who purchase their eSIM. As a result, you get a bunch of discounts too! The prices start from $3 for the global plan. For more information about pricing, visit their official website.
7. Flexiroam eSim
Flexiroam is an Apple-certified eSIM provider which stands by the motto "Providing seamless mobile connectivity to everything, everywhere". Indeed, over the past few years, it has offered exceptional service and catered for a wide range of users including those who want smaller data packages to those requiring unlimited ones. The global 5GB package price starts at $139.99 but it allows access to multiple applications and not just social media.
Pro tip: Always compare eSim plans from various providers before your journey. This will ensure you get the best deal for your specific travel needs.
Here's a comparative table to simplify your choice:
Comparison Table between different eSims
| | | | | |
| --- | --- | --- | --- | --- |
| Provider | Europe (Cost & Duration) | America (Cost & Duration) | Asia (Cost & Duration) | Middle East (Cost & Duration) |
| Airalo | $15 for 1GB (30 days) / $50 for unlimited data (30 days) | $20 for 1GB (30 days) / $55 for unlimited data (30 days) | $12 for 1GB (30 days) / $40 for unlimited data (30 days) | $18 for 1GB (30 days) / $60 for unlimited data (30 days) |
| Holafly | $16 for 1GB (30 days) / $52 for unlimited data (30 days) | $21 for 1GB (30 days) / $57 for unlimited data (30 days) | $13 for 1GB (30 days) / $43 for unlimited data (30 days) | $20 for 1GB (30 days) / $65 for unlimited data (30 days) |
| Orange eSIM | $17 for 1GB (30 days) / $54 for unlimited data (30 days) | $22 for 1GB (30 days) / $58 for unlimited data (30 days) | $14 for 1GB (30 days) / $44 for unlimited data (30 days) | $21 for 1GB (30 days) / $67 for unlimited data (30 days) |
| Nomad eSIM | $14 for 1GB (30 days) / $48 for unlimited data (30 days) | $18 for 1GB (30 days) / $53 for unlimited data (30 days) | $11 for 1GB (30 days) / $39 for unlimited data (30 days) | $16 for 1GB (30 days) / $61 for unlimited data (30 days) |
| Sim2Fly eSim | $12 for 1GB (30 days) / $40 for unlimited data (30 days) | $18 for 1GB (30 days) / $55 for unlimited data (30 days) | $10 for 1GB (30 days) / $35 for unlimited data (30 days) | $15 for 1GB (30 days) / $50 for unlimited data (30 days) |
| Travel-wifi eSim | $16 for 1GB (30 days) / $52 for unlimited data (30 days) | $21 for 1GB (30 days) / $57 for unlimited data (30 days) | $13 for 1GB (30 days) / $43 for unlimited data (30 days) | $20 for 1GB (30 days) / $65 for unlimited data (30 days) |
| Flexiroam eSim | $17 for 1GB (30 days) / $54 for unlimited data (30 days) | $22 for 1GB (30 days) / $58 for unlimited data (30 days) | $14 for 1GB (30 days) / $44 for unlimited data (30 days) | $21 for 1GB (30 days) / $67 for unlimited data (30 days) |
Please note that these prices are subject to change and it's always a good idea to check the provider's website for the most current information.
How to Add eSIM on iPhone?
Make sure your iPhone model supports eSIM. Most newer iPhone models (iPhone XR, XS, XS Max, 11, 11 Pro, 11 Pro Max, 12, 12 mini, 12 Pro, 12 Pro Max, 13, 13 Pro, 13 Pro Max, and later) have eSIM capabilities. Check Apple's official website to confirm eSIM support for your specific iPhone model.
Step 1: Obtain the eSIM Activation Code or QR Code
Reach out to your mobile carrier to get an eSIM activation code or QR code. This code will be required to add the eSIM to your iPhone.
Step 2: Access Mobile Data Settings
Unlock your iPhone and go to the home screen. Locate and tap on the "Settings" app. It's usually represented by a gear icon. In the Settings menu, scroll down and tap on "Mobile Data".
Step 3: Add a Cellular Plan
In the Mobile Data section, click on "Add eSIM". Next, tap on "Use QR Code".
On this screen, either scan the QR Code provided by the carrier. Alternatively, tap the option "Enter Details Manually" in case you received an activation code.
In case you choose the option to enter details manually, you will be asked
SM-DP+ Address
Activation Code
Confirmation Code
Step 4: Verify and Confirm the eSIM Details
After scanning the QR code or entering the activation code, your iPhone will display the details of the eSIM plan. Review the information to ensure it's correct, including the carrier name, plan details, and other relevant information. Tap on the "Confirm" or "Activate" button to add the eSIM to your iPhone.
Important: If you already have a physical SIM card in your iPhone and are using dual SIM mode, you'll be prompted to set a default line for voice, data, and iMessage. Choose the line you want to use as the default for each category or select "Primary" to use the eSIM as the default line.
How to Add eSIM on Android Phone?
Although most android phones do not offer eSIM compatibility, there are a few latest ones such as Samsung S20 and onwards which have eSIM coverage.
Step 1: Access Network Settings
On your Android device, go to the Settings app. Scroll down and look for "Network & Internet". In the "Network & Internet" settings, find and select "Mobile Networks" or "SIM cards" (the wording may vary depending on your device).
Step 2: Add eSIM
Look for an option to "Add Mobile Plan" or "Add eSIM" and tap on it. Your device will prompt you to scan the eSIM activation QR code provided by your carrier.
Step 3: Scan eSIM Activation QR Code
Use your device's camera to scan the eSIM activation QR code that your carrier gave you. Make sure the QR code is visible and properly aligned within the camera viewfinder. Your device will then read the eSIM profile information.
Step 4: Confirm Activation
After scanning the QR code, your device will display the details of the eSIM profile, such as the carrier's name, phone number, and plan details. Review the information to ensure its accuracy and then proceed to confirm the eSIM activation.
How to Choose the Best eSIM for Traveling?
When selecting an eSIM provider, consider factors like cost, data allowance, coverage area, speed of data, and customer service. It's also recommended to read user reviews on platforms like Reddit to gather insights about actual user experiences before making a choice.
Coverage and Network Quality
Check if the eSIM provider offers good coverage in the areas you plan to travel. Look for reliable networks with strong signals and good data speeds. A provider with extensive coverage will ensure you stay connected wherever you go.
Ideally, it is way better to get a global eSIM as compared to a country-supported specific sim. This way, you won't have to change your eSIM every time you visit a different country.
Customer Support
Consider the level of customer support provided by the eSIM provider. Look for reviews or feedback from other users to gauge their customer service quality. A provider with responsive and helpful support can be crucial if you encounter any issues during your travels.
Security Protocols
Effective eSIM security protocols use strong encryption, secure element protection, and mutual authentication to protect sensitive data and prevent unauthorized access. Conversely, inadequate protocols with weak encryption and no mutual authentication expose users to data breaches and unauthorized access.
Additional Features
eSIM providers offer features like global coverage, eSIM management apps, multi-device support, and family plans for enhanced user experience, convenience, flexibility, and cost-effectiveness, especially beneficial for international travelers.
How to Know if Your Phone is Compatible with eSIM?
Let's not make it difficult and answer this question in the simplest manner.
Just type "Your Phone Model" followed by the phrase "eSIM compatible?" on Google.
For example, you can search like
iPhone 12 eSIM Compatible?
iPhone 13 Pro eSIM Compatible?
Google Pixel eSIM Compatible?
Samsung Galaxy S20 eSIM Compatible?
Google will give you an instant answer right on the top.
This way, you can instantly determine if your device is eSIM compatible or not!
Future of eSIM Technology
The future of eSIM technology looks promising. With more devices becoming eSIM compatible, and more providers offering eSIM services, the way we connect while traveling is undergoing a significant transformation.
Adaptability
eSIM technology is rapidly growing and more device manufacturers and network providers are starting to embrace eSIM technology. Eventually, we can expect it will become increasingly prevalent in smartphones, tablets, smartwatches, and other connected devices.
Broader International Coverage
eSIM providers are likely to expand their global coverage as well. This means offering eSIM plans in more countries and regions. Ultimately, the coverage of eSIMS is expected to be accessible even in remote areas.
IoT Integration
eSIM technology will play a vital role in the Internet of Things (IoT) ecosystem. It will help in enabling seamless connectivity for smart devices, wearables, and other IoT applications.
IoT devices often require flexibility in terms of network connectivity as they may move between different coverage areas or regions. With eSIMs, these devices can seamlessly switch between multiple network profiles, enabling them to connect to the most suitable and available network at any given location
Digital Identity Solutions
eSIMs are poised to become an integral part of digital identity solutions, offering secure authentication and verification methods for various online services. We believe that eSIMs can be used for banking purposes and secure transactions as well, someday.
5G eSIM!
While we don't see this happening anytime soon, we can definitely forecast that eSIMs might someday support 5G connectivity. When that happens, the concept of physical sims will totally diminish!
Conclusion
eSIMs are revolutionizing the way we stay connected while traveling. Whether you're on a business trip or exploring the wonders of the world, the top eSIM providers of 2023 have got you covered. Make your choice, save on international roaming charges, and keep sharing those travel stories with the world!
Best eSims for International Travel
Do eSims have a limited lifespan?
eSims, similar to their physical counterparts, do not have a definitive expiration date. As long as your eSim provider remains operational and you keep your account active, your eSim will continue to work.
How much does an eSim cost compared to a traditional SIM card?
With traditional SIM cards, there's usually an upfront cost involved. You have to purchase the physical card, which can range from a few dollars to upwards of $20, depending on the carrier. On the contrary, eSims are typically integrated into your device, eliminating the need for a physical card and therefore, the associated upfront cost.
Which countries are covered by the eSim providers?
eSim providers cover a wide range of countries globally, including but not limited to the United States, Canada, Mexico, United Kingdom, Germany, France, Spain, Italy, Australia, Japan, and China.
What are the differences between eSim providers?
Differences between eSIM providers can be based on factors such as coverage, pricing, data speed, customer service, and additional features. It's always a good idea to research and compare these factors based on your specific needs before choosing an eSIM provider.