Looking for a perfect day to spend without any stress or worries? Then spending it at the amusing beaches in Cornwall is the ideal way to go. You can spend hours upon hours just lounging around on the sand, taking in the incredible views, and swimming in the crystal-clear waters. And if you get bored of that, there's always plenty of other things to do nearby.
So why not give it a try? With its beautiful beaches, breathtaking scenery, and variety of activities, you'll never want to leave. So get out there and explore all that the beaches in Cornwall have to offer – from amazing food to incredible experiences, it's the place to be!
10 Beaches in Cornwall to Spend a Perfect Day
With 10 different places to choose from, there's something for everyone. From secluded coves to bustling seaside towns, these are the 10 best beaches in Cornwall to spend a perfect day:
Sennen Beach is a stunning Cornish gem located just 1.5km from the iconic Land's End. Boasting a beautiful crescent-shaped stretch of sand that joins the village's harbor to its neighbor, Gwenver Beach, Sennen is one of Cornwall's prime surfing spots.
The area has everything you could want for a beach trip and more: from the Smart Surf School – run by a family with deep local knowledge and expertise – to the renowned Ben Tunnicliffe restaurant which sits right on the beachfront providing gorgeous views of the ocean.
Whether you're looking for an isolated escape, a fun-filled day out with your family, or simply some quality time with your partner, Sennen beach is sure to please. During peak season it gets quite busy but visitors will never feel crowded thanks to its vast expanse of sand and its friendly atmosphere.
If you're feeling active, why not take a hike along the clifftops for superb views over the Cornish coast? Plus, there's lifeguard cover during the summer months for when you decide to venture into the sea.
Accommodation options in Sennen are limited but if you're looking for a day trip then it's a great choice; Land's End and Porthcurno are both easily accessible and make perfect side trips! No matter your reason for visiting, Sennen beach promises unforgettable memories that will stay with you long after your return home.
So bring your bucket and spade – Cornwall awaits!
Crooklets Beach is a stunning seaside spot located in the town of Bude, Cornwall. This small and family-friendly beach has been awarded the prestigious Blue Flag Award in 2021, so you can be sure that it meets high standards for water quality, lifeguard coverage, and environmental management.
The beach is perfect for those looking to relax on the sand or hit their adrenaline highs with some surfing. The Crooklets surf break is one of the most popular in Cornwall and visitors to this area are sure to have an unforgettable time.
You can also enjoy breathtaking views of the Atlantic Ocean from the cliffs at Crooklets Beach – making it ideal for sightseeing too! Crooklets Beach is situated close to the Crooklets Holiday Park, so it's easy to find and has plenty of amenities nearby.
Whether you're looking for a place just to relax or an exciting surfing experience, Crooklets Beach is sure to provide the perfect day out. Enjoy the coastal beauty and indulge in some relaxation at this beautiful beach.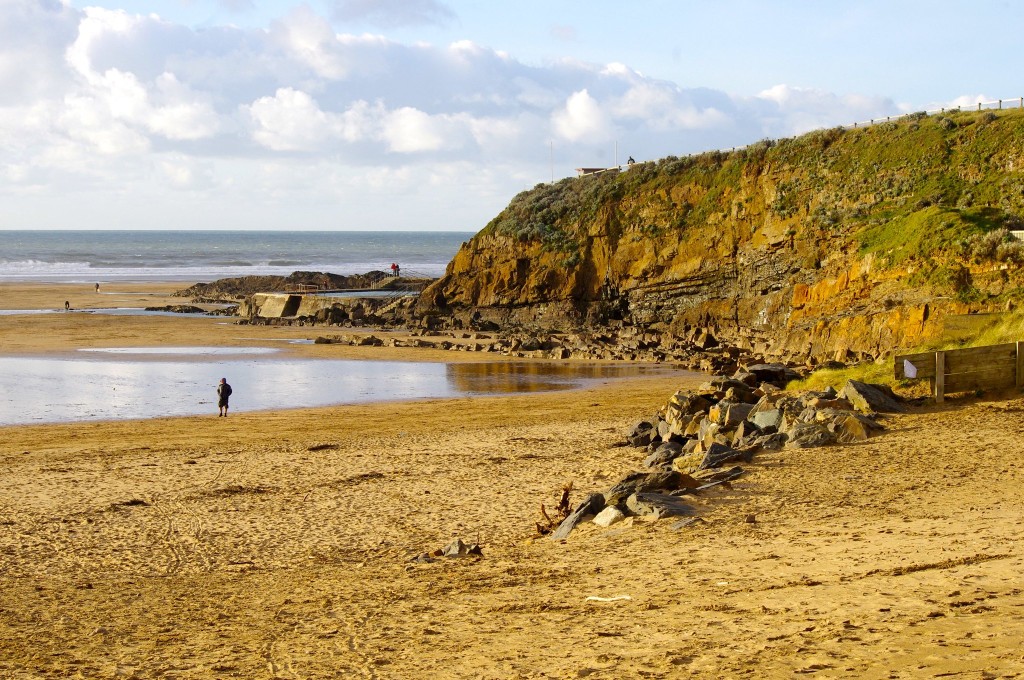 Summerleaze Beach in Cornwall is a truly idyllic beach, boasting wide stretches of golden sand, beautiful colorful beach huts, and dramatic crashing waves. It's the perfect spot for surfers, swimmers, sunbathers, and picnickers alike – not to mention its popularity with nature lovers who can catch glimpses of marine life such as dolphins, seals, and turtles.
Located just outside of Bude town center, visitors have easy access to this stunning stretch of coast. Whether you're looking for an exciting day in the sea or simply want to take a leisurely walk along the shoreline, Summerleaze Beach will accommodate both ends of the spectrum.
For those wanting to stay on dry land, there are plenty of activities to enjoy, from fishing and kayaking to windsurfing. The beach features a large 'Bude sea pool' which gets cut off from the ocean at low tide – making it an ideal spot for families looking for a safe place to cool off in the summer months.
There's also plenty more on offer nearby, such as Bude Castle and Pitch Putt, as well as shops, cafes, toilets, and even a sandy play area right by the beachside. So whether you're an adrenaline seeker or just fancy taking in some breathtaking views, Summerleaze Beach in Cornwall is the perfect destination!
You can take a walk along the stunning cliffs or explore Bude Canal, marvel at the wildlife that inhabits this area, or just sit back and enjoy one of the many sunset views on offer here. With so much to choose from, it's easy to see why Summerleaze Beach in Cornwall continues to be an incredibly popular destination for locals and tourists alike!
There's truly something for everyone at this wonderful beach location – so make sure you visit it soon! After all, what better way to spend a day than by experiencing everything that Summerleaze Beach has to offer?
So no matter what brings you here, make sure you take some time to appreciate its breathtaking beauty and savor the experience of being at one of the most beautiful beaches in Cornwall. You won't regret it!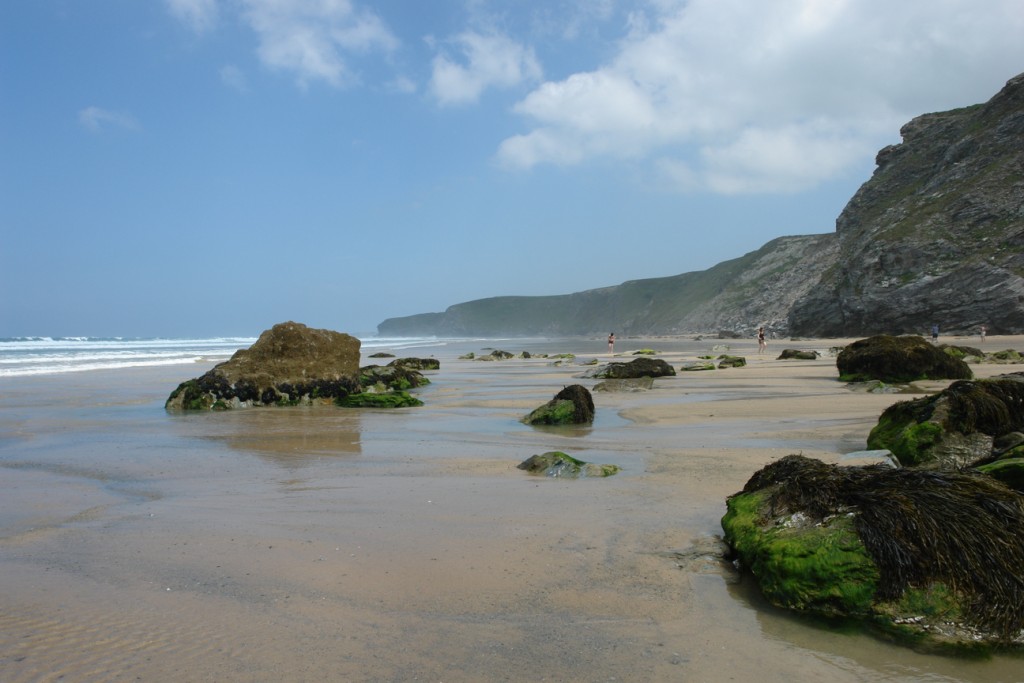 Watergate Bay is a breathtaking expanse of sandy beach on the northern coast of Cornwall. Not only is it well-known for surfing, but it also provides a tranquil experience with its mesmerizing vistas unique to the Cornish landscape.
Situated within minutes from the bustling town of Newquay, Watergate Bay has become a popular destination for both locals and visitors alike. It features an array of restaurants and cafes offering delicious food after you've spent time enjoying the warm sun.
The two-mile stretch of picturesque golden sand is framed by rugged cliffs on either side and boasts exceptional facilities such as beachside eateries, pubs, and even the Extreme Academy which offers activities like paddleboarding, surf lessons, wave skiing, and more.
This beach is a pet-friendly destination and allows dogs to all year round. Families, surfers, windsurfers, and even four-legged friends love this spot as it's equipped with tidal rock pools for children to explore as well as a designated area for swimming safely during the summer months.
Aside from its recreational activities, Watergate Bay also hosts the highly anticipated Boardmasters Festival every year and draws in huge waves from the Atlantic that make it an ideal surfing destination.
Furthermore, there are amazing luxury hotels located near the beachfront providing delicious food along with unparalleled views of the ocean.
Overall, Watergate Bay is a stunning beach that offers an all-inclusive experience for everyone and their furry companions. It's not to be missed if you're looking for a unique day out in Cornwall!
Porthcurno Beach in Cornwall is a stunning stretch of turquoise waters and white sand. Flanked by cliffs covered in wildflowers, its Caribbean-blue waters and golden sand make it one of the most picturesque beaches in Cornwall.
Located close to Land's End and the Minack Theatre, this south-facing cove is a magical location seeped in history. The beach is perfect for families due to its sheltered position between high cliffs providing shelter from the wind as well as a stream at the top of the beach forming a natural paddling pool.
Lifeguards are on duty over summer months with designated safe swimming zones allowing parents more peace of mind while their children play amongst Porthcurn o's picturesque surroundings.
Visitors can also explore the many caves along its coastline as well as the world-renowned Minack Theatre, standing proudly high on the cliffs above the beach, creating an even more dramatic natural setting for shows and events.
The Porthcurno Telegraph Museum is another must-visit attraction; telling the incredible story of how Porthcurno became an important communications hub in the 19th century. Visitors can enjoy a range of cafes and restaurants near the beach making it easy to refuel after a day of fun in the sun or learning about its fascinating history.
There are plenty of activities to suit everyone at Porthcurno Beach making it an ideal destination for any holidaymaker looking to make the most of their time in Cornwall. Whether it's swimming, exploring its caves, or taking in a show at the Minack Theatre, Porthcurno Beach is sure to delight.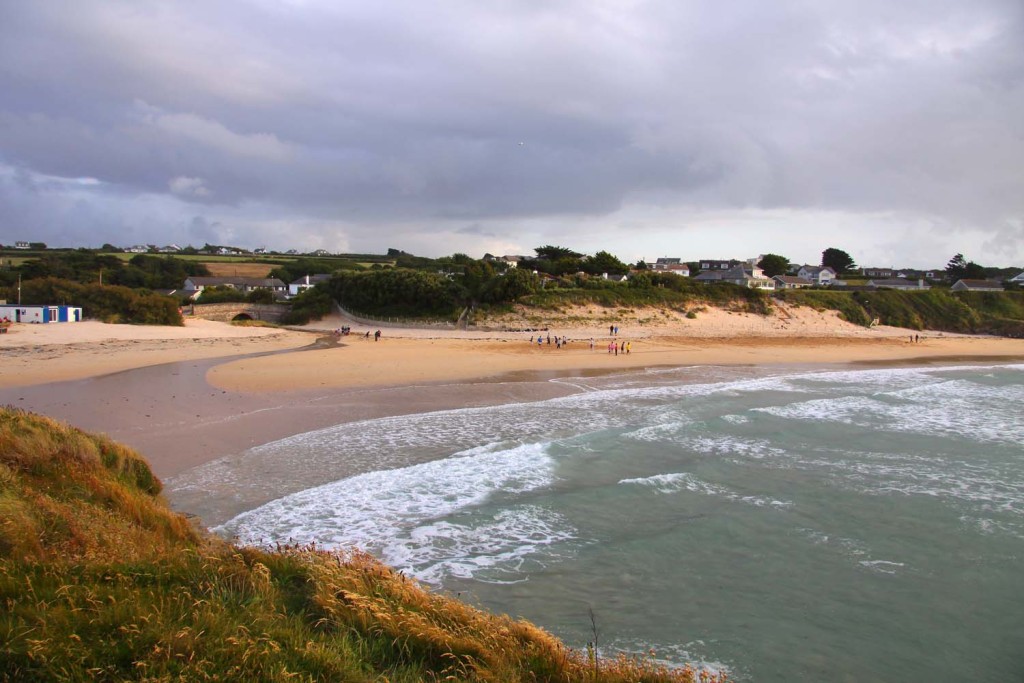 Harlyn Bay is a popular spot on the North Cornwall coast, beloved by surfers, families, and photographers alike. Its wide, sandy beach is perfect for picnics and games while its rock pools offer an intriguing place to explore for big and small adventurers.
On sunny days, visitors may also catch sight of dolphins and seals swimming in the waters close to shore. To add further variety to your day at Harlyn Bay, there are fabulous walks from its shoreline to both Mother Ivey's Bay and Trevose Head – so you don't need to limit yourself to just one beach when visiting this beautiful stretch of coastline.
Not only does Harlyn Bay provide stunning views which make it a great spot for photographers to capture, but it also provides a perfect place to relax and take in the beauty of Cornwall. With its combination of sand, sea, and wildlife, Harlyn Bay is an ideal day trip destination for those looking to escape their everyday routines.
Whether you're after some thrilling surf sessions or just want to enjoy a peaceful day on the beach – Harlyn Bay has something for everyone. So why not grab your sunscreen, pack a picnic, and head down to this stunning slice of the North Cornish coast? You won't regret it!
Bedruthan Steps Beach is one of the most stunning coastal locations in Cornwall. Located in Whitsand Bay, and owned by the National Trust, it's a popular spot for visitors wanting to take in all that natural beauty that the county has to offer.
Named after the huge slate outcrops scattered along its shoreline, which according to local folklore were placed there by a giant named Bedruthan as stepping stones – hence its name! – this beach offers unrivaled views from the base of Carnewas cliffs.
With several trails leading up to the cliff top, you can enjoy panoramic views of Whitsand Bay and nearby Padstow – one of the best towns in Cornwall. There's plenty to explore here, whether it's taking a stroll along the beach and marveling at the unique coastline or venturing further inland toward Padstow and discovering what this charming town has to offer.
No matter what you decide to do, Bedruthan Steps Beach promises an unforgettable experience that will be sure to leave you with lasting memories. So don't miss out – come and explore the remarkable beauty of Cornwall!
Pedn Vounder Beach is a stunning stretch of sand located in St Levan, Cornwall. This beach is known for its clear turquoise waters and picturesque cliffside views, making it an ideal spot to relax and take in the scenery.
Visitors can explore several small caves and rock pools along the shoreline, or just lay out on the sand and soak up the sunshine. There is also a café nearby that serves delicious food after a day spent at the beach.
Pedn Vounder Beach is popular with surfers and bodyboarders due to its high waves reaching up to six feet tall. It's best suited for experienced swimmers though, as there are no lifeguards on duty here.
Those visiting this beach should also be aware that access is limited, as the path leading to it requires a bit of a climb. It's approximately thirty minutes from the nearest car park but is well worth the effort due to its stunning natural beauty.
Pedn Vounder Beach provides the perfect opportunity for an adventurous escape from everyday life. With towering cliffs and blue waters, this remote spot offers an unforgettable experience in one of Cornwall's most beautiful locations.
Whether you're looking for some relaxation or just want to explore nature, Pedn Vounder Beach will provide you with an incredible day out!
Carbis Bay is a beautiful cove situated in the southwest of Cornwall, just a short distance from the larger and vibrant town of St Ives. With rocky cliffs sheltering the stunning beach, Carbis Bay is fringed with tall palm trees and gifted with golden sand that stretches out before clear blue waters.
As such, this picturesque spot has become both a tourist hotspot and a local haven for relaxation. The inviting beach here is perfect for soaking up some sun on a hot summer's day, as well as swimming in the refreshing sea or surfing its waves.
The nearby Ocean Sports Centre provides activities that range from SUP safaris to eco-tours, plus lots of gear hire like paddleboards and kayaks; providing a great day out for all the family.
At night, Carbis Bay is even more magical when the sun sets into the sea, casting an orange glow across the beach and creating an enchanting atmosphere. Whether you're seeking adventure or simply looking to relax, Carbis Bay is truly a special place that draws in countless visitors each year.
Easily reached by taking the branch line train from St Erth station, it's no wonder why this idyllic cove has become so popular. Come and visit Carbis Bay and experience its beauty first-hand!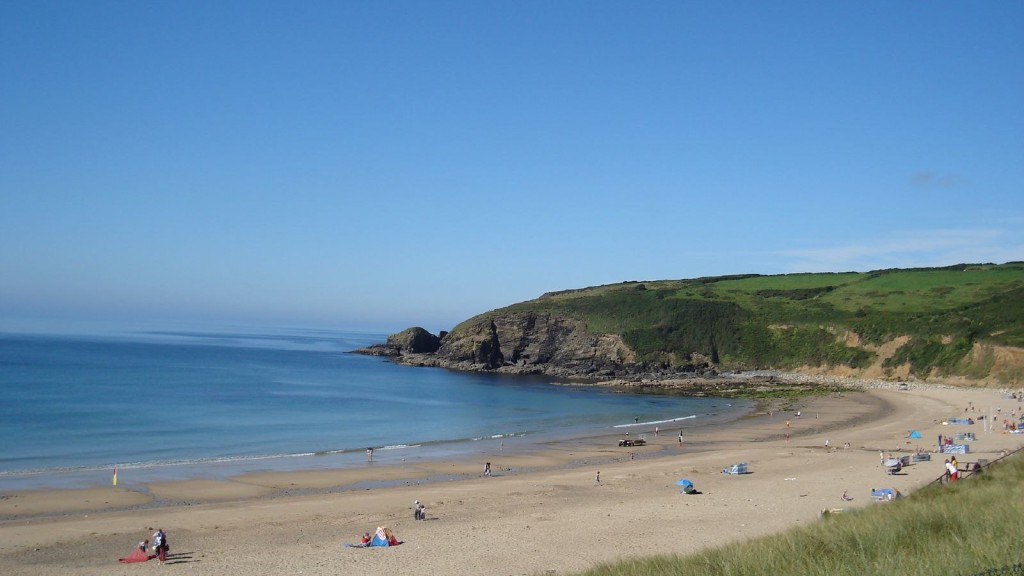 With its glorious white sand, tumbling blue waves, and rolling fields just behind, it's no wonder why Praa Sands's charming spot has become popular with locals and visitors alike.
On sunny days, the sand glitters like diamonds while the waves sparkle in the light – making you feel as if you're basking in the Spanish sun! Praa Sands offers something for everyone to enjoy; whether that means building sandcastles with family or flying kites with friends.
The mile-long stretch of flat coastline also makes for great surfing conditions, so it's no surprise that it has quickly become one of the best beaches for surfers in south Cornwall. For those looking to take a break from their day at the beach, there are plenty of on-shore facilities available including a cafe, beach shop, pub, and toilets.
With its idyllic beauty and many amenities, Praa Sands is an excellent spot to soak up some sun while making memories that will last a lifetime!
Things to Consider Before Visiting the Beaches in Cornwall
Cornwall is a popular destination for beachgoers seeking stunning coastlines and great surf. But before visiting, there are some factors visitors should consider to make sure their beach trip is safe and enjoyable.
Amenities — Cornwall beaches vary greatly concerning amenities, so travelers need to research which ones offer the services they're looking for. Some may have lifeguards on duty, while others may not have any at all. Parking, restrooms, and concession stands may be available at some locations while others only offer bare sand or rock pools.
Accessibility — Depending on what activities visitors plan to do at the beach, accessibility can be an important factor in choosing a destination. Some beaches may be difficult to reach or access by car, while others may have well-developed pathways for easy navigation.
Local Weather Conditions — Cornwall's weather conditions can vary drastically from one beach to another, so visitors should always check the forecast before planning their trip. This is especially important during summer months when strong tides and winds can create unsafe swimming conditions.
Water Quality — The water quality of Cornwall's beaches can also differ significantly depending on location and time of year, with some having higher levels of pollutants than others. Visitors should research any potential health risks associated with swimming in contaminated waters before deciding which beach to visit.
Budget — Travelers should also take into account their budget when selecting a beach destination. Some beaches may require an entrance fee or higher costs for parking and amenities. Others may be free but have limited services or facilities. It's important to make sure the total cost of a beach vacation fits within the budget before making a final decision.
Overall, Cornwall offers many beautiful beaches to explore and enjoy, but visitors must take into account all of these factors to make sure their trip is safe and enjoyable. By researching each beach destination ahead of time, travelers can ensure they are making the best choice for their needs.
How Do We Pick Our Recommendations?
We take into consideration several factors when choosing our recommendations for the best beaches in Cornwall. We look at the beach's size, its proximity to other attractions, the type of activities available on and around the beach, and most importantly, what sets it apart from other nearby beaches. We also like to ensure that each beach is unique and offers something special for visitors. Our team personally visits those beaches and thoroughly researches each potential recommendation before adding it to our list. We want to make sure that we are presenting only the very best options for your next visit to Cornwall. Have fun exploring the incredible beaches in Cornwall! Happy travels!
Spend a Perfect Day at These Amusing Beaches in Cornwall - FAQs
Are there any dog-friendly beaches in Cornwall?
Yes! Some of the most popular dog-friendly beaches in Cornwall include Watergate Bay, Widemouth Bay, and Sennen Cove.
In Cornwall, which beach has the most popularity?
Crooklets Beach is one of Cornwall's most popular beaches, renowned for its dramatic cliffs and crystal-clear turquoise waters.
Are there any beaches in Cornwall with camping facilities?
Yes, many of the beaches in Cornwall offer camping and caravanning options, such as Carbis Bay.