Millions of tourists from all over the world are drawn to Paris in France because it is a city of love, art, and unrivaled appeal. It's understandable why individuals frequently claim that visiting Paris is a wonderful choice with its well-known sites, gorgeous architecture, and mouthwatering cuisine. But, dear wanderer, there is a hidden caveat to this romantic notion.
The French capital's captivating attractiveness conceals a secret: there is a period of time when Paris starts to lose part of its luster. So let's go on a tour together and discover the worst time to visit Paris!
The Worst Time To Visit Paris
June to August is considered the worst time to visit Paris. Paris is frequently hot and muggy during these months which means sightseeing and outdoor activities are a "No-Go". In addition, this time is peak tourist season, which means there will be more people at sites, longer lines, and more expensive lodging and services.
Closed Attractions: August!
When considering the worst time to visit Paris, it's important to note that August, specifically, can present certain challenges for visitors. One factor that contributes to this is the closure of various attractions and establishments. This month can lead to the closure of smaller museums, boutiques, antique shops, Michelin-starred bistros, and art galleries.
For instance, Les Puces, the renowned Paris Flea Market, along with numerous antique and vintage shops in Village St-Paul and St-Germain, participate in a month-long hiatus. Even the small tapestry museum at Manufacture des Gobelins remains closed until mid-September, leaving enthusiasts of medieval tapestries disappointed.
Moreover, August sees the absence of numerous smaller restaurants, although there are still plenty of options available for dining. However, if you have a particular chef or restaurant in mind that you'd like to experience, it's essential to check their website beforehand to ensure they will be open.
High Level of Pollution
During summer, Paris experiences an influx of tourists, resulting in increased traffic congestion. The streets become packed with taxis, cars, and buses, leading to elevated levels of pollution in the city. The combination of high visitor numbers and transportation activities can diminish the air quality, making it unpleasant for visitors, particularly those with respiratory sensitivities.
Moreover, the weather conditions during July, which is the peak of the summer season, can exacerbate the situation. Paris receives an average of 2.4 inches (about 61 mm) of rainfall spread over eight days in July. Thunderstorms and fog can further disrupt outdoor activities and limit sightseeing opportunities.
Swimming pools in Paris may be affected by heavy winds and rain storms, resulting in temporary closures. As reported by Guardian, three floating pools located beside the Canal de l'Ourcq in the 19th arrondissement had to be closed due to high levels of pollution in September 2022.
The heavy rainfall over the weekend washed water from the canal into the pools, leading to higher-than-normal levels of bacteria called enterococci. This incident highlights the potential impact of pollution and adverse weather on recreational activities and facilities.
Suggested Reading: Worst Time to Visit Aruba According to Travel Experts
High UV Index
With an average maximum of 6, Paris has the highest UV index in July. A high UV index can have significant consequences on visitor activities in Paris. Without protection, going through a high UV index can lead to sunburn, skin damage, eye damage, and a higher chance of heat-related illnesses, which can be uncomfortable and exhausting.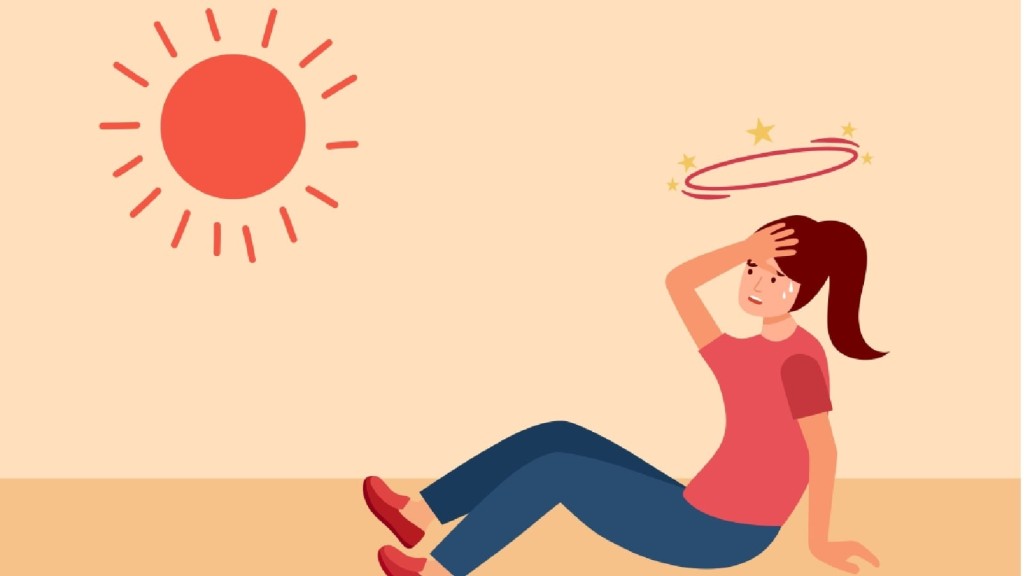 With a UV index rating of 6 to 7, which indicates a significant danger, the Environmental Protection Agency (EPA) underlines the potential harm from unprotected sun exposure. Visitors must alter their plans and choose activities that limit exposure to the sun during the peak UV hours in order to reduce this danger. Visits to outdoor attractions should be planned during the early morning or late afternoon when UV levels are often lower.
The World Health Organization (WHO) emphasizes the significance of seeking cover during the midday hours when the sun's rays are the highest. Additionally, using sunscreen with a high sun protection factor (SPF), wearing protective clothes, hats, and sunglasses, and applying sunscreen are all advised. These precautions are essential for protecting tourists from UV radiation's negative effects.
Furthermore, it's crucial to remember that Paris still has a high UV risk in the spring, regardless of cloud cover. Large public areas like Place Notre Dame and Place Charles de Gaulle might only provide 1-2 sun protection factors for inadequate UV protection.
Urban design techniques that incorporate sun-protective components could be taken into consideration to alleviate this problem, ensuring that visitors have access to shaded places and other sun-safe infrastructure.
Heavy Rainfall
The experience of visiting Paris during a time of intense rain might be significantly worsened. Although the city often has mild weather in June, it is also prone to rain. The average monthly rainfall in Paris is roughly 25mm, which falls across 11 days. For travelers, this changeable weather pattern can be extremely difficult.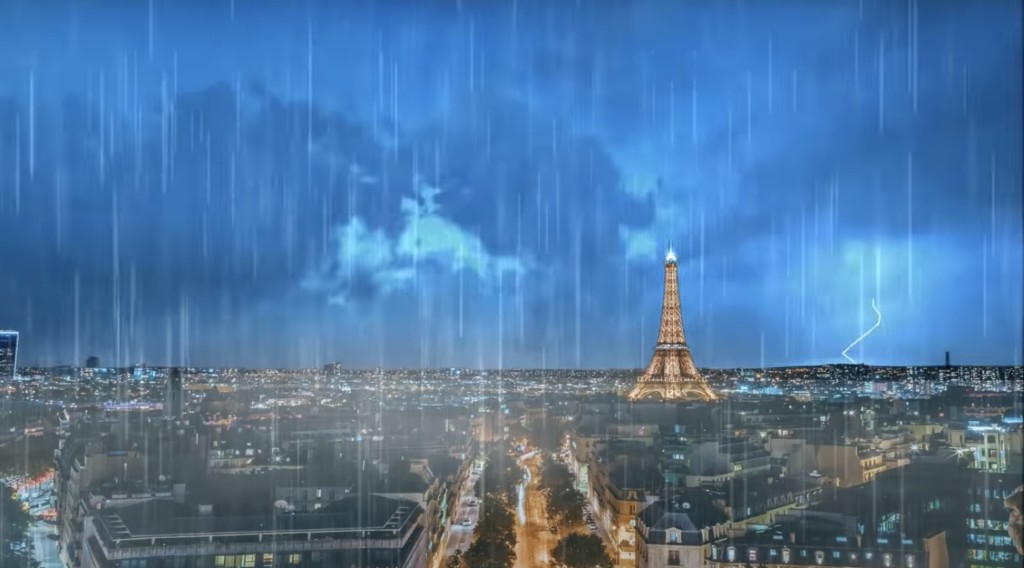 According to a report by Météo France, a worrying scenario developed in Paris and the neighboring areas at the beginning of June 2023. Due to the impending threat of intense thunderstorms and rain-flooding, several departments, including Paris, Hauts-de-Seine, Seine-Saint-Denis, Val-de-Marne, Essonne, and Val-d'Oise, were put on high alert.
This warning highlights the potential risks caused by heavy rainfall while underlining the severity of the weather conditions.
Various aspects of your visit may be hampered by severe weather. In the first place, outdoor activities and sightseeing are made considerably more difficult by the rain, which makes it difficult to comfortably explore the city's lovely streets, parks, and landmarks.
Your options for amusement and exploration may be limited if particular attractions or outdoor locations are forced to close due to the weather. However, be sure to catch on the best restaurants in Paris with an Eiffel Tower view.
Other Worst Times to Visit Paris: Winter Season
Visiting Paris during the winter season may not be the most favorable time due to the following reasons:
Limited Visiting Hours
Attractions open later and close earlier due to shorter daylight. This limits the time available to explore important sights, requiring careful planning to cover everything. The rush can diminish the experience and overcrowding may occur. It becomes challenging to combine multiple activities within a limited timeframe.
Frequent Rainfall
Winter in Paris is also unfavorable due to the prevalence of frequent rains and snowfall. The city experiences around 3 hours of sunshine per day during winter, with icy rain being common. Heavy rains can lead to flooding, causing disruptions. It is advisable to stay indoors and wear long jackets and thick sweaters when going outside.
Fishing Closure
Fishing is typically not permitted in both private lakes and public spaces during winter months. In private lakes, fishing is allowed from April to October but is closed from November to March. Similarly, in public spaces, the fishing season runs from March to September or May to September, depending on the oxygenation level of the water.
Editor's Pick: Worst Time to Visit Greece
When Is Paris Expensive And Crowded?
Paris becomes expensive and crowded during the summer season, particularly from July to September. This period coincides with the school summer break, leading to an influx of both international tourists and French residents exploring their own country. As a result, the city experiences a surge in visitors, and popular attractions are often plagued by mile-long lines and obstructed views due to the large crowds.
The high demand for accommodations, dining, and entertainment during this time drives up prices in Paris. If you prefer a more tranquil and cost-effective experience, it may be wise to consider visiting Paris during the shoulder seasons, such as spring or autumn.
During these times, the weather remains pleasant, but the number of tourists tends to be smaller, providing a more relaxed and affordable atmosphere to explore the city's charms.
Suggested Reading: Why Do My Feet Swell When I Travel?
Month-by-Month Analysis: Worst Month to Visit Paris
We've done all the hard work for you! Follow this month-by-month analysis and pick out the most appropriate time to visit Paris based on your personal preferences.
January
Average temperature: 3°C (37°F)
Weather: Cold, with occasional rain and snow
Activities: Indoor attractions such as museums, art galleries, and historical sites are popular.
Special events: New Year's Day celebrations, Paris Fashion Week (end of January)
Crowd level: Relatively low, except during Fashion Week.
February
Average temperature: 4°C (39°F)
Weather: Cold with occasional rain showers
Activities: Indoor activities like visiting museums, shopping, and enjoying cozy cafes.
Special events: Valentine's Day (February 14th), Paris Carnival (end of February)
Crowd level: Moderate, with an increase in visitors around Valentine's Day.
March
Average temperature: 8°C (46°F)
Weather: Transition from winter to spring, with mild temperatures and occasional rain.
Activities: Exploring outdoor attractions such as gardens and parks becomes more pleasant.
Special events: International Agricultural Show (end of February to early March), Paris Book Fair (mid-March)
Crowd level: Increasing as the weather improves but still relatively moderate.
April
Average temperature: 11°C (52°F)
Weather: Springtime weather with mild temperatures and occasional rain.
Activities: Sightseeing, outdoor dining, exploring parks and gardens.
Special events: Paris Marathon (early April), Easter celebrations (date varies), Foire du Trône (end of April to early May)
Crowd level: Moderate to high, especially during the Easter holiday period.
May
Average temperature: 15°C (59°F)
Weather: Pleasant spring weather with mild temperatures and occasional showers.
Activities: Exploring outdoor attractions, picnicking by the Seine, visiting open-air markets.
Special events: French Open (late May to early June), Nuit des Musées (Night of Museums)
Crowd level: High, especially during the French Open and long weekends due to public holidays.
June
Average temperature: 18°C (64°F)
Weather: Warm and sunny with occasional rain showers.
Activities: Outdoor activities like boat cruises on the Seine, strolling through neighborhoods, and dining al fresco.
Special events: Fête de la Musique (June 21st), Paris Jazz Festival (June to July)
Crowd level: High, especially during the summer tourist season and the music festival.
July
Average temperature: 21°C (70°F)
Weather: Warm and sunny, occasional heatwaves.
Activities: Exploring popular tourist sites, enjoying outdoor festivals and events.
Special events: Bastille Day celebrations (July 14th), Paris Plages (urban beaches along the Seine)
Crowd level: Very high, peak tourist season in Paris.
August
Average temperature: 20°C (68°F)
Weather: Warm and sunny, occasional heatwaves.
Activities: Exploring attractions, visiting museums, enjoying open-air concerts.
Special events: Paris Summer Sales (July to August), Rock en Seine music festival (end of August)
Crowd level: High, but slightly lower compared to July due to some locals being on vacation.
September
Average temperature: 17°C (63°F)
Weather: Mild temperatures, transitioning from summer to autumn.
Activities: Exploring attractions, shopping, enjoying outdoor cafes.
Special events: Paris Design Week (early September), Heritage Days (mid-September)
Crowd level: Moderate, with a slight decrease after the peak summer season.
October
Average temperature: 12°C (54°F)
Weather: Cooler temperatures, occasional rain showers.
Activities: Exploring museums, enjoying autumn foliage in parks and gardens.
Special events: Nuit Blanche (first Saturday of October), Paris Fashion Week (early October)
Crowd level: Moderate, with an increase during Fashion Week.
November
Average temperature: 8°C (46°F)
Weather: Cool temperatures, occasional rain.
Activities: Indoor activities like visiting museums, shopping, and enjoying cozy cafes.
Special events: Beaujolais Nouveau Day (third Thursday of November), Salon du Cheval (end of November)
Crowd level: Relatively low, except during special events and the Beaujolais Nouveau celebration.
December
Average temperature: 4°C (39°F)
Weather: Cold temperatures, occasional snowfall.
Activities: Exploring Christmas markets, ice skating, visiting festive decorations.
Special events: Christmas markets, Christmas Eve and Christmas Day celebrations.
Crowd level: Moderate to high, especially during the Christmas holiday period.
Explore more of our "When to Visit" Guides!
Conclusion
The "City of Love" is on most travelers bucket list, but visiting this spot at the right place is essentially important if you don't want to ruin your experience. Our extensive guide has covered everything about the worst time to visit Paris, which is the months of June to August. While everyone may have different preferences, these months are the absolute No-go times. Instead, visiting during the cooler months will give you the ultimate Paris experience of a lifetime.
Worst Time to Visit Paris - FAQs
Are there any major events or holidays in Paris that should be avoided due to excessive crowds?
Bastille Day (July 14th) and New Year's Eve are popular events in Paris, but they attract huge crowds and can result in traffic congestion and restricted access to certain areas. If you prefer a quieter visit, it may be best to avoid these specific dates or plan accordingly to avoid the busiest areas.
Are there any particular periods of the year when many shops, restaurants, or attractions in Paris may be closed?
August is a month when many Parisians take their summer vacations, resulting in some smaller shops, restaurants, and local businesses closing or having limited hours.
When is the best time to visit Paris?
The best time to visit Paris is during the spring (March to May) and fall (September to October) when the weather is pleasant, and the city is less crowded compared to the peak summer months. However, each season offers its own charm, and visiting during the winter months can provide unique experiences such as Christmas markets.