Hey there, folks! So, I recently had the pleasure of visiting Cranberry along with the rest of the Hopdes Team, and let me tell you, this town knows how to satisfy your taste buds and make your dining memories unforgettable. Whether you're a local looking to spice up your food game or a fellow traveler on a quest for culinary delights, Cranberry's got you covered.
Now, when it comes to picking a restaurant, the options can be overwhelming, right? But don't sweat it; I've got your back. Below, I'm sharing some of my personal favorite spots in Cranberry that left me with a belly full of goodness and a heart full of happiness."
Best Restaurants in Cranberry
Juniper Grill, Firebirds Wood Fired Grill, Sports Grille, Emiliano's Mexican Restaurant and Bar, Monte Cello's Cranberry, Breakneck Tavern, Jimmy Wan's Restaurant and Lounge, and Off the Hook are a few hotels you might want to think about. Now, stay tuned for detailed insights into each.
Looking to satisfy your cravings with a scrumptious lunch, a mouthwatering dinner, and a divine dessert? Juniper Gill awaits your arrival! With multiple locations sprinkled throughout Pittsburgh, this restaurant is renowned for its exceptional wine selection, impressive beer collection, and signature cocktails. Their menu is a delightful fusion of American dishes with a twist of Cali vibes, and all are made from scratch using the freshest locally sourced ingredients.
Vegetarian or gluten-free? No worries, they have options for you too. Whether you're seeking a cozy solo dinner or a delightful gathering with friends, this spot is perfect. You can dine in their welcoming restaurant or enjoy their culinary creations at home through takeout. They're open every day, so you can savor their dishes Sunday through Thursday from 11 am to 9 pm, and Friday & Saturday from 10 am to 10 pm.
Food Specialty: Among the culinary stars, the Pan-Seared Salmon takes center stage. It's prepared to absolute perfection and presented with delightful and flavorful accompaniments. It's the ideal choice for a cozy dinner or a romantic meal for two, and its flavors are certain to captivate and gratify your taste buds.
Food Options: At Juniper Grill, you'll find a wide array of tempting food options. But if you're looking for some tried-and-true favorites that have garnered high praise from numerous guests, we recommend these must-try dishes.
Ahi Tuna Wonton – Rare-seared tuna on crispy wontons topped with mango puree, avocado, and chipotle drizzle.
Brisket Quesadilla – Slow-smoked BBQ brisket combined with cheese, jalapeño, onion, sour cream, and pico de gallo.
Rotisserie Chicken & Avocado Salad – Organic greens paired with avocado, roasted corn, tomato, almonds, dates, goat cheese, and creamy bacon dressing.
California Burger – A burger masterpiece featuring bacon, cheese, lettuce, guacamole, onions, and bang bang sauce, all on a brioche bun.
Shrimp & Crab Enchiladas – Enchiladas filled with shrimp and crab, topped with lobster mornay sauce, cheese, pico de gallo, and cilantro crema.
All-Natural Spit-Fired Amish Chicken – Savory Memphis-rubbed chicken served with mashed potatoes, succotash, and au jus.
Ambiance: As you step into Juniper Grill, you're embraced by the genuine warmth of their friendly staff. The restaurant's character blends rustic charm and elegance seamlessly as well as features striking brick walls and exquisite wooden furnishings. But what truly sets the ambiance apart is the cozy fireplace, soft lighting, and plush seating that instantly make you feel at ease. And don't forget the patio area, where you can bask in the enchanting summer nights and savor the outdoor atmosphere and breathtaking views.
Price Range: The final amount you pay depends on the specific dishes you choose and the portion sizes you opt for. However, you can typically budget between:
Average Price: $10
High Price: $30 (per person)
Address: Highway 228, Cranberry Township, PA
Firebirds Wood Fired Grill guarantees a culinary adventure that will leave you craving for more. This renowned restaurant is a haven for American cuisine lovers. Their menu showcases a diverse range of culinary delights from pristine seafood and artisanal steaks to an exceptional selection of wines and cocktails.
But that's not the end of it! They go the extra mile to accommodate every guest's needs. They offer a gluten-free menu that features specially crafted dishes for those with dietary restrictions. And let's not overlook their renowned signature cocktails, expertly crafted using premium spirits and the freshest ingredients. Save the date because Firebirds Wood Fired Grill awaits you from Sunday to Thursday, from 11 a.m. to 10 p.m., and Friday to Saturday, from 11 a.m. to 11 p.m.
Food Specialty: One of the most cherished dishes among their patrons is the Bleu Cheese Filet. Bilal Ahmed said that it was so good, that he even ordered one for take away to eat later. This culinary gem has won the hearts and palates of many with its succulent meat wrapped in crispy bacon that promises a flavor explosion in every bite. Crowned with creamy bleu cheese and accompanied by savory portobello mushrooms, this dish is a symphony of culinary perfection.
Food Options: Firebirds Wood Fired Grill offers a delightful variety of dishes that have left diners coming back for more. Below are some of our highly recommended food options:
Lobster Spinach Queso – A delectable appetizer featuring lobster, baby spinach, tomatoes, and pepper jack cheese, served with crispy tortilla chips.
Wood-Grilled Steaks – Their 21-day-aged steaks are expertly butchered in-house, hand-trimmed, and grilled over hardwood, accompanied by your choice of side. With a selection of cuts and toppings like filet mignon, bleu cheese filet, aged ribeye, cajun ribeye, and more, steak enthusiasts are in for a treat.
Chilean Sea Bass – Savor a pan-seared sea bass paired with sautéed shrimp, key lime butter sauce, ancient grains pilaf, and seasonal vegetables. A dish that seafood lovers won't want to miss.
Cilantro-Grilled Chicken – Enjoy a succulent chicken breast crowned with crispy onion rings and smoked tomato jack cheese sauce, served with your choice of side.
Ambiance: The atmosphere of this place is an enchanting blend of relaxation and welcoming warmth. The moment you walk through the doors, a soothing atmosphere envelops you, coaxing you to let go and fully enjoy your time. Further, the charming brick walls, the centerpiece fireplace, and the captivating bar all contribute to an environment that's not just inviting but also visually stunning. From family-friendly to romantically inclined, this ambiance sets the stage for memorable moments.
Price Range: The cost can fluctuate based on the number of guests or the size of your group and the specific dishes ordered.
Average Price: $20
High Price: $33
Address: 7300 Cranberry Springs Drive, Cranberry Township, PA 16066
If you're interested in finding a place where you can enjoy delicious food, have a drink, and watch your favorite sports comfortably, Sports Grille is the perfect choice. Established in September 2012 by owner and operator Sean Pregibon, Sports Grille seamlessly combines the excitement of various sports cultures with high-quality cuisine. This community-focused restaurant takes pride in sourcing its ingredients locally to support nearby businesses and create Homemade Recipes that truly shine.
Sports Grille opens its doors from Tuesday to Sunday and takes a well-deserved break on Mondays. However, The Sports Grille at Cranberry doesn't rest during football season, staying open seven days a week. With 40 LED high-definition screens, it's the ultimate spot to catch your beloved team in action. No matter the score on the field, your time here will make you feel like a winner.
Food Specialty: The cuisine that truly shines is none other than their Special Grilled Boneless. This exquisite dish features succulent boneless chicken breast marinated in their secret sauce and expertly grilled to achieve perfection. It's an artful masterpiece served alongside creamy mashed potatoes, vibrant grilled vegetables, and your choice of delectable dipping sauce. For those who cherish the smoky allure of grilled cuisine, this is an enticing and hearty feast that promises to satiate your taste buds.
Food Options: The restaurant's menu is a treasure trove of flavors and dishes, each designed to cater to different tastes and preferences. Here, we've highlighted some of the beloved options:
Wings – Their crispy, juicy, and bursting wings are a must-try. With a variety of sauces to choose from including buffalo, garlic parmesan, honey BBQ, and more, there's a wing for every palate. If you prefer boneless wings or chicken tenders, they have those, too.
Burgers – From the classic bacon cheeseburger to the delectable mushroom Swiss burger, their burgers are a true delight.
Salads – For those seeking a fresh and satisfying option, their salads are a delightful choice. Elevate your salad by adding grilled chicken, steak, or salmon. Favorites include the cranberry walnut salad, the Caesar salad, and the Greek salad.
Pizza – From classic options like pepperoni and sausage to unique choices like mushrooms and olives, you can create your ideal pizza. They also offer specialty pizzas for meat lovers, veggie lovers, and BBQ chicken.
Ambiance: Sports Grille offers a vibrant and lively atmosphere where passionate sports enthusiasts come together to savor delicious food and share moments of joy. The restaurant even has a dedicated play area for children. Also, their lighting and music contribute to the ambiance, transitioning from a warm and inviting atmosphere to a bright and vibrant one. The restaurant's layout ensures both comfort and functionality, which provides options for spaciousness or coziness. Sports Grille is the ideal spot for lunch, dinner, late-night gatherings, or drinks.
Price Range: The prices at this establishment can vary depending on the season and the time of day. You can expect to pay around
Average Price: $20
High Price: $30
Address: 1294 Freedom Rd, Cranberry Township, PA 16066-4950
This one is my personal favorite, especially as I love Mexican food so much! Say hello to Emiliano's – where budget meets flavor. Bursting with mouthwatering, authentic dishes guaranteed to satisfy your cravings. And there is no need to fret about slow service as every minute is worthwhile for the incredible flavors that await.
Hold your horses, as there's an extra treat! Emiliano's doesn't stop at great meals; they roll out the red carpet with banquet services for your private shindigs and special occasions. Their catering room can host up to 100 people—perfect for your next gathering. And behold, there's one more twist awaiting you at the full bar. Your journey continues with a tapestry of domestic and imported beers, captivating specialty drinks, and, of course, San Diego's cherished Margaritas.
Food Speciality: For a taste of perfection, delve into our top recommendation—the Holy Guacamole. Freshly prepared at your table, this culinary masterpiece features two whole avocados, jalapeños, tomatoes, cilantro, red onions, fresh lime juice, and signature spices. It takes center stage as it's served in a generous molcajete with crispy chips. You can have it as a perfect starter or a yummy snack to share with friends or family.
Food Options: If you're feeling a bit overwhelmed with choices, let me guide you with some top picks. While every dish on the menu promises tasty delights, these popular recommendations are sure to satisfy your cravings:
Fajita Quesadilla – A generously sized flour tortilla, grilled to perfection and filled with shredded cheese, sautéed onions, bell peppers, and your choice of meat. It comes accompanied by rice and a Mexican side salad.
Chori Pollo – Dine on a marinated chicken breast crowned with chorizo sausage and their special homemade cheese sauce. This flavorful dish is served with rice, refried beans, tortillas, and Mexican accompaniments.
Enchiladas Suizas – Delight in four corn tortillas filled with pulled chicken, smothered with green tomatillo sauce, and adorned with melted cheese. It's served with rice and a refreshing Mexican side salad.
Shrimp Ceviche (V) – This dish is expertly crafted at your table, featuring grilled shrimp, red onions, tomatoes, fresh lime juice, and signature spices. Topped with avocado, it's served in a large molcajete alongside chips.
Ambiance: Emiliano's Mexican Restaurant and Bar is a harmonious blend of tradition and modernity, where you'll find a touch of something extra – a fountain. It extends a cozy embrace with warm brick walls, inviting native chairs, and rustic wooden tables on one side, while seamlessly intertwining modern vibes with sleek TVs and stylish lamps on the other. You can come here for a casual meal or a more formal gathering with family or friends. The staff is super friendly and pays great attention to making you feel at home.
Price Range: For a simple and satisfying meal, your wallet can expect to land somewhere between:
Average Price: $11
High Price: $30
However, if you're ready to indulge in a full culinary experience, anticipate your range to stretch from:
Average Price: $50
High Price: $100
Address: 2557 E Carson St, Pittsburgh, PA 15203-2186
Also Read: 9 Best Korean Restaurants In NYC That You Must Try
Back when Umar Ali visited Cranberry, he really complimented this restaurant and was super-impressed by the unique Pizza experience! Monte Cello's Cranberry is like a food paradise that makes you want to come back for more tasty adventures. As one of the six esteemed Monte Cello's Restaurants, this haven has been captivating the taste buds of Pittsburgh since 1980 and established itself as the go-to destination for exquisite Italian cuisine. With four decades of culinary artistry, Monte Cello's Cranberry is committed to creating unique and memorable moments with each visit.
Amidst moderate buzz and an inviting casual ambiance, patrons enjoy the convenience of private lot parking and attentive waiter service. This restaurant extends its warm embrace from 11 am to 10 pm on Saturdays and Fridays, 11 am to 8 pm on Sundays, and 11 am to 9 pm from Tuesday to Thursday. Mondays offer a brief pause as the restaurant takes a day off.
Food Speciality: Monte Cello's Cranberry boasts a delectable specialty in the form of their pizzas. A highlight on the menu is the Taco Pizza, adorned with Monterey Jack and sharp cheddar, ground beef, lettuce, tomato, and olives (jalapenos can be added upon request). The magic begins with fresh daily-made dough and a secret-spiced homemade sauce. What sets their pizzas apart is the artistry of a stone oven, which grants each creation a crispy crust and a burst of delicious flavor.
Food Options: We've uncovered some highly recommended dishes cherished by numerous guests. Let's dive into these delightful offerings:
Melon Salad – This delightful creation invites you to relish a refreshing blend of watermelon, cantaloupe, and honeydew melons, harmoniously mingled with spring mix, crispy bacon, and drizzled with a light lemon poppyseed dressing.
Caprese Chicken & Pasta – Savor the delights of a deep-fried chicken breast, adorned with sliced tomatoes, fresh mozzarella, and fragrant basil.
Texas Style Burger – A hearty half-pound burger, adorned with melted cheddar that bubbles with flavor and crowned with a satisfying crunch of crispy onion rings is another standout choice.
Barbecue Chicken Pizza – Enhance your taste buds with a barbecue extravaganza. This pizza includes barbecue sauce, succulent chicken, red onion, and a delightful blend of Monterey Jack and cheddar cheeses.
Calamari – This dish showcases lightly floured and fried calamari, topped with minced pepperoncini and accompanied by a side of spicy Sicilian sauce.
Ambiance: The interior of Monte Cello's is warm and pleasant, with soft lighting and plush couches. A comfortable and laid-back dining experience is produced by the restaurant's informal ambiance. The atmosphere is quite sports-oriented because of the sports memorabilia that decorate the walls. You won't have to wait long to dig into your dinner thanks to the rapid service. Anyone looking to add some excitement to game day might try Monte Cello's Cranberry. The lively crowd and strategically placed televisions make every game night a wonderful time. This eatery caters to both serious sports fans and those in need of a laid-back evening out.
Price Range: At this place, expect your expenses to fall in the range of:
Average Price: $10
High Price: $30
Address: 20325 Rte 19 Cranberry Township, Pennsylvania, USA
A true American culinary jewel, Breakneck Tavern expertly combines the tastes of Southern BBQ and Cajun food. Your taste senses will be mesmerized by their culinary masterpieces, which are made using a variety of Sustainable Seafood and Farm to Table ethical components. You'll have no trouble finding the perfect beverage to go with your meal due to the outstanding 40 beers on tap that are supplied by neighborhood artisan distilleries.
This independently run restaurant and bar in Mars is the ideal place to go for a special meal. Whether you're craving a sandwich that unfolds layers of flavor, or seeking the refreshing crunch of an energizing salad, Breakneck Tavern is your culinary compass.
They welcome hungry souls from 11 a.m. to 9 p.m. Monday through Thursday, keep the flavors flowing until 11 p.m. on Friday and Saturday, and open their culinary haven from 10 a.m. to 9 p.m. every Sunday.
Food Speciality: At Breakneck Tavern, two culinary icons steal the spotlight: the Crab Cake Sandwich and the Smoked Wings. The former is a harmonious blend of fried green tomato, baby arugula, cajun remoulade, and a crab cake on a toasted onion Kaiser bun. Meanwhile, the latter is house-smoked wings, which take flight with options like house BBQ, dry rub, house buffalo, or the mysterious secret sauce. Accompanied by blue cheese, celery, and carrots, each dish stands as a beacon of the restaurant's culinary excellence.
Food Options: This eatery offers a wide variety of foods to suit a variety of palates. Some mouthwatering choices that will quench your hunger can be found below.
Filet Mignon – Allow your taste buds to dance with joy as you savor the elegance of Filet Mignon, beautifully complemented by Whipped Potato, Grilled Asparagus, and the indulgent touch of a luscious Red Wine Demi.
Spinach & Grilled Pear – A symphony of flavors awaits in this vibrant salad. Spinach, Pickled Red Onion, Cambozola, English Cucumber, Candied Pecans, Cranberries, and balsamic Vinaigrette come together in perfect harmony.
Quinoa Breakfast Bowl – Start your day right with a heart-healthy Quinoa Breakfast Bowl, featuring Black Bean, Marinated Tomato, Pickled Red Onion, Baby Spinach, and two Sunny Side Up Eggs—an impeccable combination to fuel your morning.
Southern Fried Chicken – This mouthwatering delicacy has Dill Brined Southern Fried Chicken, which is served on a Toasted Kaiser with House Slaw, Smoked Cheddar, Crispy Prosciutto, and a delectable Secret Sauce for dipping.
Ambiance: Breakneck Tavern invites you to a high-quality dining experience in a vintage industrial eco-sustainable setting. The place reflects the history and nature of the area with murals of the Velte Foundry (an old ironworks that used to be on the site) and a map of the Harmony Shortline (a railway that linked Pittsburgh and Butler). The place also uses reclaimed materials from the past like railroad rail, railroad spikes, windows, wood and barn doors. Whether you prefer a cozy and intimate atmosphere by the indoor fireplace, scenic view on the patio, or private for special events, Breakneck Tavern lets you choose the ambiance that suits your mood and occasion.
Price Range: This restaurant offers a price range that may vary based on your dining choices:
Average Price: $12
High Price: $32
Address: 273 Mars Valencia Rd, Mars, PA 16046, USA
If you're seeking a place to savor a delectable meal with an Asian twist, consider Jimmy Wan's Restaurant and Lounge. This locally-owned eatery stands as a top choice in Cranberry Township, which offers a diverse array of dishes to tantalize your palate. There is something for everyone on Jimmy Wan's menu, whether you're in the mood for stir-fry, noodles, dim sum, or sushi.
And remember to complement your meal with a refreshing beverage from their extensive selection of wines, beers, and cocktails. Jimmy Wan's Restaurant and Lounge transcends mere dining; it's a destination for an unforgettable culinary experience. With its inviting rustic elegance, amiable service, and irresistible cuisine, Jimmy Wan's ensures you'll feel right at ease.
This restaurant is open from 11 am to 9:30 pm on Sundays and from 11 am to 10 pm from Monday to Thursday, extending its hours until 11 pm on Fridays and Saturdays.
Food Speciality: They excel in offering a diverse range of dishes that combine traditional and modern flavors. One standout favorite from Jimmy Wan's Restaurant and Lounge is the Kung Pao Filet Mignon. This particular recipe features soft filet mignon that has been stir-fried in a wok along with peanuts, green onions, and dried chili peppers. The finished product is coated in a tasty spicy sauce. It's a beloved local choice and a true classic of pan-Asian cuisine. You can enjoy this special dish at both the Cranberry and Fox Chapel locations of Jimmy Wan's Restaurant and Lounge.
Food Options: Like many other restaurants, this place has lots of tasty dishes. If you go there, try the following popular dishes:
Tantalizing Tso's Chicken – This dish combines the best of Chinese and American flavors. It features crispy fried chicken coated in a sweet and spicy sauce that's both bold and balanced.
Spicy Chicken Sliders – These sliders bring together the exciting tastes of Asia and America. They showcase crispy fried chicken with a kick of spicy aioli, and fresh lettuce, all wrapped in a soft steamed bun.
Chili Albacore Sashimi – Inspired by Japanese cuisine, this dish highlights fresh slices of albacore tuna dressed in a tangy chili sauce, scallions and a sprinkle of sesame seeds. It's a light, refreshing option that pairs wonderfully with sake or wine.
Ambiance: Jimmy Wan's in Cranberry offers a phenomenal pan-Asian ambiance that seamlessly fuses contemporary elegance with Asian-inspired aesthetics. The restaurant's interior has sleek lines, warm lighting, and tasteful Asian decor. Comfortable seating options cater to intimate dinners or group gatherings, with private dining rooms available for special occasions. The lighting is carefully calibrated to create a relaxed, romantic atmosphere in the evenings, while soft background music enhances the overall dining experience. Jimmy Wan's is committed to providing a sophisticated setting that perfectly complements its diverse pan-Asian cuisine, promising not just a meal but a memorable culinary journey in Cranberry.
Price Range: The final bill you receive is a reflection of the variety and portion size of the dishes you select.
Average price: $10
High price: $30
Address: 1686 Route 228, Cranberry Township, PA 16066-5327
Off The Hook is your passport to seafood paradise right here in Pittsburgh. They source their seafood daily from American fishermen, which ensures the highest quality. You can choose to sit at their special raw bar, where you can watch the skilled chefs at work, or relax in their cozy and elegant dining area. They also have an extensive wine list with a glass-enclosed, temperature-controlled wine room.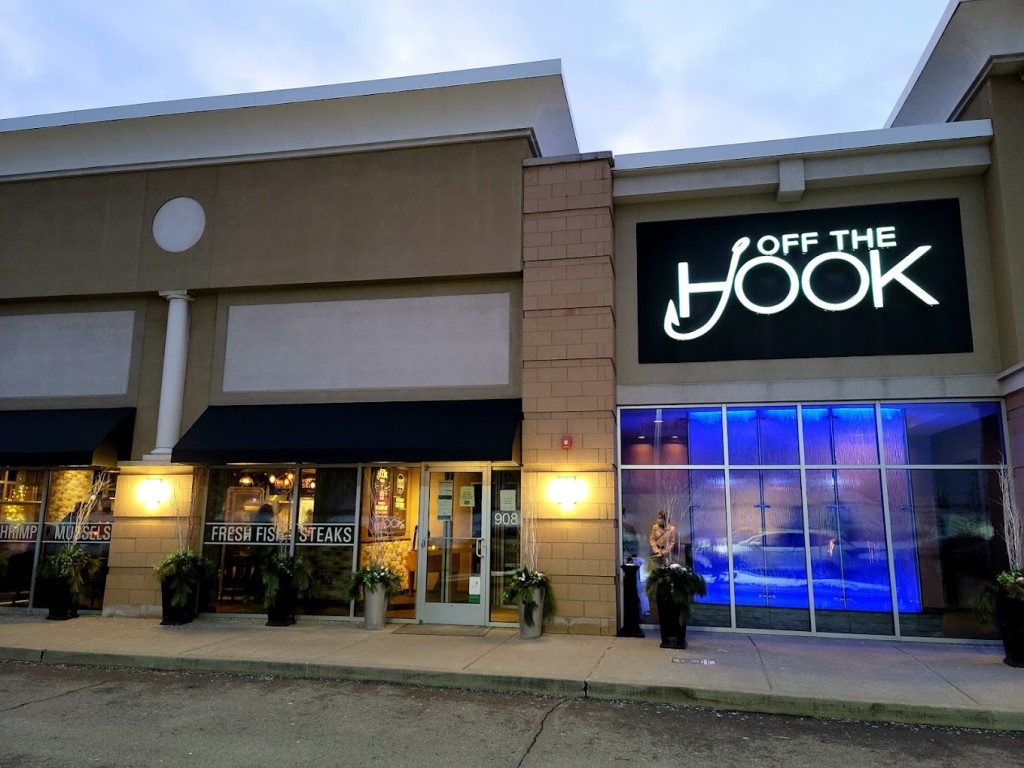 Off The Hook is fully devoted to ensuring that your private event is executed flawlessly, whether you're celebrating a significant occasion or hosting a business function. At this restaurant, you'll have the opportunity to experience the finest ingredients, exceptional chefs, and outstanding service, making it the ultimate seafood destination. It operates during the following hours: Monday through Thursday from 11 a.m. to 9:30 p.m., Friday from 11 a.m. to 10 p.m., and Saturday from 5 p.m. to 10 p.m.; it is closed on Sundays.
Food Speciality: One of the standout dishes at Off The Hook restaurant is their famous Oysters Delight. This delightful dish features freshly shucked oysters baked with spinach and a generous layer of parmesan cheese, all crowned with a creamy hollandaise sauce. People love it for its incredible freshness, rich flavors, and beautiful presentation. It's a popular appetizer among guests, especially since you can watch the skilled chefs shuck the oysters right at the unique oyster bar.
Food Options: In addition to the favorites mentioned earlier, these dishes are among the most sought-after at this restaurant:
Crab Cake – Their signature dish, crafted from generous portions of jumbo lump crab meat and accompanied by a flavorful remoulade sauce.
Cajun Shrimp – A spicy delight featuring large shrimp coated in Cajun seasoning, skillfully seared on a sizzling skillet and served with a zesty orange horseradish marmalade.
Lobster Mashed Potatoes – A luxurious side dish, which combines velvety mashed potatoes with succulent lobster chunks for a truly indulgent treat.
Calamari – Enjoy a delightful starter of Panko-crusted and lightly fried calamari, perfectly paired with a tangy lemon aioli for dipping.
Ambiance: The restaurant's ambiance is a delightful blend of elegance and coziness, enhanced by its captivating decor and distinctive oyster bar. A glass-enclosed, temperature-controlled room showcases their impressive wine collection, while a private dining area caters to intimate gatherings of up to 24 guests. Adding to the charm, the restaurant exudes a romantic atmosphere with gentle lighting and soothing music that sets the stage for an unforgettable experience. Every visit is guaranteed to be a pleasant and memorable one due to the friendly and competent service provided by the team.
Price Range: There is a wide range of prices available at this restaurant, depending on what you order. Most commonly, you'll see:
Average price: $31
High price: $50
Address: 908 Warrendale Village Dr, Warrendale, PA 15086, United States
Conclusion
Cranberry's restaurant scene is a real flavor fiesta! From sizzling steaks to mouthwatering Mexican and Asian fusion delights, this town has your taste buds covered. Whether you're craving a slice of pizza perfection or some seriously "off the hook" seafood, you'll find it here. Break your routine and embark on a culinary adventure! These restaurants will surely "grill" you with their delicious offerings. In Cranberry, there's no shortage of options to satisfy your cravings and make your taste buds dance.
Read more about my restaurant reviews in Pennsylvania:
Restaurants in Cranberry - FAQs
Are there any steakhouse restaurants in Cranberry known for their quality cuts?
Yes, definitely! The "Cranberry Cuts" steakhouse is renowned for its perfectly grilled steaks and cozy ambiance. Try their signature filet mignon for a mouthwatering experience.
Where can I find Mexican-Asian fusion cuisine in Cranberry?
Head to "Fusion Fiesta," a hotspot known for its unique blend of flavors. Try their "Sushi Tacos" for a taste of this exciting fusion
What type of cuisine is most popular in Cranberry's restaurant scene?
Cranberry offers a diverse culinary scene, but American cuisine, Italian, and Mexican are quite popular. You'll also find a variety of international flavors and fusion restaurants to explore.
Do any restaurants in Cranberry offer outdoor dining options?
"Patio Palate" provides a delightful al fresco experience. Enjoy your meal under the stars with a view of their lovely garden.
Which restaurants in Cranberry specialize in seafood dishes?
"Ocean Bites" serves up the freshest seafood in Cranberry. Don't miss their "Cranberry Catch of the Day" featuring locally sourced fish.