Peru is one of South America's most interesting nations because of its long history, beautiful scenery, and complex culture. Its capital, Lima, is a cultural, commercial, and tourist hub while neighboring towns like Cusco and Arequipa draw visitors for their proximity to ancient ruins. The Andes Mountains, the Amazon Rainforest, and the Pacific Coastline are all well-known tourist attractions in Peru.
However, if you are planning a trip, you should also be mindful of a time when Peru is not a favorable place to visit.
This article will discuss the worst time to visit Peru and what to anticipate if you do go during that period.
The Worst Time to Visit Peru
The Worst time to visit Peru is the months of November through April since this is the wet season. During the wet season, there is a higher risk of landslides and mudslides in mountainous areas, which can disrupt travel plans and pose safety hazards. Additionally, certain regions, such as the Inca Trail leading to Machu Picchu, may be temporarily closed due to weather-related conditions. It's important to check the latest weather forecasts and trail conditions before planning your trip.
How Does Weather Decide the Worst Time to Visit Peru?
From November through April, much of Peru sees significant rain as part of the country's rainy season. If you can help it, try not to schedule your trip in the rainy season, when landslides and flooded roads are more likely.
The rain might add extra muck to the roadways, making them more hazardous for driving. Another drawback of the rainy season is that it often coincides with the closure or reduction in hours of operation for popular tourist destinations like national parks because of inclement weather.
It is crucial to be well-prepared for delays, cancellations, and other complications while traveling during the rainy season. The weather during the rainy season is notoriously fickle, so be flexible with your plans. You should be flexible with your plans and not be hesitant to ask for directions or assistance from the locals. The best thing is to avoid visiting Peru during the wet season if at all possible.
Precautions While Visiting Peru in Rainy Season
While the rainy season is by far the least desirable time to visit Peru, there are still some things you can do to be safe and have a good time if you find yourself there anyhow:
Before anything else, you should check the forecast and adjust your plans appropriately.
Prepare your luggage for the damp weather. You will need to pack an umbrella, a raincoat, and waterproof shoes or boots in case it rains. Extra clothing and footwear, in case they become wet, should also be brought along.
Flooding and landslides are possible, so be cautious. Stay aware of any safety recommendations that may be issued if you plan to go to a region that is prone to these natural catastrophes.
The danger of contracting a disease spread by mosquitoes is greater in the rainy season, therefore it is prudent to pack a mosquito net and insect repellent.
What's the Most Crowded and Expensive Time to Visit Peru?
The months of December and January, known as Peru's summer vacation season, are not the best for those seeking a quiet holiday. Many Peruvians go to popular tourist spots at this time, increasing the competition for housing and creating other inconveniences.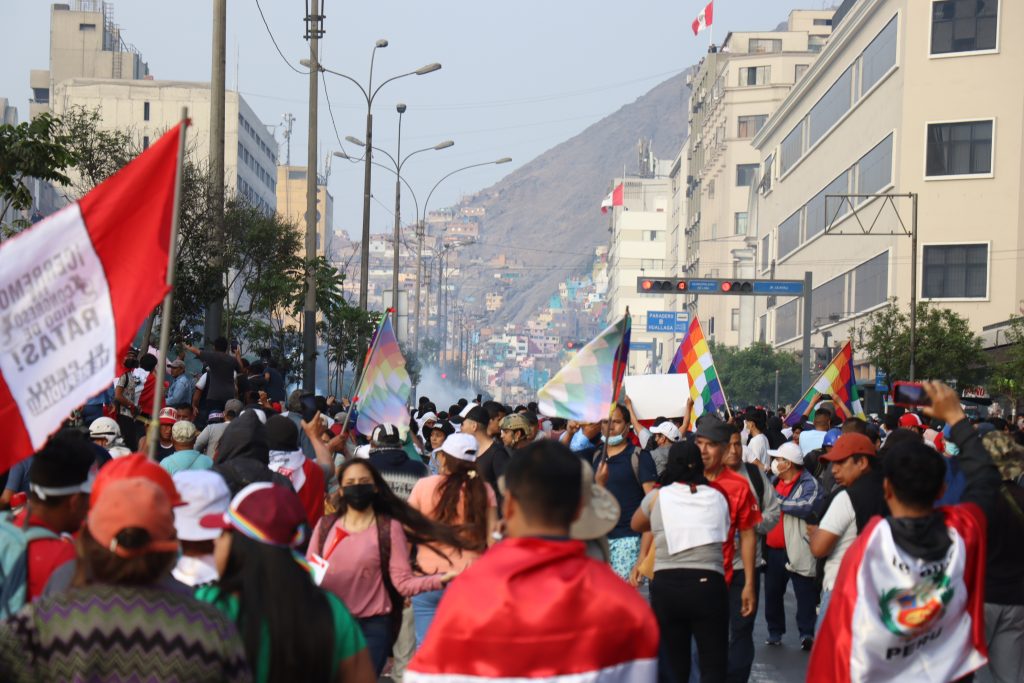 Travel costs, including airfare and lodging, tend to increase as a result. The latter two weeks of December saw an increase in domestic tourism, and the Christmas holiday season brings an influx of international visitors as well.
There is still a chance of pleasant weather and relatively few tourists if you plan your trip carefully for this month. If you do not prepare ahead and chance is on your side, you can find yourself in a constant deluge with a busload of other visitors.
In a nutshell, crowds and prices are both high at this time which is why it is not recommended for someone looking for a peaceful vacation in Peru on a budget.
Related Reading: Worst Time to Visit Australia – Months to Avoid
Our Take on Worst Time to Visit Peru: Opinion by Hopdes Team
Hopdes team member, Umar Ali, shared his experience about his Peru tour as "We visited Peru in January. Throughout our tour, the majority of days will include some rain. Despite this, it seldom rains for more than an hour or two in the afternoons. However, when it rains, the route becomes muddy, damp, and challenging to walk".
Zonash Arshad said, "We found Peru too crowded and expensive in late December. All the hotels were too expensive and the beaches were extremely crowded. I think it was not a good decision to visit Peru in late December".
When to Visit Peru: Month-by-Month Analysis
Let's undertake a monthly analysis of Peru to determine which months are the worst time to visit Peru!
January
It is the worst time to visit Peru since it is in the midst of the rainy season at the start of the year.
Even though it is the middle of summer, the whole month of January has been drenched with rain throughout the nation. The Amazon and the area surrounding Cusco experience unusually high levels of heat and humidity.
Beaches abound, and the Pacific Ocean is warm enough for swimming. In spite of the rain, there are many Inca sites to explore without the throngs that arrive in the dry season.
February
The rainy season continues into February, so it is still not the best time to visit Peru if you want to see the country's classic attractions.
The Amazon region continues to see high temperatures, high humidity, and high levels of precipitation. The Inca Trail, which most tourists to Peru use to reach Machu Picchu, is often blocked for maintenance and repairs in the month of February, making that month an unpopular time to visit Peru.
March
March is still a wet month around the nation. Due to its tropical position, Peru has relatively small seasonal temperature swings; however, March marks the end of summer and the beginning of cooler weather.
The highlands see more extreme temperature swings, less precipitation, and lower humidity levels. Enjoy the end of the summer warmth and nearly no rain in Lima, just as you would in the desert.
April
Even though April is the final month of the rainy season, showers are still possible.
There will be some light rain, but the humidity will be much lower and the temperature will be more bearable. In April, many people travel to see loved ones for Holy Week, which is a wonderful cultural experience but also a time when public transportation is more crowded than normal.
In April, the highlands are at their most gorgeous, and although Machu Picchu and the trekking routes are open for business, you will not find many other tourists.
May
Even though the majority of Peru has just emerged from a protracted wet season, May marks the beginning of the country's prime tourism season.
In May, when the rains have left the hills surrounding Cusco lush and green but the sun is still shining, the area is a sight to see. The Inca Trail and the rest of the Sacred Valley are open for exploring now that the weather is moderate enough.
June
In June, once the rains have ended and the first travelers have arrived, Peru becomes a bustling tourist destination.
Coastal and Amazonian regions are still experiencing high temperatures; thus, this is your final opportunity to visit these areas before the hordes of tourists come next month.
July
While July is often the most pleasant month to visit Peru in terms of temperature, it is also the height of the busy tourist season.
There is no precipitation in Peru in July, but the winter season means that the mountains and the desert may be rather chilly at night. Hiking routes are in excellent condition, although excursions to popular destinations like Machu Picchu should be scheduled well in advance because of high demand and a limited number of available permits.
August
If you are looking for some peaceful time in Peru, August is perhaps not the ideal month to go.
The sky is clear, the air is dry, and even if it may become rather chilly at night, daytime highs in most places reach the comfortable twenties. Large numbers of people visit Peru in August because of the widespread availability of vacation time at that time of year.
September
The shift back to summer starts after September, when it is still dry and warm.
Being there near the end of the dry season increases your chances of seeing animals, and the temperature is lovely compared to the coming summer. Due to a lack of cover, jungle animals have begun congregating in more open regions.
October
The dry season ends in October and the wet season begins in earnest.
The weather is often fickle. If you want to avoid the rain around the end of October, a good time to visit the coast and the capital city of Lima is just before summer arrives.
November
In Peru, the rainy season officially begins in November, which also marks the beginning of summer. Temperatures are high in coastal areas, the Amazon is muggy, and the highlands are warming up and increasing wetter. Before the rains fall and the deep jungle makes it harder to sight animals, this is your final opportunity to visit the Amazon and witness the wildlife.
December
Although December may not be the best time to visit Peru because of the weather, many people still choose to do so because of the Christmas holiday.
The coast of Peru is where you want to go for the summer weather and a warm Christmas on the beach, while the highlands are where you can still hike to view the famous Inca ruins in their entire splendor.
Conclusion
The months of November through April, known as the rainy season, are the worst time to visit Peru. The temperature at this time might be anything from pleasant to quite cold. Travel to Peru should be avoided during this time because of the high risk of flooding and mudslides. For your next trip, read our guides on Worst Time to Visit Dubai, Worst Time to Visit Barbados, and Worst Time To Visit Costa Rica.
Worst Time to Go to Peru - FAQs
Q1: What are the months to avoid when planning a trip to Peru?
It is advisable to avoid the months of November through April as they correspond to the wet season in Peru.
What weather conditions can be expected during the wet season in Peru?
The wet season in Peru brings frequent rain showers, cloudy skies, and higher humidity levels, with the heaviest rainfall occurring in January and February.
How can the wet season in Peru impact travel plans?
The wet season can disrupt travel plans due to increased risks of landslides, mudslides, and flooding, particularly in mountainous and jungle regions. It may lead to temporary closures of roads, trails, and attractions such as the Inca Trail to Machu Picchu.
Are there any past accidents or natural disasters related to weather in Peru?
Peru has experienced natural disasters like earthquakes, floods, and landslides in the past. While such incidents are relatively rare, they can affect infrastructure, transportation, and travel plans.
What precautions should be taken if traveling to Peru during the wet season?
If traveling during the wet season, it is advisable to pack appropriate clothing such as rain gear and waterproof shoes. Stay informed about weather conditions, check trail and road conditions, and consider having travel insurance that covers trip interruptions or cancellations due to weather-related issues.