Barbados! The mere mention of this Caribbean paradise conjures visions of pristine beaches, tropical cocktails, and carefree days under the warm sun. Yet, beneath its irresistible allure, Barbados harbors a lesser-known truth that few travelers dare to explore—the worst time to visit. From unpredictable weather patterns to crowded tourist seasons, we navigate through the hidden pitfalls, ensuring you're armed with crucial knowledge. Let's have a look here!
Worst Time to Visit Barbados
The worst time to visit Barbados is between June to November as this is "The Rainy Season". One of the most recent Hurricanes in Barbados was on October 4, 2022, named Julia. This Hurricane has a wind speed of up to 56 km/h and a diameter of 74 km making it potentially quite harmful for locals.
During these months, the cyclone season brings the potential for severe weather conditions, including heavy rainfall, strong winds, and even the formation of hurricanes or tropical storms. These weather events can disrupt travel plans, close tourist attractions, lead to flight cancellations, skyrocketing prices, and pose safety risks to visitors.
In order to stay safe, it's crucial to follow and monitor local and international weather updates from the US National Hurricane Center. This reputable source provides accurate and up-to-date information on tropical cyclones and their potential impact on the region.
Although Hurricanes are not common, excessive rainfall can still be a big issue for tourists. If you have made plans for these months, it is always advised to check the weather forecast in advance.
Barbados' Additional Challenges: Worst Time To Visit
While one worst time has been revealed, there exist further challenges and considerations that can impact the traveler's experience. Let's explore them to make your visit more memorable:
Off-Season Closures
As we delve deeper into the realm of Barbados' tourism landscape, a lesser-known reality comes to light which is "the occurrence of off-season closures". According to Senator Rudy Grant (CEO of the Barbados Hotel and Tourism Association), a 2021 survey conducted by the association revealed a surprising number of closures.
As of February 24, 2021, four luxury hotels, six "A" Class hotels, and four "B" Class hotels had shut their doors. Traditionally, the concept of hotels closing during the winter season was unheard of in Barbados.
Senator Grant explained that this practice, inherited from the past, involved hotels undergoing renovations and upgrades during the summer months, while the winter season thrived as the peak revenue-earning period for the tourism industry.
Unfortunately, the consequences of these closures extend beyond hotels alone. Other tourism businesses may also be affected, either closed or operating at reduced capacity.
As a result, visitors may face limited access to amenities such as restaurants, spas, and recreational activities that are typically offered by hotels. These limitations can undoubtedly contribute to a less-than-ideal experience for those visiting Barbados.
For more tips about travel, read our Travel Tips section.
Buggy Season
Barbados, just like other countries, has a certain time when there are too many bugs and insects. In case you are lodging at a good hotel, this won't be an issue but if you aren't, be mindful that the following months are the "buggiest seasons in Barbados".
July: Mosquitoes and other insects may be more prevalent due to the rainy season.
August: Similar to July, this month can experience increased insect activity due to higher rainfall.
September: Mosquitoes, flies, and other insects may still be active during this month.
While they are not limited to specific locations, it is helpful to be aware of the following areas where bugs are commonly found:
Areas with lush vegetation, such as rainforests, nature reserves, and wooded regions, provide an ideal environment for bugs to thrive.
Marshy or wetland environments near the coast can attract mosquitoes and other bugs, especially during sunset.
Exploring rural or agricultural regions, including plantations and farms, may expose you to insects such as ants, ticks, or gnats.
Now, let us shed light on two prevalent and unwelcome guests: chikungunya and dengue fever.
Chikungunya, a nefarious virus transmitted through mosquito bites, unleashes its wrath upon its victims. With symptoms ranging from high fever to excruciating joint pain, it can swiftly transform a dream vacation into a painful ordeal.
Dengue fever, another unpleasant virus spread by mosquitoes, demands our attention. Although typically mild, it can escalate to a life-threatening condition. Fever, severe headaches, muscle and joint pains, nausea, and a distinctive red rash are among its calling cards.
To navigate these bug-borne challenges, it is imperative to take proactive measures. Apply insect repellents, wear protective clothing, and ensure your accommodations have proper mosquito control measures in place.
Editor's Pick: Worst Time to Visit Bali – Which Months to Avoid?
What Is The Most Expensive Time in Barbados?
Barbados, with its inviting weather and vibrant cultural events, experiences its most expensive period in December-January. Renowned events such as Open Gardens, Open Houses, St. Peter's Flower Show and Garden Festival, the Barbados Music Awards, jazz performances, and the enchanting Gun Hill by Moonlight take place in this month.
These events attract a multitude of visitors, resulting in higher costs at hotels and restaurants:
Luxury hotels command rates soaring beyond $1000 per night, pushing budgets to the brink.
Flight costs during this time can range from an estimated $750 to $4000 for a round-trip ticket.
On the other hand, nominal accommodation and transport expenses fall between $100 and $200 per day.
If you are searching for cheap flights, follow our guide to using Google Flights to find cheap flights.
What Is The Most Crowded Time in Barbados?
Barbados experiences its busiest and most crowded time from mid-December to early April. This period attracts a surge of travelers seeking refuge from the winter chill in Europe and the United States.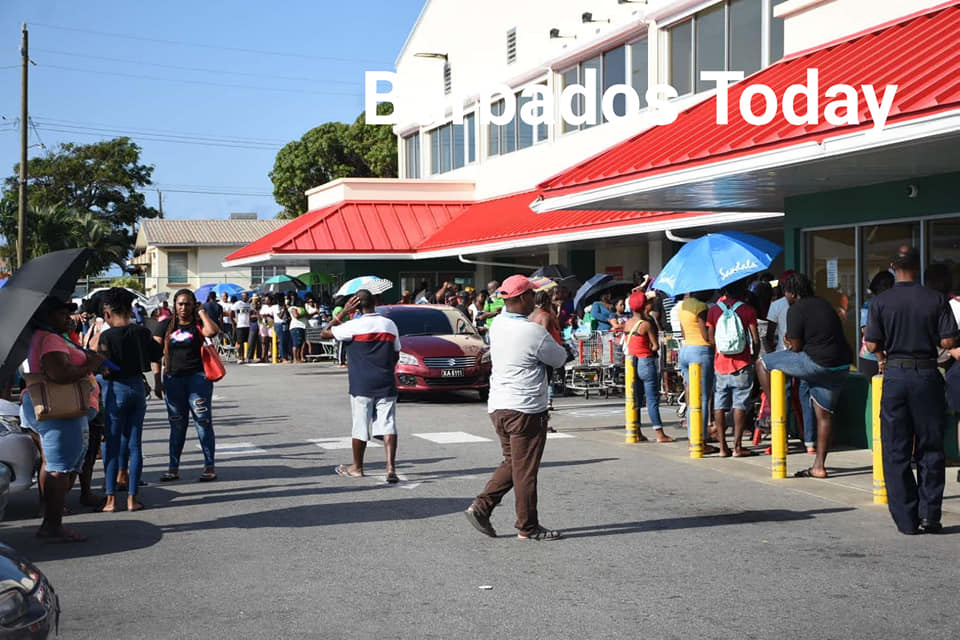 The island becomes an inviting haven with warm and dry weather, averaging 26-30°C (79-86°F). In a testament to its allure, Barbados achieved a significant milestone with a 5% increase in stay-over arrivals, setting a new record.
The Bridgetown Port Inc. (BPI) thrived, witnessing a remarkable 12.9 percent rise in cruise arrivals, totaling 818,752 passengers.
Notably, a portion of these cruise visitors, 137,541 individuals, chose to extend their stay on the island, further highlighting Barbados' appeal.
These staggering figures indicate that during this peak period, Barbados is brimming with tourists eager to experience its charm and create lasting memories.
What Is The Most Non-Desirable Weather In Barbados?
Barbados experiences its most non-desirable weather during the wet season, which typically spans from July to November. This period brings heavy rainfall and carries the risk of hurricanes, with October being the month with the highest average rainfall of nearly seven inches.
Among the months of the wet season, September and October are considered the least popular for visiting Barbados due to the less favorable weather conditions. While the island generally enjoys year-round sunshine and warm temperatures, it is important to be mindful of the increased rainfall and potential for hurricanes during this time.
Barbados Weather Check: Month-by-Month Update
To assist you in making an informed decision, we have prepared a comprehensive month-by-month guide, allowing you to choose according to your desired experiences and interests:
January
Best weather with around 9 hours of sunshine
Temperatures around 82°F
Low humidity, and little chance of bad weather
Crowded and higher prices due to peak season
February
Warm temperatures
Low humidity, and dry season
Great for beach activities and cultural events like the Holetown Festival
High prices and crowded with tourists
March
Pleasant weather with mid-80s°F temperatures
Low humidity, and still in the dry season
An increasing number of tourists
Higher hotel rates
April
Shoulder season with the advantages of both high and low seasons
Overall great weather
Island events, and lower prices.
May
Consistently warm days before the rainy season
Lower hotel prices
Quieter beaches and many festivals to enjoy
June
The start of the rainy season with an increased chance of precipitation
High heat and humidity
Hotel prices start to fall
Ideal for experiencing local culture and the Crop Over Festival
July
Within the rainy season but is preferred by many due to the hot weather
Lower prices
High temperatures and humidity
August
Hot temperatures and high humidity, are still within the hurricane season
Afternoon showers are possible
Prices are slightly higher due to the summer vacation
September
With more rainfall, the chance of severe storms is high
Great for affordable travel
Warm ocean waters
Recommend for indoor shopping and activities
October
Low season with discounted rates
Potential for occasional showers but mostly bright days
Nominal weather
November
Rain tapers off, and occasional showers are possible
Shoulder season with good weather
Discounted hotel prices
December
Start of the peak tourist season with increasing hotel rates
Dry season with temperatures in the low 80s°F
Lower humidity
Best to travel early in the month to avoid holiday price surges
Conclusion
The worst time to visit Barbados is during the hurricane season, which typically spans from June to November. Additionally, crowded tourist seasons and elevated prices may diminish the overall experience. However, by staying informed, planning accordingly, and exploring alternative attractions and activities, one can navigate through the challenges.
Suggested Reading: Worst Time to Visit Mexico – Avoiding Crowd and Bad Climate
Worst Time to Visit Barbados - FAQs
Is it OK to go to Barbados in November?
November is not a favorable time to visit Barbados as rain might disrupt your trip. However, you can plan towards the end of this month because it has a pleasant climate and fewer crowds, making it a suitable time for travel.
What are the cheapest months to visit Barbados?
The low season in Barbados, recognized as the cheapest time to visit, extends from July to October. During these months, travelers can often find more affordable accommodations and enjoy cost-saving opportunities.
What is the best time to visit Barbados?
The optimal time to visit Barbados is between January and April. During this period, the island experiences lower rainfall and abundant sunshine, with temperatures around 29 °C, making it an ideal time to enjoy the destination.