Cancun, Mexico is a paradise for party-goers and night owls of all ages. From beachfront discos to underground dance halls, these off-the-beaten-path venues provide locals and visitors with an exciting way to let loose and have fun. Whether you are looking for a lively dance floor or just a place to relax with friends, exploring the different clubs in Cancun will give you a great opportunity to party like a local and experience all the unique sights, sounds, and flavors that Mexico has to offer. Join us on a journey into Cancun's rich nightlife as we explore the different clubs and experiences that await you in this extraordinary city. From live music performances to salsa dancing lessons, discover why Cancun is considered one of the top party destinations in the world! Get ready to party like a local!
[item_carousel id='184′ timeout='5′]
Also Read: 10 Clubs In LA You Should Visit For A Life Time Experience
10 Best Clubs in Cancun
Cancun is a popular destination for clubbing and nightlife, offering some of the best clubs in Mexico. So, if you're looking for a night out that will live up to its reputation, then you won't want to miss out on these 10 best clubs in Cancun:
If you are dreaming of the perfect pool party experience, then Mandala Beach Club in Cancun is the place to be! This exclusive Beach club offers cool drinks, fresh food, and a tropical vibe. You will feel like a celebrity with all your needs taken care of.
On Tuesdays, their legendary night beach parties under the stars should not be missed! The atmosphere then changes to an electric club ambiance in the nighttime. The best of modern house music plays to make the pool party memorable.
Thinking about planning your next party at a more fascinating beach? Book your flight to Santa Barbara and visit these Soul-Capturing Beaches In Santa Barbara.
To experience this, it is recommended you purchase advance tickets as they can become very popular. With a VIP pass, dinner, cocktails, and entertainment are all included so that you will feel transported to paradise.
Private and public party boats are available for reservation, so don't wait if you have the chance! This is an experience like no other and one that you will be sure to remember.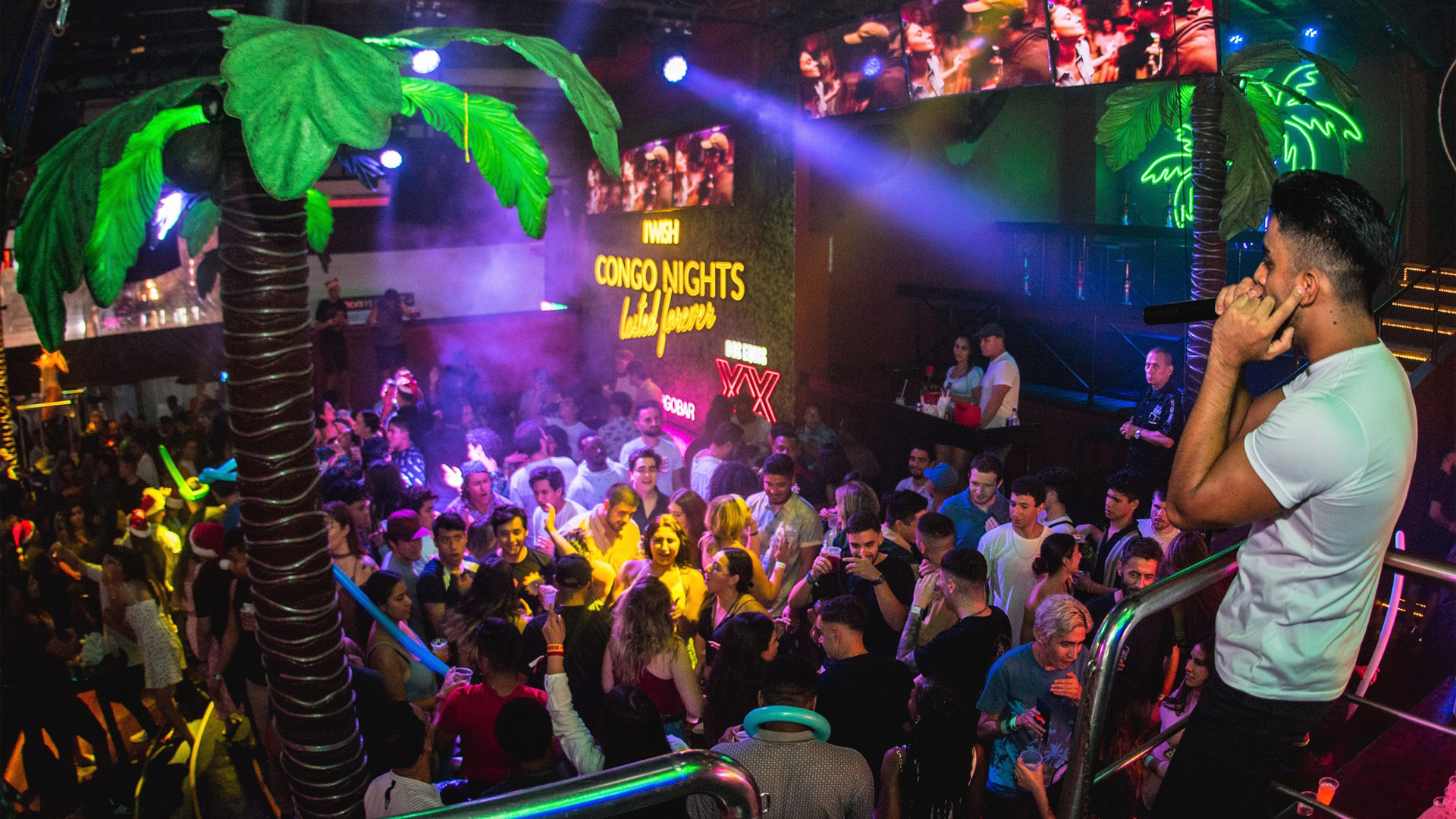 Conga Bar Cancun is the place to be if you're looking for a wild and crazy night out in Cancun's Party Center.
Its smaller size means that open bar prices are more affordable than other more prominent venues, as well as providing an excellent view of the party before even entering!
With shot girls, go-go dancers, air cannons, and confetti, what more could you ask for? Located in the Hotel Zone and opening earlier than other clubs, it's always bustling with energy.
Stop by to dance with the Congo Girls on their terrace bar with some of the best music Mexico has to offer. Jello shots, flashing lights, and confetti showers will have you on the dance floor for hours.
Open from 7 pm to 3 am, it's worth a visit every time you're in town!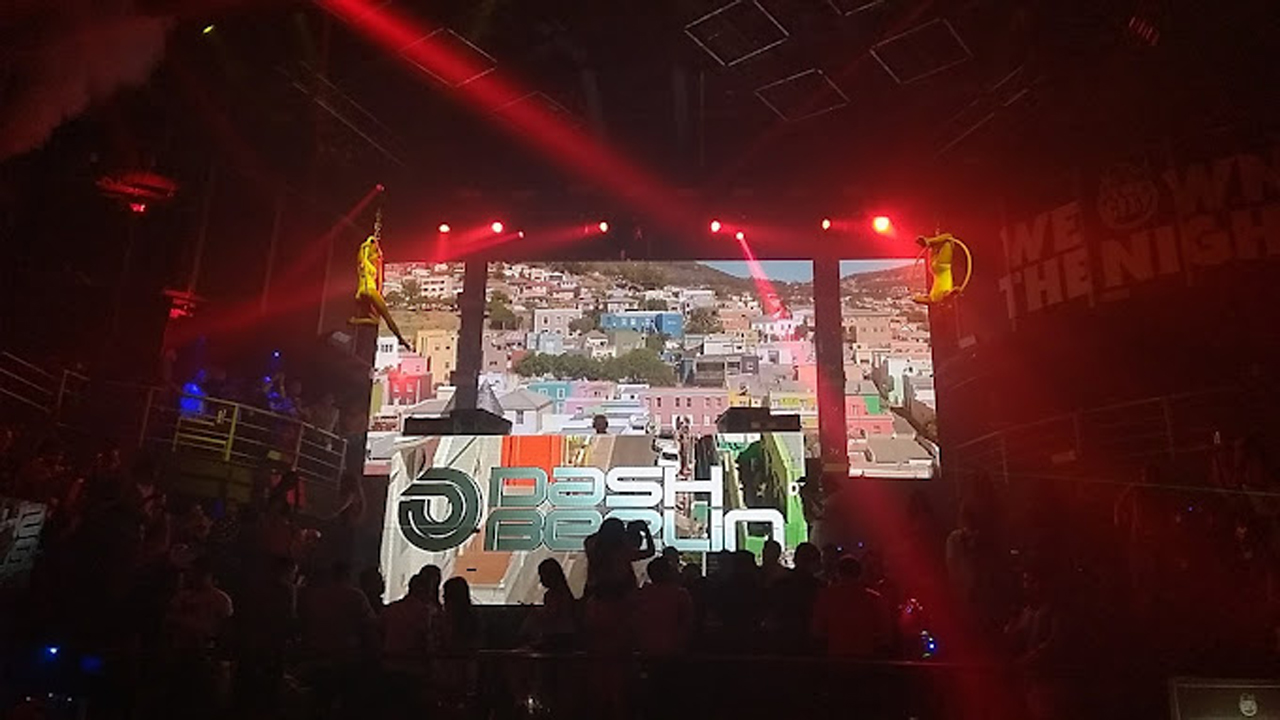 Spread across three levels, The City Cancun is the largest nightclub in Latin America boasting a capacity of over 5,000 people. It stands as one of the most popular hotspots for visitors during Spring Break and summer months.
Enjoy performances from mainstream artists like Ludacris, Akon, Flo Rida, 50 Cent, Fergie, and celebrity DJs. You'll be dazzled by the incredible sound and light system, 650 square feet of video screens as well as acrobats and other performers.
It's one of the best clubs in all of Latin America for dancing to electronic music. And you can purchase a wristband for unlimited cocktails at the open bar or opt for full bottle service.
The City Nightclub Cancun is the best spot for an unforgettable night of partying and has been a staple of the entertainment district since its opening in 2004. And if you are craving more thrilling nightclubs then book your tickets to Anaheim and try these must-visit nightclubs in Anaheim.
Foam madness Friday at The City Club gives you the chance to dance until the sun sets, with live performances and contests by DJs from all around the world.
Don't miss out on this fantastic experience.
Coco Bongo Club
View Website
Get Directions
PERFECT FOR: Creating unforgettable memories and an unparalleled entertainment experience
Step into a world that no other can offer – Cancun's Coco Bongo. This unparalleled entertainment experience will leave you in awe and wanting more!
Blessed with rave reviews from popular travel programs, this nightclub has become a renowned symbol of nightlife entertainment in Cancún. With locations in both Cancun and Playa Del Carmen, it draws people from all over the world for its impressive performances.
Pop culture characters like Beetlejuice, Spiderman, and Michael Jackson's impersonator make frequent appearances throughout the evening. Some acrobats and singers keep the crowds engaged.
Bartenders and wait staff join in on the fun by singing and dancing. This club in Cancun even has a huge video screen so you can get a great view no matter where you're standing. There is also no designated dance floor, so you're free to move and groove wherever there is room.
Coco Bongo is no ordinary night spot; it's a high-energy extravaganza with amazing acrobats, DJs spinning the latest tunes, and thrilling live shows that'll make you feel like you've been transported to Rio de Janeiro!
You can even enjoy themed performances of some classic movies such as The Mask and Moulin Rouge. Plus, don't miss their incredible musical journeys with Queen and The Beatles – they truly bring these legendary acts to life!
With soap bubbles, confetti, balloons, and streamers, you will surely be fully immersed in the exciting atmosphere. This is one Cancun nightspot you must experience if you want to create memories that will last forever!
HRoof is an elite private club located in the heart of the hotel zone of Cancun, offering unparalleled views and a stylish design with superior decor.
An electrifying atmosphere is provided by live DJs to give visitors an unforgettable night out. Premium services include discounts on open bar access and bottle service reservations at your private table. Want to explore more unconventional bars? Put Minneapolis on your bucket list and try these unconventional bars in Minneapolis.
Enjoy all the VIP perks and luxuries that HRoof has to offer.
Be sure to adhere to the dress code when visiting, as the club is open Fridays and Saturdays from 11 pm – 3 am. Come explore this exciting destination for an intimate and one-of-a-kind experience!
Monkey Business is a great place to start your day and night in Cancun's Party Center. With all-day opening hours, you can come here for lunch, happy hour, or dinner.
The menu offers something for everyone, from Mexican classics like tacos and burritos to international dishes such as pasta and hamburgers. They also have a full bar with specialty cocktails and all your favorite drinks.
Every night there is live music from rock bands and karaoke, making this the perfect spot for entertainment. You can enjoy the party inside or out with both indoor and outdoor seating available.
Come to Monkey Business for an unforgettable experience in Cancun's Party Center!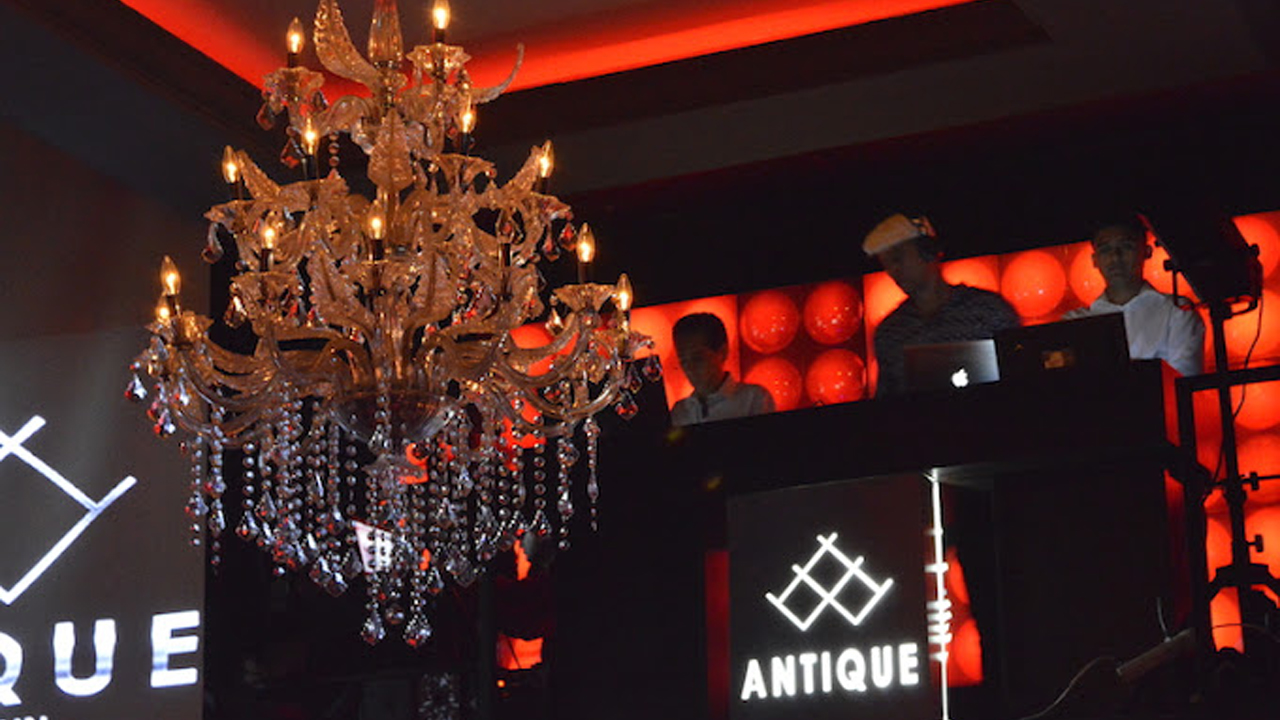 Antique is a nightclub located in the Hotel Zone, an hour or so away from the city center. It's well known for its exclusive clientele and its strict door policy: if you don't pass their test of coolness, you won't get in!
Music-wise, here you'll find a combination of Latin and electro-pop, and on Thursdays, women can get in for free. Not only is Antique the perfect spot to keep partying after a night out, but it's also open late so you can keep going until the early morning hours.
It's the ultimate destination for anyone looking to have a fun and memorable night! You're invited to come to revel in the one-of-a-kind ambiance and festivities at Antique!
Senor Frogs is a lively bar and restaurant with sawdust on the floor to make it more family-friendly. It's located in the heart of the Hotel Zone's Party Centre – an hour away from downtown Cancún.
It's famous for its yard glasses that people love to take home as souvenirs, complete with "virgin" versions of their signature drinks.
Around 9 pm, Senor Frogs turns into a full bar and nightclub, complete with balloons, confetti, conga lines, and craziness. They feature different theme nights and live music, making this the perfect place for a good time. It's located in the heart of the Hotel Zone's Party Centre – an hour away from downtown Cancún.
Senor Frogs is the perfect destination for families seeking enjoyable and lively entertainment, as it's one of the few child-friendly venues in town!
From family trivia nights to kid karaoke, you can rest assured that your entire crew will have a blast here. Even after dark when things get wilder – Senor Frogs has something fun for everyone.
With quality drinks, good music, and lots of sawdust-on-the-floor fun, Senor Frogs is an iconic spot with something for everyone. You won't regret joining the party!
When walking into 11:11 Club in Cancun, prepare to be immersed in a world of pulsing music and electrifying vibes. The club has been in the city's nightlife scene for over a decade, offering one of the most popular gay entertainment experiences in Cancun.
With strict security measures and stringent hygiene protocols, guests can feel safe and comfortable when partying the night away. Guests can check out the variety of performers from go-go dancers to DJs, and a mix of locals and tourists alike.
The 11:11 Club also prides itself on its food selection and offers an array of tasty snacks and delicious cocktails. Plus, with multiple dark rooms, pop rooms, and electro rooms, the club offers something for everyone.
Whether you're looking to sit back and relax, or take part in the wild dance party atmosphere, 11:11 Club is a great spot to check out if you're in Cancun.
The club is open Fri – Sat 10:30 pm – 6 am, so be sure to head down and experience the unique nightlife Cancun has to offer.
Looking for a night of wild and unforgettable entertainment? Pay a visit to La Vaquita in downtown Cancun and let the night come alive, the iconic nightclub is located in downtown Cancun.
This lively venue is always full of energy and packed with party-goers ready to have fun. From its unique serving of drinks by the liter, to its go-go dancers, wild theme nights, and costumes, La Vaquita is the place to be if you want to truly let loose.
The bar itself is decked out in a vibrant red, black, and cow print motif that fits perfectly with its name "Little Cow". The venue also hosts an unforgettable "Let's Get Ridiculous" night, where patrons can enjoy an all-you-can-drink open bar and liters of beer.
La Vaquita is conveniently located in the city's Hotel Zone, about an hour from the center, making it easy to get to. Visitors can expect great service, friendly staff, and a night they'll never forget when they visit this one-of-a-kind club.
Whether you're looking for a night of uninhibited fun or just want to let loose, La Vaquita is the place to go in Cancun!
Things to Consider Before Going to Clubs in Cancun
Before you head out to the clubs in Cancun, there are a few things that you should consider. It's important to be aware of the local laws and regulations as well as have an understanding of what is expected when visiting the city. Here are some things to keep in mind:
Local Laws and Regulations — Cancun has specific laws and regulations that must be followed while visiting. Make sure you understand what is allowed in the area and follow all of the rules.
Dress Code — Most clubs have a dress code policy, so it's important to find out ahead of time what kind of attire is acceptable.
Age Restrictions — Cancun clubs require visitors to be at least 18 years old. Make sure to check the age requirements before visiting any nightlife activities.
Transportation — Although many clubs are located within walking distance of each other, it's a good idea to have a plan for transportation if you need to get back to your hotel late at night.
Cover Charges — Many clubs have a cover charge that must be paid to enter. Make sure you have enough cash on hand before visiting the clubs.
Safety — Finally, safety should always be a top priority when going out at night. Make sure that you stay with friends and stay aware of your surroundings. If you feel unsafe at any time, make sure to leave the area and find a safe place.
By considering these factors before planning your night out in Cancun, you can ensure that you have a safe and enjoyable time.
How Do We Pick Our Recommendations?
After choosing the 11 best clubs in Norfolk VA, our team visited Cancun. When it comes to selecting the best clubs in Cancun, we look at a range of criteria such as location, atmosphere, music selection, and price point. We weigh up each club's individual features to ensure that our recommendations provide an enjoyable experience. With safety and hygiene standards taken into consideration, we also check out user feedback and reviews to determine which clubs are most popular. To make sure the best clubs in Cancun are chosen, we visit each one and compare our findings. From upscale lounges to family-friendly venues and dance clubs to adults-only hotspots, our team is dedicated to finding the perfect match for you. By combining all of these criteria, we can provide our readers with the best clubs in Cancun that will meet their individual needs and preferences.
Exploring The Different Clubs in Cancun: Party Like a Local - FAQs
When is the best time to visit clubs in Cancun?
Depending on what kind of experience you are looking for, peak season is generally from April to August while the off-season runs from October to March.
Is there any age limit for clubbing in Cancun?
Yes, most clubs in Cancun require guests to be at least 18 years of age. Some may require guests to be 21 or over.
What should I wear to a club in Cancun?
Most clubs require that guests dress smart-casual or more formally, with no shorts, flip-flops, or sandals allowed. Check the specific dress code of each club before heading out.