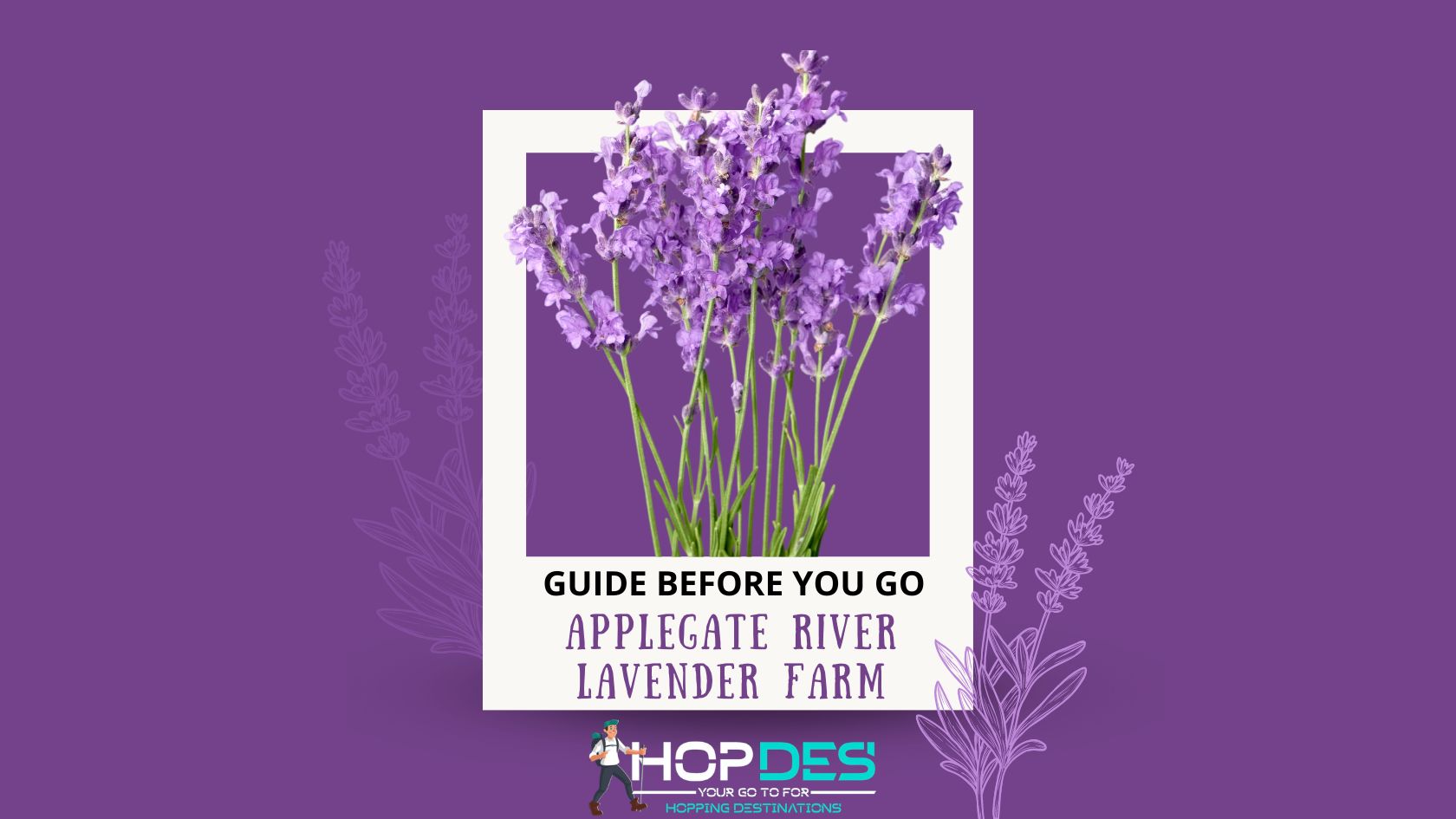 Welcome to the enchanting Applegate River Lavender Farm, where purple dreams bloom and the aroma dances with the breeze! Since opening in 2011, Applegate River Lavender Farm has provided the ideal "Get outta town" vacation for lavender enthusiasts, families, photographers, artists, and pets (all within 15 minutes of downtown Jacksonville).
The magnificent Siskiyou Mountains provide a stunning backdrop as you wander the aromatic fields, choose a fresh flower, relax in the barn, or have a picnic beneath the shade maple tree.
Get ready to "lav-end" your worries as you stroll through the lavender-laden pathways in the Applegate River Lavender Farm!
About the Applegate River Lavender Farm
Applegate River Lavender Farm, run by a friendly family since 2011, is a tiny yet popular lavender farm located at 375 Hamilton Rd, Jacksonville, OR 97530, US. It is open to the public from late June to early August!
Here is the important contact information:
What to Expect?
The Applegate River Lavender Farm is a beautiful place spread across 5 acres and is home to 1,000 lavender plants of 7 different types. These include Ana Luisa, Ms. Katherine, Royal Purple, Alba, Grosso, Gros Bleu, and Hidcote Giant. During the summer months, these lavender plants keep the bees happily buzzing around.
The farm warmly welcomes visitors and they love seeing the joy on people's faces as they explore the stunning lavender fields. You'll find their store in a large barn shaded by walnut and maple trees. And if you need a break, there's an open grassy area with a rope swing and picnic tables, perfect for relaxing and enjoying the peaceful surroundings.
At the Applegate River Lavender Farm, the flowers are carefully hand-picked, and they use a small-scale process to make lavender essential oils as well. Each variety is known for its unique and special qualities.
In their store, you'll find a range of lavender essential oils and homemade goods. Don't miss out on the delicious treats like lavender-infused sweets and refreshing lavender lemonade.
You have the option to buy ready-made lavender bundles, or you can have fun gathering your own. If you're interested, they offer classes and tours of the farm as well. It's a delightful place to explore and enjoy all things lavender!
Other Attractions at the Applegate River Lavender Farm
There are numerous additional attractions to enjoy once you arrive. Cantrall Buckley County Park/Campground is a mile downriver from Applegate Lake, which is about 15 miles upstream. There are 7 award-winning wineries found within a mile of this farm.
Occasionally, Bonnie and John, the hosts of this farm, also arrange for concerts, weddings, banquets, courses, workshops, and private events in the barn.
The farm's commitment to sustainable agricultural techniques and the reduction of single-use plastics is reflected in the excellent snacks and drinks available during your visit, as well as in the 100% natural lavender items it sells.
Professional photographers often like to take pictures in the late afternoon or early evening, when the light is soft and flattering. The service provided by Applegate River Lavender Farm to professional photographers is rather basic. For $100, they can visit the farm "after hours" for two hours when no one else is there for a top-notch photography experience!
Suggested Reading: Carlsmith Beach Park (Hilo) – LATEST GUIDE
Festivals and Events
The Southern Oregon Lavender Festival is held over two weekends (June 23-25 and July 14-16), and local artists and craftspeople are always invited to join in the festivities. During the weekends of the Festival, the skies are regularly full with Para-gliders since Woodrat Mountain, the site of the "Wings over Applegate" competition, is just two miles from the farm.
However, the events vary each year. You can always check the updated list of events on the event page of Applegate River Lavender Farm.
Ruch Outdoor Community School Program
In a recent event, guests donated $25 to Ruch Outdoor Community School and enjoyed an evening of food, wine, music, and art. Local painters had gathered in the Applegate Valley for a day of rapid, outdoor painting, and the resulting works filled the barn.
The auction also included a small number of student-created artwork from the Ruch School. While mingling with the artists and bidding on their works, guests enjoyed delicious snacks and regional wines. The Ruch School art programs for 2023 and 2024 received a generous donation of the auction and ticket sales' net revenues.
Plein Air Quick Paint for Ruch Outdoor Community School
The Quick Paint event's proceeds went to Ruch Outdoor Community School, where they were used to fund outdoor art programs. Funds from ticket sales for the reception were also given to the institution hosting the event.
As has been the case in the past, visitors were encouraged to bring their art supplies and paint at the lavender farm. In addition to being a beautiful place to visit, Applegate River Lavender Farm also acted as a "friendly port" for weary artists in need of refreshments and shade.
Editor's Pick: Little Elm Beach TX – Things To Do & Things To Know
Learning Opportunities at Applegate Lavender Farm
Applegate River Lavender Farm offers a variety of classes in the months of June and July. Some of such classes are:
Lavender Wreath Making: While taking in the stunning scenery of the Applegate Valley, you may learn the art of crafting lavender wreaths. Complete a 10″ wreath with the addition of dried flowers for embellishment. This training course has a price tag of $75.
Culinary Lavender Workshop: This is a practical Lavender Cooking Class. Find out how to use culinary lavender to make delicious meals, both sweet and savory. Carol Ann DeCasas, a former pastry chef and Marcy Rustad, the owner of the farm, are the instructors. There is a $65 fee for the workshop.
Lavender Essential Oil Distilling: See the process of making lavender essential oil the traditional way, by steaming tiny batches of the flower. Get hands-on training in lavender picking, processing, and distillation. The lavender essential oil and hydrosol are yours to keep. There is a $75 fee for this course.
Paint at Applegate River Lavender Farm: Applegate River Lavender Farm is the perfect place to unwind, be creative, and paint to your heart's content. For $55, you can have a glass of lavender lemonade, some charcuterie, a bunch of fresh lavender, and an 8×12 canvas print.
There are several other classes and workshops offered here. The class schedules and new announcements are made on the Applegate River Lavender Classes Page.
Check the website or social media for up-to-date information on Applegate River Lavender Farm's weekend hours, which are typically Friday through Sunday from 10 am to 3 pm throughout the months of June and July.
Reviews by Visitors: Special Edition by Hopdes Team
Fortunately, we also had the chance to spend some time at this farm. Our team also gathered reviews from other visitors.
Sara Anwar says "My friend Roxy and I had an amazing time at the farm this summer. Bonnie and John are fantastic hosts with a deep passion for their land and lavender fields. We enjoyed a private distilling session and had a wonderful time. Can't wait to visit again next year!"
Umar Ali, Editor-in-Chief of Hopdes, said, "My sister and I visited Applegate River Lavender Farm, and it was a memorable experience! The owners, John and Bonnie, were incredibly warm and knowledgeable. We wandered through the stunning lavender fields enjoying the calming aroma. We left with wonderful memories and a newfound love for lavender. Highly recommended for anyone seeking a peaceful and enchanting escape!"
Conclusion
Applegate River Lavender Farm is definitely one amazing place to visit. It offers a delightful experience for lavender enthusiasts and nature lovers alike. Even couples have found it to be an amazing place. With its picturesque lavender fields, friendly family-run atmosphere, and a range of lavender products and workshops, it's a haven of relaxation and creativity that should be on your bucket list.
Read Next: Skiplagging Travel Hack: Unbeatable Savings for Smart Travelers
Applegate River Lavender Farm - FAQs
What are the operating hours of Applegate River Lavender Farm?
The farm typically operates from late June to early August, and its weekend hours are usually Friday through Sunday from 10 am to 3 pm.
Can visitors participate in lavender picking?
YES! Visitors have the option to buy ready-made lavender bundles or enjoy the experience of picking lavender themselves. It's a unique and enjoyable activity for those who want to immerse themselves in the beauty and fragrance of the lavender fields.
Are pets allowed on the Applegate River Lavender Farm?
Yes, pets are welcome at Applegate River Lavender Farm. The farm is a pet-friendly destination, so you can bring your furry friends along to enjoy the lavender fields and other attractions.