Oklahoma has the nation's highest number of man-made lakes, with nearly 200 created by damming rivers, making it the state with the most man-made lakes in the United States. Like other lakes in the United States, these are part of a state park, allowing visitors to swim, fish, boat, and camp. However, some natural lakes are also in the city, identified as oxbow U-shaped and playa dry bed lakes.
Not to mention the beauty of the lakes and the extensive surrounding bluffs, plateaus, grasslands, mountains, rocks, and pine forests make for a beautiful sight. As a beautiful, incredible, and favorite travel destination to escape the hustle and bustle of the city, Oklahoma is an ideal destination where you not only get to see magnificent artificial lakes but also enjoy a variety of water sports.
Oklahoma's Picturesque Lakes For An Unforgettable Trip This Summer
Oklahoma is covered by nearly 1 million surface acres of water that offer all the activities and attractions to make a summer visit spectacular. Check out our list of the best lakes in Oklahoma to enjoy a tranquil and memorable lake experience.
Tenkiller Ferry Lake is primarily a reservoir called "Oklahoma's Clear Water Wonderland" located in the Cookson Hills of the Ozark Mountains. The lake covers 12,900 acres and has 130 miles of shoreline. This ferry lake was named after the influential owner of the property/area on which the lake was created by damming the Illinois River in eastern Oklahoma, the Tenkiller Cherokee family.
Tenkiller Lake is the deepest lake in the state and serves as an absolute paradise for scuba divers. So, apparently, this is why divers visit this lake all year round and explore this deep and natural lake to their heart's content. Part of the reason scuba divers love Tenkiller Lake is that the old town of Cookson still lies beneath Tenkiller Lake. The city was submerged as a result of the completion of the Tenkiller Ferry Dam in 1952. Scuba divers, even now, visit and explore the city's remains.
The depth isn't the only feature of Tenkiller Ferry Lake but the fact that the lake is a wonderland for families and couples alike.
Along with its ample shoreline, the lake has 24 boat launch ramps, 14 parks, ten marinas, and 38 rental cabins, making it the best lake with cabins in Oklahoma. In addition, several islands are located in the lake, including the infamous Goat Island. Apart from the islands, beautiful parks, and houses for rent, the floating restaurants also give tourists enough reasons to visit Tenkiller Lake once in their lifetime.
Everyone knows that once in the water, you get completely immersed in the exciting time you are spending in the water and forget about everything else, even food. And to combat this problem, floating restaurants in Lake Tenkiller allow divers and visitors to pull the boat up, eat a delicious meal, and be back on the lake in minutes. So, one can not only eat but also shop and pick up last-minute supplies for the lake.
The lake provides a natural habitat for many bass fish, such as white bass, spotted bass, largemouth bass, smallmouth bass, and channel catfish.
Similar attraction: 7 Exclusive Resorts in Oklahoma For An Unforgettable Vacation.
Located in the southeastern part of the state, Broken Bow Lake is the most transparent and deepest lake in the state. That offers the most beautiful scenery, as high natural mountains, dense forest, and a hill surrounding the lake. The lake covers 14,000 acres and 180 miles of shoreline.
The lake is essentially the largest, in fact, the largest freshwater lake in Oklahoma. However, its water is unsafe to drink as it is likely to contain E. coli. However, not only is the lake home to E. coli bacteria, but the surrounding dense forests and the majestic Ouachita Mountains provide ideal habitat and attract a wide range of native birds, making it an excellent place for bird watching and swimming.
Speaking of swimming, the waters of Broken Bow Lake allow visitors to swim in beautiful blue waters with a wide range of fish companions, including largemouth, smallmouth, whiting, spotted bass, catfish, Crappie, sunfish, and bluegill are also available for fishing. Also, the lake water is so clear and beautiful blue that your partner can see your entire body submerged in the water while swimming.
In addition to fishing, visitors can enjoy exciting water sports, including paddle boats, skiing, fishing, wakeboarding, swimming, and fly fishing, and outdoor sports like golfing, hiking, biking, paddle boating, horseback riding, tennis, volleyball, etc. If lucky, you may have a chance to see deer and wild turkeys at the site, as they are usually found near the lake.
Skiatook Lake
View Website
Get Directions
PERFECT FOR: Experiencing annual sport fishing events and swimming and water sports on weekdays.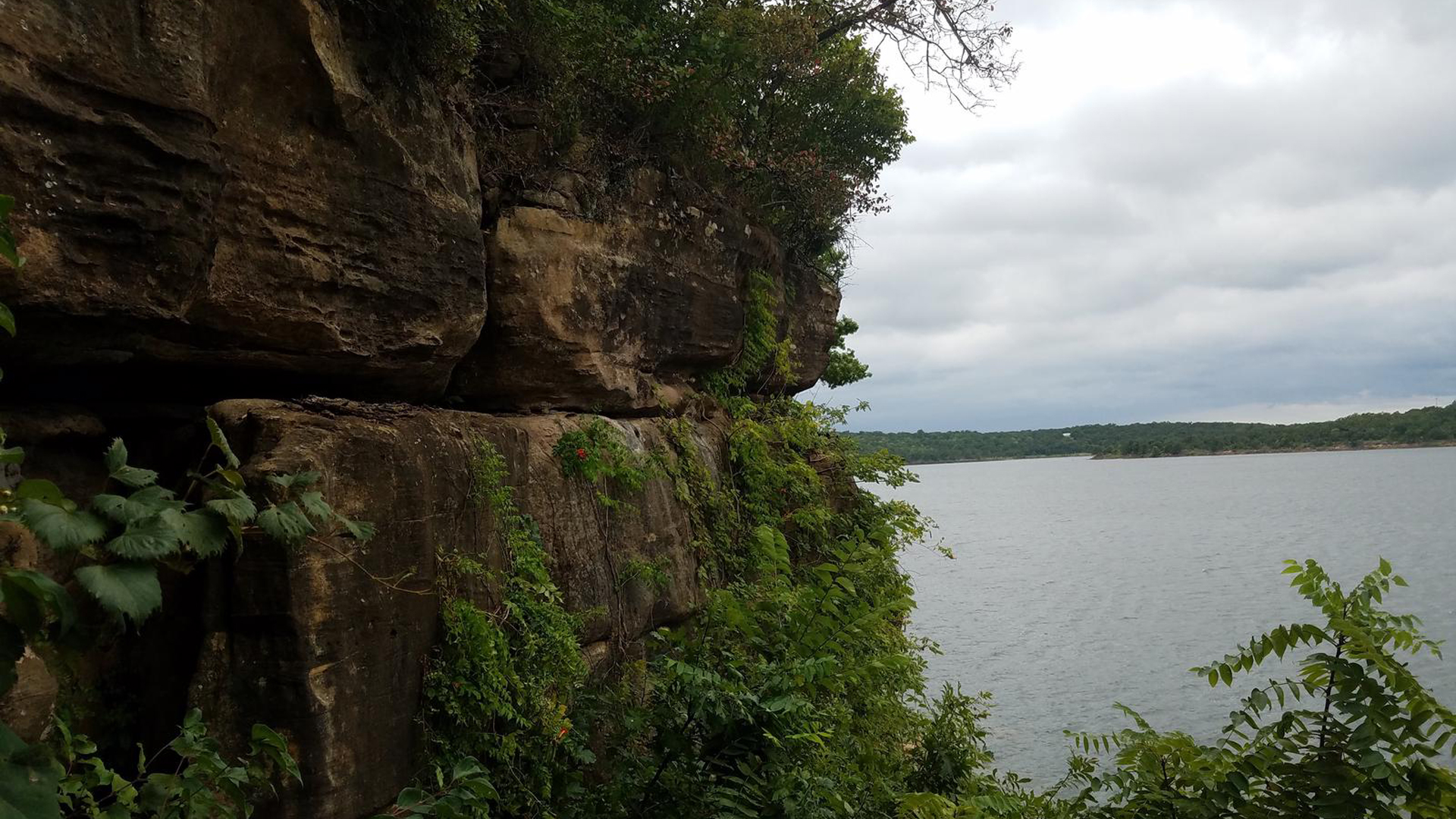 Skiatook Lake is located within the Osage Reservation directly northwest of Tulsa. Owned by the state government, the lake covers 10,500 acres, making it the "fifteenth largest lake in the state". Skiatook Lake, like Tenkiller Lake, devoured the entire town during its formation. In 1940, the city of Lugert was submerged during the dam's construction and eventually became an underwater city. The city and its remains can be seen at times of the year when the water level falls.
Enveloped by picturesque high cliffs and meadows, the lake offers an exceptionally relaxing atmosphere. The high cliffs and grasslands around this lake are enough to mesmerize you with the beautiful scenery by the lakeside. Moreover, it provides numerous opportunities to enjoy exciting activities such as picnics, camping and hiking in the hills, and the breathtaking views of the lake and surroundings.
Apart from the energy-draining and thrilling, physical activities you can enjoy on the lake's dry land, the lake also allows for a wide range of water sports. That can be enjoyed by visitors and city dwellers alike—for example, fishing, swimming, and boating. Sport fishing is a trendy event held every year at Skiatook Lake. There is plenty of black and white crappie, channel catfish, largemouth, smallmouth, striped bass, and numerous sunfish or lake perch that you can catch in the lake waters.
You can best enjoy Skiatook Lake on weekdays as it remains a restricted property to public visitors on weekends for cleaning and maintenance purposes. The US military engineer team enforced the rule, which discovered high levels of E. coli bacteria and toxic blue-green algae growing on the waters of Skiatook Lake. Due to this, the lake's water is not only not undrinkable but also requires weekly cleaning.
After exploring the Skiatook lake all week you may find yourself asking, Why Do My Feet Swell When I Travel? Take care of your health and body with our exclusive healthy travel-related tips and tricks.
This lake is so vast that it covers a total of three counties in Oklahoma. Lake Eufaula has a total surface area of ​​105,500 surface acres with 970 km of shoreline, making it "Oklahoma's largest lake". Several marinas, campgrounds, and other places to stay further enhance the lodging options on the coastline.
The annual sport fishing event serves as a time when the lake floods and fishermen from all over the country come here to catch their favorite fish and bring them back home. Fish species in this lake include largemouth bass, smallmouth bass, Kentucky bass, catfish, crappie, and sand bass.
In addition, scenic Lake Eufaula is home to great outdoors and water sports such as swimming, boating, hiking, horseback riding, and picnicking. At the same time, golf and hunting can also be viable options. Of all the activities you can enjoy at the lake, swimming proved to be the most iconic and fabulous for us as the sandy beaches enhanced the look and feel of the entire experience.
Women on the sandy Eufaula Beach can have a problem getting all the mud and sand in their hair, so we've put together an amazing list of easy ways You Can Get Sand Out of Hair.
Grand Lake O' the Cherokees
View Website
Get Directions
PERFECT FOR: Enjoying sailing in one of Oklahoma's most pristine natural environments.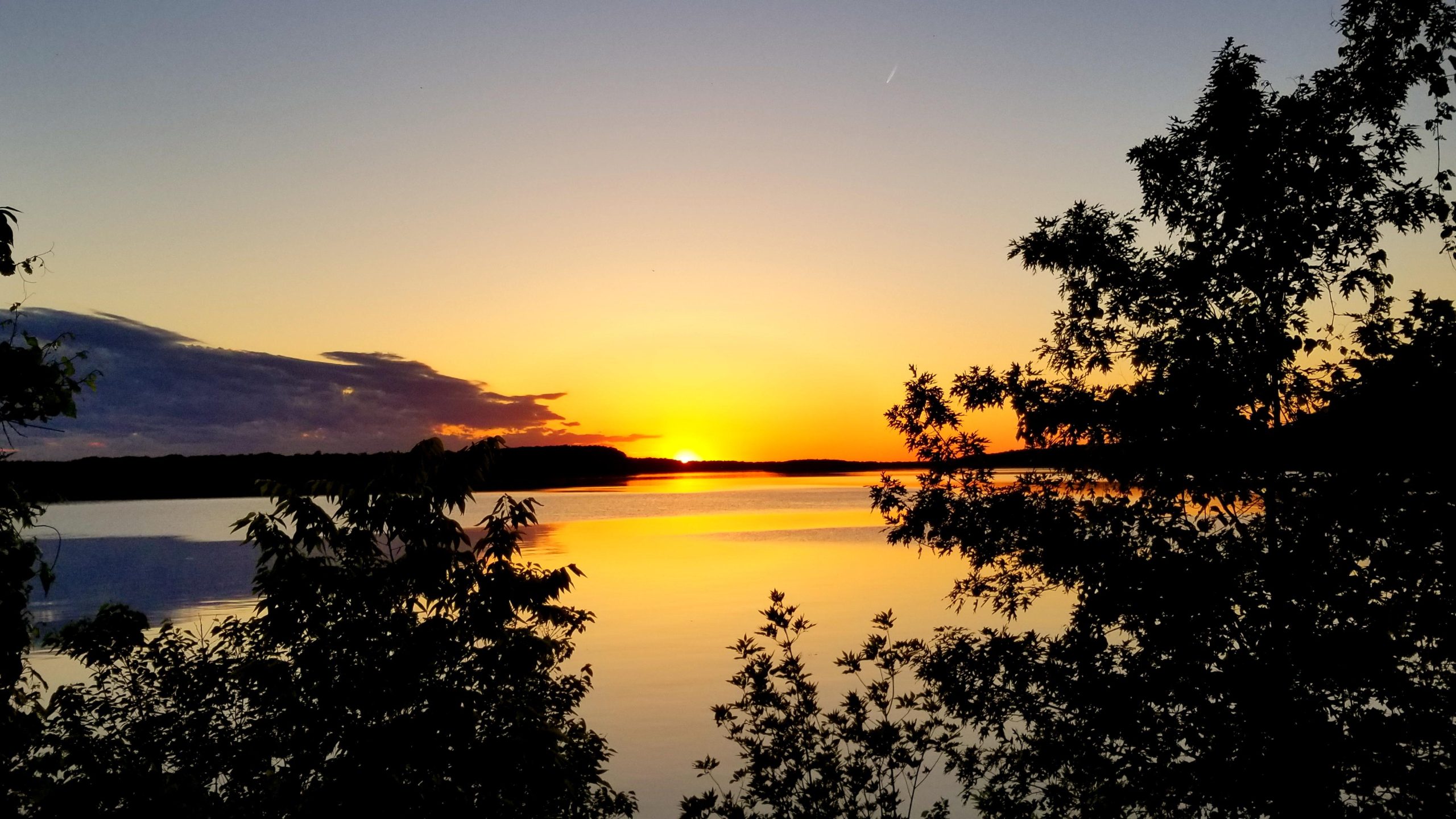 Located in the northeast corner of Oklahoma, on the slopes of the Ozark Mountains Range, Grand Lake of the Cherokees has a surface area of ​​46,500 acres and ranks as the third-largest lake in the state. Additionally, the lake is listed as one of the most beautiful lakes in Oklahoma due to its picturesque surroundings and shoreline.
The lake was created in 1940 as a result of the creation of the Pensacola Dam. Now, it has become a world-class sailing destination comparable to any leading sailing destination in the entire world.
Like most lakes in Oklahoma, this lake also proves to be a unique place for fishing. Bass, sunfish, bluegill, catfish, crappie, and paddlefish are abundant in this lake. But Grand Lake O' The Cherokees has a catch, a fishing lake that offers a wide variety of other sport and non-sport fishing opportunities.
Also, the wind around here consistently blows, providing an ideal setting for sailing, attracting sailors from all over the country to the river, especially as the lake environment is safe. In addition, the lake is completely safe for swimming, making it one of the best lakes in Oklahoma. However, the Oklahoma Department of Environmental Quality always encourages the public to follow safe practices, basic senses, and swimming tips while swimming.
Finally, there are many restaurants, breakfast spots, lodging, parks, and camping facilities around Grand Lake of Cherokees Lake.
Overholser Lake is spread over 1600 acres with an average depth of 6 feet and 11 kilometers of shoreline. Compared to other attractive and large lakes in Oklahoma, Overholser Lake cannot be categorized as the state's most significant or deepest lake. However, still, it is one of the ideal tourist destinations in the state.
Fishing is a thriving activity here, attracting city dwellers and foreign travelers. You can also find a variety of fish, including white bass, bluegill, bream, striped bass, catfish, and largemouth bass. You can visit the Stinchcomb Wildlife Refuge, located a short distance north of the lake, for extra fun and outdoor recreational activities such as hiking, bird watching, and cycling.
That's about all the amusements available at the lake. As swimming is a restricted activity at lake Overholser, you also need the state's permission for the lake activities like fishing, hunting, and boating.
Now that we've explored all the fun activities you can enjoy at Overholser Lake let's talk a little about the lake's construction and the history behind its name. Talking about its creation, the lake came into existence due to the damming of the Northern Canadian River. It was then named "Overholser" in honor of Ed Overholser, the 16th mayor of Oklahoma City, who served the state from 1993 to 1999.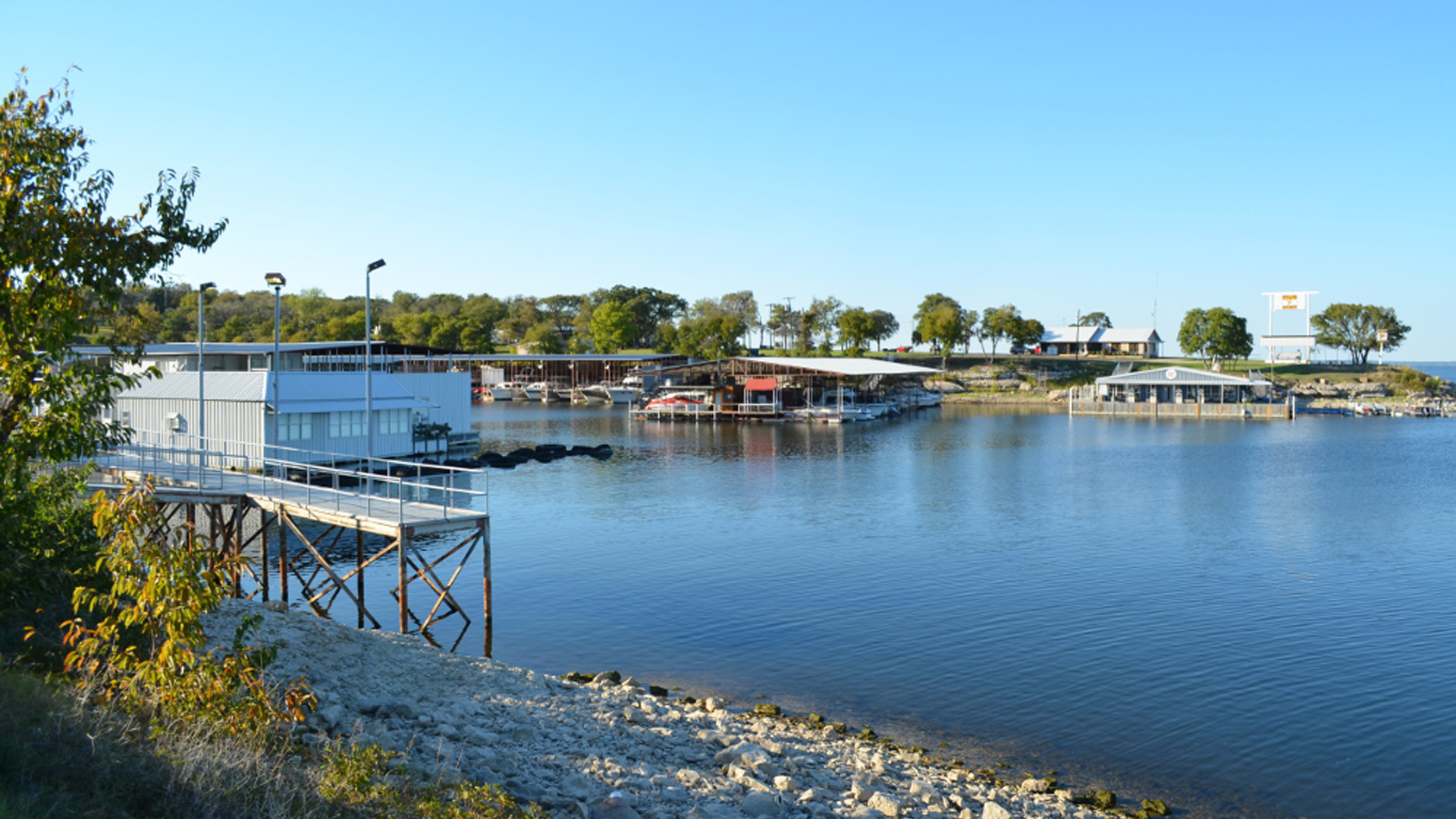 Lake Texoma is the largest reservoir—the largest lake by volume—in the United States. With a surface area of ​​up to 89,000 acres, the lake ranks as the second-largest lake in Oklahoma. Lake Texoma was initially built with the intent and purpose of flood control and the resulting destruction and hydroelectric power generation.
However, now it is one of the favorites and most prevalent spots among the fishermen and those interested in fisheries and related studies. Home to about 70 different species of fish, with catfish and bass being the most popular and commonly found, the lake hosts more than 6 million visitor groups every year.
Besides fishing, inclusive water activities that reason the flocking of millions of visitors annually to this lake include sailing, water skiing, and windsurfing.
Since Lake Texoma's inception, there has yet to be a single manufactured lake in Oklahoma that can match the popularity and quality of the tourist experience that Lake Texoma offers. You'll find several lodging options along the lake shores, such as resorts, cabins, and campgrounds. In addition, golf courses and marinas, two state parks, and wildlife sanctuaries can also be found.
Also read: 10 Restaurants In Niagara-on-the-Lake With A Scenic View.
Things To Consider Before Visiting These 7 Mesmerizingly Beautiful Lakes In Oklahoma
Oklahoma, home to more than 200 lakes and reservoirs, is an excellent hub for fun and unusual water sports and summer activities. So, before you head out to lakes in Oklahoma, learn all about the dos and don'ts for a safe and disease-free trip.
Beware Of The Recreational Water Illnesses (RWIs) — The presence of pathogenic bacteria in public lakes is quite common. Exposing your bare eyes, nose, and ears or swallowing small amounts of waterborne infectious organisms, including crypto, E. coli, norovirus, shigella, and giardia, can cause gastrointestinal, skin, ear, respiratory, nerve, and wound infections. But the most commonly reported RWI is diarrhea.
Always Keep Swimming Safety Gear On You — Avoid swallowing and opening your eyes while swimming in lake water. Use earplugs, goggles, and nose plugs to keep water out. Plus, children under 13 must wear life jackets when swimming in lakes.
Swim Only In Permitted Areas — Swim only in designated swimming areas which, in most cases, are away from heavy boat traffic areas. Avoid swimming during algal blooms or in areas where large amounts of algae have been reported.
These People Should Not Swim In Lake Water — Children, pregnant women, and people with weakened immune systems are also most susceptible to RWIs. Also, avoid swimming with open wounds or cuts; if you get cut during swimming, clean and treat the area as soon as possible. It is possible to prevent infection.
Important Instructions:
1. Pay attention to warning signs posted by local agencies when lakes are deemed unsafe due to water conditions.
2. Shower before and after swimming and wash your hands after using the toilet or changing a baby's diaper.
3. Encourage your children to take frequent bathroom breaks to avoid urinating in the water.
4. Sunscreen must be worn to prevent sunburn from intensifying light reflected off the water.
5. Finally, drink plenty of water to stay hydrated throughout the day.
How Do We Pick Our Recommendations
Our certified international travel team specializes in paying attention to even the most minor details when choosing a particular destination to ensure that our recommendations are the most beneficial for outdoor and water-loving mermaid readers. Oklahoma is rich in opportunities for visitors to enjoy recreational water sports, fishing, and countless outdoor activities to create numerous happy memories. To ensure that your experience is nothing short of perfect, we focus on essential factors such as the popularity of the lake, amenities, is the lake safe for swimming, activities to enjoy, nearby eateries, etc. Apart from this, we also value the experiences of the guest visitors and ensure that they make a valuable list of the beautiful lakes visited by our experts. And thus, an unbiased, accurate, and reliable travel guide to Oklahoma's charming lakes is prepared for our readers.
And after that, we visited 9 Grand Waterfalls In Oklahoma, as per our plan to keep the entertaining and fun-filled hunt going.
Final Words
As I was enjoying the peaceful atmosphere and beautiful lakes of Oklahoma that I visited with my team, I remembered the lyrics of Rhodes' song "The Lakes", which goes like this,
"We can be safe in our own little place
Where the skyline kiss the shore
We will go on, we will go on and on
We feel alive in the waters with divers
The night fire warms our bones
We will go all; we will go on and on
Stay close, hold on to me
By the lakes."
And that's precisely how I felt at the Lakes, safe, secure, accepted, and fulfilled. And considering the serene environment, annual events, and sporting activities available for visitors to enjoy to their heart's content, be they locals, foreign tourists, scuba divers, or fishermen. Yes, the whole experience is absolutely perfect and worth visiting at least once in your lifetime.
These 7 Lakes Of Oklahoma Will Mesmerize You With Their Beauty - FAQs
What are the three major lakes in Oklahoma?
The three major lakes in Oklahoma are Grand Lake O' the Cherokees, Eufaula Lake, and Tenkiller Ferry Lake.
Are there alligators in Oklahoma lakes?
Alligators are mainly found in swamps and marshes, sometimes in rivers, lakes, and other bodies of water. In Oklahoma, alligators can be found in the Red Slough Wildlife Management Area and the Little River National Wildlife Refuge.
Is Oklahoma very hot?
Oklahoma is one of the warmest regions in the United States of America, with an average daily high temperature of 24 degrees.
What are people in Oklahoma like?
Oklahomans, in general, are welcoming, friendly, easy-going, and good-natured and are known for their hospitality.