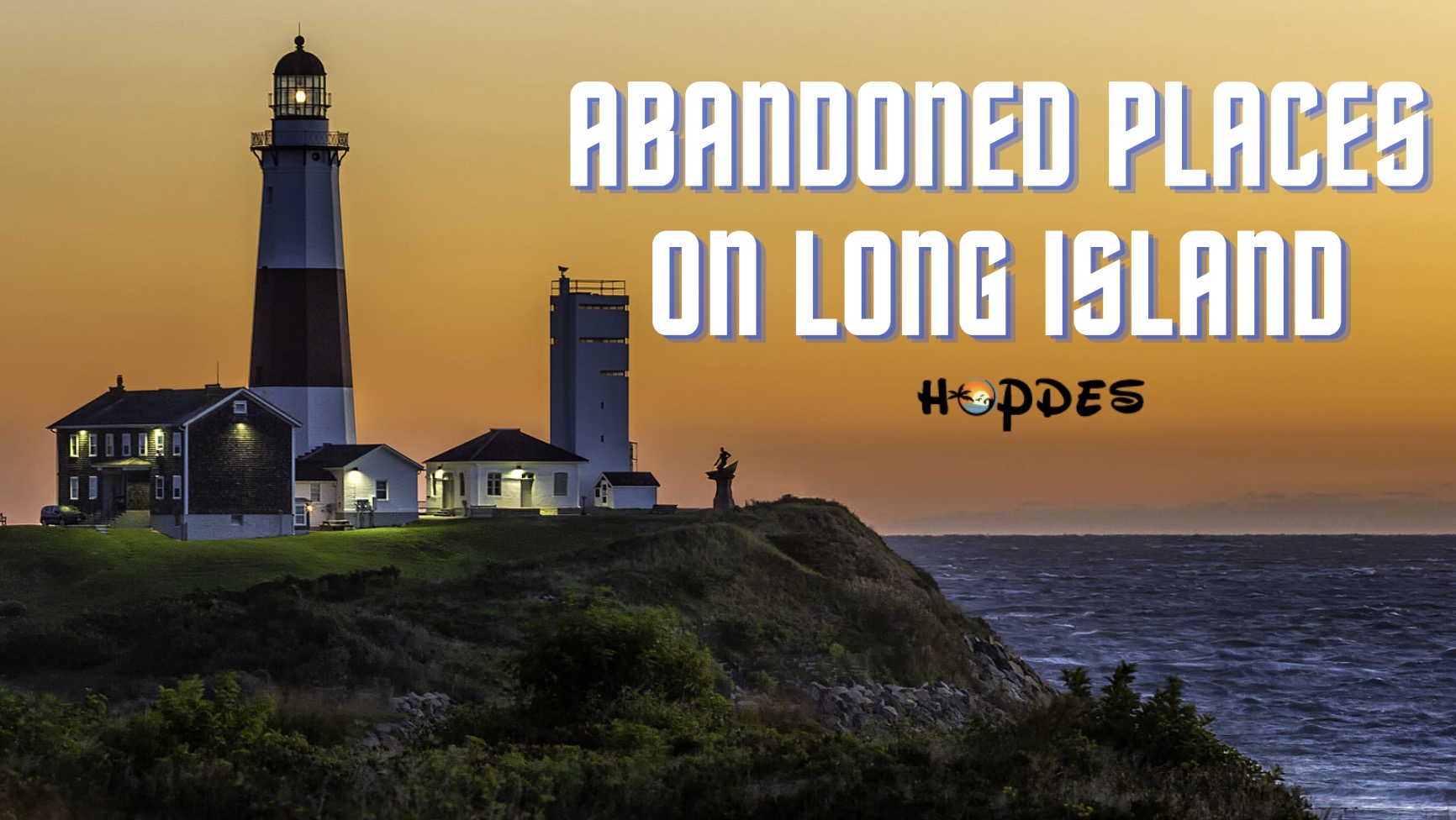 Long Island in New York is famous for its beautiful shores and lively cities. Yet, there's an undiscovered aspect to this island — it's dotted with deserted places carrying captivating tales and hidden mysteries. Stay away if you're easily scared because these places are meant for the fearless adventurers.
Long Island has a lot of big old houses that nobody lives in anymore, hospitals that used to help people and mysterious places where the military used to do things. These places can be a little spooky but also very interesting. This blog will guide you through some of the most captivating deserted spots on Long Island by unraveling their pasts.
Abandoned Places on Long Island
We found some really interesting abandoned spots on Long Island including Kings Park Psychiatric Center, Camp Hero, Neponsit Health Care Center, Jumping Jack Power Plant, Battery King at Fort Totten, St. Paul's School for Boys, Execution Rocks Lighthouse, Amityville Horror House, Red Hook Grain Terminal, and Calvert Vaux Cove.
Each place has its own special story and a bit of mystery that might make you feel excited and curious. They all have something to do with the island's interesting past. Now, let's explore the cool stories behind these forgotten places:
Kings Park Psychiatric Center
Once operated by the state, the Kings Park Psychiatric Center served as a mental hospital. From 1885 to 1996, it provided its services in Kings Park, New York. Historically, it boasted self-sustainability with a farm, power plant, and railroad. Yet, the center encountered difficulties, including overcrowding and contentious treatments like lobotomies and shock therapy.
Ultimately, the facility ceased operations in 1996, and afterward, the majority of its structures either stood vacant or were razed. The least expensive method of travel from Bridgeport to Kings Park Psychiatric Center involves taking a car ferry and then driving. It takes about 1 hour and 42 minutes with costs between $22 and $80.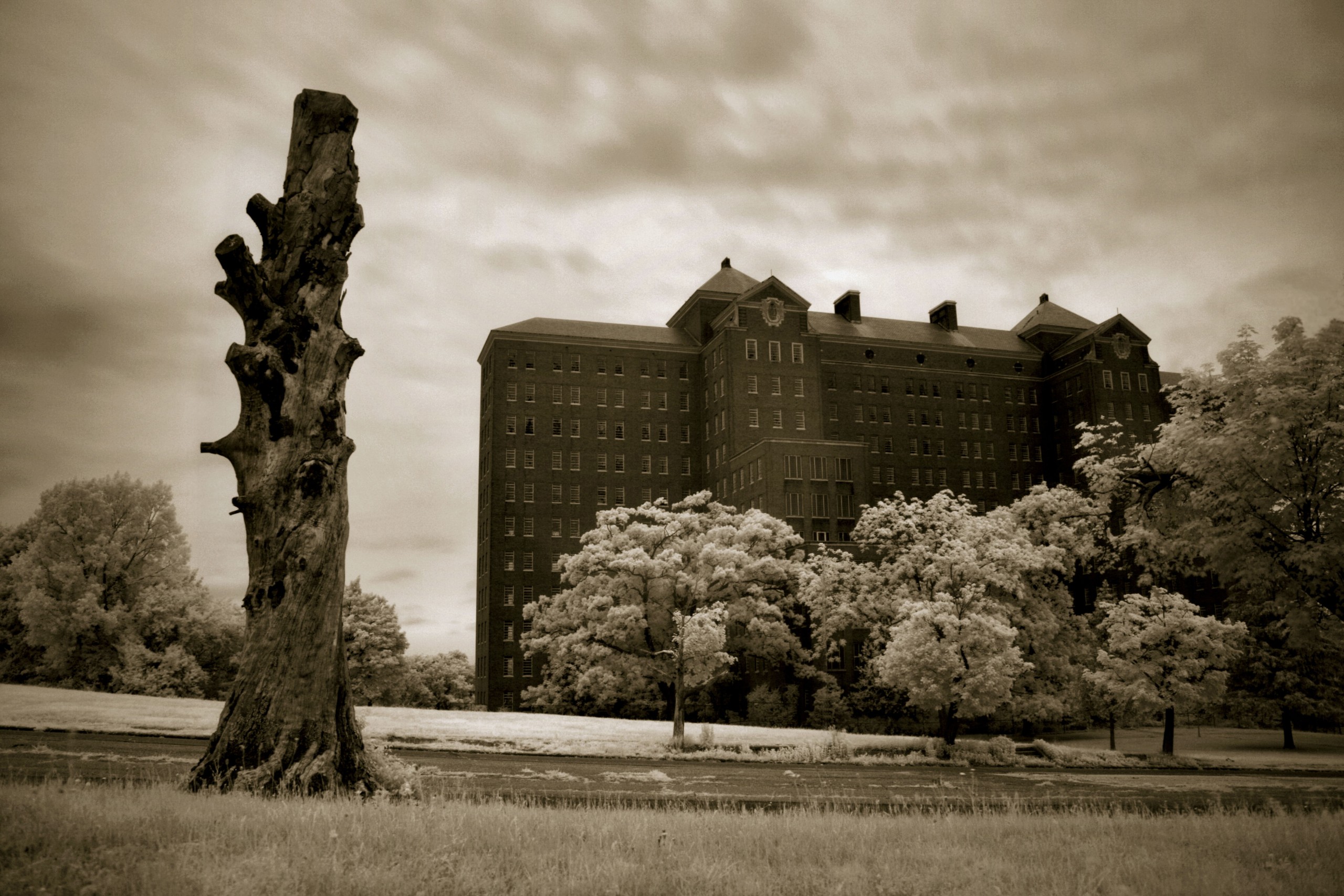 Reasons for Closure
The decline of the hospital started due to the implementation of new treatments and policies. These changes aimed at favoring deinstitutionalization and community-based care for people with mental illnesses. The use of medications like Thorazine, known as psychotropic drugs, reduced the need for long stays in hospitals. This allowed many patients, as much as possible, to live independently or with their families.
The shutting down of Kings Park Psychiatric Center was part of a bigger plan by the state to make its mental health system smaller. In 1983, the state said it would close Kings Park and three other hospitals on Long Island by 1996.
The process of closing the hospital happened bit by bit. They moved patients to other places or programs in the community, moved staff, and sold or destroyed buildings. The last patients left Kings Park in December 1996, and the hospital finally closed.
Accessibility
Visiting Kings Park Psychiatric Center is not advised or lawful. The site is closed to the public, and trespassing is prohibited. Security measures are in place to prevent unauthorized entry due to unsafe conditions.
While some urban explorers, photographers, and paranormal enthusiasts are intrigued by the site's history, they risk legal consequences, fines, and harm if they enter without permission. Incidents like vandalism, arson, theft, accidents, and injuries have been reported.
Handy tip: We strongly recommend opting for a guided tour as the best and safest way to experience Kings Park Psychiatric Center.
Camp Hero
Camp Hero is found in Montauk, which is surrounded by intrigue and mystery. It was originally built as a military base during World War II. Later on, people started talking about it being involved in secret government stuff and strange ideas. You can still see signs of its military involvement from the past, like big radar towers and bunkers under the ground.
Being at the far end of Long Island gives Camp Hero a special spot where you can see amazing views of the Atlantic Ocean. There are also stories about mind control experiments, hidden tunnels, and even meetings with aliens, which make Camp Hero even more mysterious. To access Camp Hero, there is a fee of $8 per vehicle, and visitors are required to make the payment at a staffed booth.
Reasons for Closure
The site had three gun batteries that were used to protect New York from possible sea invasions. After the war, the guns were stopped, and the site became a radar station for Cold War defense.
The U.S. The Air Force ran the radar station until 1981 when it was closed because of budget issues and outdated technology. Then, the site was given to the General Services Administration, which tried to sell it to real estate developers in 1984.
However, local environmental activists protested. They said the place had unique ecosystems and homes for animals. They also didn't want a golf course because it could hurt rare species and use too much groundwater. After legal fights, in 2002, most of the site became a state park run by the New York State Office of Parks.
Accessibility
Visiting this site allows you to uncover its intriguing past and appreciate its natural beauty. You can enjoy hiking along trails, trying your hand at fishing, and admiring the stunning cliffs. Camp Hero becomes a playground for outdoor enthusiasts, offering a mix of adventure and historical discovery. Whether you're seeking thrilling experiences or a chance to bask in coastal splendor, Camp Hero has something for everyone.
Suggested Reading: TOP 8 Mines in Colorado + Few Abandoned Mines
Neponsit Health Care Center
Neponsit Health Care Center located in Queens, New York was constructed in 1918 as a hospital for children with tuberculosis. Subsequently, it was transformed into a nursing home catering to elderly individuals as well as those with Alzheimer's. The hospital consists of three structures with two situated on the beachfront. The original building was designed by the McKim, Mead & White firm in 1915.
The structure rises to a height of four stories and displays a facade made of red bricks. It forms a "U" shaped extending wings towards the east and west, reaching towards the shore. The part of the building facing the seashore has enclosed porches and open-air balconies, providing accommodations for up to 122 patients.
Reasons for Closure
It was closed twice: first in 1955, and then in 1998, for different reasons. The initial closure occurred in 1955 when the city decided to shut down the hospital due to a reduced need for tuberculosis treatment.
On February 1, 1955, patients were moved to Sea View Hospital or Triboro Hospital, and the hospital officially closed on April 21, 1955. After lying vacant for six years, it reopened as a nursing home in 1961.
Tragedy struck on September 7, 1998, when a powerful hurricane battered the Rockaway coastline. There is a chance that the Neponsit hospital might be hit severely, which has raised concerns about it collapsing. On orders from Mayor Giuliani's administration, Neponsit residents were evacuated overnight.
This sudden move (without prior notice) led to patients being rushed onto buses and taken to different nursing homes and hospitals in the dark. Regrettably, two residents died due to this abrupt evacuation, and another remained missing for weeks because of the distressing experience.
Note: The building did not collapse, but it never reopened. Some people think the quick evacuation was done on purpose to change the beachfront spot into a hotel.
Accessibility
Visiting Neponsit Health Care Center isn't allowed for the public, and going onto the property without permission is against the law. The building itself is not safe and could fall at any moment. We advise against going inside, but if you're interested, you can still see the building from the outside.
Editor's Pick: Worst Time to Visit New York [Tips From Locals & Experts]
Jumping Jack Power Plant
The Jumping Jack Power Plant is a mysterious deserted building located on the Brooklyn waterfront. It used to be either a power plant or a pump house, but its exact history and purpose are unclear. Inside, old documents hint that it might have been used until the 1960s, after which it was left to deteriorate.
The building got its name from a large steel structure hanging over the main hall, looking like a person doing a jumping jack exercise. Inside, you'll find old machinery covered in rust, coal dust, and graffiti. Some of the graffiti might date back to the 1970s and 1980s.
Reasons for Closure
The exact cause behind the closure of the Jumping Jack Power Plant remains uncertain, but it could be linked to environmental rules, economic decline, or outdated technology. Left ignored for years, the building has endured vandalism, fires, and water-related harm.
It's hazardous to enter or explore due to risks like falling ceilings, absent stairs, floor holes, and sharp metal items. Keep in mind that the building is under private ownership, and trespassing is against the law.
Accessibility
The property is positioned in an industrial zone that's not conveniently reachable by public transport or on foot. For property protection and to deter unwanted visitors, the precise address is not revealed. Still, a few urban explorers have found ways to get inside and share what they discover on the internet.
Battery King at Fort Totten
Battery King was a coastal mortar battery made of reinforced concrete, built during the Endicott Period at Fort Totten in New York. It got its name from Ltc. William R. King, who was a U.S. Corps of Engineers officer. He served during the U.S. Civil War and designed a special carriage for guns used on the coast.
Construction of the battery began in 1898, and it was finished on August 6, 1900. On the same day, it was handed over to the Coast Artillery for use.
Reasons for Closure
In 1935, the battery was deactivated together with the other large weapons at Fort Totten, as a step towards modernizing New York's coastal defenses. The mortars were outdated and prone to attacks from the air. In their place, newer weapons like long-range guns, anti-aircraft guns, and submarine mines were put.
During the 1930s, the Works Progress Administration (WPA) buried the battery, and today there are no guns or mounts from that time still present.
Accessibility
The battery isn't accessible to the public as it is situated on U.S. Army Reserve property within Fort Totten Park. The park is owned by New York City and remains open daily from dawn to dusk. It offers diverse recreational and cultural activities, including hiking, biking, fishing, kayaking, swimming, and guided historical tours. It's also home to the Bayside Historical Society, which operates a museum and cultural center in the former officers' club.
Visiting the battery isn't safe due to potentially hazardous materials such as asbestos, lead, mold, and unexploded ordnance.
Structural damage, fire hazards, and even possible criminal activity due to abandonment and deterioration could be present. The battery's history and location might also create a spooky atmosphere. Therefore, entering without proper authorization, protection, and caution is strongly discouraged.
Suggested Reading: The 6 Best Women-Led Restaurants in New York
St. Paul's School for Boys
St. Paul's School for Boys in Garden City is a significant structure that once served as a renowned boarding school for boys in New York. Constructed in 1879 by Cornelia Stewart, the widow of wealthy merchant and philanthropist Alexander Stewart, the school showcases the High Victorian Gothic style.
This building comprises 500 rooms that encompass classrooms, libraries, dining halls, a chapel, and dormitories. With a strong focus on academics and a range of sports and extracurricular activities, the school provided a comprehensive educational experience.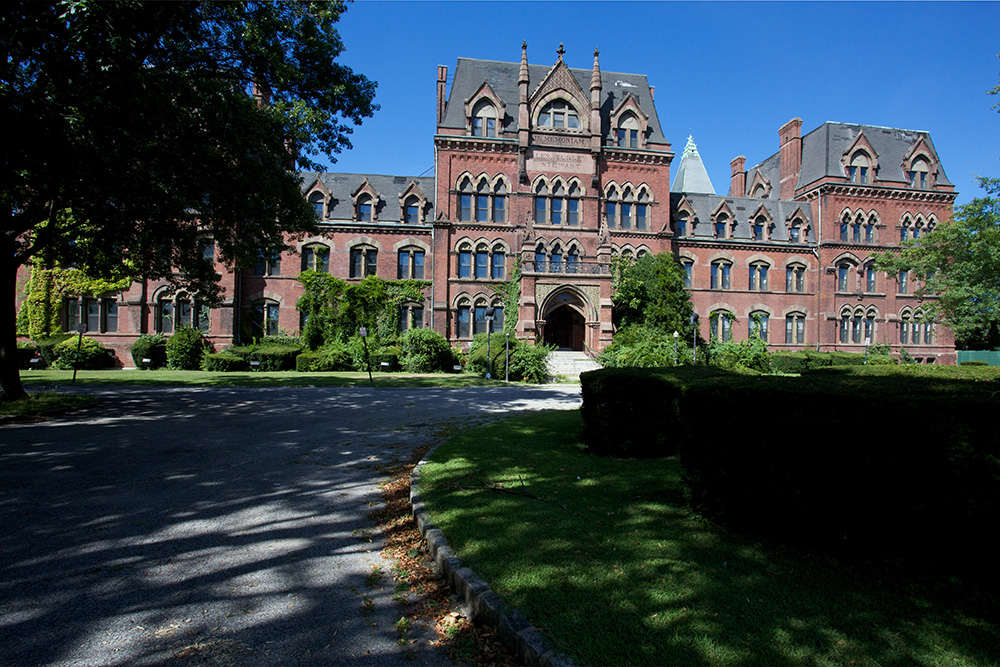 Reasons for Closure
Financial challenges and a decrease in student enrollment led to the school's closure in 1991. Subsequently, the building has remained empty and deteriorating, even though it's recognized by the State and National Registers of Historic Places. The ownership of the building lies with the Village of Garden City, which is investigating different possibilities for either repurposing or demolishing the structure.
Accessibility
Visiting the building requires permission from the Village of Garden City, its owner. Unfortunately, the building is not accessible to the public and is in a state of deterioration. Despite suggestions to restore and repurpose it, like transforming it into a hotel or museum, none of these ideas have come to fruition.
Execution Rocks Lighthouse
The Execution Rocks Lighthouse is a historic lighthouse located in the middle of Long Island Sound on the border between New Rochelle and Sands Point. Built in 1849 and lit in 1850, it features a white light that flashes every 10 seconds.
Crafted from granite with a brick lining, the lighthouse includes an attached stone keeper's house. In 1979, the lighthouse underwent automation and now falls under the authority of the United States Coast Guard.
Reasons for Closure
During a war, British soldiers used to tie American prisoners to the rocks known as Execution Rocks. When the tide rose, the prisoners couldn't escape and would drown. There's another story that says criminals were chained to these rocks when the water was low, and they also drowned when the water rose.
A long time ago, a man named Carl Panzram killed sailors and left their bodies near the lighthouse. People who visited the island have reported hearing strange sounds, seeing ghosts, and hearing footsteps that they couldn't explain. All these factors led up to making this one of the most deserted places on Long Island.
Accessibility
Getting to the lighthouse is a bit tricky since it's not accessible to the general public. However, you can catch glimpses of it from the water or the Throgs Neck Bridge. During the summer, there are tours organized by the Lighthouse Restorations group, and they even offer overnight stays for those who want a close-up experience. The price per room per night is $300.
The lighthouse also provides a view of the opulent mansions along the Gold Coast. For history buffs, mystery enthusiasts, and literature lovers, Execution Rocks Lighthouse offers an intriguing destination to explore.
Amityville Horror House
For those interested in horror movies or ghostly tales, a visit to the well-known Amityville Horror house is a must while you're in New York. Situated at 108 Ocean Avenue in Amityville, the Amityville Horror House has gained notoriety and sparked controversy.
Back in 1974, a gruesome mass murder took place here. Ronald DeFeo Jr. fatally shot his parents and four siblings while they were asleep. He mentioned hearing voices urging him to commit the act, and some suspect malevolent spirits within the house.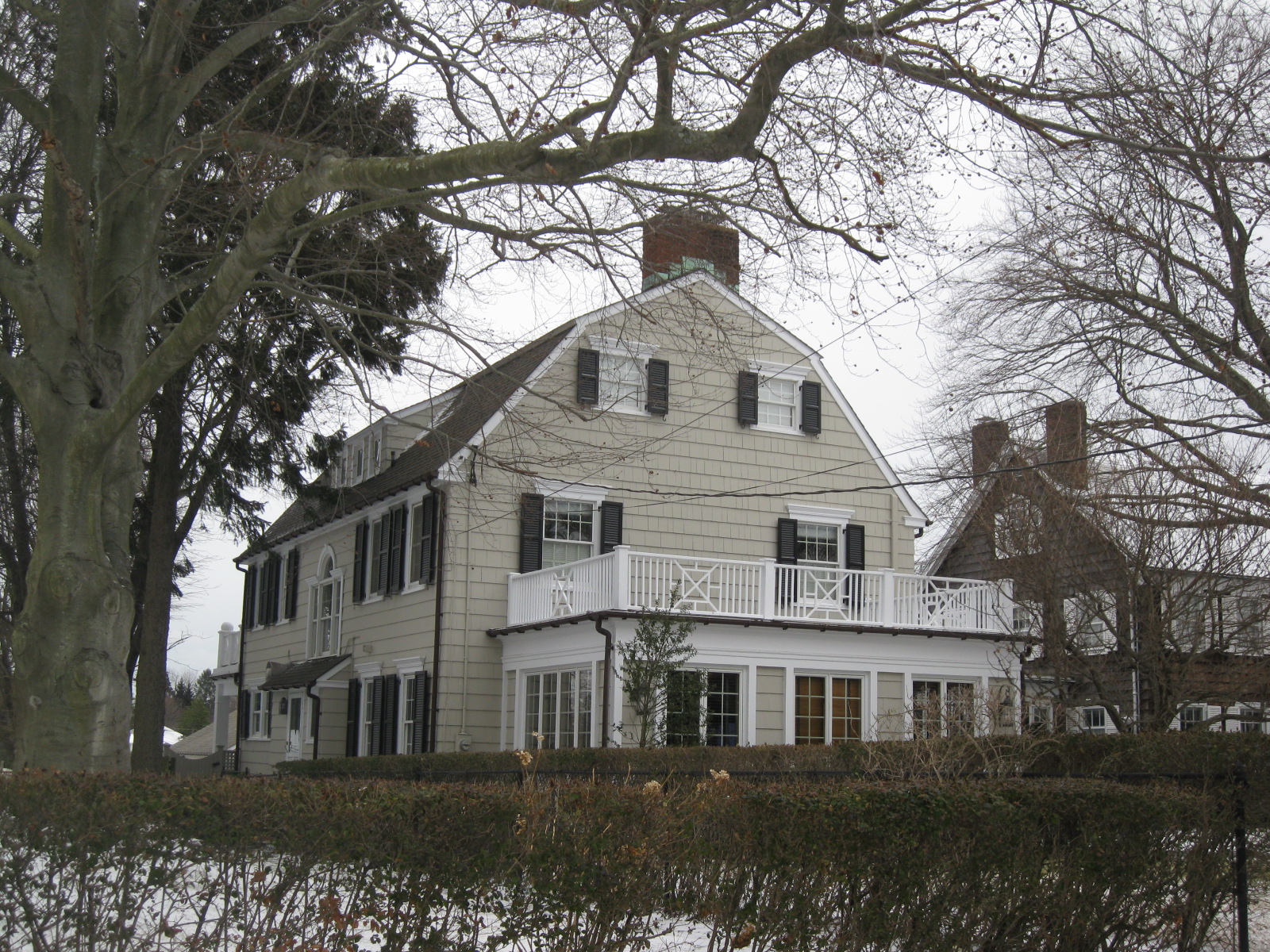 Reasons for Closure
After George and Kathy Lutz bought the house in 1975, they moved in with their three kids. During their brief residency of around 28 days, they encountered frightful paranormal incidents, including strange sounds, bad smells, cold spots, things floating, and even visions of bad spirits making it one of the spookiest spots in Long Island.
Their unsettling experiences served as the inspiration for Jay Anson's bestselling book "The Amityville Horror" in 1977, followed by a film adaptation in 1979, as well as various sequels and remakes.
Even though the Lutz family left, other families have lived in the house since then. Surprisingly, none of these subsequent families reported any supernatural occurrences.
The property underwent renovations, and its address was even changed to discourage curious onlookers and tourists. In the latest update, the house changed hands in 2017, fetching a price of $605,000.
Accessibility
This house isn't open for public visits, as mentioned earlier. However, you can catch sight of it from the street or the water. It's important to be respectful of the current owner's and neighbors' privacy and property, as they might not want too much attention.
If you're interested, there are tours you can join that delve into the history and stories about the house and the town of Amityville.
Some of these tours even take you to places like the Amityville Cemetery, where the DeFeo family is buried, and the Amityville Historical Society, which has objects and items linked to the house and the tragic events.
Red Hook Grain Terminal
The Red Hook Grain Terminal stands as an iconic industrial symbol on the waterfront of Red Hook, Brooklyn. Constructed in the early 1920s, this massive 12-story tall building played a crucial role in storing and distributing grain from different parts of the world.
Its towering concrete silos and unique red exterior have turned it into a recognizable part of the local skyline.
Despite its historical importance, the terminal has seen little use since the 1960s, serving as a ghostly reminder of the neighborhood's industrial history. This makes it one of the most abandoned places on Long Island.
Reasons for Closure
The closure of the Red Hook Grain Terminal resulted from its lack of profitability and obsolescence by the mid-20th century. It was built in 1922 to support the New York State Canal System, but that terminal already faced challenges as the canal system's use declined and competition from railways and trucks grew.
Struggling to generate sufficient revenue for operational costs, the terminal was handed over to the Port Authority of New York and New Jersey in 1944.
However, by 1965, the Port Authority decommissioned the terminal due to the absence of a practical purpose. Since then, the terminal has remained empty and deteriorating, with no concrete plans established for its redevelopment.
Accessibility
Access to the terminal is restricted, although there is a tour available to learn about its storied past. The terminal is visible from the nearby Erie Basin as well as the subway lines that cross the canal. Numerous explorers, photographers, and graffiti artists visit the station due to its urban design and mysterious past.
However, trespassing on the property is against the law and poses serious health risks due to the building's precarious condition.
Calvert Vaux Cove
Calvert Vaux Cove is a serene waterfront area in Brooklyn that offers a tranquil escape from the city. It is named after Calvert Vaux (the architect who co-designed Central Park) and it embodies his vision of natural beauty and design.
It let's you catch stunning views of Manhattan and the Statue of Liberty. You can reach Calvert Vaux Park from New York in just 21 minutes for a mere $2, which is the fastest and cheapest option.
The cove's lush greenery, gentle waves, and sandy beaches invite relaxation and recreation. On Gravesend Bay, at the park's edge, there is a unique abandoned vessel turned over in the bay. Its purpose is unknown, however, it has been there for a very long time.
Reasons for Closure
The cove wasn't intentionally abandoned, but it wasn't given much attention by the park authorities. They focused on the more popular areas of the park, so the cove kind of got neglected.
Unfortunately, people started using it as a dumping ground for unwanted things like boats, cars, and trash. It's really sad because it created this urban wasteland that didn't match the natural beauty of the rest of the park.
Accessibility
To get to Calvert Vaux Cove, you can keep walking west along the Calvert Vaux Park Greenway. As you continue, you'll notice a trail opening up past the last baseball diamond. From there, you can explore the cove and enjoy the natural beauty it has to offer. Additionally, you have the option to enjoy a picnic amidst the lush beauty of this green land.
Conclusion
Long Island has numerous abandoned places but most of them cannot be visited. A few of them such as Calvert Vaux Cove are accessible but have limited aspects to see. However, one can always go here to experience serenity and explore the spot. With our detailed guide, you now know the different spots in Long Island that have been deserted. Visit them and uncover the mysteries at these locations!
Abandoned Places on Long Island - FAQs
What are a few of the most abandoned places on Long Island?
Some of the most abandoned places on Long Island include the Kings Park Psychiatric Center, Camp Hero, Neponsit Health Care Center, Jumping Jack Power Plant, and Battery King at Fort Totten.
Are these abandoned places open to the public for exploration?
In most cases, these abandoned places are not open to the public due to safety concerns, legal restrictions, and deteriorating conditions. Trespassing can lead to legal consequences.
Are there any guided tours available for these abandoned locations?
Yes, there are guided tours available for some of these abandoned places, such as Kings Park Psychiatric Center and Camp Hero. These tours offer a safe and informative way to explore these sites.
What are some closure reasons for these abandoned places on Long Island?
Closure reasons vary for each location. Some were closed due to changes in treatment methods (e.g., Kings Park Psychiatric Center), while others were decommissioned for financial or technological reasons (e.g., Battery King at Fort Totten).