Turning 21 is a big deal, right? So why not go all out and plan an epic trip to Las Vegas, Nevada, to celebrate? I mean, it's the city of non-stop fun and endless entertainment options!
Now, when it comes to choosing a place to stay for your 21st birthday bash, you've got to think about those awesome Las Vegas party hotels. These places are all about creating that lively and exciting atmosphere for your celebration. So, let's dive into the top 8 hotels in Vegas that are perfect for your big day. We'll help you find the one that suits your style best!
Best Hotel For 21st Birthday In Vegas
After thorough research, we've carefully selected the top 8 hotels best suited for celebrating birthdays. While we specifically recommend them for a remarkable 21st birthday celebration, they are equally exceptional for commemorating a range of other special events. Let's take a closer look at these extraordinary options.
The Palazzo at The Venetian stands as a luxurious 5-star eco-friendly hotel along the famed Vegas Strip. It boasts a comprehensive array of offerings, encompassing a lavish spa, a well-equipped health club, an elevated pool deck granting panoramic views of the Strip, and a cutting-edge casino. With over 40 diverse dining establishments and bars, including Chica, BRERA Osteria, Mott 32, Delmonico Steakhouse, Wakuda, and Bouchon, guests can savor an array of global cuisines.
What's Unique?
The Palazzo at The Venetian holds particular allure as a favored destination for birthdays, business events, and to celebrate other occasions. Among the reasons that draw individuals to mark their 21st birthday at this unique place are:
Guests luxuriate in the offerings of 11 expansive pools, which creates a vibrant aquatic backdrop to the festivities.
The on-site bar further enriches the atmosphere by offering a convivial setting for socializing and toasting to memorable moments.
Additionally, the remarkable city vistas from the suites add a touch of scenic beauty and create a captivating ambiance for your birthday celebrations.
The availability of cabanas and hot tubs introduces an element of relaxation and opulence, which provide a serene space for intimate conversations or moments of quiet indulgence.
An exclusive club lounge offers complimentary food and drinks, private check-in, and concierge amenities for a luxurious and stress-free environment.
Entertainment options at the casino feature slot machines, table games, poker, and sports betting, which also add excitement and fun to your special day.
After the extravagant celebration of your 21st birthday, unwind with a pampering session at the Canyon Ranch Spa, featuring facials, fitness activities, and wellness programs.
Additional Facilities
In addition to its main amenities, the hotel offers a range of additional facilities to enhance the guest experience.
These include the convenience of two swimming pools which allow guests to relax and refresh in a leisurely setting.
For travelers requiring transportation to and from the airport, the availability of an airport shuttle service ensures a seamless and stress-free journey.
The hotel also caters to different preferences by providing designated non-smoking rooms.
Furthermore, the establishment accommodates larger groups or families with its family rooms.
Price
Turning to pricing details, The Palazzo caters to various budgets. The cost of a room at this hotel varies, starting from an affordable rate of $203. For those seeking a more lavish experience, the most expensive rooms are priced at $700 and higher.
Location
The Palazzo is located in a convenient location and facilitates easy access to several remarkable attractions. The Shark Reef Aquarium provides guests with the opportunity to explore captivating aquatic life and is a mere 3.9 km away.
Just 6 km from the establishment is The Mob Museum, which offers a glimpse into the intriguing history of organized crime. For aficionados of neon nostalgia, The Neon Museum showcases iconic Las Vegas signs from yesteryears and stands 7 km away.
Recommended Reading: Taste The Local Flavor | Best Breweries In Las Vegas
Address: 3325 S Las Vegas Blvd, Las Vegas, NV 89109, USA
For an extraordinary and indelible 21st birthday experience, Wynn Las Vegas stands as the ultimate choice. This opulent resort is nestled on the iconic Strip and delivers contemporary luxury, featuring a comprehensive spa, oasis-like pools, and high-end boutiques. Enthusiasts of shopping can revel in exclusive outlets such as Chanel and Louis Vuitton, while culinary delights await at signature restaurants.
What's Unique?
This hotel attracts a multitude of newly turned 21-year-olds due to its irresistible offerings such as:
It includes a complete casino boasting over 1,800 slot machines and 26 poker tables, along with a diverse array of table games including blackjack by the poolside. You can enjoy the thrill of gambling in style and comfort.
It has an elegant and intimate nightclub called XS, which surrounds Encore's European Pool. You can dance the night away with world-class DJs and performers, or relax in one of the cabanas or daybeds.
Catering to both corporate and leisure needs, it houses a conference center for business guests, a golf course for enthusiasts, and a salon for relaxation.
You can also book one of their inclusive celebration packages that feature deluxe accommodations and curated experiences.
Additional Facilities
At Wynn Las Vegas, you can enjoy the following facilities:
Take a dip and unwind in any of the 3 inviting swimming pools.
You can experience the comfort of non-smoking rooms, ensuring a fresh atmosphere.
Pamper yourself with the indulgence of a spa and wellness center.
Prices
During the low season (weeknights), the average price is around $251. However, the average price rises to approximately $580 in the high season (weekend nights).
Location
Wynn Las Vegas finds itself conveniently situated, less than 8 km away from Harry Reid International Airport. You can visit the captivating Shark Reef Aquarium, just 4.1 km away.
Further, you can dive into history at the Mob Museum, only 6 km from the hotel. Moreover, notable nearby spots include the serene Flamingo Wildlife Habitat (1.1 km), the iconic Eiffel Tower at Paris Hotel (1.5 km), and the enchanting Bellagio Fountains (1.6 km).
Address: 3131 Las Vegas Blvd S, Las Vegas, NV 89109, USA
The Bellagio is a fancy 5-star hotel and casino on the Las Vegas Strip. It's known for its amazing fountain show that dances to different kinds of music. The rooms are fancy, with nice bathrooms, big TVs, curtains you can open with a button, comfy robes, mini-bars, and spots for iPods. There are five pretty pools and beautiful gardens to explore.
The hotel has many places to eat, from fancy to casual, and cool shops and meeting rooms. We recommend visiting famous restaurants at the Bellagio such as Cafe Gelato, Michael Mina, Yellowtail, Spago, Palio, and The Buffet at Bellagio.
What's Unique?
If you're turning 21, the Bellagio is a great place to celebrate because:
It has an age restriction of 21 for check-in, which means you can enjoy a mature and exclusive atmosphere.
Its strategic placement on the Strip enables you to effortlessly reach various attractions and entertainment choices within Las Vegas.
The top-notch service and luxurious amenities allow you to indulge and feel extraordinary on your important day.
With a variety of thrilling dining options, you can treat yourself to a range of flavors and cuisines that match your mood and preferences.
Plus, the captivating fountain show presents a mesmerizing combination of water and music that will make your birthday unforgettable.
Especially for birthday celebrations, the five spacious pools and the delightful botanical gardens significantly elevate the guest experience.
Additional Facilities
The Bellagio offers an array of remarkable amenities designed to ensure an exceptionally comfortable and enjoyable stay.
You can relax and rejuvenate at the spa and wellness center, which offers massages, beauty services, hair treatments, and fitness/spa locker rooms.
And to make it even better, they also have relaxing hot tubs and saunas.
The allure of the casino awaits, providing a diverse selection of games and entertainment options.
Furthermore, for those seeking leisurely diversions, the nearby golf course and convivial happy hour, offering libations and delectable snacks, are both readily accessible.
As daylight fades, the hotel's atmosphere transforms with captivating live music performances and engaging entertainment.
The hotel provides parking on-site, WiFi access, non-smoking rooms, and pet-friendly policies (charges may apply).
Price
The pricing can fluctuate due to factors like dates and the hotel's policies. Typically, the cost for a stay with two adults in a single room might be $260.
Location
The hotel is located 1.1 km away from the center of Las Vegas. Keep in mind that all distances are measured in straight lines, so the actual travel distance might be different. If you're coming from Harry Reid International Airport, it's about 4.8 km to the Las Vegas Bellagio. Besides, you are just 5 minutes away from Superfrico Las Vegas, one of the best places to spend your nights!
Address: 3600 S Las Vegas Blvd, Las Vegas, NV 89109, USA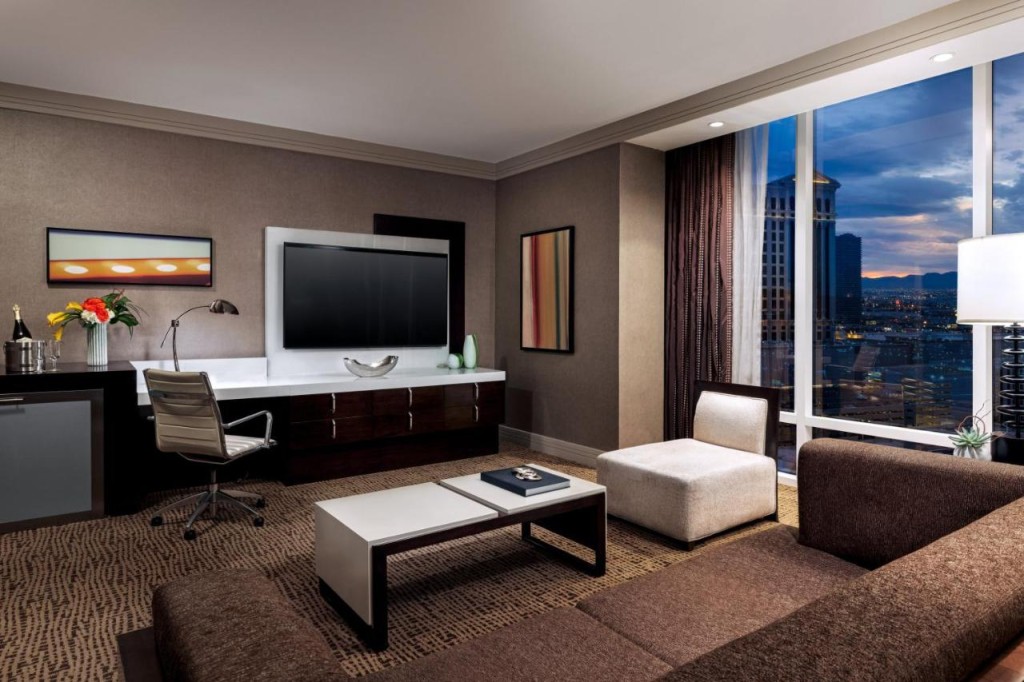 The Mirage is an exquisite haven that is situated along the captivating Las Vegas Strip. It is drenched in elegance and equipped with top-tier amenities. For a 21st birthday celebration, The Mirage stands as a prime choice. The mesmerizing artificial volcano that graces the front of the resort is one of its standout features.
What's Unique?
It erupts in a spectacular display every night. All who gather can enjoy a free and enchanting entertainment experience. The Mirage offers an array of accommodations for those who desire an opulent celebration.
If you're seeking entertainment, enjoy the amazing shows, events and concerts that Mirage hosts regularly. Whether you want to laugh with Terry Fator, marvel at The Beatles LOVE by Cirque du Soleil, or rock out with Aerosmith, you can find something to suit your taste and mood.
You can pamper yourself with a massage, a facial, a manicure, or a haircut. You can also book a special event package that includes champagne, cake, and personalized service on your birthday.
Celebrate with friends and family at Mirage's diverse dining options, which offers fine dining, casual fare, buffets, or quick bites. Don't miss out on daily happy hour specials at various bars and lounges.
Have a blast in the casino, testing your luck at slots, table games, poker, or sports betting. You can also join the Unity by Hard Rock program and earn points for incredible rewards and exclusive benefits.
If you want to make your birthday extra special, check out amazing things like watching a big volcano, exploring a cool garden with dolphins, playing golf at Shadow Creek, or going shopping.
You can also go on exciting trips to places like the Grand Canyon, Red Rock Canyon, and Death Valley.
Additional Facilities
Besides the renowned Volcano welcome to arriving guests, the property has much more to offer.
It boasts a state-of-the-art spa and a salon with a touch of celebrity flair. It also has magnificent pools that are set in a vibrant tropical environment.
The additional amenities provided at this lavish resort encompass over 3,000 opulent guest rooms and suites.
They feature a sophisticated and ergonomic design that is paired with state-of-the-art conveniences.
Additionally, it offers top-notch entertainment options, exquisite dining experiences, and exciting gaming facilities.
Upon entering, you will find a sun-drenched atrium that is adorned with towering palm trees, cascading waterfalls, and inviting pools.
The Mirage aquarium showcases newly enhanced artificial corals and a diverse array of sea creatures behind the hotel's reception. They remind you of the enchanting beauty found in destinations like Australia's Great Barrier Reef.
Price
The latest starting price for this hotel is $108 per night. It is an attractive option for travelers who seek comfortable accommodations at an affordable rate.
Location
The hotel has a convenient location near various points of interest. It is just 3 miles away from Harry Reid International Airport and 21 miles away from Boulder City Airport.
Additionally, it is a mere 6-minute drive to the Harrah's / The Linq Station on the Las Vegas Monorail. The Flamingo / Caesars Palace Station on the Las Vegas Monorail can also be reached within a 10-minute drive.
Address: 3400 S Las Vegas Blvd Las Vegas, NV 89109
Editor's Pick: Top 7 All-You-Can-Eat Sushi in Las Vegas
Another incredible option is to immerse yourself in the captivating ambiance of The Cosmopolitan of Las Vegas. This extraordinary place blends modern elegance with an exhilarating atmosphere that makes your senses come alive. With impressive architecture, exceptional amenities, and an enticing casino, The Venetian delivers an amazing experience. You can also unwind in the tranquil spa, and savor a variety of mouthwatering dining options.
What's Unique?
We find this hotel a perfect choice for celebrating a 21st birthday due to its unique features tailored to young adults.
Its modern design and sophisticated ambiance create a trendy atmosphere tailored just for your birthday celebration.
The spacious rooms with private terraces offering stunning views of the Strip provide a memorable setting for a birthday celebration.
One standout feature is the hotel's diverse culinary scene. It includes acclaimed restaurants led by celebrity chefs such as José Andrés, Christina Tosi, and David Chang.
This hotel's varied cuisine, from Eggslut sandwiches to Momofuku noodles, forms an essential part of the birthday adventure.
The vibrant nightlife scene at The Cosmopolitan is a major draw. The assortment of bars and lounges sets the stage by offering live music, crafted cocktails, and captivating entertainment for lively evenings.
Facilities
The Cosmopolitan of Las Vegas offers a range of tailored amenities to enhance your experience.
Valet parking welcomes you upon arrival, while pets are embraced as part of the fold.
A 24-hour front desk is available for your convenience, and express options streamline check-in/out.
The luxurious spa invites relaxation, and the outdoor pool offers a refreshing respite.
Secure luggage storage ensures your belongings are well taken care of.
On-site cash withdrawal provides financial convenience.
Free WiFi is accessible in both public areas and guest rooms, keeping you connected.
The ambiance is designed for comfort and ease, creating a memorable stay.
Prices
The cost typically averages $292 for a stay on a weeknight and for a weekend night, the average price rises to $500.
Location
The Cosmopolitan of Las Vegas is positioned south of the Bellagio Hotel on the Las Vegas Strip. The Cosmopolitan Casino is a quick 1-minute walk, while the enchanting Fountains of Bellagio are just 3 minutes away.
The MGM Grand Garden Arena awaits 10 minutes on foot, and The Chandelier beckons with a 1-minute stroll. Culinary options like Earl of Sandwich are 3 minutes away. The Las Vegas International Airport Station is a convenient 6-minute drive from Harry Reid Intl.
Address: 3708 Las Vegas Blvd S, Las Vegas, NV 89109, USA
The Venetian hotel is absolutely stunning with its Italian-style design, breathtaking buildings, and incredible art – a true masterpiece. The hotel offers over 4,000 spacious and beautifully appointed guest rooms that transport you to a luxurious paradise. Every detail is meticulously crafted, from the intricate paintings to the enchanting gondola rides on the Grand Canal.
What's Unique?
It's a place where dreams become a reality and where cherished memories are made. People find this hotel an ultimate destination for an unforgettable 21st birthday celebration. It has a unique charm that makes it the perfect place to create special memories on your big day. But why should you choose this hotel for your 21st birthday? Continue reading to get some reasons:
The hotel's design, reminiscent of the enchanting Venice, Italy, creates an unmatched atmosphere of luxury and elegance. This opulent setting sets the stage for a celebration that feels truly extraordinary.
The vibrant nightlife scene, complete with live music, cocktails, and entertainment, ensures that the birthday celebration is infused with excitement and energy.
Venues like the celebrated TAO Nightclub and Lounge promise unforgettable experiences.
From romantic gondola rides to exciting casino adventures and shopping sprees, there's something for everyone. You can create lasting memories with the diverse range of activities available.
If you want to enjoy your birthday by the pool, they've got you covered with 10 outdoor pools featuring poolside dining and the option to rent a private cabana.
Additional Facilities
You can enjoy all the incredible amenities offered at The Venetian Resort:
They have spacious suites with a sunken sitting area, dining table, and two LCD cable HDTVs.
The private bathrooms are luxurious, featuring an oversized soaking tub, a separate glass-enclosed shower, marble counters, and deluxe toiletries.
When it comes to dining, you'll have a variety of options including bistro fare at Thomas Keller's Bouchon, American, Italian, Asian, and fusion cuisines
We personally recommend experiencing the cocktail culture at Electra or exploring the cobblestone pathways of the Grand Canal Shoppes.
Price
You can expect to pay about $303 on average for a stay during the weeknights. On the weekends night, averaging nearly $428.
Location
The Venetian boasts a fantastic location with attractions at your doorstep. You can visit the Madame Tussauds Las Vegas Wax Museum right on-site. The Harrah's / The Linq Station is a mere 5 minutes away, offering easy transportation options. In just 8 minutes, you can reach the Flamingo / Caesars Palace Station. Plus, the Harry Reid International Airport is a short 15-minute drive. This prime position ensures a convenient and enriching stay at The Venetian.
Address: 3355 S Las Vegas Blvd, Las Vegas, NV 89109, USA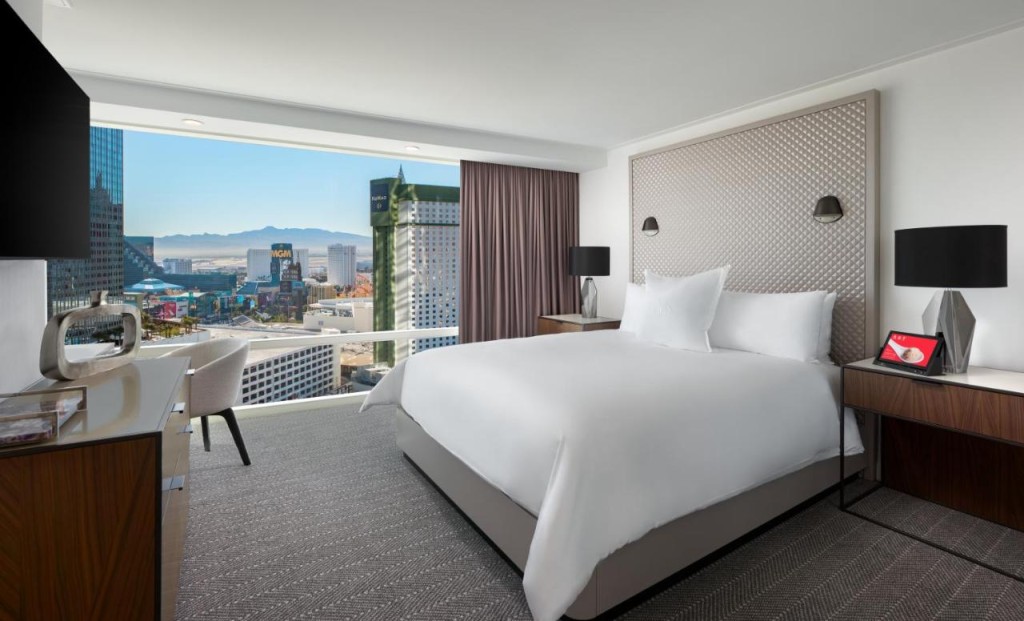 If you're ready to celebrate your 21st birthday in absolute style, you have to experience The Aria Resort and Casino. You'll feel like a VIP from the moment you arrive. Make sure to experience the endless dining and entertainment options that cater to every taste and preference.
What's Unique?
After visiting this place, we evaluated that this hotel is famous for celebrating 21st birthdays due to the following reasons:
It is a AAA Five Diamond awarded resort that offers world-class amenities, restaurants, and entertainment.
It offers a luxurious and upscale environment, perfect for a milestone celebration.
The stunning views of the city create a picturesque atmosphere for your special day.
It has a concierge team that can create a special occasion right in your suite with in-room setup for the perfect surprise. They offer curated packages for bachelor/bachelorette parties, weddings, anniversaries, romance, and more
The endless dining options ensure that you and your friends can indulge in delicious meals and drinks.
The entertainment options, from shows to nightlife, guarantee a fun-filled celebration.
Facilities
A variety of amenities are available at the Aria Resort and Casino to make your stay pleasurable.
You may choose from a variety of rooms and suites, each with amenities like a minibar, a one-touch room control system, and a spacious bathroom.
You can unwind by one of the three outdoor swimming pools, where you can have refreshments from the poolside bar.
The spa contains 62 treatment rooms and provides massages, facials, and salon services.
The fitness center, which offers both personal training and group exercise programs, is another place you may work out.
Prices
For a weeknight stay at the ARIA Resort & Casino, the average cost is about $235. However, if you're considering a weekend break, that cost rises to around $388 each night.
Location
The ARIA Resort & Casino has a fully functional conference center on-site. Harry Reid International Airport is about 5 kilometers away, making travel simple. If you're interested in touring, the famous Bellagio Fountains are just 650 meters away. The Mob Museum is 8 kilometers away and available to individuals who are interested in history. A quick 650-meter walk will take you to the Eiffel Tower at the Paris Hotel if you're in the mood for a little bit of Parisian flair.
Address: 3730 S Las Vegas Blvd, Las Vegas, NV 89158, USA
Waldorf Astoria
PERFECT FOR: Artistic luxury escape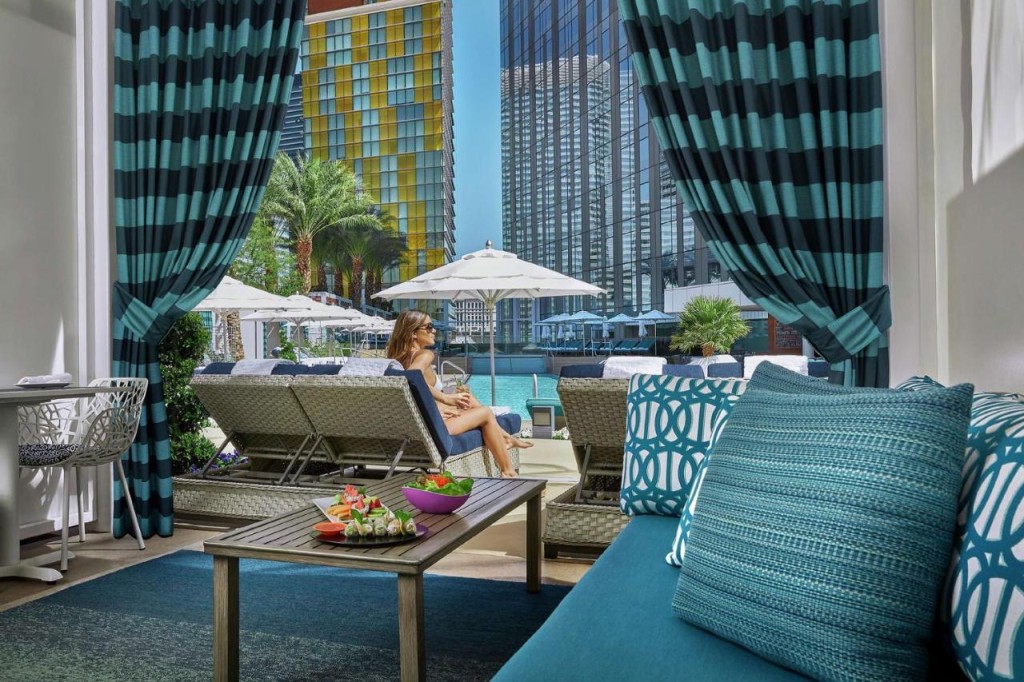 If you're seeking to celebrate your 21st birthday in a spot that mixes luxury with artistic charm, the Waldorf Astoria should be on your radar. This stunning hotel sits right along the renowned Strip which offers you an ultimate Las Vegas experience.
What's Unique?
What truly makes this place stand out is its incredible assortment of modern art, showcasing pieces by renowned artists like Salvador Dali and Roy Lichtenstein. The blend of sophistication and imaginative flair will leave you in awe as you mark your birthday in a truly deserving manner. These are birthday specialists for these reasons:
It offers unforgettable experiences at iconic destinations around the world.
It has a variety of party venues that can accommodate different sizes and styles of events, from intimate gatherings to lavish galas.
A team of dedicated event experts is at your service to help plan and execute your celebration with personalized service and attention to detail.
It has a reputation for excellence in food and beverage with customized menus that can suit your preferences and theme.
With a history dating to 1893 and throughout this time, it has witnessed many legendary parties with celebrities, royalty, and even circus animals.
Facilities
These hotels offer a wealth of facilities, and we believe they are among the best options available:
You can indulge in luxury at this cool hotel, where a lavish two-floor spa offers exceptional treatments.
The hotel boasts a gym featuring a dedicated yoga room, whereas rooms are equipped with flat-screen cable TV and kettles.
Guests are provided with robes, slippers, and toiletries, while rooms boast cutting-edge controls.
An eighth-floor terrace beckons with cabanas, lap pools, hot tubs, and a plunge pool.
The staff offers attentive service with hourly perks such as sunglasses cleaning and refreshing frozen fruit treats.
Price
The cost for a night's stay in a room with a king-size bed is $399.
Location
You can reach the Monorail with a leisurely walk of under 15 minutes from the hotel. Additionally, the Las Vegas Convention Centre is a mere 10-minute drive away from the Waldorf Astoria Las Vegas. If you're interested in golf, the Wynn Golf Course is conveniently located less than 4.8 km from the hotel.
Address: 3752 Las Vegas Blvd S, Las Vegas, NV 89158, USA
Conclusion
Celebrating your 21st birthday in Las Vegas is an unforgettable experience that deserves nothing but the best. After exploring some of the finest hotels this vibrant city has to offer, we've found a few gems that truly stand out for your milestone celebration. The Palazzo at The Venetian offers personalized luxury, while Wynn Las Vegas provides an upscale nightclub experience. Bellagio enchants music and food lovers with its fountain show and dining options Choose your perfect setting, and let the celebrations begin! Be sure to not visit Las Vegas during the worst times!
Best Hotel for 21st Birthday in Vegas - FAQs
What is the legal drinking age in Las Vegas?
The legal drinking age in Las Vegas, as in the rest of the United States, is 21 years old.
Can I book a private cabana by the pool at these hotels for my birthday celebration?
Yes, several of these hotels, such as The Venetian and The Mirage, offer the option to rent private cabanas by the pool. It's a great way to enjoy a private and luxurious birthday celebration with friends.
Do these hotels offer special birthday packages or amenities?
Yes, many of these hotels offer special birthday packages that may include room decorations, complimentary champagne, and personalized services. For example, The Aria Resort and Casino offers curated packages for special occasions, including birthdays.
Are these hotels conveniently located near popular Las Vegas attractions?
Yes, these hotels are strategically located on or near the Las Vegas Strip, making it easy to access popular attractions, restaurants, and entertainment options. For example, The Bellagio is located close to the famous Bellagio Fountains and the Eiffel Tower at the Paris Hotel.