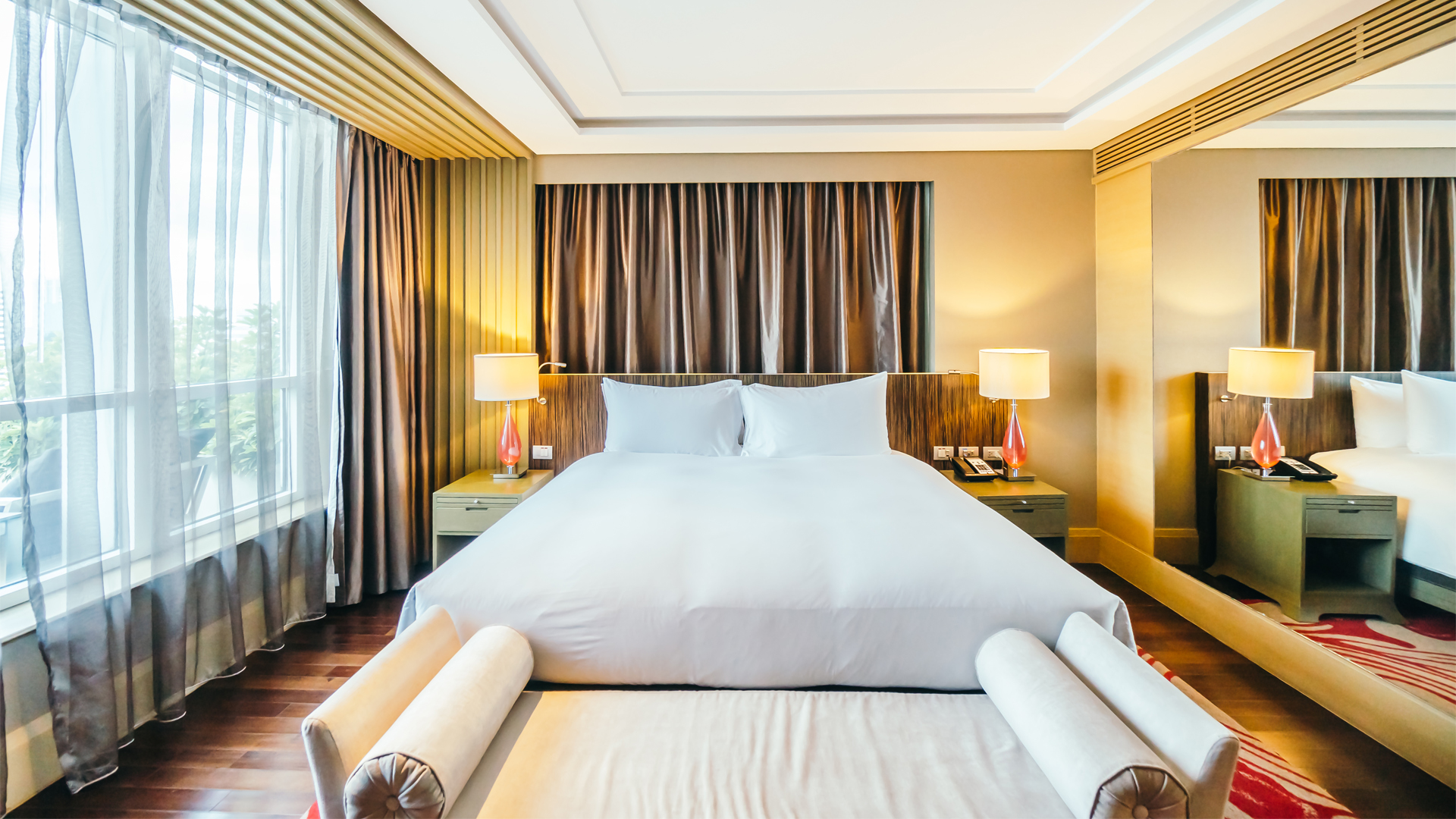 Are you looking for the perfect destination to make your next vacation one that you'll never forget? If so, consider a trip to Lake Michigan! Here, you will find amazing views, picturesque sunsets, and great places to stay. Accommodations along this majestic body of water range from budget-friendly lodges to comfortable resorts – all providing guests with an experience full of relaxation and adventure.
From Chicago in the East to Green Bay in the West, this place is home to many unique hotels that provide access to some of the best attractions around. So if you're ready for a memorable getaway filled with fun activities like sailing and swimming or exciting nightlife opportunities in major cities like Milwaukee, read on as we talk about curating an unforgettable hotel escape at Lake Michigan. Well, if you love to go on vacations and explore new places in the USA then we would suggest you check out our list of 8 best resorts in Utah.
Which Hotels On Lake Michigan Should You Choose?
There are plenty of hotels on Lake Michigan, and we have enlisted some of the best hotels on Lake Michigan.
The Inn At Harbor Shores
View Website
Get Directions
PERFECT FOR: People looking to escape the bustle of activity of everyday life.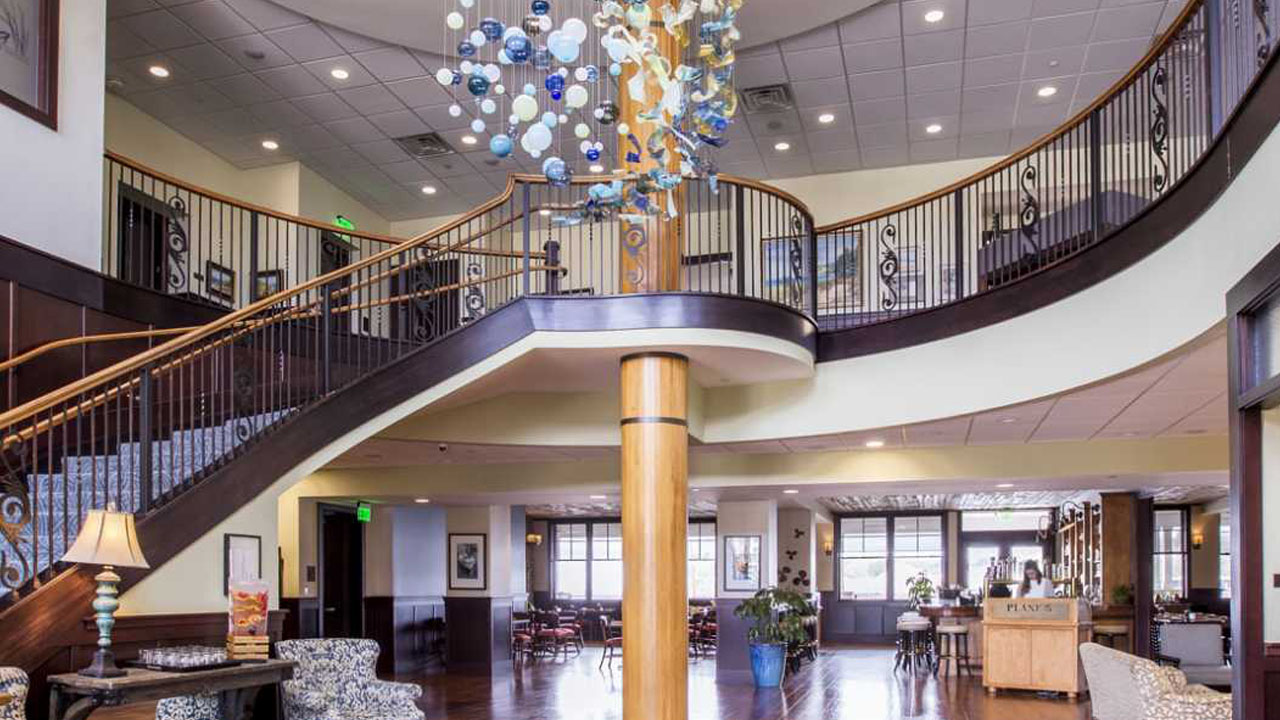 The Inn at Harbor Shores is a luxurious hotel located in St Joseph, Michigan. The hotel offers 92 well-appointed guest rooms and suites with modern amenities such as flat-screen TVs, complimentary Wi-Fi, mini-refrigerators, microwaves, and coffeemakers. Guests can also enjoy an indoor and outdoor pool, full-service spa and fitness center.
The resort's dining options are top-notch, with the Lakeview Restaurant offering fine dining with gorgeous lake views. The poolside Tiki Bar features casual eats and live entertainment, while the landing Bar & Grill is perfect for kicking back with a cocktail or two after a long day of exploring the area. There's also the Fireside Lounge for sipping signature cocktails and enjoying light bites.
An ideal place for team building events, weddings, or special celebrations, The Inn at Harbor Shores offers several wedding venues that can accommodate up to 300 guests. Whether you're looking for elegant ballrooms or outdoor ceremony settings overlooking the lake, the staff here will make sure your event is nothing short of amazing.
There are plenty of opportunities for those wanting to explore the great outdoors. Nearby attractions include Warren Dunes State Park and Silver Beach, which offer beautiful beaches and stunning shorelines just minutes from the hotel. There are also various golf courses in the area, shopping centers and charming downtown areas that offer some truly unique dining experiences too! From biking trails to boat rentals, there's something for everyone to enjoy here.
Pinestead Reef Resort
View Website
Get Directions
PERFECT FOR: All looking for the Luxurious lakefront refuge with world-class facilities.
Pinestead Reef Resort is a lakefront retreat situated on 700′ of sandy beach in East Grand Traverse Bay. Offering an array of amenities and activities, the resort is the perfect getaway for travelers looking to relax and explore. The resort comprises 46 waterfront suites, each with breathtaking views of the bay and equipped with full kitchens, flat-screen TVs, cable and HBO access, in-room safes, VCRs, DVD players, and free wireless internet access. All rooms are smoke-free.
Onsite amenities include an indoor heated pool, whirlpool, sauna, and exercise room. Well, pools have always been an attraction for customers, so if you are also one of those who want to have a hotel where a pool is available, then check out our list of the 8 best hotels with pools in NYC.
Moreover, for those searching for something a little more active or adventurous, the resort also offers game rooms for movie rentals and a BBQ deck with gas grills on the property. Guests also have access to nearby water sport rental facilities, including kayaks, paddle boards, or motorized boats – perfect for exploring the bay up close!
Whether you're going for a romantic getaway or a family get-together, Pinestead Reef Resort has something to offer everyone. With its spectacular location and wide range of amenities, the resort is sure to provide you with a memorable stay that you won't soon forget!
Cherry Tree Inn & Suites is a 3-star hotel located in Traverse City, Michigan – the ideal spot for your next getaway. Providing a unique combination of ease and comfort, this all-suite hotel provides simple yet elegant quarters and a range of amenities that make it the ideal spot for family vacations and business trips.
At Cherry Tree Inn & Suites, each room is fully equipped with a kitchenette and complimentary wireless internet access to ensure your stay is comfortable. For added privacy, thick concrete walls separate each room, while select units feature two-person jetted tubs and private balconies.
In addition to providing guests with modern accommodations, the hotel offers an array of exciting activities and amenities, including an indoor pool and spa open 24 hours a year-round. Plus, you'll enjoy complimentary hot breakfasts every morning and free access to Wi-Fi throughout the entire property.
When finding the ideal lodging option in Traverse City, look no further than this hotel– where comfort and convenience come together in one fantastic package! Whether you're planning an extended stay or need somewhere comfortable to rest after a long day of sightseeing, this all-suite hotel has everything you need to make your vacation unforgettable.
The Knickerbocker On The Lake
View Website
Get Directions
PERFECT FOR: Travelers wanting to stay at a hotel with great amenities & stunning views of the lake.
The Knickerbocker on the Lake is a 3-star hotel located in downtown Milwaukee. It offers sophisticated rooms and suites with a variety of amenities to ensure a comfortable stay. The building itself retains its original historical charm yet has all the modern conveniences you would expect from a high-quality hotel.
The hotel's location right on the edge of Lake Michigan is truly unique, offering unparalleled views and easy access to some of the city's most popular attractions. Whether you're coming for business or pleasure, there's plenty to explore and enjoy in Milwaukee when you stay at the Knickerbocker.
For travelers looking for ways to relax at the hotel, there are several options available. Guests have access to an onsite spa and fitness room, with massage services and personal trainers providing a pampering experience. The restaurant also serves delicious meals throughout the day, including breakfast buffet options for those who need an extra boost in the morning.
The staff here is dedicated to ensuring your stay with us is as enjoyable as possible, promoting an atmosphere that feels like a home away from home. As one of Milwaukee's premier hotels, it offers exceptional service at every step of your journey – guaranteeing you're well looked after during your stay.
Bayshore Resort is a 3-star hotel located in Traverse City, Michigan. The resort offers traditional Victorian lodging rooms, free airport transfers, Wi-Fi, and breakfast. This charming destination has also earned an excellent rating of 4.5 stars on various review sites, with 1,087 guests singing its praises.
The hotel provides all the amenities one could desire for a luxurious stay. Each room offers plenty of space to relax and unwind and features modern decor and cozy furnishings that evoke the spirit of a bygone era. Guests can enjoy luxuries such as LCD televisions with cable channels, complimentary Wi-Fi access and telephones with voicemail capabilities. Plus, there are free local calls anywhere in the United States.
Local phone spectacular service is what really sets this hotel apart from other hotels in the area. With attention to every detail, the resort staff ensures guests have a pleasant and memorable stay. They are friendly, attentive and always willing to help with any needs or questions guests may have during their stay.
A complimentary continental breakfast is also served daily so guests can start their day off right! Guests at Bayshore Resort will quickly fall in love with this charming Victorian-style hotel situated on E Front Street in Traverse City, Michigan; where breathtaking views of Lake Michigan surround them combined with modern convenience paired with Old World charm – making it one truly unique destination that no traveler should miss out on!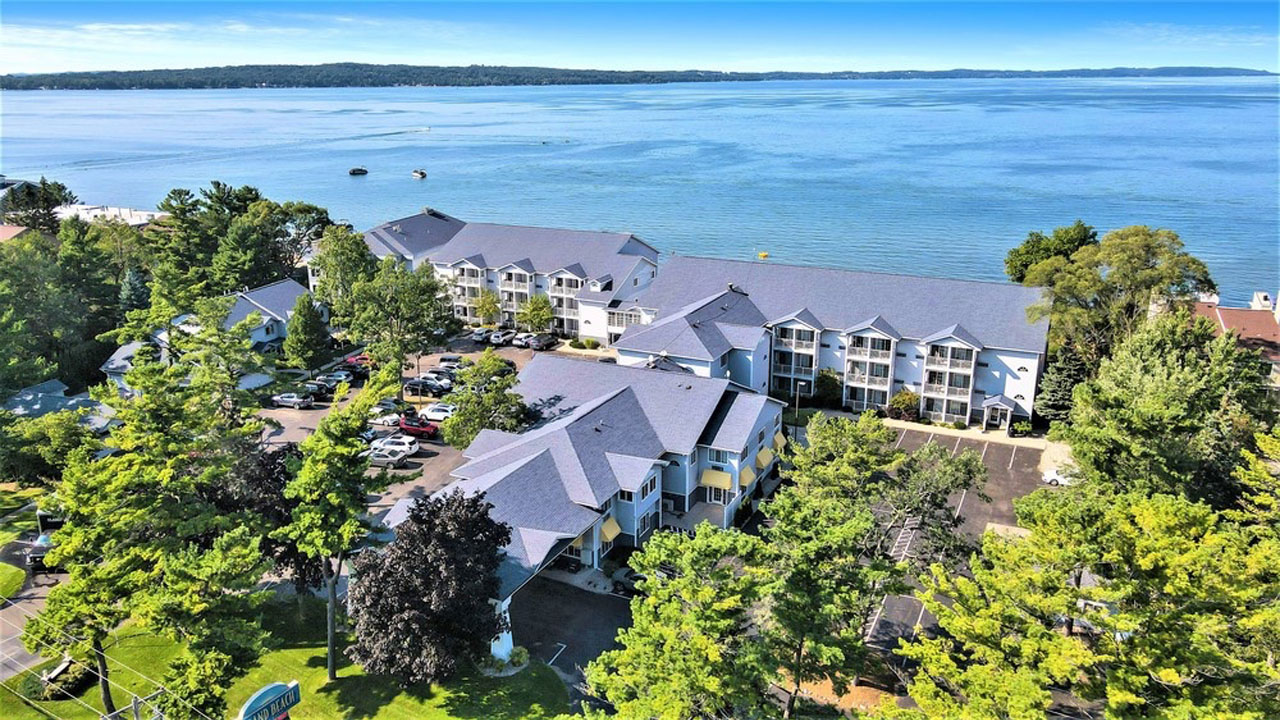 The Grand Beach Resort Hotel offers guests an exceptional stay experience in Traverse City, Michigan. Set on 300 feet of beautiful beachfront, this hotel provides a peaceful sanctuary for travelers looking to explore the beauty of northern Michigan. From its private balconies to its heated indoor swimming pool & hot tub, there's something for everyone at this waterfront resort. The rooms are designed with comfort and style and feature plush beds, cozy furnishings, and stunning lake views.
In addition to the private balconies and pool area, Grand Beach Resort offers free Wi-Fi access throughout the hotel, a 24-hour fitness center, and complimentary coffee & tea service in the lobby. There are also various dining options onsite, including an American restaurant that serves breakfast, lunch & dinner daily.
Guests can take advantage of all Traverse City offers while staying at the resort. Whether they're looking to spend some time on the beach or exploring nearby attractions like Sleeping Bear Dunes National Lakeshore or even wine tasting at one of over 30 wineries in Leelanau County, guests are sure to find something that suits their interests!
Beyond taking care of its guests' needs during their stay, the resort also offers several amenities that make it stand out from other hotels. For instance, they offer private boat slips so visitors can dock their boats during their stay without moving them after every trip out on Lake Michigan. They also provide access to kayaks and paddleboards so you can explore all that the city's waterways have to offer! Additionally, it offers these for those who prefer more relaxed activities like yoga or meditation classes!
The 4411 Inn & Suites is a cozy 2-star hotel in the lakeside town of Michigan, U.S. With just 15 rooms, each room features bright and modern decor with plenty of amenities to make your stay as exciting and comfortable as possible. All accommodations have complimentary Wi-Fi access to stay connected with the outside world, even during your vacation.
In addition to providing excellent accommodation, The 4411 Inn & Suites also offers some superb leisure facilities for guests to enjoy. Take advantage of their outdoor fire pit and picnic tables in a peaceful garden, or visit the onsite grill for delicious meals and snacks. Moreover, from here, you can easily reach nearby attractions such as the Shirley Heinze Land Trust, various beaches along Lake Michigan, and more.
For business travelers, the hotel also has a fully equipped business center with all necessary amenities such as computers with internet access and copy/fax services. Plus, staff members are always available to help with any queries or issues you might be having during your stay. The warm hospitality and top-notch service make this hotel one of the best places to stay in Michigan City.
Things To Consider While Choosing The Hotel On Lake Michigan
Whether you're searching for an escape from the hustle and bustle of everyday life or wish to explore the beauty of Lake Michigan, choosing a hotel for your stay can be tricky. From location to amenities, there are many factors to consider when deciding on the perfect hotel in Lake Michigan.
Location — Location is the first thing to consider when choosing a hotel in Lake Michigan. Decide which area of Lake Michigan you would like to explore and select a hotel nearby. If you plan to spend lots of time in the water, look for a beachfront property that offers easy access to swimming areas and other activities such as fishing or boating. If sightseeing is more important than proximity to water, look for hotels in the city near popular attractions. Additionally, suppose you plan to drive around the lake during your stay. In that case, it's best to find a centrally located hotel that offers plenty of parking options and easy access to highways and roads surrounding the lake. If you are one of those who always look for a perfectly located hotel near popular tourist attractions then give a quick read to our list of 9 best hotels in Houston downtown.
Amenities & Services — Another important factor when selecting a hotel on Lake Michigan is the amenities and services offered. Specific amenities may be more critical than others depending on the type of vacation you're planning. For instance, if you plan on taking day trips around the lake or going out for meals in town every night, it's less necessary that your chosen hotel provides food service or entertainment options.
On the other hand, if you'd like an all-inclusive getaway where most of your time will be spent within the confines of your room or suite, then finding a property with ample amenities such as spa services and exercise facilities should be a top priority. Additionally, make sure that any special requests can be easily accommodated by staff at the hotel before booking (e.g., extra bedding for children).
Other Activities — Another factor to consider when booking a Lake Michigan hotel is whether or not it offers water sports equipment or activities. Many hotels offer facilities like boat rentals, kayaks, and canoes for guests to use while they stay at the property. It's also worth considering if your chosen hotel has special packages that include discounts on these items.
Price & Reviews — Finally, it's also important to consider price when selecting a hotel on Lake Michigan—especially as specific properties may offer similar amenities but vastly different prices depending on their location and reviews from previous customers. Review sites are great resources for getting honest feedback from people who have stayed in each property before making your final decision so that you know what kind of experience awaits upon arrival!
Now that all those boxes are checked off, it's time to book your dream vacation!
How Do We Pick Our Recommendations
When selecting hotels along Lake Michigan, we took great care to ensure that all factors were considered. The cost was undoubtedly one of the most important criteria, as budget can heavily influence a vacation. Just as essential was the location—we wanted to ensure that guests could easily access nearby attractions and enjoy the beauty that Lake Michigan offers. Our third step in the selection process is to send our travel explorers to the targeted area hotels who observe the places and give their real-time experience reviews. Finally, we discussed with former customers about their stay experience—this gave us additional insight into which hotels would provide an unforgettable experience!
Recommended read: Exploring The Top 9 Hotels Of Amarillo, Texas
Conclusion
Searching for the best hotel in Lake Michigan can be daunting. With so much to consider, separating the good from the great can be difficult. However, with our recommendations based on real-time experience, ratings, amenities, proximity to attractions, and price ranges, you have all you need to decide when selecting a hotel for your stay on Lake Michigan. Ready for an unforgettable getaway? Look no further than the best of what Lake Michigan offers from the comfort of one of these fantastic hotels! Bon voyage, and enjoy your stay!
The Best Hotels In Lake Michigan - FAQs
Where is Lake Michigan located?
Lake Michigan's shore is the world's most extensive collection of freshwater dunes stretching along its western coast covering the states of Michigan, Wisconsin, Indiana, and Illinois. LakeHuron connects with lake Michigan which then drains into Mackinac.
Can you swim in Lake Michigan?
"At your own risk"-Make sure you keep your safety top of mind when enjoying the stunning waters of Lake Michigan – exercise caution while swimming to ensure a safe and enjoyable experience.
Are there any animals in Lake Michigan?
Lake Michigan is home to many species, including lake trout and sturgeon; whitefish, panfish, and perch; smallmouth bass and their larger cousin, the largemouth bass.
What is the best month to swim in Lake Michigan?
The serene waters are at their most inviting from late June through mid-September – an ideal time for visitors wishing to take full advantage of this captivating destination!