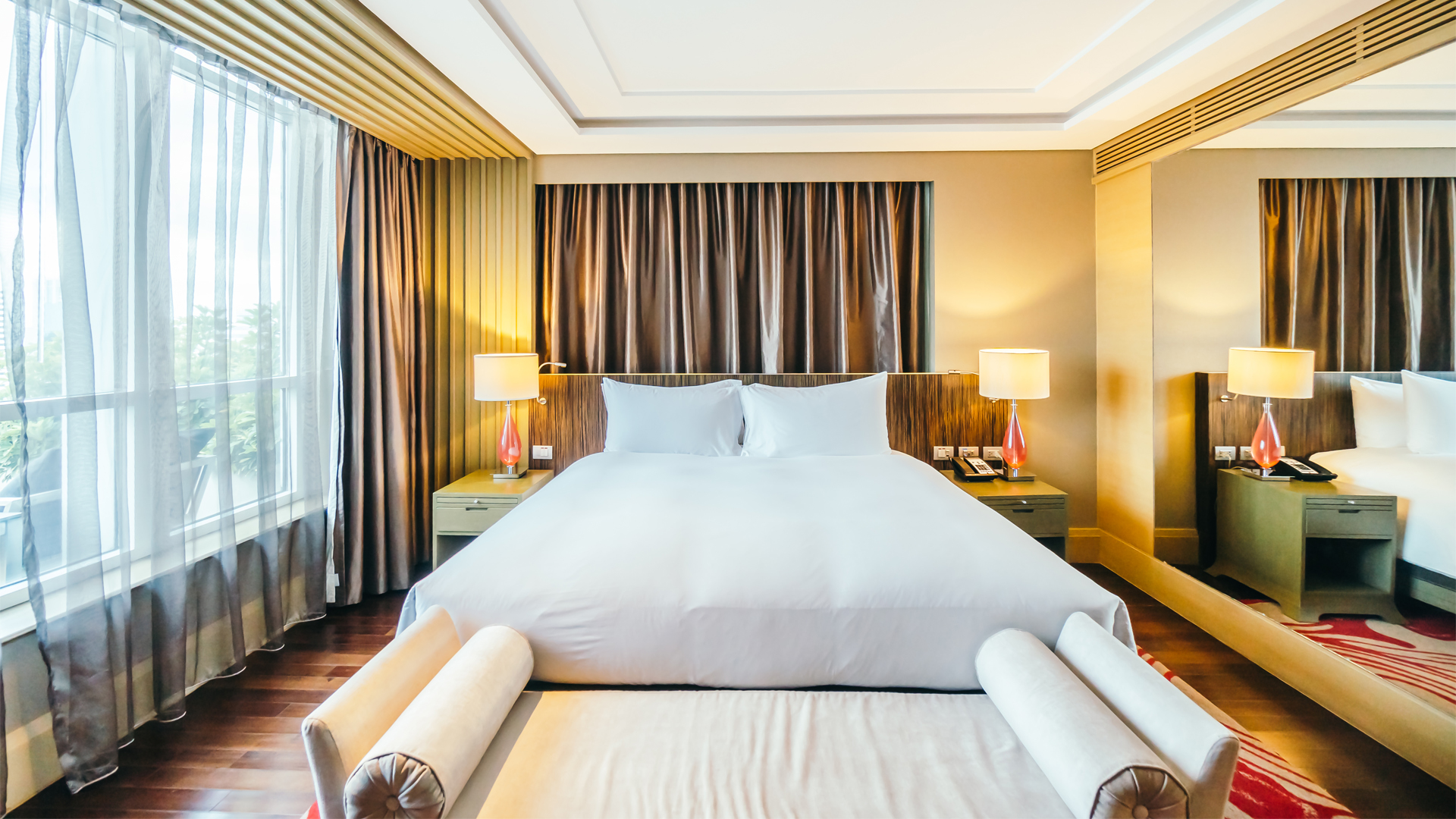 Are you looking for the perfect destination to make your next vacation one that you'll never forget? If so, consider a trip to Lake Michigan! From Chicago in the East to Green Bay in the West, this place is home to many unique hotels that provide access to some of the best attractions around.
So if you're ready for a memorable getaway filled with fun activities like sailing and swimming or exciting nightlife opportunities in major cities like Milwaukee, read on as we talk about curating an unforgettable hotel escape at Lake Michigan.
Which Hotels On Lake Michigan Should You Choose?
There are plenty of hotels on Lake Michigan, and we have enlisted some of the best hotels on Lake Michigan.
1. The Inn At Harbor Shores
View Website
Get Directions
PERFECT FOR: People looking to escape the bustle of activity of everyday life.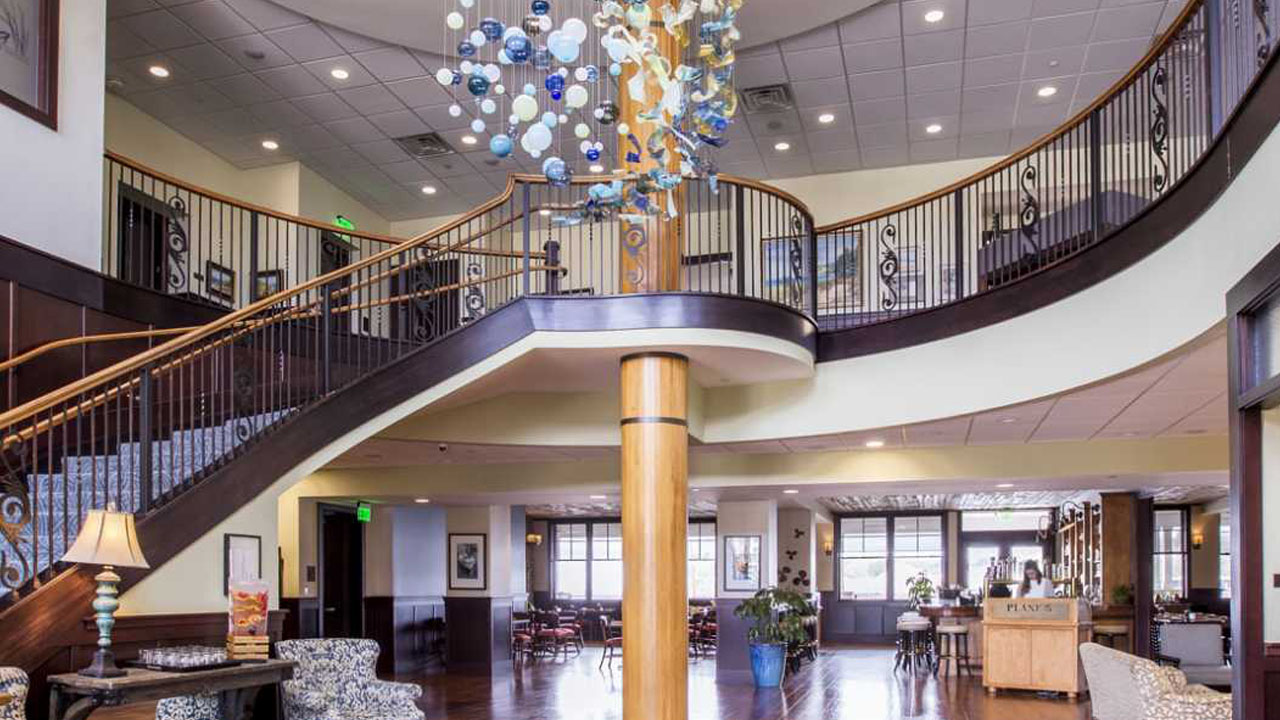 Accommodations and Amenities
The Inn at Harbor Shores in St Joseph, Michigan, offers 92 luxurious guest rooms and suites, each equipped with modern amenities like flat-screen TVs, complimentary Wi-Fi, mini-refrigerators, microwaves, and coffeemakers. The hotel features both an indoor and outdoor pool, a full-service spa, and a fitness center.
Dining and Activities
Guests can enjoy fine dining at the Lakeview Restaurant, casual meals at the poolside Tiki Bar, or cocktails at the Landing Bar & Grill and Fireside Lounge. The hotel is perfect for special events, offering venues for up to 300 guests. Nearby attractions include Warren Dunes State Park and Silver Beach, which offer beautiful beaches and stunning shorelines just minutes from the hotel.
2. Pinestead Reef Resort
View Website
Get Directions
PERFECT FOR: All looking for the Luxurious lakefront refuge with world-class facilities.
Accommodations and Amenities
Located on a 700′ sandy beach in East Grand Traverse Bay, Pinestead Reef Resort boasts 46 waterfront suites with full kitchens, flat-screen TVs, cable, and free Wi-Fi. The resort offers an indoor heated pool, whirlpool, sauna, exercise room, game rooms, and a BBQ deck.
Activities and Exploration
Ideal for both romantic getaways and family vacations, the resort provides access to water sports rental facilities, including kayaks, paddleboards, and motorized boats, allowing guests to explore the bay intimately​​.
Comfort and Convenience
This 3-star hotel in Traverse City, Michigan, offers a unique blend of simplicity and elegance. Rooms are equipped with kitchenettes and free Wi-Fi, and some feature jetted tubs and private balconies. The hotel provides an indoor pool and spa, operational 24 hours year-round.
Additional Amenities
Guests enjoy complimentary hot breakfasts daily and free Wi-Fi access throughout the property. Cherry Tree Inn & Suites combines comfort and convenience, making it an ideal choice for both extended stays and short visits​​.
Whether you're planning an extended stay or need somewhere comfortable to rest after a long day of sightseeing, this all-suite hotel has everything you need to make your vacation unforgettable.
4. The Knickerbocker On The Lake
View Website
Get Directions
PERFECT FOR: Travelers wanting to stay at a hotel with great amenities & stunning views of the lake.
Accommodations and Amenities
The Knickerbocker on the Lake, a 3-star hotel in downtown Milwaukee, offers sophisticated rooms and suites with modern conveniences. It retains its historical charm, providing a comfortable and high-quality stay.
Relaxation and Location
Guests have access to an onsite spa, fitness room, and a restaurant serving meals throughout the day. Its location on Lake Michigan provides beautiful views and easy access to Milwaukee's attractions, creating a perfect balance for both business and leisure travelers.
The staff here is dedicated to ensuring your stay with us is as enjoyable as possible, promoting an atmosphere that feels like a home away from home.
5. Bayshore Resort
View Website
Get Directions
PERFECT FOR: Anyone looking for a luxurious lakeside getaway with spectacular views.
Luxurious Accommodations
Bayshore Resort in Traverse City features Victorian-style rooms with modern amenities like LCD TVs, complimentary Wi-Fi, and telephones with voicemail. The hotel offers a luxurious ambiance with spacious rooms and cozy furnishings.
Exceptional Services and Amenities
Known for its spectacular service, the resort includes a complimentary continental breakfast and free local calls. Guests enjoy the blend of modern convenience with Old World charm, accentuated by the breathtaking views of Lake Michigan.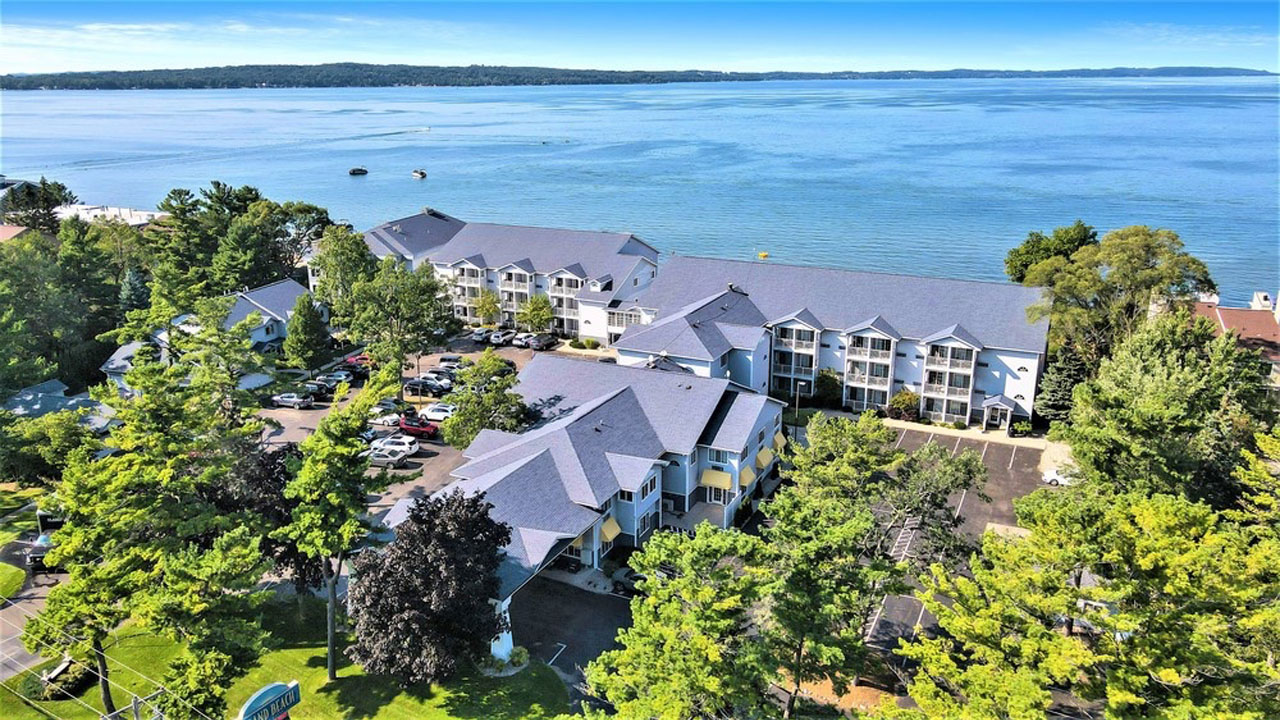 Comfortable and Stylish Retreat
The Grand Beach Resort Hotel in Traverse City offers rooms with plush beds, cozy furnishings, and stunning lake views. Amenities include a heated indoor swimming pool & hot tub, free Wi-Fi access throughout the hotel, and a 24-hour fitness center.
Leisure and Exploration
The hotel provides dining options, including an American restaurant, and is close to attractions like Sleeping Bear Dunes National Lakeshore. Guests can enjoy private boat slips, kayaks, paddleboards, and relaxation activities like yoga and meditation classes.
Cozy and Modern Accommodations
This 2-star hotel in Michigan City offers 15 rooms with bright, modern decor and amenities like complimentary Wi-Fi. It provides a comfortable and exciting stay.
Leisure Facilities and Business Amenities
The hotel features outdoor leisure facilities like a fire pit and picnic tables, an onsite grill, and a fully equipped business center. It's close to attractions like Shirley Heinze Land Trust and Lake Michigan beaches, making it ideal for both leisure and business travelers.
For business travelers, the hotel also has a fully equipped business center with all necessary amenities such as computers with internet access and copy/fax services.
Things To Consider While Choosing The Hotel On Lake Michigan
Whether you're searching for an escape from the hustle and bustle of everyday life or wish to explore the beauty of Lake Michigan, choosing a hotel for your stay can be tricky. From location to amenities, there are many factors to consider when deciding on the perfect hotel in Lake Michigan.
Location — Decide which area of Lake Michigan you would like to explore and select a hotel nearby. If you plan to spend lots of time in the water, look for a beachfront property that offers easy access to swimming areas and other activities such as fishing or boating. If sightseeing is more important than proximity to water, look for hotels in the city near popular attractions. Additionally, suppose you plan to drive around the lake during your stay. In that case, it's best to find a centrally located hotel that offers plenty of parking options and easy access to highways and roads surrounding the lake.
Amenities & Services — Specific amenities may be more critical than others depending on the type of vacation you're planning. For instance, if you plan on taking day trips around the lake or going out for meals in town every night, it's less necessary that your chosen hotel provides food service or entertainment options.
On the other hand, if you'd like an all-inclusive getaway where most of your time will be spent within the confines of your room or suite, then finding a property with ample amenities such as spa services and exercise facilities should be a top priority.
Other Activities — Another factor to consider when booking a Lake Michigan hotel is whether or not it offers water sports equipment or activities. Many hotels offer facilities like boat rentals, kayaks, and canoes for guests to use while they stay at the property. It's also worth considering if your chosen hotel has special packages that include discounts on these items.
Price & Reviews — Finally, it's also important to consider price when selecting a hotel on Lake Michigan—especially as specific properties may offer similar amenities but vastly different prices depending on their location and reviews from previous customers. Review sites are great resources for getting honest feedback from people who have stayed in each property before making your final decision so that you know what kind of experience awaits upon arrival!
Now that all those boxes are checked off, it's time to book your dream vacation!
How Do We Pick Our Recommendations
When selecting hotels along Lake Michigan, we took great care to ensure that all factors were considered. The cost was undoubtedly one of the most important criteria, as budget can heavily influence a vacation. Just as essential was the location—we wanted to ensure that guests could easily access nearby attractions and enjoy the beauty that Lake Michigan offers. Our third step in the selection process is to send our travel explorers to the targeted area hotels who observe the places and give their real-time experience reviews. Finally, we discussed with former customers about their stay experience—this gave us additional insight into which hotels would provide an unforgettable experience!
Recommended read: Exploring The Top 9 Hotels Of Amarillo, Texas
Conclusion
Searching for the best hotel in Lake Michigan can be daunting. With so much to consider, separating the good from the great can be difficult. However, with our recommendations based on real-time experience, ratings, amenities, proximity to attractions, and price ranges, you have all you need to decide when selecting a hotel for your stay on Lake Michigan. Ready for an unforgettable getaway? Look no further than the best of what Lake Michigan offers from the comfort of one of these fantastic hotels! Bon voyage, and enjoy your stay!
The Best Hotels In Lake Michigan - FAQs
Where is Lake Michigan located?
Lake Michigan's shore is the world's most extensive collection of freshwater dunes stretching along its western coast covering the states of Michigan, Wisconsin, Indiana, and Illinois. LakeHuron connects with lake Michigan which then drains into Mackinac.
Can you swim in Lake Michigan?
"At your own risk"-Make sure you keep your safety top of mind when enjoying the stunning waters of Lake Michigan – exercise caution while swimming to ensure a safe and enjoyable experience.
Are there any animals in Lake Michigan?
Lake Michigan is home to many species, including lake trout and sturgeon; whitefish, panfish, and perch; smallmouth bass and their larger cousin, the largemouth bass.
What is the best month to swim in Lake Michigan?
The serene waters are at their most inviting from late June through mid-September – an ideal time for visitors wishing to take full advantage of this captivating destination!