If you want to experience the thrill of swimming in one of California's most breathtaking lakes, your destination should be Big Bear Lake. It's a natural wonder that offers stunning scenery, exceptionally clear waters, and a wide range of enjoyable activities.
Big Bear Lake isn't just well known for fishing, boating, and hiking; it's also a fantastic place to take a refreshing dip. But before you prepare your swimwear and towel, it's essential to determine whether swimming is allowed in this lake. If yes, then what are the rules and regulations that must be followed?
Today, I'll address all your questions below. Let's dive!
Can You Swim in Big Bear Lake?
YES! Swimming at Big Bear Lake is permitted with certain essential conditions. You're restricted to designated areas and must remain within 50 feet of the shoreline. Exercise caution as the majority of the lake's perimeter is covered in rocky terrain.
If you choose to visit this location for swimming, it's essential to familiarize yourself with certain guidelines that you must adhere to.
Life Vest Laws
According to California Law, all children below the age of 13 must wear a Coast Guard-approved life jacket while on a moving recreational boat (no matter how big the boat is). Whether you are renting a watercraft from a Big Bear marina or on a private boat, these rules are strictly enforced to prioritize child safety.
Further, when engaging in activities like water skiing, wakeboarding, wake surfing, jet skiing, or tubing at Big Bear Lake, it's crucial to wear a Personal Flotation Device (PFD). In the event of an accident, dealing with strong currents, or even just feeling fatigued, a PFD can truly be a lifesaver by keeping you afloat and preventing the risk of drowning.
Swimming Distance
In the summer season, swimming is permitted in Big Bear Lake; however, it's important to note that there are no lifeguards present for assistance. To ensure your safety, it is recommended to swim near the shore by staying within 50 feet of the shoreline. And if you're near a private dock, maintain a distance of less than 20 feet from it. This rule is in place to prioritize everyone's safety.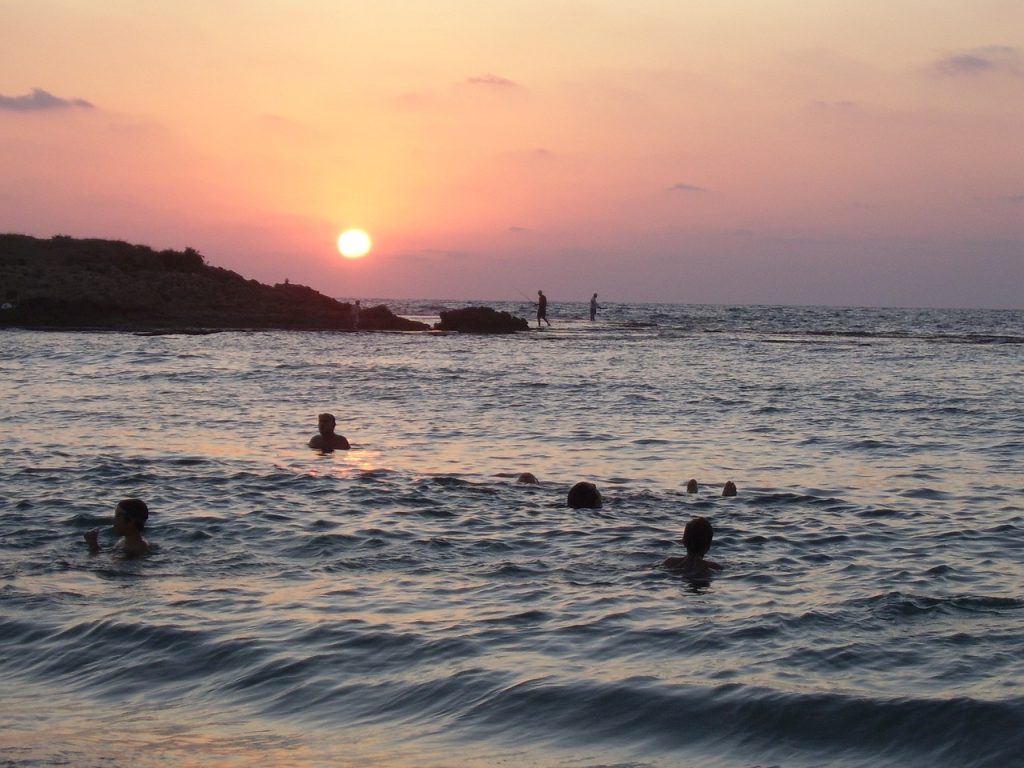 It's worth noting that venturing beyond these recommended distances may pose potential risks such as drowning, fatigue, and reduced visibility. Your safety is paramount, so adhering to these guidelines is strongly advised.
Cold Water Risks Awareness
Big Bear Lake's water temperature can be surprisingly cold (11 to 13 degrees) , especially when compared to the temperature of the air. Cold water can make your body lose heat much faster than cold air. It can also cause you to lose control of your breathing right away.
To mitigate the risk of cold shock and hypothermia, it's crucial to wear a life jacket when engaging in activities like boating or swimming in Big Bear Lake. Additionally, take precautions to avoid sudden exposure to cold water. Familiarize yourself with the indicators and symptoms of cold water immersion syndrome, and if necessary, seek medical assistance.
Seasonal Algae
Algae naturally exist in the lake's ecosystem, and most types are harmless. However, specific varieties might pose risks such as blue-green algae or cyanobacteria. These algae can generate toxins that can be detrimental to both humans and animals. These toxins may lead to skin irritation, nausea, vomiting, diarrhea, liver impairment, and neurological symptoms.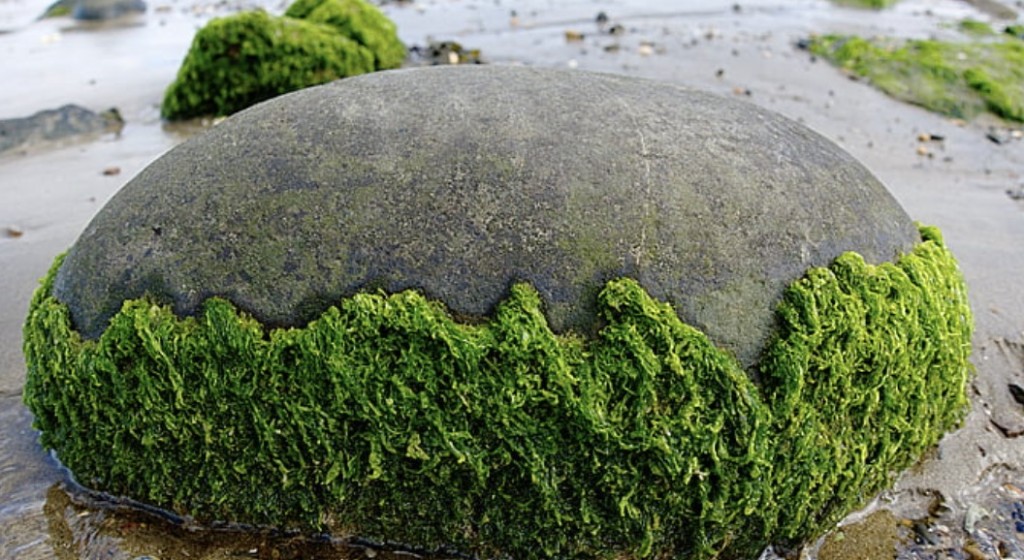 If you encounter water that appears discolored, scummy or emits an unpleasant odor, it is prudent to refrain from any contact with it and promptly report the situation to the appropriate authorities. You can also access the most up-to-date information on this matter through the California Water Quality Monitoring Council website.
Big Bear Lake also provides useful guidelines regarding protection from algae on their official website.
Inspection of Quagga mussels
Some people might be interested in boating too. It's important to note that while launching your boat is free, it must pass an inspection to check for Quagga mussels. These are harmful invaders that can harm the lake's natural balance and structures. They can stick to any object and reproduce quickly, blocking pipes, filters, and pumps.
They can also lower the water's cleanliness and transparency, and fight with native fish and plants for resources and space. To stop the spread of Quagga mussels, you should always wash, empty, and dry your boat before and after using it.
Note: You will also need a Lake Use Permit, which you can get for a single day, multiple days, or even annually. Registered Vessels have to pay $130 for 1 year while Non-registered boat owners have to go in-person for a quagga inspection and the payment is decided accordingly.
Related Read: Top 8 Must-Visit San Francisco Beaches
Safe Swimming Spots
Now that you have all the rules and regulations, it's time to explore some spots where swimming is permitted and highly recommended by us. Let's uncover these hidden gems together!
Meadow Park
Meadow Park is one of the safest places around Big Bear Lake, making it perfect for parents who want to take their kids swimming. Families often choose this swimming beach for good reasons. Here, you'll find lifeguards, floating toys, and all the essentials for swimming.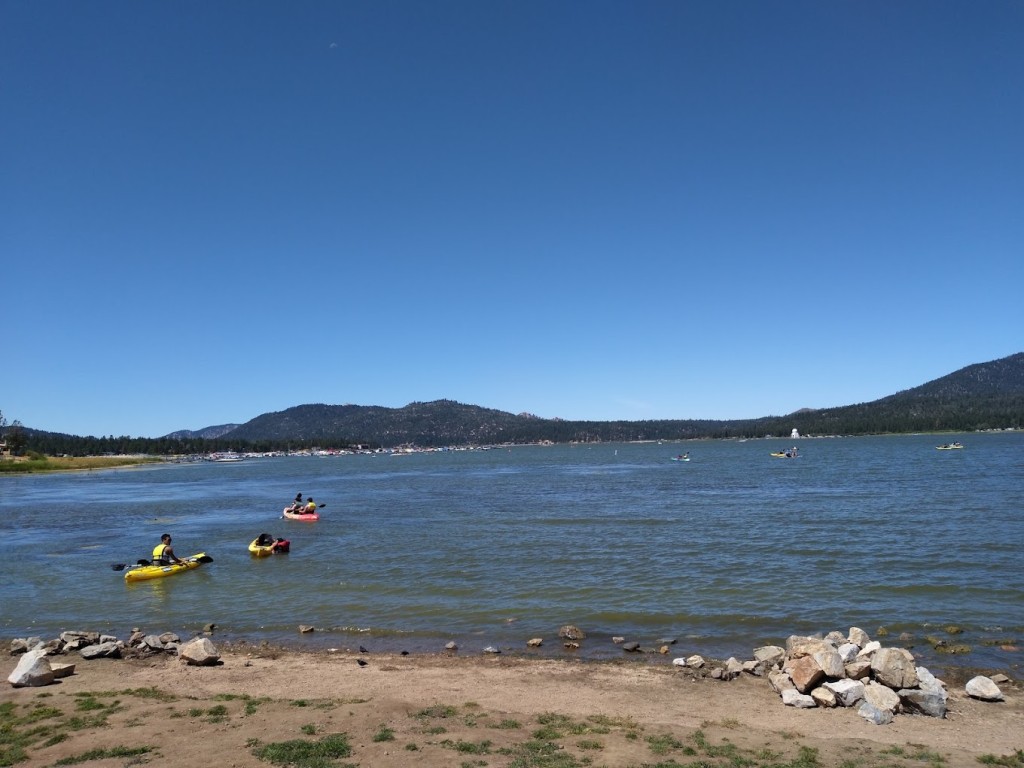 Plus, there are restrooms and a snack bar, so you won't have to worry about hungry kids. The park also offers great picnic areas, swings, basketball and tennis courts, slides, and more for everyone to enjoy.
China Island
China Island (also known as Garstin Island) is a top pick for adventurous swimmers. This island is located on the western edge of the lake. At this place, daring swimmers climb rocks and take thrilling dives into the water below. Keep in mind that there are no lifeguards on China Island, so swim cautiously and be responsible for your safety!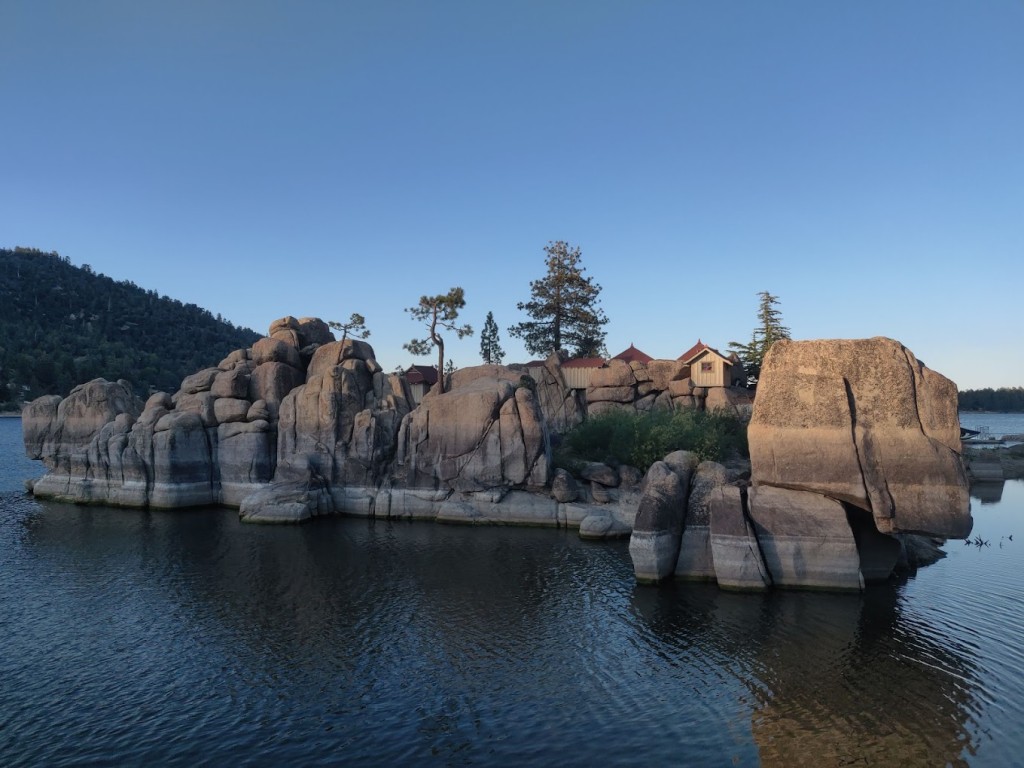 West Boat Ramp Beach
West Boat Ramp Beach is another excellent spot for a refreshing swim. Situated on the eastern side of the Stanfield cut-off, this beach is loved for sunbathing, swimming, picnicking, and relaxation. Families with young children favor this destination as the water is pristine and transparent, and the sand is exceptionally soft under their tiny feet.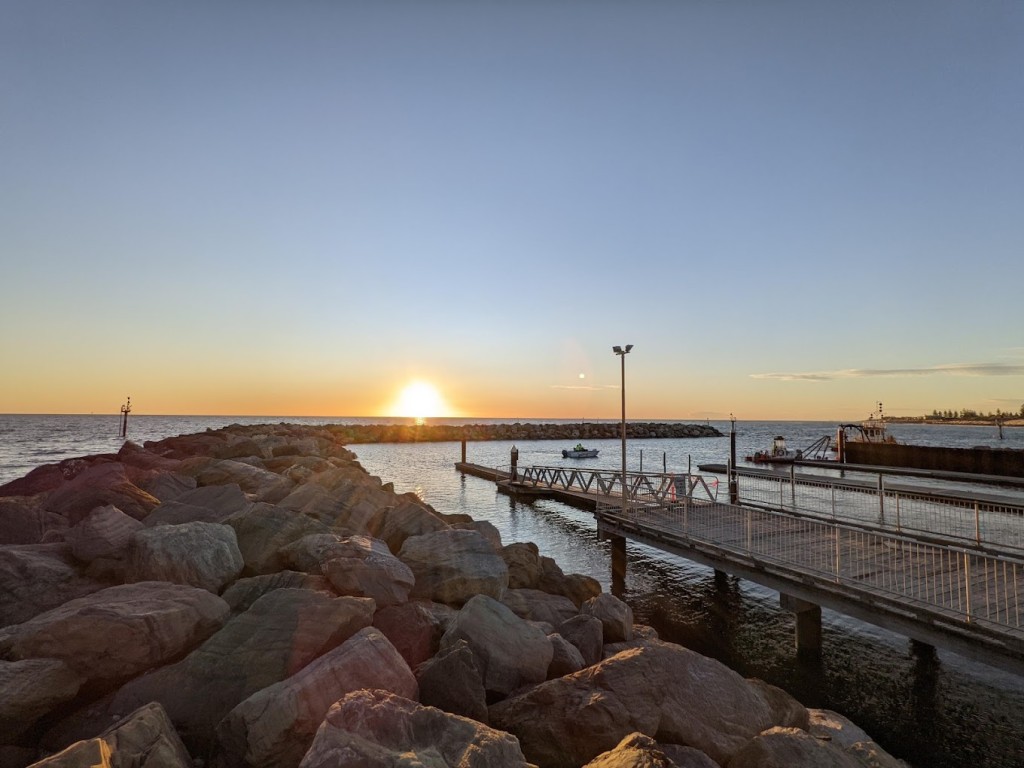 For those in the process of learning how to swim, this area is highly recommended because the water here is shallow and gentle. What's more, this beach is typically not too crowded and there are plenty of trees providing shade. You can also explore the fishing dock if you want a break from the water.
Suggested Reading: 10 Amazing Things You Can Do In Lake Arrowhead
Boulder Bay Park
Boulder Bay Park is a well-loved spot for swimming at Big Bear Lake. It's located on the lake's southern edge and offers some of the most stunning views of Big Bear according to both locals and tourists. While it's known for kayaking, you can also enjoy a swim in Boulder Bay Park's waters.
There are plenty of other activities to explore as well. You can go fishing on the roomy docks or simply relax on the sandy beach while taking in the beautiful scenery. We highly recommend visiting this park for some outdoor fun, whether you plan to swim or not.
Private Beaches
If you're looking for a peaceful getaway at Big Bear Lake, you might want to think about reserving a spot at one of the cabin resorts that come with their own private beaches. These beaches are a great choice because they give you the perfect opportunity to enjoy swimming without the hustle and bustle of a big crowd.
Here's the cool part: Some of these resorts even have their docks. This means as soon as you arrive and check-in, you can jump right into the water without having to wait for the crowds to thin out. Plus, you won't need to worry about bringing your own drinks or water sports gear because the cabin you book will have everything you need for a great time by the water.
When it comes to choosing the best resorts with beach access in Big Bear Lake, you might want to check out Sleepy Forest Cottages and Big Bear Frontier Hotel. They're among the top options for a relaxing and enjoyable lakeside vacation.
Recommended Reading: 5 Mesmerizing Aquariums In California That Look Too Dreamy To Be Real
Tips for Staying Safe While Swimming in Big Bear Lake
To enhance your travel experience and increase your enjoyment, we've carefully selected a compilation of key tips below:
Appropriate Swimming Gear
Wearing the right swimming gear is crucial for your safety and comfort. Make sure you have a suitable swimsuit and any necessary equipment such as goggles or swim fins. This will enhance your swimming experience.
Sunscreen Protection
Apply sunscreen to your body before swimming, especially in sunny conditions. Sunburn can be painful and harmful to your skin. Choose a waterproof sunscreen with SPF-25 or SPF-50 to protect yourself while in the water.
Avoid Areas with Boat and Kayak Traffic
Safety is paramount when swimming. Stay away from areas with heavy boat and kayak traffic, as it can be hazardous. These vessels may not always see swimmers in the water, so it's best to choose quieter, designated swimming zones.
Have a Buddy
Swimming with a companion is a smart practice, even if you consider yourself an excellent swimmer. In case you face difficulties or need assistance, having someone nearby who can help or call for help is vital for your safety.
Conclusion
So in a nutshell, Yes, you can swim in Big Bear Lake, California, but there are essential conditions and safety guidelines to follow. Swimming is allowed in designated areas within 50 feet of the shoreline. It's important to be aware of cold water risks, life vest laws, and potential algae-related concerns. Some recommended swimming spots include Meadow Park, China Island, West Boat Ramp Beach, Boulder Bay Park, and private beaches at cabin resorts. To ensure a safe and enjoyable experience, wear appropriate swimming gear, apply sunscreen, avoid areas with heavy boat and kayak traffic, and swim with a buddy for added safety. Prioritizing safety is key to enjoying this beautiful natural wonder.
Read Related Guides
Can You Swim in Big Bear lake? - FAQs
Are there lifeguards present at the swimming areas in Big Bear Lake?
Big Bear Lake does not typically have lifeguards on duty but certain places like Meadow Park can occasionally have lifeguards. Swimmers are advised to stay within 50 feet of the shoreline.
What are some of the top spots for swimming in Big Bear Lake?
Some popular swimming spots include Meadow Park, China Island, West Boat Ramp Beach, and Boulder Bay Park.
What types of fish can be found in Big Bear Lake?
Responsible fishing is encouraged, and you can find species like trout, bass, and catfish in the lake. Follow local fishing regulations to ensure sustainability.