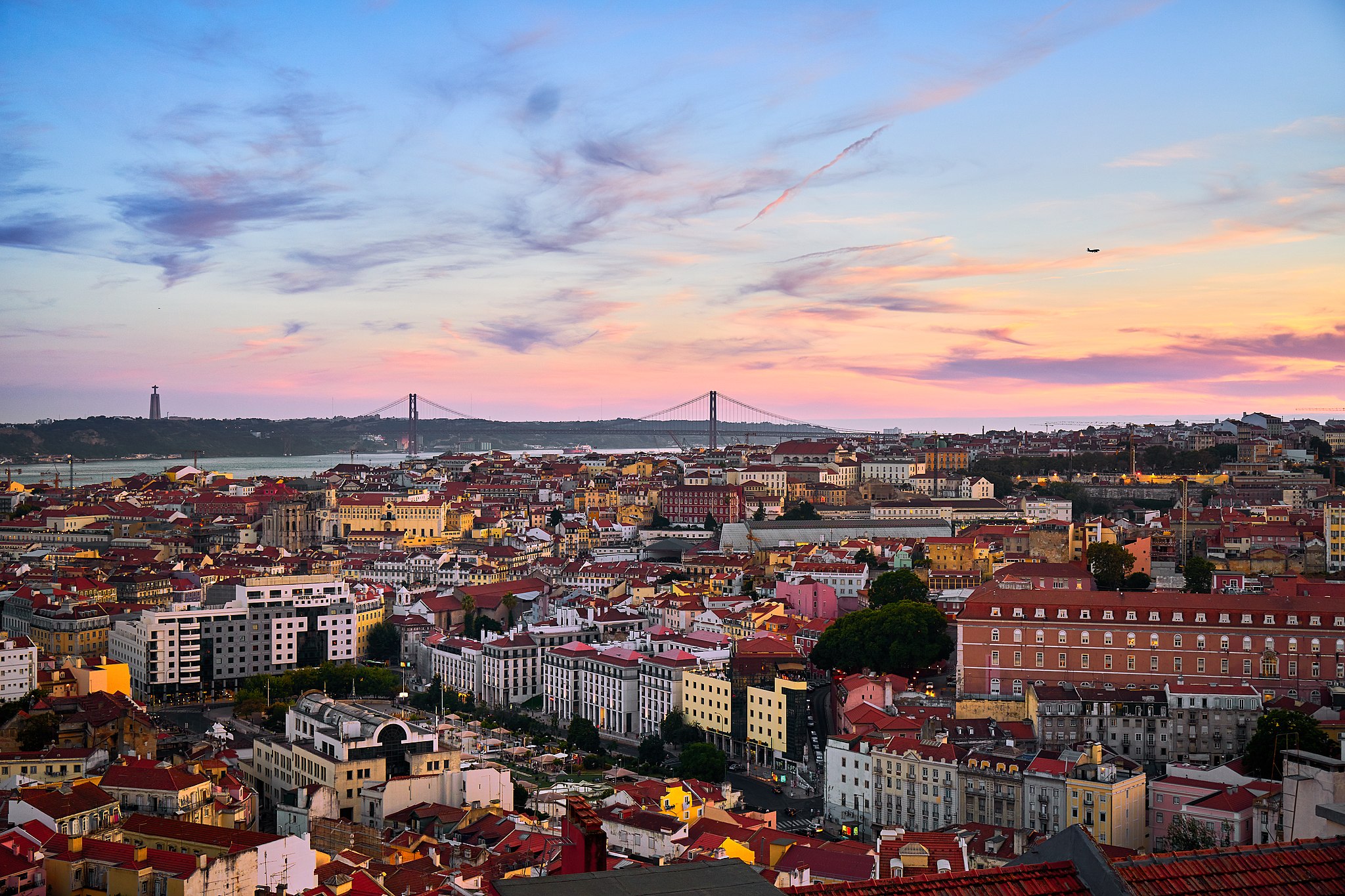 The coastal capital of Portugal, Lisbon, is famous for being the largest commercial, political and tourist center. Lisbon has a rich history and cultural background and this is reflected in most of the tourist attractions there. The Tagus River is a very important part of the city's landscape. This hilly city is enamored with pastel-colored buildings, with beautiful balconies and vistas.
It is a very fast-paced and exciting city. There are several tourist attractions and activities for people of all ages. You could take a day trip, a family vacation, a city visit, or even a beach vacation.
Late spring is the best time to visit because even though it is sunny, the heat is bearable and this is especially important for a day trip.
Another bonus point is the cost of traveling, Lisbon is one of the cheapest cities in Europe, and public transport is available to take you around the city. Let's discover some of the best day trips from Lisbon.
9 Destinations For A Day Trip From Lisbon That You Must Explore:
There is a whole plethora of places that you can visit from Lisbon, they are soaked in culture, heritage, soul-capturing monuments, and resorts that will make your trip one of the best that you have ever taken. The best part about most of these is the ease of travel from Lisbon, no long tedious journeys are required to take these day trips. Let us uncover some of the best vacation spots together
One of the most fulfilling experiences is taking a day trip to Sintra from Lisbon. You can take a train from the Rossio railway station in Lisbon, and the journey will take roughly about 40 minutes. There is a lot to explore here, including the historic palaces, the ancient castle, and much more.
The Sintra national palace is a historic museum housing Moorish architecture, a gothic style interior, and two giant chimneys which are rising from the palace that can be seen from far away. The palace is open every day from 9:30 am-7 pm, and there is an entrance fee as well.
About an hour or so is enough to roam around the palace and appreciate the wonders that await you, including, The coat of arms room, The Magpie Room, and The Palatine Chapel. The stunning all-white exterior and the Manueline-style interior attract all the tourists that visit it.
The national palace of Pena, or the "Parques de Sintra" is said to be the crown jewel of Sintra. Located at the top of a hill, this castle encompasses the 19th-century romanticism style of architecture. There are elaborate stone carvings that can be seen all over the palace.
The Queen's terrace, the entrance guarded by the statue of a gargoyle, and the forest with lush greenery surrounding the castle are some of the things that should not be missed when making a stop here.
There are a bunch of delicious food options available to get a quick bite to eat when you are a little tired from all the exploration. And, if there is still time, the cliffs of Roca cape and the Castelo dos Mouros make an excellent addition to the trip.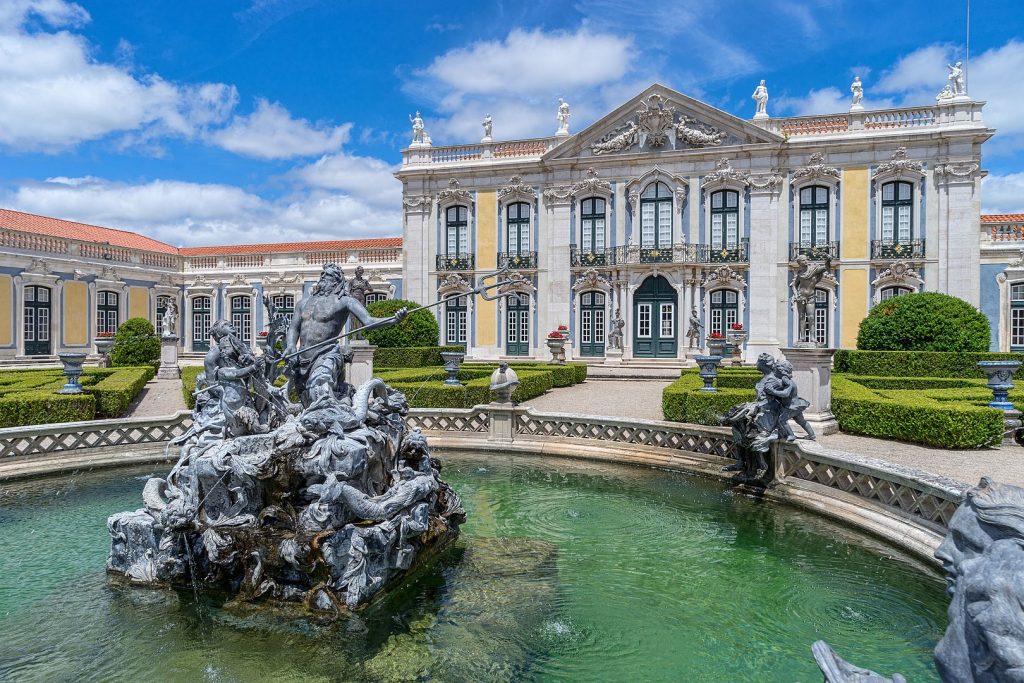 The main attraction here is the Queluz national palace. This breathtaking piece of architecture is a castle that was constructed to illustrate 18Th-century Portuguese architecture. It contains a museum of decorative art, and most of the pieces showcased belong to the royal family.
The superb throne room is one of the rooms with the most remarkable interior, with walls lined with mirrors and beautiful gold-covered woodwork. The old kitchens of the Queluz palace were transformed into restaurants, with delectable treats laid down before you on their grand tables, one of them is the Cozina Velha Restaurant.
The surrounding gardens are decorated with stone sculptures, ponds, and fountains. The Queluz gardens were designed by a French architect, and they contain beautiful sculptures amidst the greenery. The Malta Garden is another smaller garden, found in front of the throne and music rooms.
But the best of all is the Neptune Garden or the hanging garden, it derives its name from the fact that it is located over a waterbody that collects extra water coming from the two lakes that flow into it. The marble statues and lead sculptures add to the beauty of the Neptune basin.
This palace is midway between Lisbon and Sintra. If you are planning to visit here by train from Lisbon, you take the train to Sintra and get off at the Queluz-Belas train station, from there, a 1km walk on foot will take you to this destination. There is an entrance fee, and the hours are 9 am-6 pm.
This premier holiday destination is a coastal resort, 25km west of Lisbon. What used to be a city port is now a shallow bay with mesmerizing sandy beaches. What makes it an ideal day trip from Lisbon is the lavish villas, forts, and grand museums along with restaurants and bars and the best part are the beaches.
Surrounding the town of Cascais are also the beaches of the Portuguese riviera, and we also have the Serra de Sintra coastline to the north. Cascais is full of cultural sights and activities which will make this a must-go holiday destination. From Cascais, you can also take public transport and visit other areas if you have time to spare.
You can go surfing on the Guincho beach, unwind on the Carcavelos beach or admire the sunset at Cabo da Rocha. The best time to visit the beaches is from mid-May to September. But, Cascais has a lot more to offer than just beaches, there are historic monuments, 19th-century villas, and informative museums like The Castro Guimaraes Museum.
The Boca do inferno cliffs make an excellent addition to this day trip, they are in the town of Estoril, and they are connected to the town of Cascais by beautiful coastal walks. Simply put, Cascais is a wonderful day trip destination for families, with lots of hotels, restaurants, and clean beaches with calm sea waters.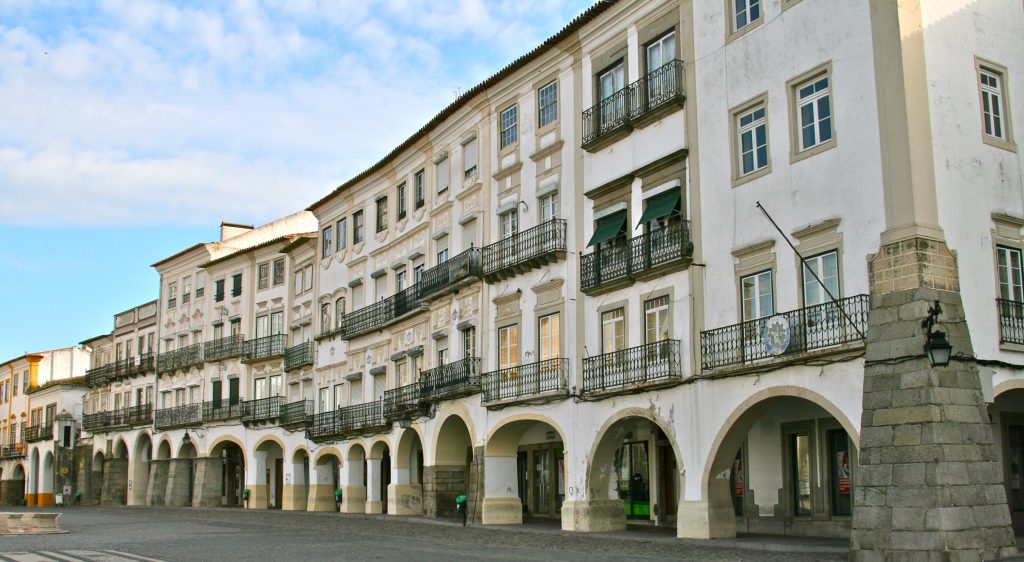 One of the most popular tourist attractions, Evora, houses unique and rare historic monuments because of which UNESCO has awarded them with World Heritage status. The ancient Roman Temple of Evora is one of these magical places and is also referred to as The Temple of Diana.
The city houses narrow streets lined with whitewashed houses and gothic architecture in the cathedral of Evora. It may sound creepy, but one of the places you should visit is the Chapel of Bones, where the remains of nuns and monks are showcased in a bone-chilling mosaic.
You should begin your trip from the Temple and the Roman baths, and visit the Praca do Giraldo, which is a hub of coffee shops, cafes, and much more.
The Church of Santo Antao is located near this area and there is a grand marble drinking fountain there too, which has 8 outlets, each representing the 8 streets that lead to it! There is so much to photograph in this city, for example, the conical towers and Portuguese architecture of The Cathedral Spire.
Besides sightseeing, there are interactive tourist activities available as well. You could do a wine tasting at one of the local wineries, olive oil tasting too since Alentejo is famous for its exclusive olive oil coming directly from locally planted olive trees.
An organized tour with a guide makes the trip very hassle-free and easy to navigate. From Lisbon, you can take buses, or, for a more relaxing journey, you can take the train to Evora, and you will reach in approximately 1.5 hours.
Batalha, which means 'battle' is a town in the Centro region, Lisbon. The battle that acquired Portuguese independence from Castile, led to the construction of the Mosteiro da Batalha, the most well-built monastery in all of Portugal.
The monastery is a prime example of fine gothic architecture and Manueline extravagance which makes tourists flock in from all over the world. While you are there, make sure to not miss out on the unfinished chapel and the Tomb of King Joao l.
The Batalha de Aljubarotta museum is another interesting spot but requires traveling 3km southwest of Batalha. These museums and monasteries are a crowd favorite and more so for the people who not only appreciate architecture but also history.
There are informative presentations on the history and events of the battle for which a ticket can be acquired.
Batalha is a town with a rich history and that is the main attraction there. If you are planning to just visit the monasteries and museums, the day trip will be a short one, but still informative and fun.
There are small, organized tours that are available, which include visiting some other towns like Obidos, Fatima, and Nazare along with Batalha. But if you want to take your time and discover more, it is better to take a solo trip.
Named after the largest town in the region, this is a 26km coastline of sandy beaches and scenic beauty that you could get lost in. The coastline receives strong waves from the Atlantic, which makes it ideal for surfing and kitesurfing and you can rent out equipment for it as well.
If you want your day trip to be more of a beach getaway, then this is the perfect destination for you. The Lagoa de Albufeira is another beautiful lagoon surrounded by pine forests and an open beach.
People usually come here to swim and surf, as well as to explore the forest and do some bird watching. There is a hiking trail available from Fonte de Telha to the Lagoa de Albufeira too.
As you travel down the coast, you reach the fishing village of Fonte de Telha and from there you can keep going and reach Adica beach. As you take a stroll along the beach you must admire the stunning fossil-rich cliffs that have been so well preserved
. There are also a lot of restaurants and bars at Fonte de Telha where you can find some delicious grub. You can easily catch a bus from Lisbon to Costa da Caparica.
As you travel south, the beaches get calmer and more serene, one of them is Praia da Saude which is located 1.7km south of this town. There are some lovely beach huts that can be rented as you explore.
This place is a nature lovers' sanctuary, Serra da Arrabida contains forested hills, beautiful beaches, and tall, towering cliffs. The coastline of Serra da arrabida is about 40 minutes from Lisbon, and it makes for a fun and relaxing day trip.
There are a lot of activities available here, there are challenging hiking trails, mountain roads that have stunning views as you take a drive, and a coastline ideal for sea-kayaking. Tourists and locals often visit this place to escape the heat of the city and to be refreshed by the perfect combination of the sea and mountains.
The Estrada de Escarpa (N379) is a narrow coastal road that provides picturesque views and leads you to Cabo Espichel, this is a cape on the west coast of Castelo, a region of Sesimbra.
The church, lighthouse, and two sets of dinosaur footprints are the main attractions over here. If you are someone who appreciates the raw beauty of nature, this will make a great addition to your day trip from Lisbon.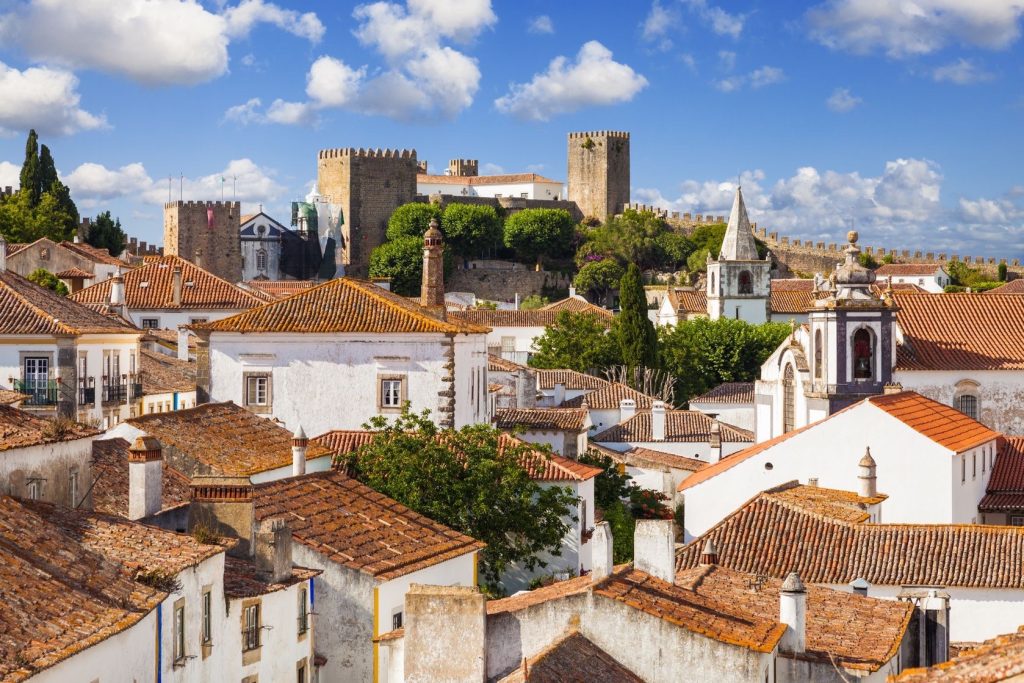 This town in Portugal has some sort of enchanting magic to it and should definitely be on your list for a day trip from Lisbon.
A visit to this town will make you instantly go back in time, with the medieval architecture, the Obidos castle, and the cobbled alleys with beautiful, whitewashed houses with intricate hand-painted tiles, there is so much to photograph!
There are many churches worth visiting here but some of the best ones include, Porta da Villa, this is a small chapel with two high-rise gateways leading to the inside, and the interior consists of beautiful blue and white azulejo tiles and stunning artwork. Igreja de Santa maria is the main church of Obidos, the renaissance style architecture, Portuguese columns, and delicately painted and designed altar all add to the beauty of this place.
As you stroll along the streets of this walled city, you will come across many stores where you can buy souvenirs, painted artwork and crafts, and local food specialties too.
There are some lovely bookstores here too. There are organized tours to Obidos, but they usually include other places like Fatima and Nazare too, so if you want to visit just Obidos, it is advised to drive up there by yourself.
Sesimbra is one of the most alluring beach resorts in Portugal. This sandy playground is nestled at the foot of the Serra da Arrabida hills, it has several pristine beaches with a relaxed and inviting atmosphere perfect for a family vacation.
Sesimbra used to be a fishing town, which now has a bunch of activities that will keep you entertained, the coastline is ideal for kayaking, and the fishing port is still busy as always, there are many hiking trails there too, which are great for cycling.
The Praia de California is one of the most exquisite beaches there, and since Sesimbra was a fishing town it is obviously famous for seafood, you can get some delicious catches from the Marisqueira restaurants, which are a bunch of family-run food spots found in the alleys behind the beach.
The Castelo de Sesimbra is a large castle constructed at a height and requires a bit of an uphill walk from the center of town but once you get up there, the views are absolutely immaculate. Although there are regular buses going from Lisbon to Sesimbra, the place can be explored better by driving up there.
Things to consider before taking a day trip from Lisbon:
What to pack — If you are planning to visit one of the beach resorts, don't forget to pack sunscreen (the heat can be intense in the summers), an extra pair of clothes if you plan on swimming, and make sure you have your cameras because there are so many capture-worthy places in the list above. Make sure to take care of your personal belongings and everything you are carrying with you.
Abiding by the rules — be mindful of the places you are visiting, and make sure to not litter. Only swim in the places where it is allowed, in some places, especially in high tide season there are signs advising against it. Also, make sure there is a lifeguard on duty should an accident happen.
Traveling with children — while vacationing with children, one must be extra careful about them wandering off into the crowds or running to the water. Make sure to keep an eye on them, especially if you are traveling with big crowds and there is a lot of rush.
Be mindful of others — During the holiday season, the places you visit will most likely be packed, be mindful of other people, especially on hiking trails. There are also time slots issued for most monuments, so everyone gets a chance to explore properly, make sure not to overstay your time slot. Also, it's advised to be on time so you don't have to face the hassle of long lines.
Research — Before visiting a new place, you should find out everything about it, if there is a parking area, what are the routes like, if swimming or surfing is allowed and if you need to take your own surfboards. Making an itinerary will make your trip so much more organized and easier, where to visit, where to eat etc.
How We Pick Our Recommendations
All our recommendations are chosen after firsthand experience, I have been to the top picks in the list too, and wanted to ensure that our readers are getting the best recommendations. We make sure to keep in mind every little thing that is important in choosing the best place to visit. Some other factors we consider are, the accessibility of the place, if it is family-friendly, the routes and travel time, and the variety of activities available to enjoy.
Final Words
These exquisite destinations should not be slept on, if you are in Lisbon and wondering where to take a day trip, these places would be the best choice and truly make your trip fun. There is something here for everyone, monuments, and castles for the ones who admire the history, scenic beaches for the ones who adore nature and architecture in almost all styles.
Fun packed things to do on a day trip from Lisbon - FAQs
How many days in Lisbon is enough?
3 days are enough to explore Lisbon.
Is a trip to Cascais worth it?
Cascais is a wonderful destination for a day trip and is definitely worth it.
Is Algarve a day trip from Lisbon?
Yes, Algarve is a delightful day trip from Lisbon.
What is better, Sintra or Cascais?
Sintra has many more attractions than Cascais, so it makes for a better day trip.
What is the nicest part of Lisbon?
Baixa and Chiado are the two best parts of Lisbon.