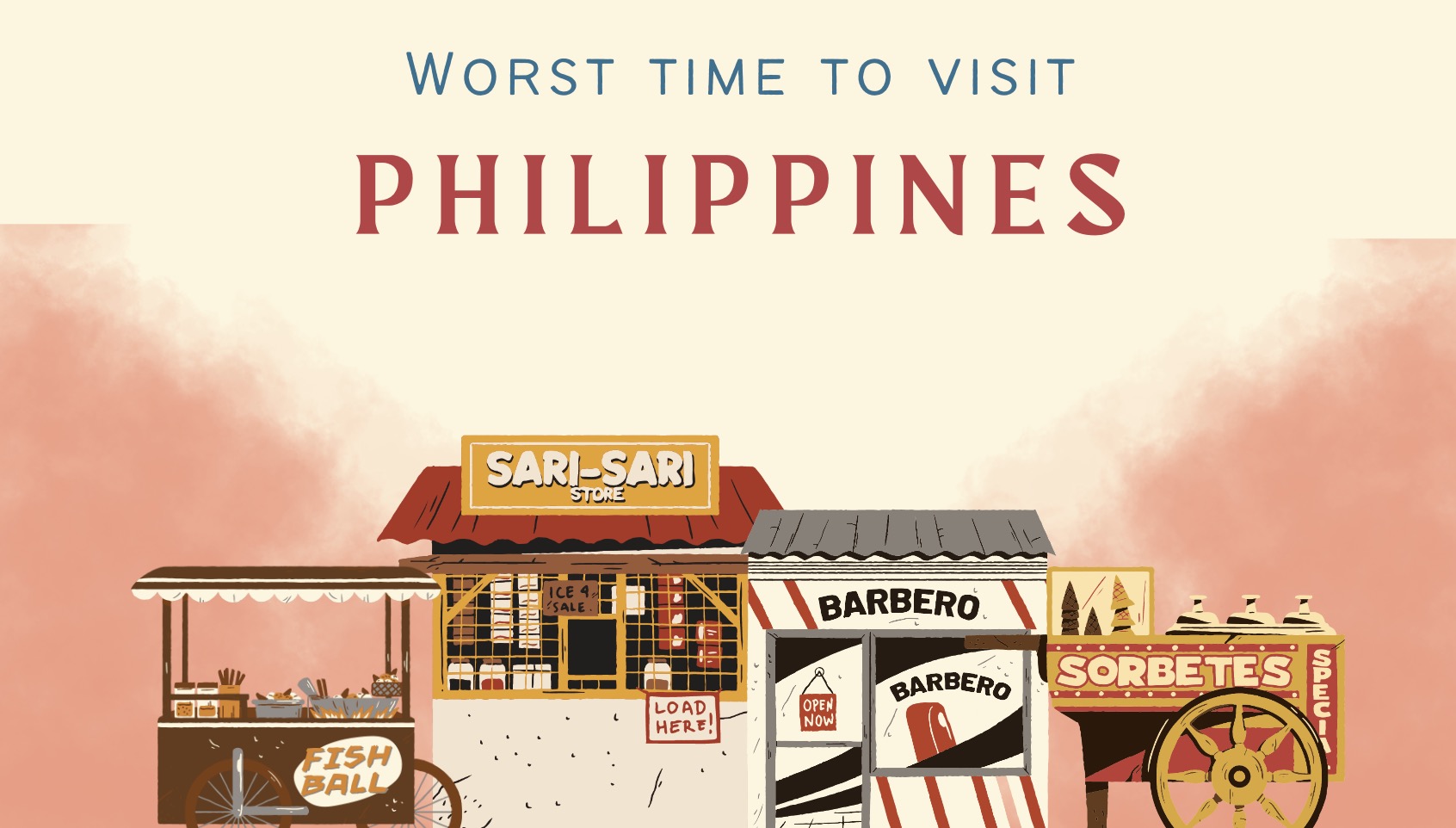 After our take on the worst time to visit Dubai and Vietnam, we decided to explore the Asian land of the Philippines.
As you set your sights on the captivating archipelago of the Philippines, prepare to embark on an adventure like no other. Spanning over 7,000 islands in Southeast Asia, this tropical paradise is embraced by the South China Sea, the Philippine Sea, and the Celebes Sea. But wait! Before you dive into this paradise, please make sure to consult the guide on the worst time to visit the Philippines to avoid scheduling your trip at an inconvenient period.
Worst Time To Visit the Philippines
The rainy season, from June to October, is considered one of the worst periods for travelers visiting the Philippines.
The country experiences heavy rainfall during this time, with an average annual precipitation of around 2,348 millimeters.
However, rainfall amounts can vary across regions, ranging from 960 mm in southeast Mindanao to over 4,050 mm in central Luzon.
The frequent heavy rains pose risks of flooding and landslides, making it challenging to travel and access tourist destinations.
Additionally, the strong winds and rainfall can damage electrical infrastructure, leading to temporary power outages that can inconvenience visitors relying on electricity for various tasks. These power outages can be inconvenient and disruptive for visitors relying on electricity for various daily tasks, such as charging devices, navigating with GPS, or even simply enjoying a comfortable stay in accommodations.
Suggested Reading: US and Philippines Sign a new military deal ahead of Potential Chinese Aggression
Worst Time To Visit Philippines: Other Challenges
It's not just the rainy season that might ruin a trip to the Philippines; there are other aspects to consider as well.
Holy week
Another significant challenge for visitors to the Philippines is the timing of their trip during Holy Week, the week leading up to Easter. This week, also known as Semana Santa, usually takes place in April from Palm Sunday to Black Saturday, followed by Easter Sunday. This period should be avoided due to several reasons that can greatly impact visitors' experiences.
Firstly, numerous businesses, including departmental stores and branches of popular malls like SM, tend to close down. As a result, visitors may face difficulties in finding open shops or accessing essential services.
Moreover, it is advisable not to rely on ATMs during this time, as they are likely to be empty or low on cash. Exchange shops also remain closed, making currency conversion challenging for tourists.
Since the entire population of the Philippines tends to travel during this time, expect crowded streets and congested transportation.
Traffic jams are a common occurrence on roads, and bus stands become overcrowded, making it inconvenient for visitors to navigate through the city.
Furthermore, the popular tourist destinations that are predominantly frequented by Filipinos, such as white beach Puerto Galera, Bohol, Boracay, Palawan Puerto Princesa, Cebu, and Bauio, are particularly packed during Holy Week. Therefore, it becomes even more challenging to find available accommodations, with hotels often fully booked.
Bars, discos, beer houses, and even establishments offering entertainment by Guest Relations Officers (GRO) typically take a break during this period.
Note: Dates vary annually based on the lunar calendar and Easter calculations, so it's advisable to check before planning a visit.
Typhoon
Typhoons pose a significant threat to visitors in the Philippines and should be avoided at all costs. The typhoon season typically runs from June to November, peaking from August to October.
These powerful storms occur frequently in the country, with an average of 14 typhoons hitting annually. The regions most affected by these typhoons are Bicol, Eastern Visayas, and Cagayan Valley.
Visitors planning a trip during these months will find it difficult to enjoy their time due to the constant rain and disruption caused by typhoons.
The most intense typhoons usually occur in August and September, bringing with them destructive winds and heavy rainfall.
One example of a severe typhoon that hit the Philippines recently was Typhoon Noru, which made landfall on September 25, 2022. With wind speeds reaching up to 237 km/h, it was classified as a "Category 4 typhoon" according to the Saffir-Simpson scale. The storm had a diameter of 6 kilometers at the time, causing significant destruction in its path.
Such powerful typhoons pose a great risk to visitors, as their strong winds and torrential rains can lead to injuries, property damage, and even loss of life.
Fishing Banned
In certain unfortunate circumstances, such as an environmental crisis or pollution incident, the Philippines may impose a temporary ban on fishing activities. This measure aims to safeguard the marine ecosystem from contamination and ensure the well-being of aquatic life.
For instance, in 2022, when the Bureau of Fisheries and Aquatic Resources in Central Visayas (BFAR-7) announced a fishing ban in the Visayan Sea. Starting from November 15 until February 15, 2023, the capture of pelagic species like sardines, herrings, and mackerels was strictly prohibited.
This unexpected restriction left visitors unable to pursue their fishing activities and enjoy the excitement of catching various pelagic species. So, it's essential to stay updated on any fishing bans or restrictions before embarking on your journey to the Philippines.
Related: Here's How You Can Get Sand Out of Hair: The Easy Ways
The Worst time to Visit the Philippines: Off Season
Another not-so-favorable time to visit the Philippines can be the off-season, which occurs between May and June. This transitional period between the dry and wet seasons can be quite unpredictable in terms of weather, making it a less desirable time for visitors.
One of the major concerns during the off-season is the increased likelihood of typhoons.
Instead of enjoying sunny and clear days, you may encounter frequent rains and high humidity, which can hinder outdoor activities and sightseeing.
Moreover, the off-season may result in limited availability of certain services and facilities.
What Season in the Philippines is the Most Expensive?
We don't recommend visiting the Philippines from November to February if you are short of budget. During the high season, there is a high volume of travelers, leading to increased demand and higher prices for accommodations and other services.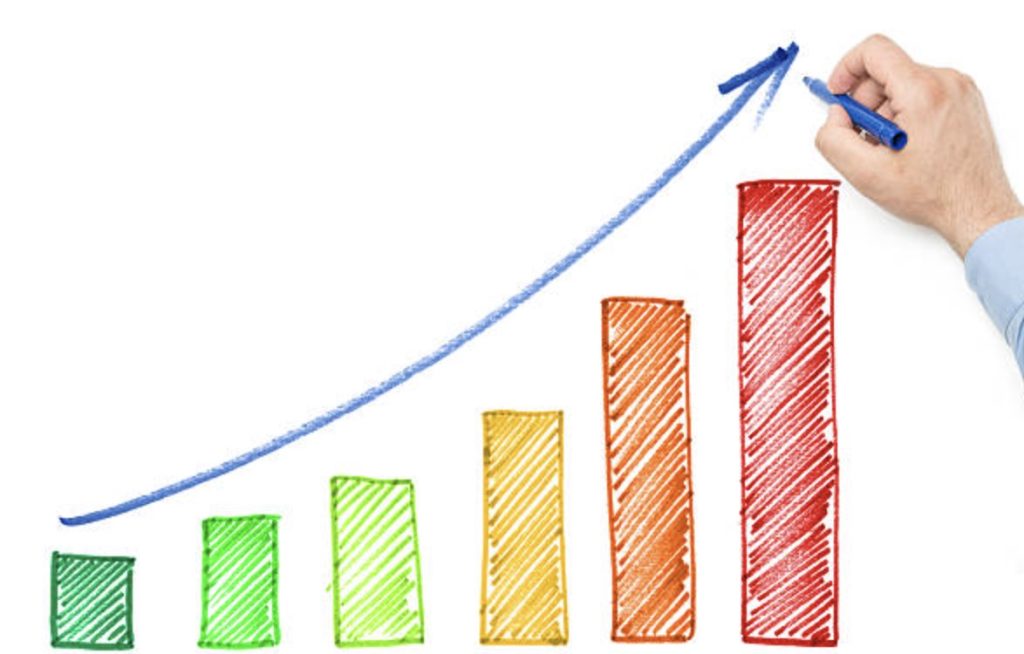 During busier times of the year, like November and December, costs tend to rise even further.
Costs for a weeklong trip to the Philippines range from $1,949 for a lone traveler to $3,588 for a couple and $1,037 for a family of four.
Prices for entire-house vacation rentals typically start at $60 and go up to $390.
Economy class tickets from the USA to the Philippines can cost as little as $1,526 and as much as $2,315, while first-class tickets can cost as much as $4,792 and as little as $7,269.
Read Next: Worst Time to Visit Scotland – Why Avoid Winters?
When is the High Season for Tourism in the Philippines?
The high season for tourism in the Philippines, which falls during the dry season from December to March, can be a bad time to visit due to the following reasons: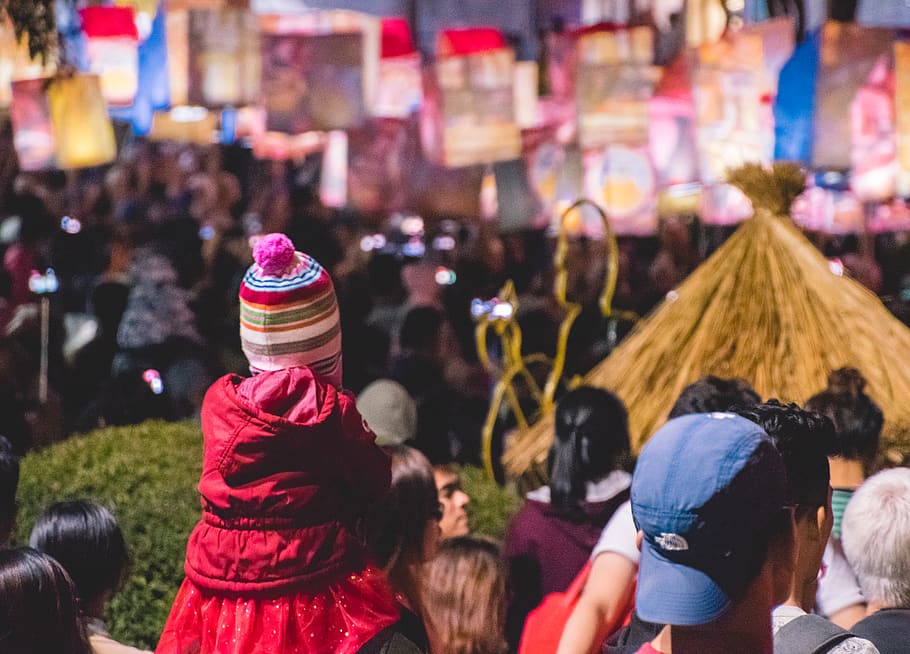 Crowds: Popular cultural events like the Feast of the Black Nazarene, Ati-Atihan, Sinulog, Lunar New Year, Allaw Ta Apo Sandawa, and Mayon Festival attract large crowds. This leads to crowded tourist areas, beaches, and resorts.
Increased Prices: During the high season, prices for accommodations, flights, and tourist activities can be up to four times higher compared to the low season. This can significantly impact the overall cost of the trip.
Limited Availability: The high demand for accommodations in popular beach resort areas means that finding suitable lodging can be challenging without advance bookings. Availability becomes scarce, and last-minute planning may result in limited options or higher costs.
Bustling Resort Towns: Popular tourist destinations like Palawan, Boracay, El Nido, and parts of Cebu can become bustling with tourists during the high season. This may detract from a serene and tranquil experience, especially for those seeking a quieter trip.
Philippines Monthly Analysis: Choose Your Trip!
While there isn't a single month that can be considered bad for tourists, it's helpful to analyze the monthly factors and festivals to make an informed decision.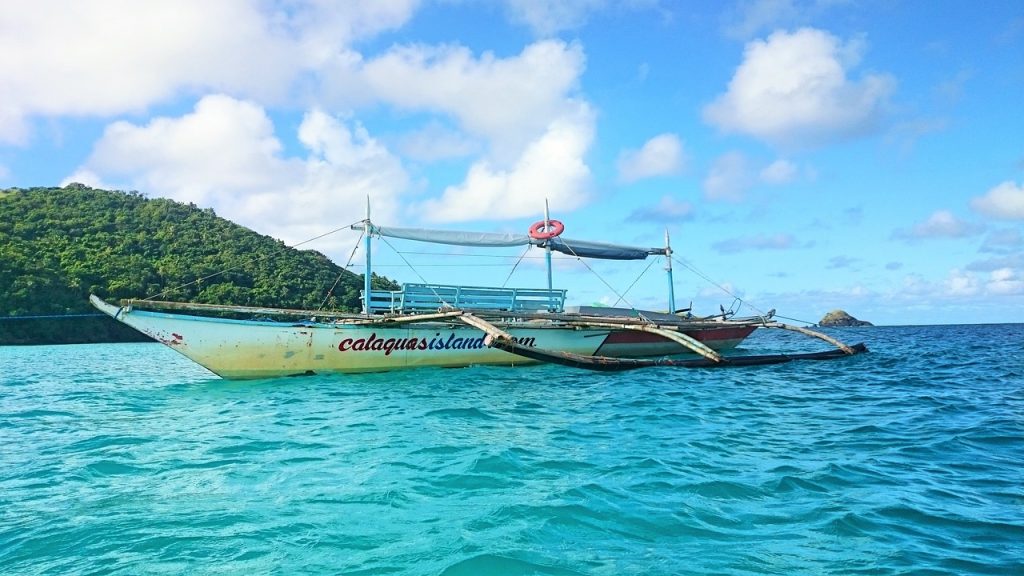 January
Temperatures range between 75°F and 88°F (23°C and 31°C).
Explore the vibrant festivals and processions, such as the Feast of the Black Nazarene and Sinulog. Visit historical sites and landmarks in Manila, like Intramuros and Rizal Park.
Weather: Generally, January is dry and sunny in most parts of the country.
February
Temperatures range between 75°F and 88°F (23°C and 31°C).
Immerse yourself in the colorful Panagbenga Festival in Baguio City.
Attend the Hot Air Balloon Fiesta in Pampanga and witness breathtaking hot air balloon displays.
Weather: The weather remains mostly dry with occasional showers in some areas.
March
Temperatures range between 79°F and 93°F (26°C and 34°C).
Visit the stunning sunflower fields during the Sunflower Festival.
Experience the unique Alimango Festival, which celebrates the local crab delicacy. Go island hopping in El Nido or Coron and discover picturesque beaches and lagoons.
Weather: The weather is generally warm with minimal rainfall.
Editor's Pick: Worst Time to Visit Maldives – SKIP THESE MONTHS
April
Temperatures range between 79°F and 93°F (26°C and 34°C).
Witness the reenactment of the biblical story of Moriones during the Moriones Festival in Marinduque.
Explore the historical ruins of Cagsawa in Albay. Take part in Easter processions and religious activities during Holy Week.
Weather: April marks the beginning of the hot and dry season, but occasional showers are still possible.
May
Temperatures range between 79°F and 93°F (26°C and 34°C).
Join the lively Flores de Mayo celebrations, a month-long festival honoring the Virgin Mary.
Experience the colorful and creative Pahiyas Festival in Lucban, known for its beautifully decorated houses.
Weather: May is usually hot and dry with minimal rainfall.
June
Temperatures range between 79°F and 93°F (26°C and 34°C).
Celebrate Philippine Independence Day and witness parades and cultural performances.
Indulge in local delicacies during the Pinangat Festival in Bicol, known for its traditional dish. Explore the stunning waterfalls and caves in Sagada, a popular tourist destination.
Weather: June marks the onset of the rainy season, with occasional showers and thunderstorms.
July
Temperatures range between 79°F and 93°F (26°C and 34°C).
Experience the Sandugo Festival in Bohol, commemorating the blood compact between the Spanish explorer and the local chieftain.
Attend the Grand Kalinga Festival in Kalinga and learn about the rich indigenous culture and traditions. Discover the stunning landscapes of Batanes, known for its rolling hills and rugged coastlines.
Weather: July is part of the rainy season, so expect frequent rain showers and occasional typhoons.
August
Temperatures range between 79°F and 93°F (26°C and 34°C).
Pay tribute to the national heroes and visit historical sites like Rizal Park and Fort Santiago in Manila.
Enjoy the Hin-ay Festival in Zamboanga City, showcasing the vibrant Subanen culture. Explore the breathtaking underground river in Puerto Princesa, Palawan.
Weather: August is still within the rainy season, with intermittent showers and possible typhoons.
September
Temperatures range between 78°F and 86°F (26°C and 30°C).
Take part in the Feast of the Nativity of Mary celebrations, marked by processions and religious activities.
Visit the stunning waterfalls and rice terraces in Ifugao or the picturesque beaches in Siargao. Experience the vibrant street parades and cultural shows during the Kadayawan Festival in Davao City.
Weather: September is still part of the rainy season, with occasional rain showers and possible typhoons.
October
Temperatures range between 77°F and 91°F (25°C and 32°C).
Join the energetic Masskara Festival in Bacolod City, filled with colorful masks, street parties, and dancing.
Experience the Rahugan Festival in Romblon, celebrating the province's marble industry and cultural heritage.
Explore the beautiful beaches and marine life of Puerto Galera or go scuba diving in Apo Reef Natural Park.
Weather: October is considered the transition month between the rainy and dry seasons, with intermittent rain showers.
November
Temperatures range between 77°F and 91°F (25°C and 32°C).
Pay respects to departed loved ones during All Saint's Day and All Souls' Day. Visit cemeteries and witness Filipino traditions like lighting candles and offering prayers.
Discover the historical sites in Ilocos Norte, including the UNESCO World Heritage Site of Paoay Church and the sand dunes of Paoay.
Weather: November marks the beginning of the dry season, with minimal rainfall.
December
Temperatures range between 77°F and 86°F (25°C and 30°C).
Witness the festive Christmas celebrations in the Philippines, characterized by colorful decorations, light displays, and traditional parols (lanterns).
Explore the holiday markets and bazaars to shop for unique local crafts and delicacies.
Visit beautiful destinations like Vigan or Cebu City and experience the unique blend of history and Christmas festivities.
Weather: December is part of the dry season, with cooler temperatures and occasional Christmas breeze.
Conclusion
The rainy season from June to October in the Philippines poses challenges with heavy rainfall, flooding, landslides, and potential power outages, making it one of the worst times to visit Philipines. However, by considering weather patterns and personal preferences, travelers can plan their visit accordingly to make the most of their time in this beautiful country.
FAQs
Worst Time to Visit Philippines - FAQs
What month is not peak season in the Philippines?
The non-peak season in the Philippines would be from June to October, known as the "wet" season characterized by occasional rain and warm temperatures.
Which month is good for visiting the Philippines?
The best time to visit the Philippines is during the dry season from January to April. This period offers hot yet pleasant temperatures and avoids the humidity of the summer months.
Are the Philippines cheap to visit?
Yes, the Philippines is generally a budget-friendly destination. Accommodation costs are often low, and food and drinks are affordable, making it suitable for travelers on a budget.