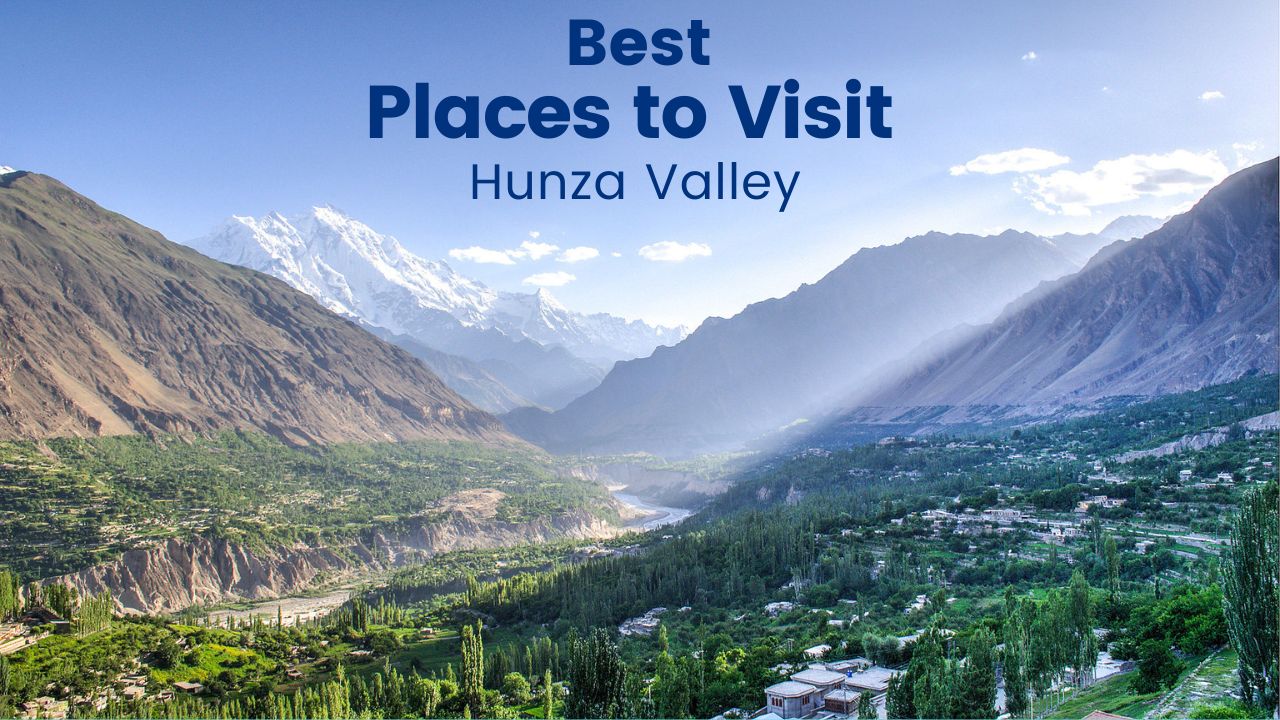 If you love soaking in the beauty of nature, diving into new cultures, and going on exciting adventures, then you have to consider the Hunza Valley in the North of Pakistan. The hidden treasure is stretched along the peaceful Hunza River and is surrounded by the jaw-dropping Karakoram mountains.
Just think about the pure white snow against the backdrop of lush green fields, orchards, and charming villages. Well, that's a sight that'll truly take your breath away. Therefore, if you're thinking about making your way to Hunza but need some insider tips on the best places to visit in Hunza Valley, don't worry – we've got you covered!
Places to Visit in Hunza Valley
Every spot in Hunza offers a fresh and exciting experience for all visitors. Nevertheless, we've carefully chosen ten places that appeal to a wide range of preferences, whether you're an adventure enthusiast or a nature lover.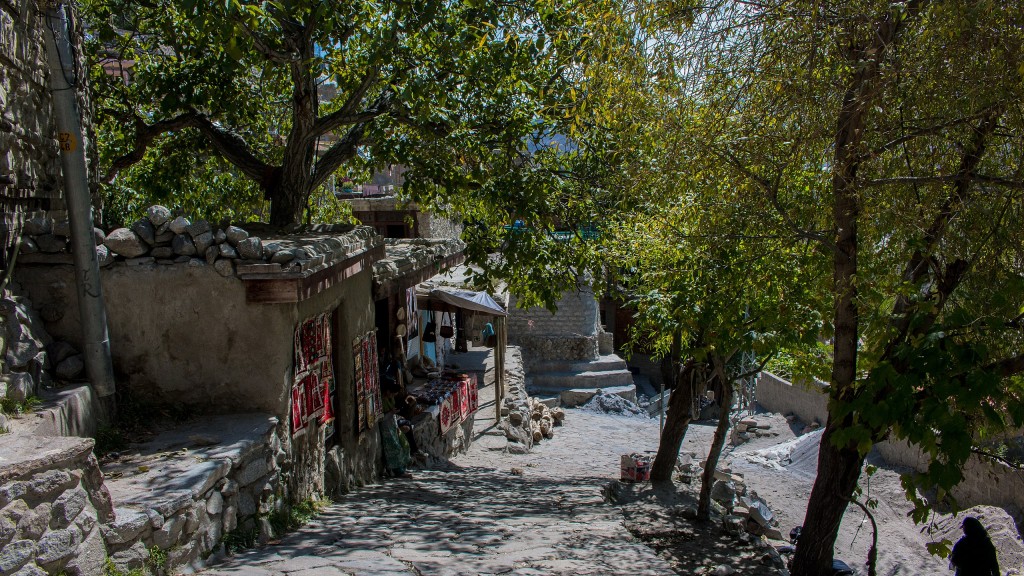 Karimabad is a true gem that nestles in the Hunza Valley. It is like a slice of paradise that exists right here on our planet. It proudly wears the crown of being the capital city of this valley, and it sits pretty at a high altitude of 2,435 meters above sea level.
Imagine it as your perfect escape from the hustle and bustle of everyday life, which offers a chance to soak in the breathtaking hikes around Rakaposhi.
But that's not all – Karimabad is a treasure trove of delightful experiences that wait to be discovered. It has picturesque landscapes that will steal your heart, charming cafes, and eateries that satisfy your taste buds.
Unique Features: Karimabad is the home to spotting many world-known mighty mountain peaks (7000m), such as the Rakaposhi, Nanga Parbat, Ulter Sar, Diran, Passu Sar, Batura, etc. It is a paradise for adventurers who rush to summit peaks and witness its natural landscape. Further, it has a rich history and culture, as it was once the capital of the former Hunza state.
Activities: There is so much to explore and do at Karimabad. You can go hiking, fishing, sightseeing, photographing beautiful sites, visit Karimabad Bazar and shop, listen to the local music, and enjoy people dancing. Altit Fort and Baltit Fort are 2 of the most famous places here you should visit. We've talked about them later below.
Facilities: There are a lot of facilities at Karimabad, from hotels, restaurants, local food stalls, bazaars, resorts, and camping sites to everything you will need on your trip. One of the best hotels in Karimabad is the Baltit Heritage Inn; you will get free internet access, exceptional room service, and a fantastic view. You can also find delicious food and souvenirs at the shops in Karimabad Bazar.
Recommended Gear: When getting ready for your Karimabad adventure, we recommend having an umbrella, cozy clothes, a water bottle, snacks and beverages, and camping essentials.
Expected Spending: One can expect to spend around $3 for food, $10-$40 for shopping, and $2 for tickets etc in Karimabad Bazar.
Baltit Fort is a historic gem in Pakistan, providing breathtaking views of the Hunza Valley and towering mountain peaks. For 700 years, it was the place of the Ayashkutz royal family. With its intricate stone and wood design, this fort showcases traditional Hunza architecture, which reflects the region's rich culture.
Baltit Fort's significance spans social, political, and economic realms, and it has witnessed the pages of the Great Game.
Unique Features: Baltit Fort is a masterpiece of traditional Hunza architecture that combines stone and wood elements. It also has a stunning location, as it overlooks Karimabad town and the Hunza Valley. It offers a panoramic view of some of the highest peaks in the Hunza Valley. You will be captivating glimpse into the rich cultural heritage of the Hunza Valley.
Activities: You can explore the fort like a museum and discover its past, design, and way of life. Further, you can see old weapons, tools, furniture, and paintings. From the fort's rooftop, enjoy stunning views of the Hunza Valley and tall mountains like Rakaposhi, Ultar Sar, Diran, Golden Peak, and Spantik.
Facilities: It has some facilities for visitors, such as a ticket office where you can buy the entrance fee and a guide service. The fort is located close to Karimabad bazar so you can find gift shops, cafes, and snack items on the way. The guide will show you the exhibits of old weapons, utensils, furniture, and paintings that reflect the heritage of the Hunza people. It is open daily, 9 AM to 5 PM in summer, and 9:30 AM to 4 PM in winter.
Recommended Gear: We recommend packing essentials like sturdy hiking boots, a camera to capture awe-inspiring moments, and binoculars for closer marvels. Moreover, pack some snacks to fuel your adventure, refreshing drinks, and an umbrella to shield yourself against surprises.
Expected Spending: The ticket prices for visiting Baltit Fort are: PKR 1200 or $4 (foreigners) or PKR 800 or $2.5 (locals).
Attabad Lake is a stunning natural attraction in Gilgit Baltistan. It has earned the nickname of the "Bride of Hunza Valley" for its exquisite beauty. The lake has a mesmerizing turquoise hue that seems almost unreal. The lake soon became a popular tourist destination after its creation.
It has a unique charm and appeal that draws visitors from far and wide. It also submerged a section of the Karakoram Highway, forcing people to use boats to cross it. This problem was solved in 2015 when a new road tunnel opened. Traveling from Lahore to Attabad Lake is most affordable with a cost of just $127.
Unique Features: The uniqueness of Attabad Lake lies in its origin, born from a natural event. In 2010, a huge landslide blocked the river and made a dam. The water filled up behind the dam and formed the lake. The landslide killed 20 people and forced many others to leave their homes. The lake also covered some villages and part of the Karakoram Highway.
Activities: Rent a variety of boats—speed boats, motor boats, row boats, and paddle boats—to navigate the serene waters and take in the stunning lake and mountain vistas. For those seeking an adrenaline rush, jet-skiing is a thrilling option.
Facilities: The lake itself does not have facilities, but some hotels near the lake have many facilities. You can find hotels that suit your budget and preferences. There are restaurants and cafes as well. Restrooms are available for men, women, and physically challenged individuals.
Recommended Gear: For a trip to Attabad Lake, remember to pack sunscreen, sunglasses, a camera, and binoculars. These essentials ensure sun safety, capturing scenic moments, and savoring the lake's allure. You will be provided life jackets on the spot at Attabad Lake.
Best Time to Visit: The best time to visit Attabad Lake depends on what you like to do and see. But a good time to go is in summer (May to September). The lake is also more beautiful in summer, with its bright blue color.
Driving Distance: The road trip from Hunza to Attabad Lake is about 24 km long and takes about 40 minutes.
Expected Spending: The following are the prices for activities at Attabad Lake
Jet Ski – 3000 PKR ($10)
Paddle Boat – 2000 PKR ($7)
*Boat for 20 People – 10,000 PKR ($33) – Per Head PKR 400 – ($1.5)
*Bigger boats have higher charges
Read More Here: Which lake emerged in Hunza Valley? – hint.. It's a beautiful lake
If you're seeking a comfortable place to visit in the breathtaking Hunza Valley, consider Eagle's Nest Hotel. Beyond its renowned beauty, the hotel provides breathtaking vistas of neighboring valleys and mountains.
The hotel's highest point, which is known as Duiker, offers panoramic views of both Hunza Valley and Nagar Valley. Eagles also call this place home, giving it the fitting name Eagle's Nest.
Unique Features: Eagle Nest Duiker offers a distinctive allure that sets it apart from other places. From this vantage point, you can behold a magnificent panorama of 11 towering peaks, all rising above 6,000 meters.
These include some of the most famous summits in the region, such as Rakaposhi, Ultar Peak, Golden Peak, and Lady Finger. The peaks are adorned with perpetual snow and glaciers, creating a stunning contrast between the sky and the valley.
Activities: Your stay can be filled with an array of enjoyable experiences. Appreciate mesmerizing mountain and valley vistas from your room or the terrace, capturing nature's beauty through photos and videos. Venture into neighboring villages like Altit Fort, Baltit Fort, Ganish Village, and Ultar Meadows.
Facilities: Eagle's Nest Hotel offers a range of facilities for guests. These include a garden, an on-site restaurant, room balconies, and closets in each room. Additionally, the hotel provides its guests with a continental breakfast option.
Recommended Gear: Since Eagle's Nest Duiker is a hotel, you won't need to worry about packing gear. However, if you plan to partake in outdoor activities, feel free to pack gear that suits the specific activities you intend to enjoy.
Expected Spending: The starting rate for a two-bedroom is 4500 Pakistani Rupees per night, which is equivalent to about USD 15.
Recommended Reading: How to Keep AirPods From Falling Out When Traveling?
If you are up for a thrilling adventure, then you'd consider Suspension Bridge near Gulmit one of the best places to visit in Hunza Valley. This aged wooden bridge hangs above the Hunza River and sways gently underfoot. As you are treading its 400-step span, you need to embrace both courage and balance.
This bridge is not just a challenge; it is also a chance to connect with local history and culture. For a mere 200 Pakistani rupees (80 cents), you can enter the bridge and even savor delightful cherry juice and local dry fruits from nearby stalls. It is an experience that blends excitement, scenery, and flavor!
Unique Features: It is often regarded as the most dangerous bridge in the world. It is a suspension bridge that hangs over the Hunza River at a height of 2,600 m (100 ft) and a length of 194 m (635 ft). It was built by the villagers using ropes and planks from the nearby area between 1966 and 1977 (after being destroyed by flood).
Activities: The main activity at Hussaini Bridge is crossing it from one end to the other. It is a test of bravery and skill, as tourists have to walk on a shaky bridge that hangs over a deep river. Tourists can feel the adrenaline rush and excitement as they cross the bridge and see the stunning scenery around them.
Facilities: There are no facilities at or near the bridge. There is no road, no service, no toilet, and no drinking water. Tourists should bring their necessities and be prepared for a rustic experience.
Recommended Gear: Tourists should bring a water bottle, gloves, muffler, beanie, hand wash/soap/sanitizer, wipes, toothpaste, sunblock, and sunglasses. These items will help them stay hydrated, warm, clean, and protected from the sun.
Driving Distance: This scary bridge is about 45 km from Aliabad Hunza and 132 km from Gilgit. To reach the Hussaini Suspension Bridge from Passu, travelers can embark on an approximately 40-minute hike.
Location: The Hussaini Bridge is situated in the village of Hussaini, near Passu, in the Hunza Valley.
Expected Spending: You can enjoy juice, some fruits from locals, and the bridge crossing in under PKR 1500 ($5).
Suggested Reading: How to Carry Your Suit on a Plane: No Wrinkles and Shrinking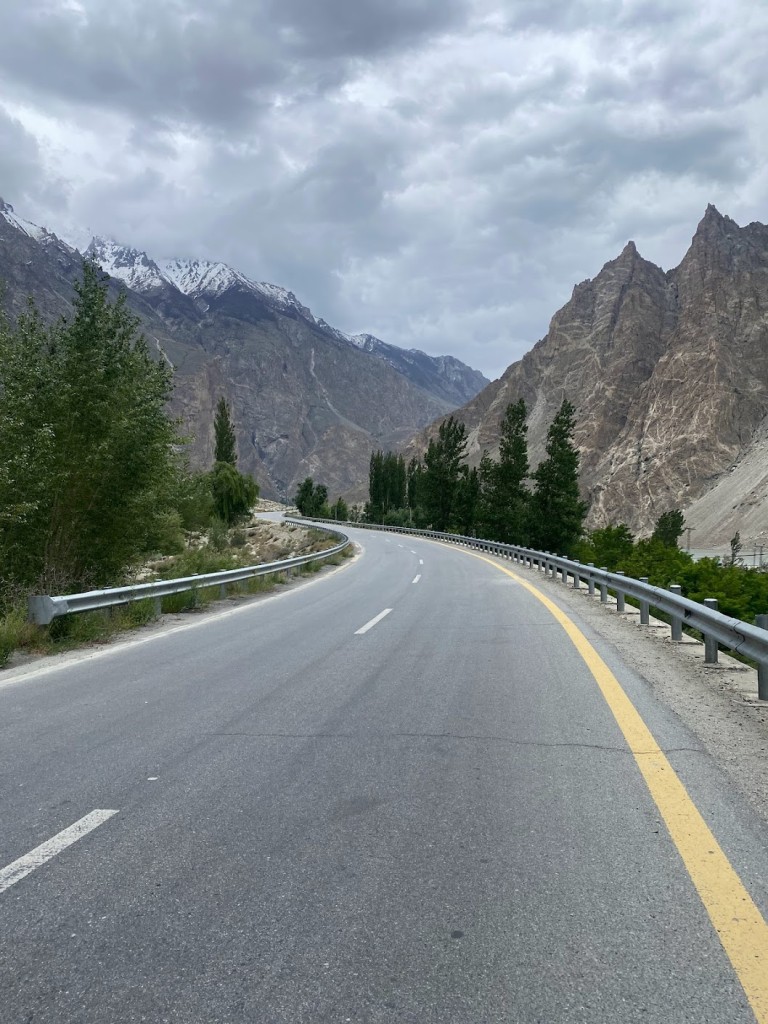 The world's highest paved international road, the Karakoram Highway (KKH) is also known as Karakorum. This remarkable route links Western China with Pakistan by crossing the Himalayas as one of the rarest and farthest-west pathways. It originated as an ancient Silk Road caravan trail, and the highway was constructed by Chinese and Pakistani authorities from 1959 to 1979.
Today, the KKH has evolved into an adventure tourism hotspot considered Pakistan's third-best tourist attraction by The Guardian. The long drive of Karakoram Highway itself makes it one of the best places to visit in Hunza.
Unique Features: It crosses the breathtaking Karakoram mountain range at an altitude of 4,800 meters (roughly 16,000). Built under challenging conditions, it has earned the distinction of being often called the Eighth Wonder of the World.
Activities: Start exciting walks and climbing trips among wonderful peaks and glaciers such as K2, Nanga Parbat, Rakaposhi, and Baltoro Glacier. Learn about history at old rock carvings, see cultural things like Altit and Baltit forts, and meet different animals at Khunjerab National Park.
Facilities: The Karakoram Highway now has better facilities, including places to stay for different prices, gas stations, car repair services, local shops, and medical help through hospitals and clinics.
Recommended Gear: Bring important things like valid passports and visas, a good car, maps or GPS, a first aid kit, warm and waterproof clothes, a sleeping bag, and a camera or binoculars to see the beautiful views.
Best Time to Visit: Spring and Autumn have the best weather for driving on the Karakoram Highway as it shows cherry blossom trees. On the other hand, autumn is also recommended due to the land being adorned in golden colors.
Location: The Karakoram Highway stretches from Hasan Abdal in the Punjab province of Pakistan. It reaches the Khunjerab Pass in Gilgit-Baltistan. It turns through the Pamirs, Hindu Kush, Kunlun Mountains, and Karakoram Range.
Expected Spending: For those traveling on a budget as backpackers, daily expenses are expected to average around $30.
Helpful Reading: 5 reasons to put a crayon in wallet during travel [2023 UPDATED]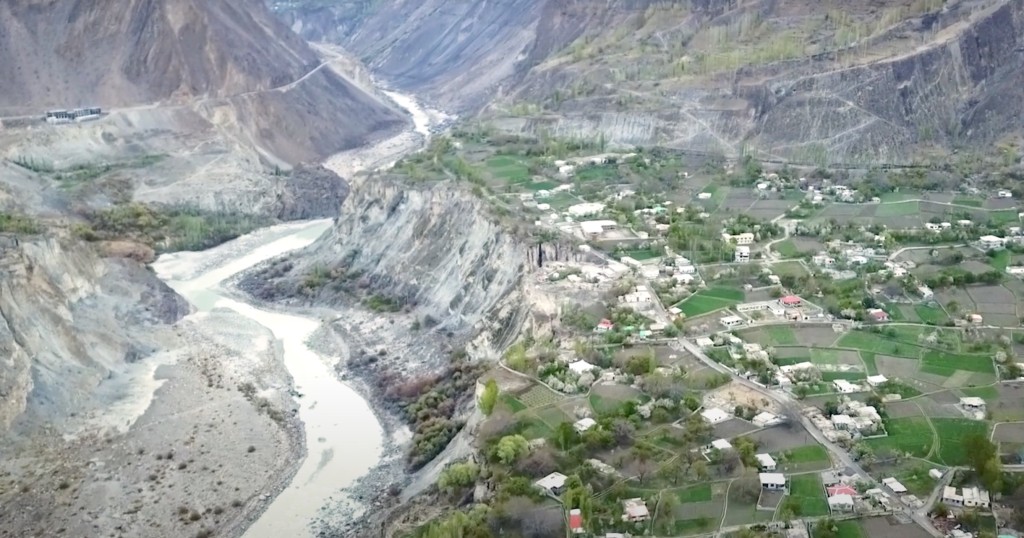 Minapin is an amazing village in Gilgit-Baltistan, Pakistan. Many people come here to see and climb the big mountains of Rakaposhi and Diran. Perched at 3,000 meters above sea level on Rakaposhi's northern side, Minapin Village captivates with its beauty.
Around 150 families sustain themselves through subsistence farming. People from all over the world visit this place to enjoy the views of Rakaposhi, walk on the trails, and learn about the local culture.
Unique Features: Serve as the entrance to the Rakaposhi Base Camp, the village stands impressively tall at a staggering 7,788 meters. Notably, it is conveniently situated near the Diran Base Camp. Diran is also known as "Minapin Peak," representing another formidable peak towering at a height of 7,266 meters.
Activities: It offers diverse activities for nature enthusiasts and adventurers. We highly recommend embarking on a trek to the Rakaposhi base camp to relish the breathtaking vistas of the glacier and the majestic mountain. It takes about 8.5 hours to go there and come back, with a 2-hour break. The village is known for its apricot orchards.
Depending on the season, you might get a chance to enjoy fresh apricots or apricot-based products like dried fruits and jams. Besides, the scenic beauty of the area is perfect for leisurely walks, photography, and enjoying the tranquility of nature.
Facilities: Minapin has some guest houses where you can rest and eat. Some of them are Osho Thang Hotel, Diran Hotel, and Hunza Rakaposhi View Hotel. They have basic facilities like beds, baths, food, and electricity.
Recommended Gear: The gear you need depends on what you plan to do in Minapin. If you want to camp, you need a tent, stove, cooking utensils, and food. If you want to climb the peaks, you need more gear like crampons, ice axes, ropes, harnesses, helmets, gloves, goggles, and GPS.
Expected Spending: You can forecast to spend around $10 each day if you are up for camping. If you stay in a hotel, you would spend around $18-25 per day depending on your room and food expenses.
Shimshal Valley is one of the must-visit places in Hunza Valley. It belongs to Gilgit-Baltistan, a region abundant in captivating natural wonders. This valley stands as the largest and highest in Hunza, forging a border link between Pakistan and China. You can see many wonderful peaks, glaciers, lakes, and meadows here.
They are very popular among trekkers and climbers from all over the world. Comprising four distinct villages – Aminabad, Farmanabad, Khizarabad, and Central Shimshal – Shimshal Valley promises a unique and thrilling escapade.
Unique Features: Shimshal Valley boasts an extraordinary trait in its isolation and seclusion. Before October 2003, the valley was unreachable by motor roads. However, after 18 years of resolute dedication, residents crafted a road from Passu on the Karakoram Highway. Now, it's known as one of the most dangerous and captivating roads worldwide.
Activities: Shimshal Valley offers diverse activities for nature enthusiasts, including trekking, fishing, wildlife watching, and cultural exchange. Noteworthy treks include Shimshal Pass, Minglik Sar, and Pamir.
Recommended Gear: For a successful visit, pack necessary gear including warm and waterproof clothing, sun protection, sleeping essentials, a camera, flashlight, maps, passport, and more.
Facilities: It provides basic facilities through guest houses for accommodations, food, and guides. Pamir Serai Guesthouse offers comfortable rooms, attached bathrooms, hot water, electricity, internet, and traditional meals.
Best Time to Visit: We recommend visiting Shimshal Valley from May to August, as this period offers accessible roads and delightful weather for exploration.
Driving Distance: The driving distance from Hunza to Shimshal Valley is about 109.7 km. It takes roughly 3 hours and 50 minutes along the rough jeep road.
Expected Spending: If you are just visiting the Shimshal valley, you can expect to spend around PKR 4,500 – PKR 6,000. $15-$20 everyday for food and lodging. However, the Shimshal Pass trek is priced at $1490, which is about 55,500 Pakistani Rupees.
Travel Advise: 18 Reasons To Keep a Bread Clip In Your Wallet [New Tricks]
Khunjerab Pass, where Pakistan and China meet, is a fascinating blend of cross-border allure, natural splendor, and cultural significance. This pass stands as a testament to the connection between two nations and serves as a prime attraction for travelers seeking adventure and exploration.
Unique Features: Khunjerab Pass offers more than just a border crossing; it's a passage to captivating landscapes, elevated at 4,693 meters above sea level. Trekkers and explorers are drawn to its breathtaking vistas, crisp air, and the thrill of standing at the apex of the Karakoram Highway.
Activities: The pass offers trekkers a challenging and rewarding experience. Capture the changing hues of the landscape with your camera as you venture through this high-altitude terrain. Khunjerab Pass is home to various wildlife species, including the iconic Marco Polo sheep and Yak. Keep your eyes peeled for these incredible creatures in their natural habitat. At the China border, you will see the world's tallest ATM as well. You can also take a ride of Yak and take pictures.
Recommended Gear: Since China China-Pakistan border is at a great height, many individuals might feel trouble breathing oxygen. For this reason, it is recommended to keep an oxygen tank, especially if you have any breathing problems prior. Other than that, this place is cold all year round. Having a leather jacket would be really helpful to counter cold.
Facilities: Since it is an international border, there are facilities like restrooms and an ATM. However, there are no food items sold here.
Driving Distance: The distance from Hunza Valley to Khunjerab pass is 95 kilometers and it can take you around 3 hours to reach there.
Expected Spending: Taking a picture with a Yak will cost you 100 PKR (35 cents). Riding a Yak will cost you 1000 PKR ($3).
Things to Consider Before Visiting Hunza Valley
Following are a few essentials to keep in mind before your trip to Hunza.
Weather and Clothing: Check the weather forecast for the time of your visit and pack accordingly. Hunza experiences varying temperatures throughout the year. Bring layers, warm clothing, comfortable hiking shoes, and rain gear if needed.
Altitude Acclimatization: Hunza is at a high altitude, and altitude sickness can affect some travelers. Plan for a gradual ascent and give yourself time to acclimate. Stay hydrated and avoid strenuous activities during the first couple of days.
Cash and Currency: While larger towns might have ATMs, it's a good idea to carry enough cash for your expenses, as remote areas might not have reliable access to banking services.
Transportation: If you're traveling by road, be prepared for potentially long and winding journeys. Roads might be challenging in some areas, so plan your transportation accordingly.
Language: While many people in Hunza speak English, especially in tourist areas, knowing a few basic phrases in the local language (Urdu) can go a long way in enhancing your interactions with the locals.
Editor's Pick: The Ultimate Guide to Measuring Luggage: Find the Right Way
Conclusion
A trip to Hunza is often referred to as "The Healer". Whether you are up for an adventure or just looking to enjoy some peace for a few days, Hunza has plenty of activities and places to go to. You'll be surprised by the amazing beauty at Hunza Valley and make plenty of amazing memories. If you are worried about the cost, remember that there are group tours operating from Lahore, Islamabad, and Karachi.
Places to Visit in Hunza Valley - FAQs
What are the must-visit attractions in Hunza?
Hunza offers a range of captivating attractions. Baltit Fort and Altit Fort showcase local history, while Karimabad Bazar is great for shopping. Don't miss the mesmerizing views of Rakaposhi, Passu Cones, and Attabad Lake.
When is the best time to visit Hunza?
The best time is from April to October when the weather is relatively mild and most attractions are accessible. However, the months of June to August are considered peak tourist season.
What local dishes should I try in Hunza?
Hunza offers delicious local cuisine. Try "Hunza Pie," a hearty dish made from local vegetables and cheese. Also, indulge in dried apricots, apricot oil, and local bread.
Is it possible to see glaciers and high peaks in Hunza without strenuous treks?
Yes, you can experience stunning glaciers and peaks without intense trekking. The drive along the Karakoram Highway offers breathtaking views, including the Passu Glacier and Rakaposhi, making it accessible to all travelers.