San Antonio, Texas, is a city in the US renowned for its rich history, vibrant culture, and stunning natural beauty. One of the best ways to experience all of these elements is by visiting one of the many parks scattered throughout the city. From serene gardens and tranquil lakes to adrenaline-fueled amusement parks and scenic hiking trails, San Antonio's parks offer something for everyone. Whether you're a local resident or a visiting tourist, exploring the city's parklands is a must-do activity that will leave you feeling refreshed, inspired, and rejuvenated. So grab your sunscreen, pack a picnic, and let's dive into the amazing world of San Antonio's parks!
[item_carousel id='164′ timeout='5′]
Best Park in San Antonio with Tons of Activities
We have listed the best parks in San Antonio for a quick stroll or a picnic evening.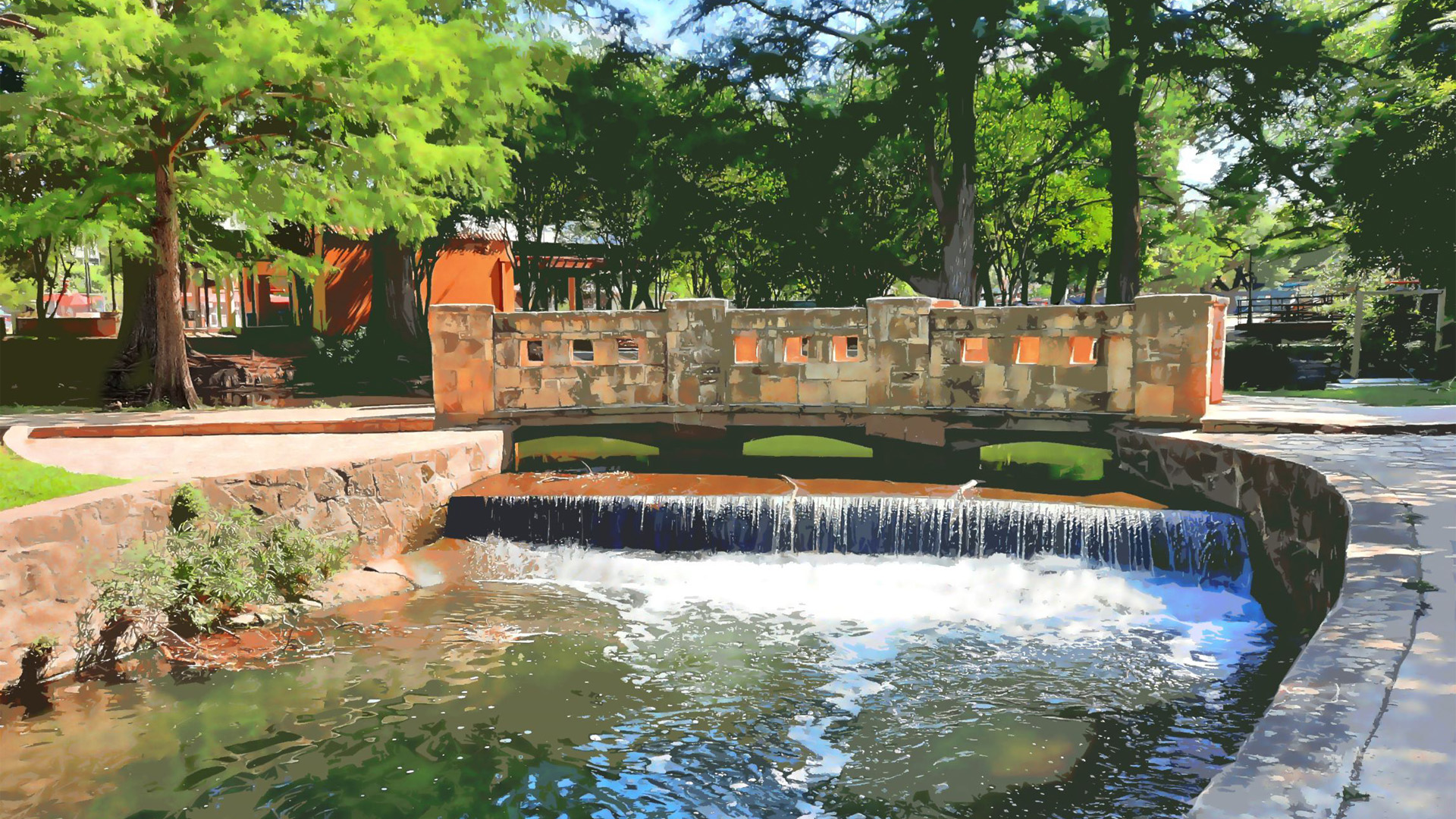 At the foot of the San Antonio River headwaters, Brackenridge Park offers more than 340 acres of attractions. Even 11,000 years ago, there is evidence of human settlement in this park region, indicating that it was a popular gathering spot.
Today, Brackenridge Park is home to the Witte Museum, the San Antonio Zoo, the Japanese Tea Garden, the San Antonio Botanical Gardens, the Brackenridge Eagle (kiddie train), and Kiddie Park, the oldest kids' amusement park in the country. Come and spend a day at Brackenridge Park making memories with your family or having a great time with your beloved ones.
It contains a lot of fun and exciting activities, and you can also find the San Antonio zoo in the middle of it, and right next to it is a charming little train that your whole family can ride. It is also known as Brackenridge Eagle.
San Antonio Botanical Gardens also host amazing live events with a lot of ancient and extinct creatures such as dinosaurs, you might need to check in with the park as they host a dinosaur event once every single year. If you're lucky you might be able to see the life-size realistic dinosaur show. And don't forget to check out the Witte Museum and learn more about Texas and its rich history.
When it comes to where to eat when touring the Brackenridge Park region, there are several options. You can feel at ease just dining in one of the numerous fast-food restaurants inside the San Antonio Zoo. If you want to pack a picnic and go to the park, Shopping District is on Broadway, just a short distance away. You may buy a prepared meal or make your own sandwich with your own toppings.
Are you prepared for a sit-down lunch and refreshing beverages in a lovely setting? Outstanding Tex-Mex food can be found at Paloma Blanca. The establishment was named the Best Mexican Restaurant in San Antonio by Zagat.
San Antonio, Texas, is home to Woodlawn Lake Park, a unique park. The park was first created in the 1880s when developers planned to create a residential subdivision on the west side of San Antonio and realized there was a need and potential for parks there. The park's actual name is Woodlawn Lake Park, and it was given to the City of San Antonio together with the lake in 1918.
This 62-acre park has a vast range of features and amenities to offer for the entire San Antonio, that will improve the way of their lives, which consists of a total of six facilities: The Woodlawn Lake Island House, the Berta Almaguer Dance Studio, the Joe V. Alderete, Jr. Tennis Courts, a swimming pool, and a gym are all nearby.
A cohort of people have danced in the Berta Almaguer Dance Studio, and if you visit this park from May to September you might be able to get a free dip in the pool at the Woodlawn Lake Pool which has a regional pool.
To do research, submit job applications, and surf the internet, locals may bring their computers and other electronic devices to the park and use the free Wi-Fi there. In addition to interacting with nature, students may finish their schoolwork, check their college's blackboard for assignments, and use social media to stay in touch with friends and family.
The community room offers literacy events organized by the San Antonio Public Library, such as story time for kids, teen club, and Dare to Read Club for adults, in addition to its open, public hours. Additionally, there is a health kiosk in the space where people can get crucial health assessment data including their heart rate, weight, BMI, and blood pressure.
Must-read: 8 Expert Recommendations for the Best Hotels in Dallas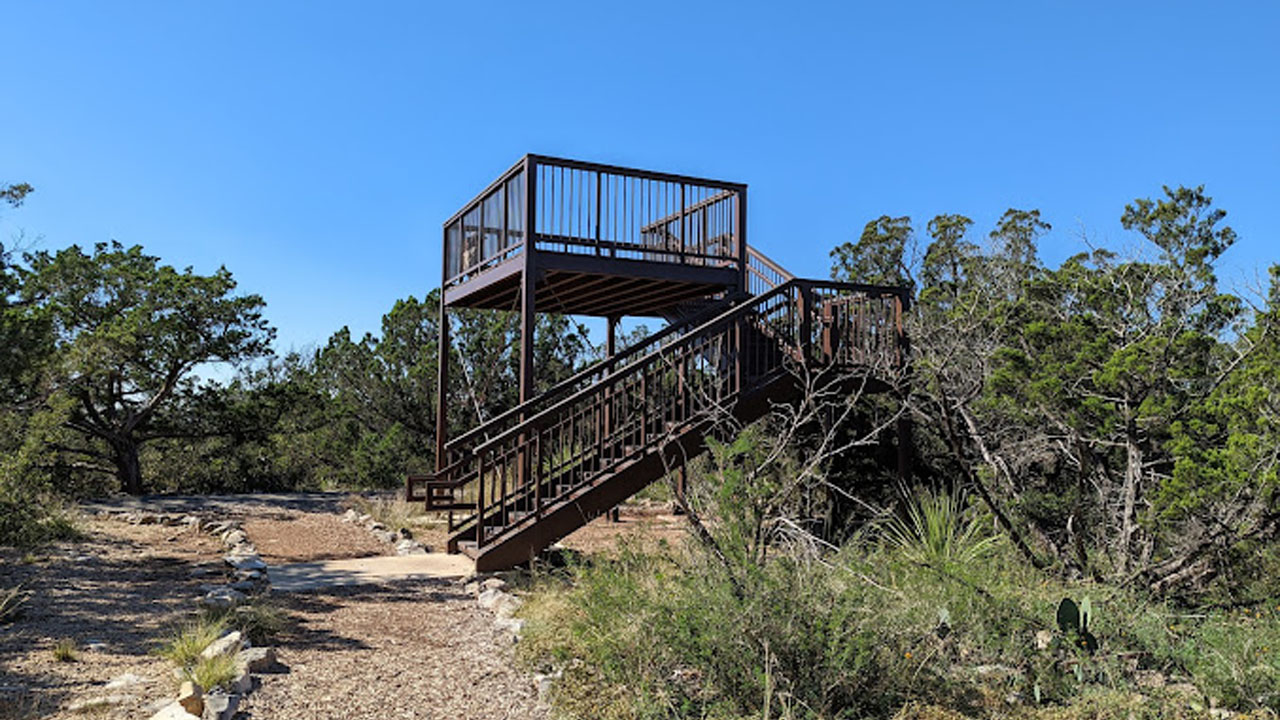 Salisbury Park, originally Eisenhower Park, is a public park in East Meadow, New York, bounded to the south by Hempstead Turnpike and to the north by Old Country Road. It is bigger than Central Park in Manhattan, New York City, at 930 acres (3.8 km2), and most of the space is taken up by three 18-hole golf courses, including the Red Course, which hosts the annual Commerce Bank Championship (Champions Tour). The September 11th Monument for Nassau County citizens is located in the park.
Visiting Eisenhower park is always hype, as it has green pathways that go through the city, another thing you could do is have a nice relaxing picnic with your family and loved ones. There are hiking and walking trails for everyone with multiple terrains, Eisenhower park contains 6 miles of well-constructed, trails with neat markings and is well-preserved.
Also with a modest play area and climbing structure. The Concrete Cedar Flats Trail or the Gravel Hillview Natural Trail leads to an observation tower located atop the hill. Visitors who climb the tower have 360-degree views, including views of both downtown San Antonio and the surrounding areas.
For families looking for a fun day out together, Eisenhower Park also offers a number of picnic spaces and playgrounds. You can find it in Eisenhower Park whether you're looking for a quiet place to unwind or an energetic day of leisure. For those who enjoy nature, the park's luxuriant vegetation and well-maintained gardens provide a tranquil haven away from the bustle of the city.
Eisenhower Park is renowned for its natural beauty, but it also has a number of cultural and recreational amenities, such as a museum, a performing arts center, and a sizable sports complex with fields and courts for many different sports. A Senior Citizen's Center is also present, providing a range of services and events for senior citizens.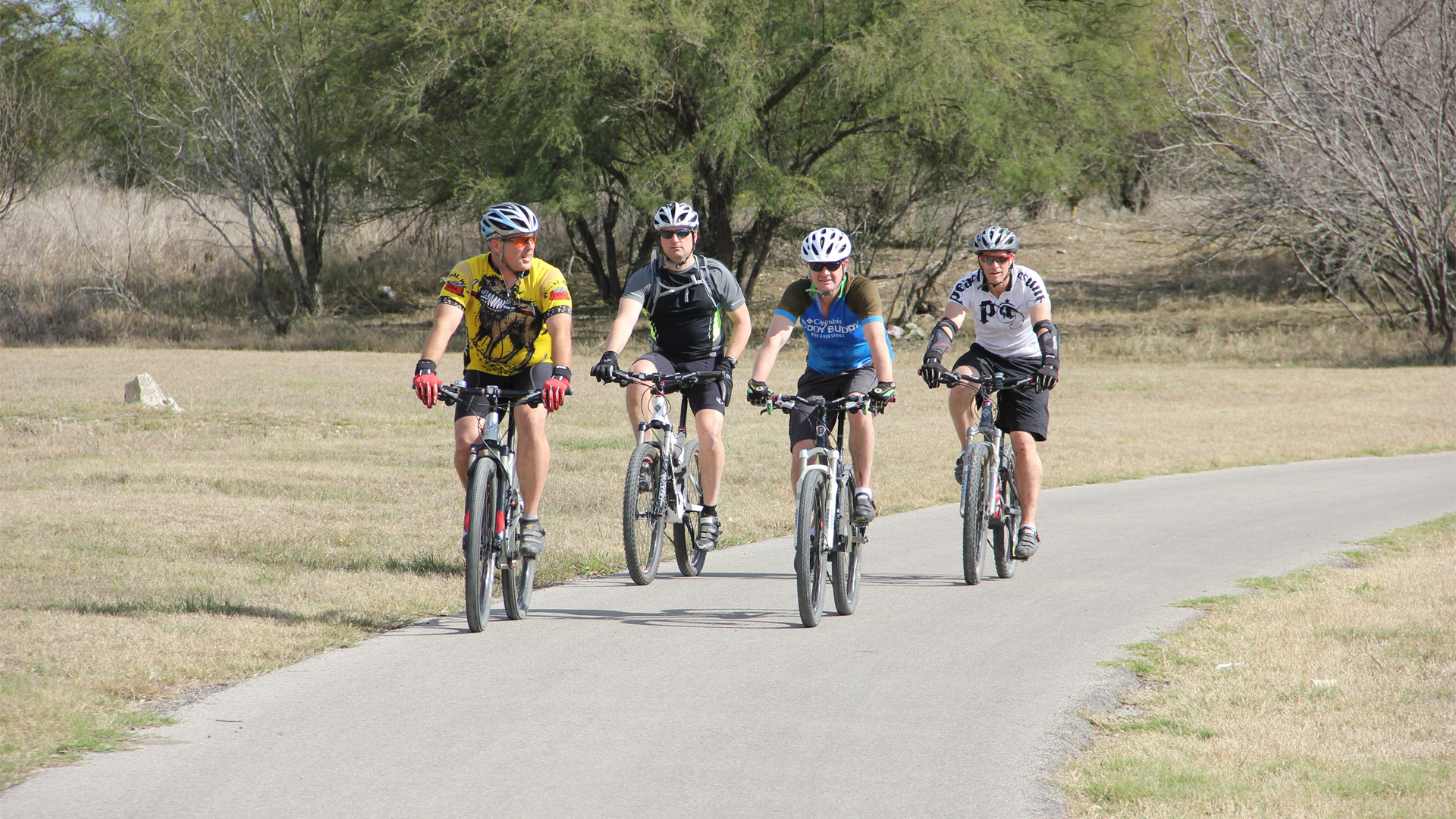 McAllister Park is a sprawling and diverse public park located in San Antonio, Texas. Spanning over 976 acres, it is one of the largest parks in the city and offers a wide range of recreational opportunities for visitors of all ages. The park's history dates back to the 1930s when it was established as a Works Progress Administration project.
Over the years, it has undergone several renovations and additions, making it a modern and well-maintained destination for both local residents and visitors. One of the most notable features of McAllister Park is its extensive network of hiking and biking trails. The park's trails wind through rolling hills and lush forests, offering breathtaking views of the surrounding landscape.
Whether you're a seasoned hiker or just looking for a leisurely stroll, you'll find the perfect trail for you at McAllister Park. In addition to its natural beauty, McAllister Park also offers several recreational facilities, including sports fields and courts, picnic areas, and playgrounds. The park is also home to several large ponds and lakes, making it a popular destination for fishing and boating enthusiasts.
McAllister Park is also a popular destination for events and gatherings, with several large open spaces available for rent. Whether you're planning a family picnic, a community festival, or a corporate event, McAllister Park is the perfect place to host your event. With its well-manicured grounds and stunning natural beauty, it is sure to be a hit with your guests.
If you're interested in exploring other unique parks, check out our article on the Top 8 Lesser-Known Unique Parks in Riverside.
If you're visiting Friedrich Wilderness Park on the weekends, then the chances are that you might not find a spot for your car to park, as on the weekend days it's crowded with people. One of the things Friedrich Wilderness Park is famous for is that it has a rugged terrain which is perfect for a lovely hike, that is the reason you might see many hikers there.
Norma Friedrich Ward, daughter of Buckhorn Saloon founder Albert Friedrich gifted this park to the city, initially, it was 180 acres, and $100,000 was for the improvement of the park. Now the park is about 633 acres, due to generous donations by many.
Friedrich Wilderness Park also has well-established trails that are accurately marked, the area presently has around 10 miles of trails, some of which have elevation changes of several hundred feet. Before you go, make sure to check the weather and the City's park closures pages because trails are frequently blocked when it's raining.
Even a mile walk on the trails can teach the visitors a lot about nature and its beauty, the recreational section of the park has set up a QR code so that the visitors could scan it on their phone and get information on everything in the park. The park also has a paved entry trail and forest range trail and wheel-chair comfortability.
Try the 3-mile Restoration Way, which runs across the whole back half of the park off Vista Loop, if you have a few hours to spare. Compared to the front country, it offers greater variation because the trail leads from a woodland to an expanse of open grassland and back again. If you want to do the lengthier circle, particularly in the summer, be careful to pack lots of water and sun protection.
Friedrich Park serves as a kind of time capsule for the southern border of the Texas Hill Country, before the Interstate 10 corridor was overrun with residences and commercial establishments. When sheep were raised on the property, there is still a stone wall at the top of the Vista Loop. There are still two windmills surviving, one of which pumps water into a tank where birds pause to drink and take baths.
HemisFair Park is a public park located in San Antonio, Texas. The park covers 96.2 acres and is best known for being the site of the 1968 World's Fair, known as HemisFair '68. The World's Fair was held in San Antonio to celebrate the city's 250th anniversary and to showcase its growth and development to the world.
HemisFair Park was developed on the site of the city's former municipal auditorium, which was demolished to make way for the World's Fair. The park was designed to be a permanent legacy of the World's Fair, and many of its structures and attractions have been preserved to this day.
Some of the most notable structures in the park include the Tower of the Americas, which offers stunning views of the city from its observation deck, and the Institute of Texan Cultures, which serves as a museum and cultural center that celebrates the state's diverse cultural heritage.
The City of San Antonio's method of commemorating the 250th anniversary of its creation in 1718 was HemisFair '68, which ran from April 6 to October 6, 1968. The Confluence of Civilizations in the Americas was the subject of this world's fair to emphasize the various ethnic groups that lived in the area.
Located in San Antonio, Texas, on the southwestern side. Pearsall Park has amazing amenities for the ones up for fun in the sun. The activities that the park has arranged are full of amazing exercises for a healthy family. The park even promotes every visitor to be healthy and happy.
Pearsall Park consists of 526 acres of gently undulating hills with walking/biking routes, dog parks, playgrounds, splash pads, skate parks, picnic tables, basketball courts, outdoor workout equipment, art pieces, and more. When you look at this lovely park, you would never imagine that it was built on top of the former District 4 municipal dump.
The largest park in San Antonio, Pearsall Park was converted from a wasteland to a wonderland. An unsightly waste has been transformed into a vast, gorgeous recreational park that offers something for everyone in the neighborhood by this community.
It features several picnic areas, a walking trail, a fishing lake, and sports fields. Additionally, the park is a popular spot for hosting events and concerts, and it has a large pavilion that can accommodate up to 1,000 people. The park also features several memorials and monuments, including a statue of Dr. Henry P. Pearsall, after whom the park is named, as well as a memorial honoring the U.S. armed forces.
Recommended Reading: 8 Bishop Arts District Restaurants That Should Be On Your To-Visit List
Orsinger Park is a public park located in San Antonio, Texas, United States. The park covers approximately 100 acres and features several amenities for visitors to enjoy, including picnic areas, a playground, a walking trail, and a large pond that is stocked with fish. The park is also popular among birdwatchers, as it is home to a variety of species, including ducks, geese, and various types of birds of prey.
In addition to its natural beauty, Orsinger Park also offers several recreational opportunities, including softball and soccer fields, as well as a basketball court. There are also several picnic areas scattered throughout the park, many of which come equipped with grills and covered shelters. This makes the park a popular destination for families and friends looking to spend a day outdoors. One of the most notable features of Orsinger Park is its large, central pond, which is surrounded by a paved walking trail.
This trail provides a peaceful and scenic place for visitors to walk, jog, or simply relax and enjoy the park's natural surroundings. The pond is also a popular fishing spot, and visitors are welcome to try their luck at catching one of the many fish that call the pond home. In addition to its many amenities, Orsinger Park is also home to several special events throughout the year, including concerts, festivals, and holiday celebrations.
The park's open space and large picnic areas make it the perfect location for these events, and they are always well-attended by visitors from all over the city. Overall, Orsinger Park is a beautiful and well-maintained park that offers something for everyone. Whether you are looking for a place to picnic, play sports, or simply enjoy the great outdoors, Orsinger Park is the perfect destination.
Things to Consider Before Choosing a Park in San Antonio, Texas
Activities — Before selecting a park in San Antonio, activities should be taken into account because every park may provide a distinct range of amenities and activities. For example, although some parks may include playgrounds or sports fields, others may have hiking paths. You may select a park that best meets your requirements and preferences by taking into account the activities you and your group are keen on. By doing this, you can make sure that your time at the park is fun and rewarding.
Pet-friendly —- Since many people like spending time outside with their dogs and parks are a fantastic chance for both pets and their owners to gain exercise, fresh air, and socialize, they should be pet-friendly. Moreover, allowing pets in parks may encourage ethical pet ownership and foster better communities. The availability of pet-friendly parks may also increase the enjoyment and manageability of a vacation for visitors who are traveling with dogs. It's crucial to keep in mind, though, that pet owners have a duty to pick up after their animals, make sure they are well-behaved, and make sure they don't endanger other park visitors or animals.
Facilities — A park needs facilities because they offer amenities that improve visitors' enjoyment, comfort, and convenience of their time spent in the park. Restrooms, picnic spots, chairs, shade structures, drinking fountains, parking lots, and playgrounds are a few examples of crucial park amenities. Other amenities like sports fields, swimming pools, and bike routes could also be accessible depending on the park. These amenities may improve a visitor's entire park experience, making it a more desirable travel destination and enticing people to stay longer. Additionally, amenities like drinking fountains and bathrooms are necessary to guarantee the health and safety of guests.
Location — Location is important for a park because it can impact accessibility and convenience for visitors. A park that is located near residential areas or popular tourist destinations may be more easily accessible and convenient for people to visit. Additionally, a park that is located near public transportation or major roadways can be more accessible to a larger number of people. The location can also affect the types of activities and facilities available in the park, as well as the safety of the park. Parks located in urban areas may have more amenities, but they may also have higher crime rates or noise levels. In contrast, parks located in rural areas may offer a quieter and more natural setting but may have limited facilities and services. Considering the location of a park can help visitors plan their visit more effectively and ensure that the park is a good fit for their needs and preferences.
How Do We Pick Our Recommendations
With the contribution of our team and some of the previous visitor's reviews, we were able to list the best parks in San Antonio with some amazing amenities and services. For hikers, walkers, or cyclists, these parks are heaven for them. While traveling to San Antonio, our team actually visited Amarillo and reviewed the Top 9 Hotels in Amarillo.
Exploring the Best Parks in San Antonio for Outdoor Fun - FAQs
How many parks are there in San Antonio?
With much more than 100 miles of trails, the City of San Antonio manages and operates 257 parks on 15,469 acres of property.
Is there a national park in San Antonio?
Welcome to San Antonio Missions, the only UNESCO-listed World Heritage Site in Texas and a National Park Service location.
What makes national parks famous?
They guard against human interference with the exploitation of wildlife and their ecosystems. They give animals a place where they may live and breed safely. They guard beautiful natural areas and harbor a number of unique species.