Feeling bored and want a road trip adventure? If you live in Arizona, you're in a lot of luck! Here's a great idea: A road trip from Phoenix to Las Vegas! From one vibrant and sunny city to another, this is undoubtedly one of the best cross-state trips you can plan. Today, we'll be talking about what you need to do to make a successful trip from the vibrant desert city of Phoenix, Arizona, to the dazzling oasis of Las Vegas, Nevada.
From breathtaking landscapes to exciting pit stops along the way, we've got you covered! Whether you're an outdoor enthusiast, a foodie, or a history lover, there's something for everyone on this Phoenix to Las Vegas road trip. So, without further ado, let's get started!
Planning Your Road Trip
Before you pack up and hit the road, it's essential to plan ahead for your journey. Road trips are all about spontaneity and adventure, but a bit of planning can make your journey smoother and more enjoyable. It helps you avoid unexpected hiccups and ensures you make the most of your time on the road.
Let's quickly go over some important pointers to ensure your trip goes as smoothly as possible:
The drive from Pheonix to Las Vegas takes between 5-6 hours nonstop.
The distance between these 2 places is 300 miles, but can vary based on the route you take
There are 2 main routes from Phoenix to Las Vegas.
The Southwest can be scorching in the summer, with temperatures soaring above 100°F (37°C). To escape the extreme heat and make the most of your outdoor activities, consider visiting in the fall, winter, or spring when the weather is milder.
Ensure your driver's license and vehicle registration are up to date. Check if you need a parking pass or permits for specific activities like camping or hiking.
Recommended Read: Worst Time to Visit Arizona?
Best Routes and Maps
So, now that you've decided to hit the road let's talk about some efficient routes and navigation resources. The kind of road you take has a great impact on how smoothly your trip goes, so it's important to understand all the options you have at your disposal.
Different Routes
I-10 W and US-93 N: This is the most direct route and is ideal if you want to reach Las Vegas quickly. You'll pass through the Sonoran Desert, which offers vast desert landscapes.
Historic Route 66: For a nostalgic journey, follow the iconic Route 66. It's a longer route, but you'll experience charming small towns and roadside attractions.
I-17 N and AZ-89A N: If you're a nature enthusiast, this route takes you through the stunning red rocks of Sedona and the picturesque Oak Creek Canyon.
Scenic and Efficient Routes
I-10 W and US-93 N: This route is not only efficient but also offers beautiful desert scenery, especially during sunrise or sunset.
I-40 W: If you opt for Route 66, take I-40 W for a smooth and scenic drive through northern Arizona.
AZ-89A N: To witness Arizona's natural beauty, including red rock formations, forests, and canyons, consider this route through Sedona and Oak Creek Canyon.
Navigation Tools
Google Maps: Maps are a must-have when you're going to a new place. One can't go wrong with Google Maps. This widely-used app provides real-time traffic updates and suggests the fastest routes. Download maps offline in case of limited connectivity.
Waze: Another excellent app for navigation, Waze offers user-generated traffic and road information. Though not as widely used as Google Maps, it has some handy features that can help you stay on track during the drive to Vegas.
Paper Maps: Don't underestimate the usefulness of physical maps. They can serve as backups when technology fails, which isn't unlikely since you'll be crossing many desert areas.
Must-Visit Stops Along the Way
The trip from Phoenix to Las Vegas is an exciting and eventful one, thanks to the wide and incredible array of stops that come in the way. Here are some exciting and noteworthy stops you should consider as you make your way to Las Vegas:
Sedona, Arizona
Located just off Route 66, Sedona is famous for its striking red rock formations. People from all over the US visit Sedona to explore these unique and fascinating rock formations. Some people say they also emit cosmic energy, which has piqued the interest of travelers for many years.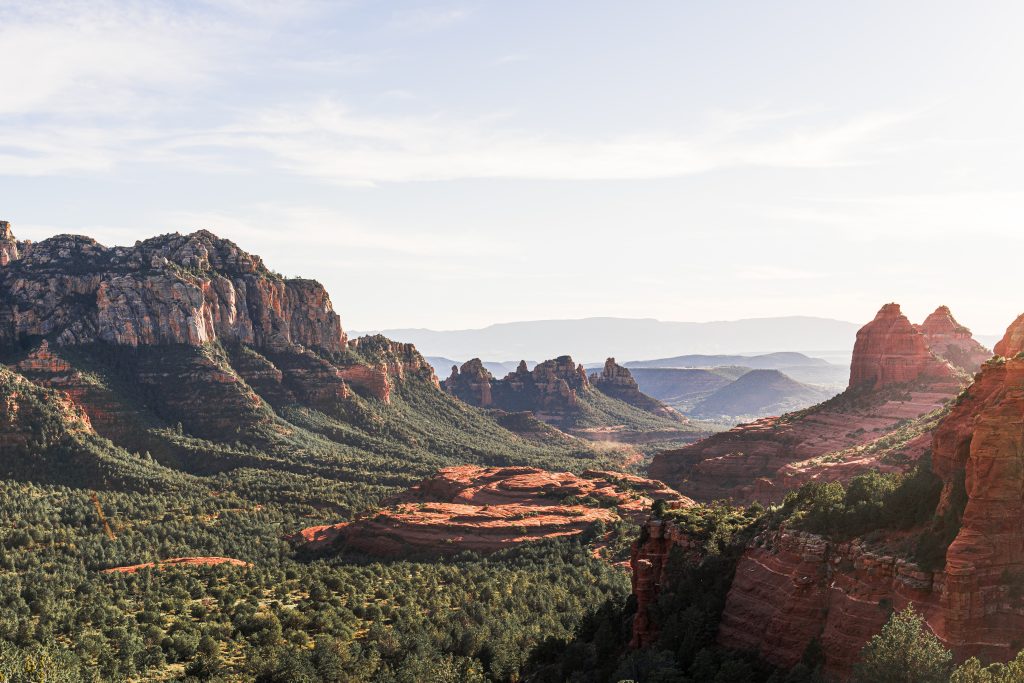 So, if you are making your way to Las Vegas and have some time to spare, be sure to explore hiking trails, visit the Chapel of the Holy Cross, or enjoy the vibrant arts scene.
Montezuma Castle National Monument
Montezuma Castle National Monument is a captivating historical site located along the route from Phoenix to Las Vegas. This well-preserved cliff dwelling offers a fascinating glimpse into the past and is well worth a stop on your road trip. You can witness the well-preserved cliff dwellings that were once home to the Sinagua people.
There are lots of fascinating photography spots and guided tours as well! It's a fascinating glimpse into ancient Native American history, and you should definitely consider checking it out on your way to Vegas.
Jerome, Arizona
Jerome is a fun and exciting place with old roots. This historic mining town is located right under the side of the mighty Mingus Mountain. You can stroll through its streets filled with lively shops and collect loads of souvenirs. There are also a lot of art galleries and eateries for when you get hungry and need a bite to recharge. The Jerome State Historic Park is also another must-visit spot. Not only will it be a highly engaging and educational experience, but it will also fill your camera roll with tons of breathtaking shots for your trip posts!
Hoover Dam
Going to Vegas and missing the mighty Hoover Dam? Impossible! A marvel of engineering admired by people worldwide, the Hoover Dam is a must-see. It is a huge anti-gravity dam right on the Colorado River, and is the most visited dam in the world!
Take a tour to learn about its history and significance, or simply marvel at the massive structure as you make your way to Vegas. We can guarantee that you won't regret it!
Lake Mead National Recreation Area
Once you explore the Hoover Dam, situated not far from Las Vegas, is a desert oasis waiting to be explored on your road trip from Phoenix. This massive reservoir, created by the Hoover Dam, is a paradise for outdoor enthusiasts. Enjoy outdoor activities like boating, fishing, or picnicking along the shores of Lake Mead. It's a refreshing break from the desert landscapes and provides a wonderful getaway opportunity during your road trip.
Valley of Fire State Park
Another famous bucket list destination is Nevada's Valley of Fire State Park. Just a short drive from Las Vegas, this park is renowned for its vibrant red sandstone formations and breathtaking views. Valley of Fire State Park contains ancient, petrified trees and petroglyphs dating back more than 2,000 years.
The sand dunes here are truly unlike anything you've ever seen before, so make sure you don't miss this spot! There are many tours and activities going on all the time, and you can even hike the trails to see ancient petroglyphs and unique rock formations for yourself.
Red Rock Canyon National Conservation Area
Located west of Las Vegas in the famous Mojave desert, this area offers everything a nature lover could ever desire. Be it hiking, rock climbing, or good old sightseeing, this place is sure to wow you. The scenic drive is a great way to appreciate the natural beauty of this wonderful state.
Hotels and Accommodation Options
The trip from Phoenix to Vegas can be an exciting yet tiring one, so you might feel like taking a break and crashing somewhere, especially if it's nighttime. Thankfully, the route between the 2 cities offers many welcoming accommodation options so that you can catch your breath and recharge:
Hotels
In cities like Kingman, Flagstaff, and Boulder City, there are many famous hotel chains as well as charming local inns, so you'll have a place to stay regardless of how your budget is.
If you plan to explore the Grand Canyon, you can easily crash in one of the park's lodges. Apart from that, you also have El Tovar and Bright Angel Lodge, which are very close to the canyon's rim.
Also, consider checking out What's the Difference Between Hotel and Motel?
Camping
As for nature enthusiasts, a night spent camping in desert areas is truly an unforgettable one. Luckily, the belt between Phoenix and Las Vegas offers many such opportunities where you can simply ditch the wheel and set up camp for the night.
Many national forests and parks, such as Coconino National Forest and Lake Mead National Recreation Area, have campgrounds. However, if you're traveling during a busy season, you will have to check in advance for availability.
Airbnb and Vacation Rentals
Nowadays, there's an AirBnB almost everywhere, which has made road trips incredibly easy. In some towns and cities, you'll find many Airbnb rentals, which can provide a unique and cozy experience while helping you catch up on some much-needed rest. We recommend doing your research to find options that suit your group size, budget, and preferences. If you're lucky and ask nicely, the host might even give you a nice discount!
When booking accommodations, consider factors like location, reviews, and amenities before making any payments. Booking in advance, especially during peak travel seasons, can help you secure the accommodation you want at a much better price than later. Look for hotel deals and discounts through loyalty programs, travel websites, or apps. Additionally, some national parks offer packages that include lodging and activities, so be sure to check those out as well!
Your Road Trip Checklist
Now that we've talked about the road trip and places to see on the way, let's move on to the most important element that can make or break a journey: your checklist. With our comprehensive list, you're guaranteed to have a smooth and hassle-free trip! Let's check it out:
Maps and Navigation: GPS is handy, efficient, and convenient. But sometimes, your phone may lose internet access and GPS might not work. To be on the safe side always download an offline map and carry a physical one with you as well!
Vehicle Documents: Before you hit the road, it is crucial to ensure that you have your driver's license, vehicle registration, and proof of insurance with you. Keep them in your bag or in the car's glove box, as they'll come in handy if you ever get pulled over.
Emergency Contacts: You never know when things might go wrong on a road trip, so having someone in the know is always helpful. Keep a handy list of emergency contacts to reach out to in case anything goes wrong. This list should ideally include roadside assistance and someone back home who knows about your travel plans.
Roadside Emergency Kit: Before going on a road trip, it's important to ensure that your car has the gear it needs to survive an emergency situation. Pack some jumper cables, a flashlight, flares, a basic toolkit, and a first-aid kit before hitting the highway.
Spare Tire and Jack: A flat tire can seriously ruin your road trip, but you can get back on the road soon if you have a spare one. Make sure your spare tire is in good condition and that you have the tools to change a flat tire. Also, download a YouTube video if you're unsure about how to change a tire.
Phone Charger and Power Bank: Getting from Phoenix to Vegas takes a minimum of 5 hours on a good day. Your phone will likely run out of battery during this time. We advise carrying a power bank with you. Keep your devices charged, especially if you're relying on navigation apps.
Cash and Cards: Have a mix of payment options for gas, tolls, and unexpected expenses.
Water and Snacks: It's no surprise that the desert drive from Pehonix to Vegas is a scorching one. It's essential to have lots of liquids with you. Stay hydrated and energized with bottled water and non-perishable snacks. If you plan to store perishable snacks or drinks, a small cooler can be useful as well.
Sun Protection: For this sunny and dry road trip, make sure you have adequate sun protection since it can get very hot and dry! Make sure you pack sunscreen, sunglasses, and hats to shield yourself from the desert sun.
Comfortable Clothing: Temperature variation happens very quickly in desert areas. The days are hot and dry while the nights are quite cooler. Layers are key as temperatures can vary very fast as you pass through different areas. Don't forget comfortable walking shoes as well.
Travel Pillow and Blanket: Pack some extra blankets, throws, and travel pillows to stay cozy during breaks or if you decide to catch some rest.
Entertainment: Good entertainment can make your road trip go by in a breeze, and can prevent you from losing focus or falling asleep behind the wheel. Bring along music playlists, audiobooks, or podcasts for entertainment, since it's going to be a 5 hour drive.
Paper Towels and Wet Wipes: You'll be spending a lot of time in the car, so things can get quite messy. Make sure to carry wipes and paper towels. They're handy for spills and quick clean-ups.
Camera: This trip will surely be an unforgettable one, and trust us, the photo opportunities are endless! Make sure you carry a good camera to capture the stunning landscapes and memories along the way.
Identification: ID is very important to make sure you stay out of trouble with the law in case you ever get pulled over. Make sure you carry your ID, passport (if needed), and any travel permits.
Medications: If you have prescription medications, be sure to bring an adequate supply. Carry your prescription with you as well.
Vehicle Maintenance: Before hitting the road, ensure your vehicle is in good condition. Check the oil, brakes, tires, and fluids. Also, make sure your spare tire is properly inflated. Carry a water bottle and extra coolant with you as well.
Safety Precautions: Familiarize yourself with all the local and road laws of the state you're visiting. Make sure you follow the rules and be cautious, especially when driving through unfamiliar areas. Take regular breaks to stay alert, and switch drivers if you feel like you're getting tired.
Hydration: In the desert climate, staying hydrated is crucial to prevent yourself from falling ill. Keep drinking water throughout the journey, and make sure you stock up on water from gas stations as you drive.
Rest: Fatigue is the leading cause of road accidents in the country. Make sure you've gotten enough sleep before you head out on the road, and ensure you take frequent breaks during your trip.
Things to do in Las Vegas
What happens in Vegas, stays in Vegas! Famously referred to as the "Entertainment Capital of the World," Las Vegas truly is a city like no other. A trip to Vegas is the trip of a lifetime. Nestled right in the Mojave Desert, Vegas is famous for its vibrant nightlife, world-class entertainment, and iconic resorts and casinos that attract visitors from every corner of the globe.
So now that you've finally reached Las Vegas after a long drive, what can you do here? Let's find out!
The Las Vegas Strip & Other Highlights
Welcome to the heart of Las Vegas! This 4.2-mile-long boulevard is home to some of the world's most renowned hotels, including The Venetian, Bellagio, and Caesars Palace. Be sure to take a stroll along the Strip to witness Las Vegas in all its glory. The dazzling lights and fountains are sure to wow you.
We also recommend getting a taste of Fremont Street. Located in downtown Las Vegas, this pedestrian mall is known for its massive LED canopy, which hosts nightly light shows. It's also a hub for live music, street performers, and unique shops that you won't find anywhere else.
And you can't miss the High Roller: As one of the world's tallest observation wheels, it offers unparalleled views of the city. It's especially magical at sunset. So be sure you catch that as well!
Shows and Entertainment
Las Vegas is one of the world's biggest entertainment hubs. What sets this magical place apart from everywhere else is that the experiences and entertainment here are unparalleled and remain unbeaten. That's why it's the top spot for anyone looking to have a good time! Let's look at some of the top spots:
Cirque du Soleil: Las Vegas is home to several Cirque du Soleil productions, including "O" at Bellagio and "Michael Jackson ONE" at Mandalay Bay. These shows combine acrobatics, music, and visuals for a mesmerizing experience.
Magic Shows: Everyone needs a little magic in their lives, and Vegas is full of it! Catch a magic performance by renowned magicians like David Copperfield or Penn & Teller.
Live Music: Many famous artists and bands perform in Las Vegas. Check out the concert schedule during your visit.
Dining Experiences:
Fine dining, booze, and good food are what make Vegas the great city it is today. This lovely piece of land has something to satisfy any type of craving and has some of the best food in the world.
Las Vegas is famous for its all-you-can-eat buffets. Wicked Spoon at The Cosmopolitan and Bacchanal Buffet at Caesars Palace are popular choices among locals and tourists. If you're looking for a fine dining experience, you're in luck – The city boasts a plethora of Michelin-starred restaurants. You can head over to Joel Robuchon, Guy Savoy, or Joël Robuchon for the experience of a lifetime. For a more casual experience, there are tons of food truck options boasting a variety of culinary delights.
Wrapping Up
Now that we've covered all there is to know about planning a trip from Phoenix to Vegas it's time for you to hit the road! One really can't go wrong with a road trip to Vegas! Whether you're captivated by natural wonders, history, or the vibrant city of Las Vegas, this road trip has something special in store for every traveler. So, rev up your engine, follow your wanderlust, and let the road lead you to unforgettable experiences! Safe travels!