Ever thought about escaping the busy city life to explore a remote wilderness? If you have, you might be interested in Isle Royale National Park – a really quiet and untouched park in the US. It's on an island in Lake Superior and is perfect for nature lovers, hikers, kayakers and adventurers looking for peace.
However, arriving at this park takes some effort. It demands careful preparation, selecting the suitable transportation method, and preparing for unpredictable weather conditions. Today, we're here to guide you on reaching Isle Royale National Park by presenting various approaches.
How to Get to Isle Royale?
Guests can access the park exclusively via seaplane, ferry, or their boat. Ferries are available from Houghton (approximately a 6-hour one-way journey) and Copper Harbor (around 3.5 hours one-way). Alternatively, Isle Royale Seaplanes operate departures from Houghton, providing a journey time of under an hour.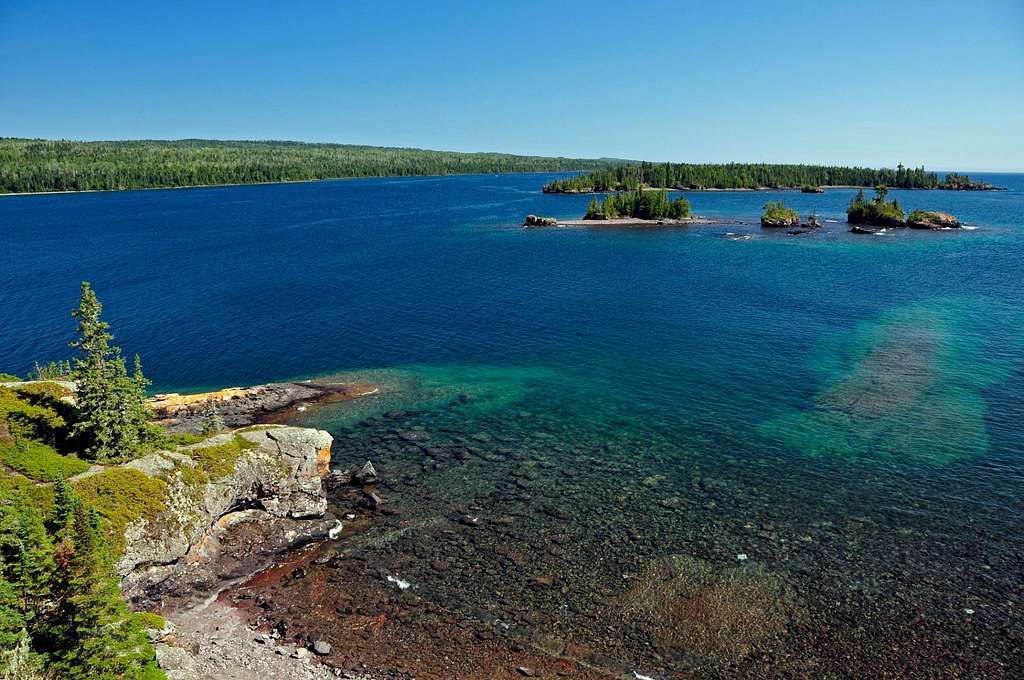 Passengers are treated to magnificent views of the island and the vast expanse of Lake Superior. Having the names of this transportation isn't sufficient; you'll need a thorough and detailed understanding. So, keep reading the article to gather all the necessary information.
The Isle Royale Ferries
If you're aiming for budget-friendly transportation, the ferry is an excellent option due to its affordability compared to the seaplane and convenience over a private watercraft. You'll enjoy fantastic views of Lake Superior along the route.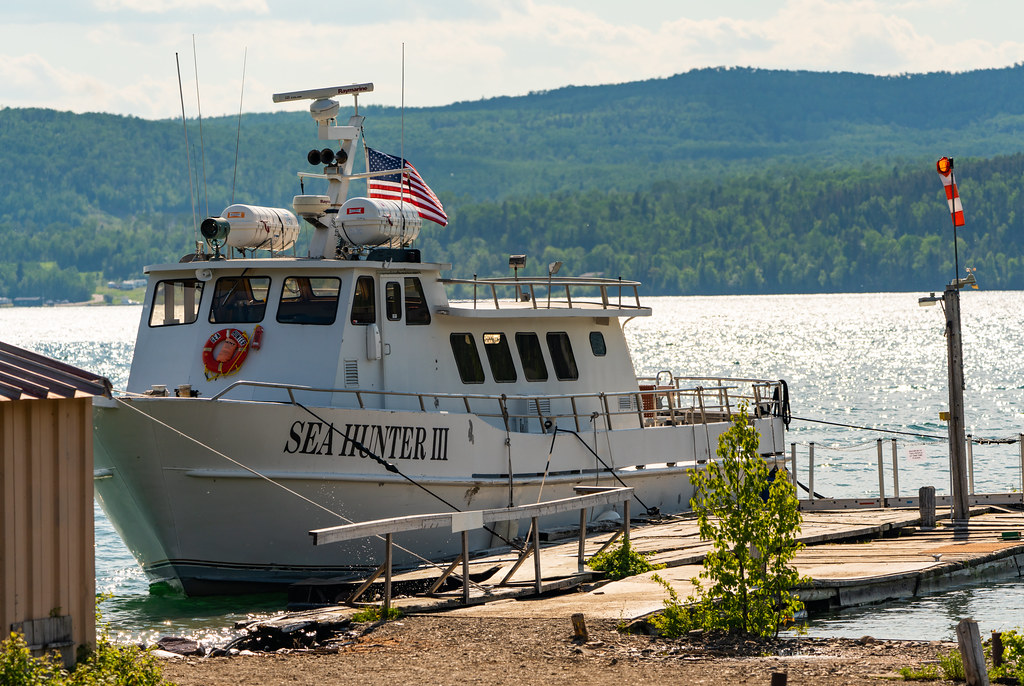 But remember, the ferry is slower than the seaplane and might be affected by the weather. Therefore, confirm the ferry's schedule and availability before you finalize your travel plans. There are a total of four ferry services that operate between the states of Michigan and Minnesota:
Ranger III Ferry
The Ranger III is one of the official ferries by the National Park Service going to Isle Royale. It generally goes to Rock Harbor and makes a monthly trip to Windigo during the summer before returning.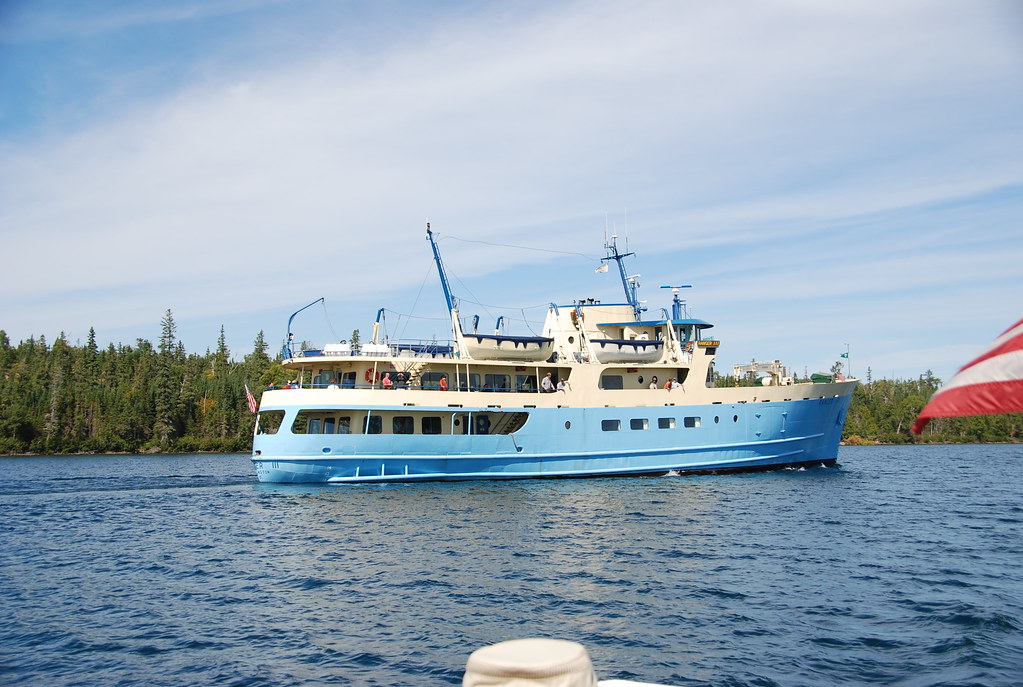 Schedule and Highlights
The Ranger III ferry usually runs from late May until mid-September. During this period, ferry services are available for boarding on Tuesdays and Fridays in Houghton. These ferries head to Rock Harbor on Isle Royale.
When you want to come back, you can get on the ferry again on Wednesdays and Saturdays. It will bring you from Isle Royale back to Houghton. Every month, the ferry adds some variety by making a special trip to Windigo on Isle Royale instead of stopping at the usual spot (Rock Harbor).
Duration of Journey
The ferry ride to Isle Royale National Park is 6 hours long. Departure occurs at 9 am EST from either Houghton or Isle Royale, with an anticipated arrival around 3 pm EST. Initial hour sightseeing helps time pass.
Ticket Pricing and Additional Costs
You can get to Isle Royale by choosing the Ranger III ferry, with fares at $80 for one way and $160 for a round trip ($80 round trip for kids under 12). You can also bring a boat, canoe, or kayak for an extra cost.
Queen IV Ferry
Copper Harbor in Michigan's Upper Peninsula is a great starting point for exploring Isle Royale. To travel from Copper Harbor to Isle Royale, take the Isle Royale Queen IV Ferry. Keep in mind that the ferry crosses to Rock Harbor, not Windigo.
Schedule and Highlights
The Isle Royale ferry operates roughly from May 15th to September 29th, with a changing schedule throughout the year:
May 15th to June 2nd: Runs on Mondays and Fridays
June 5th to June 30th: Runs on Mondays, Tuesdays, Thursdays, Fridays, and Saturdays
July: Runs every day except Wednesdays
August 1st to September 9th: Runs every day (with exceptions)
September 11th to September 29th: Runs on Mondays and Fridays
Duration of Journey
The ferry journey to Isle Royale takes approximately 3 hours and 45 minutes. During its operational days, the ferry completes a round trip. It leaves Copper Harbor at 8 am EST and returns from Isle Royale at 2:45 pm EST.
Ticket Pricing and Additional Costs
A single journey ticket on the Queen IV ferry to Isle Royale is priced at $80, while a round trip amounts to $160 ($115 round-trip for children under 12). If you're bringing canoes, kayaks, or bikes, there's an additional fee for their transport. Additionally, parking in their lot requires a fee of $10 per night, with a maximum charge of $50.
Editor's Pick: Symphony of the Seas: A Complete Guide to the Largest Cruise Ship in the World
The Voyageur II Ferry
The Voyageur II Ferry is a quick way to reach Isle Royale across Lake Superior. It's best for those who want to start or end their backpacking trip at spots other than Rock Harbor or Windigo.
Unlike other ferries, the Voyageur II takes two days to go around the island, stopping at Rock Harbor, Windigo, and other places. This is the only ferry offering such a trip, which is great if you need to get back to your car in Grand Portage.
Schedule and Highlights
The Voyageur II ferry typically operates from early May to October. However, check their website for the latest dates. Over two days, it completes a full circuit around Isle Royale, stopping at various points including Windigo, McCargoe Cove, Belle Island, Rock Harbor (where it stays overnight), Daisy Farm, Chippewa Harbor, Malone Bay, and returning to Windigo before heading back to Grand Portage. Here's a breakdown of the schedule:
Day 1 – Outbound to Rock Harbor
Depart Grand Portage: 7:30 am CDT
Arrive Windigo: 9:30 CDT
McCargoe Cove: 1:00 CDT
Belle Island: 1:30 CDT
Rock Harbor: 3:00 CDT
Day 2 – Inbound to Grand Portage
Depart Rock Harbor: 8 am CDT
Daisy Farm: 8:30 CDT
Chippewa Harbor: 9 am CDT
Malone Bay: 10 am CDT
Windigo: 12:30 pm CDT
Arrive Grand Portage: 3 pm CDT
The ferry operates on Central Time, even though Isle Royale is on Eastern Time. For the must mention, the schedule varies based on the time of year:
May 13th-28th: Outbound on Wednesdays and Saturdays, inbound on Thursdays and Sundays.
May 29th to September 17th: Outbound on Monday, Wednesday, and Saturdays, inbound on Tuesdays, Thursdays, and Sundays.
Rest of the season: Outbound/inbound only on Wednesdays and Thursdays.
Day Trips with Voyageur II
Late-season weekends offer day trips: September 23rd, 24th, 30th, and October 1st.
Depart Grand Portage: 8 am CDT
Arrive Windigo: 10 am CDT
Depart back to Grand Portage: 1 pm CDT, providing about 3 hours on the island.
Duration of Journey
The ferry ride from Grand Portage to Windigo is just a two-hour journey. However, the travel time extends to 7.5 hours if your destination is Rock Harbor. This is why Minnesota is a more convenient starting point for Windigo excursions than Rock Harbor.
Ticket Pricing and Additional Costs
For a single journey from Grand Portage to Windigo, the cost is $87. Traveling further from Grand Portage to Rock Harbor costs $110 (with reduced rates for children). You can also pay an additional fee to bring canoes or kayaks. If you opt for a fall day trip, the fare is $99 for a round trip, saving you from higher one-way fares. Moreover, parking charges apply at $5 per day.
Sea Hunter III Ferry
The alternative route for travelling from Grand Portage to Isle Royale is offered by the Sea Hunter. The Sea Hunter ferry exclusively docks at Windigo, making the journey to the island simpler and less complicated.
Schedule and Highlights
The schedule can change depending on the seasons and availability. After thorough research, we've developed a general outline of its timetable, based on the official website. Take a look below for more details.
June 7th – July 8th, August 16th – September 2nd
Departures: Wednesdays, Fridays, and Saturdays
Departure Time: 8:30 am CDT from Grand Portage
Arrival Time: 10:00 am CDT at Windigo
Return Departure Time: 2:00 pm CDT from Windigo
July 12th – August 13th
Departures: Wednesdays to Sundays
Departure Time: 8:30 am CDT from Grand Portage
Arrival Time: 10:00 am CDT at Windigo
Return Departure Time: 2:00 pm CDT from Windigo
This schedule of the Isle Royale's Sea Hunter ferry allows for convenient day trips to Windigo, providing around 4 hours on the island. Moreover, the frequent trips make shorter overnight visits feasible.
Duration of Journey
The trip on the Sea Hunter III ferry from Grand Portage to Windigo takes only 1.5 hours, making it a quick and convenient ride.
Ticket Pricing and Additional Costs
Traveling from Grand Portage to Windigo on the Sea Hunter ferry costs $87 for a one-way fare. If you intend to take a day trip and complete a round trip on the same day, you can avail a discounted round trip fare of $99. Further, there is a daily parking fee of $5.
Suggested Reading: Worst Time To Visit Canada – MONTHS TO AVOID
Isle Royale Seaplane
The exclusive way to travel from Grand Marais to Isle Royale is by seaplane from the same operator in Houghton. Although a fast but expensive option, you can reach Windigo or Rock Harbor from here. The island visit allows for flexibility in arranging day trips or different nights based on flight availability.
Schedule and Highlights
The Isle Royale seaplane operates every day between May 21st and September 16th. You can choose to depart at 8 am CDT or 2 pm CDT from Isle Royale and at 9 am CDT or 3 pm CDT from Grand Marais. Reservations for the Isle Royale seaplane can be made through their official website. Bookings will be confirmed according to the availability for your requested times and dates.
Duration of Journey
The flight time from Grand Marais to Rock Harbor is approximately 45 minutes. In contrast, the trip from Grand Marais to Windigo takes only 25 minutes.
Ticket Pricing and Additional Costs
When traveling one way from Grand Marais, the cost is $230 to Windigo and $300 to Rock Harbor. Round trip rates stand at $340 and $440, respectively. Additionally, opting for different drop-off and pickup spots comes to $390. The good news is that parking at this location is free!
Private Boat
Having your own boat means you can travel with it instead of taking the above mentioned options. This way, you can enjoy the privacy and comfort of your own boat while avoiding the crowds of public transportation. For those opting to use a private boat, adherence to specific rules and regulations is necessary. The following are the key points to be aware of:
Overnight campers, dockers, or those anchoring at Isle Royale must obtain a boating permit.
A daily entrance fee per person is mandatory for park access and continued stay. These fees can be settled online before embarking.
If arriving from Canada, clearance through US Customs at the Rock Harbor Visitor Center is obligatory.
Utilization of dock space and small-party campsites is on a first-come, first-served basis. Reservation or holding of spaces for others is not allowed.
Stay limits for docks and campgrounds must be observed, with most applying from June 1 until Labor Day.
Fishing is a pleasure in Lake Superior's waters and the island's interior lakes and streams. Fishing in inland waters requires a valid Michigan fishing license.
Suggested Reading: The Ultimate Guide to Measuring Luggage: Find the Right Way
Conclusion
Getting to Isle Royale is easy, given that you have numerous means of transport. Based on the different means available, we recommend you go for the ferry ride, as there are plenty of options. Not only will you enjoy Isle Royale, but the ferry ride is a great way to spend your day. Have fun!
How to Get to Isle Royale? - FAQs
How do I get to Isle Royale National Park?
You can access Isle Royale National Park by seaplane, ferry, or your own private boat.
What ferry services operate to Isle Royale, and where do they depart from?
There are four ferry services: Ranger III from Houghton, Queen IV from Copper Harbor, Voyageur II from Grand Portage, and Sea Hunter III from Grand Portage.
What is the cost of ferry tickets to Isle Royale?
Ticket prices for the ferries vary, but generally, they range from $80 to $160 for one-way trips, with discounts for children. Additional fees apply if you bring canoes, kayaks, or bikes.
When do the ferries to Isle Royale operate, and how long is the journey?
The ferry schedules vary by service, but they generally operate from May to September. Journey durations range from 1.5 hours to 7.5 hours, depending on the ferry and route.
How can I reach Isle Royale by seaplane, and what are the costs and flight times?
You can reach Isle Royale by seaplane from Grand Marais. Costs range from $230 to $440 for one-way and round-trip flights, with varying flight times between 25 and 45 minutes, depending on your destination on the island.